gigant billie holiday portrait uimaocdvmaprmlcoolkd
- znaleziono 5 produktów w 3 sklepach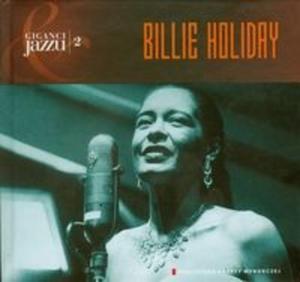 23,30 zł
Nagrania muzyczneMuzyka rozrywkowa
Jej melancholijne interpretacje wydawały się pozbawione jazzowej ekspresji, ale właśnie ta powściagliwość była w muzyce Lady Day najbardziej fascynująca.
Sklep: Booknet.net.pl 97,49 zł
Muzyka>Jazz
1. Your Mother's Son-in-law 2. Riffin' The Scotch 3. I Wished On The Moon 4. What A Little Moonlight Can Do 5. Miss Brown To You 6. A Sunbonnet Blue (And A Yellow Straw Hat) 7. What A Night, What A Moon, What A Girl 8. I'm Painting The Town Red 9. It's Too Hot For Words 10. Twenty-four Hours A Day 11. Yankee-doodle Never Went To Town 12. Eeny Meeny Miney Mo 13. If You Were Mine 14. These 'N' That 'N' Those 15. You Let Me Down 16. Spreadin' Rhythm Around 17. Life Begins When You're In Love 18. It's Like Reaching For The Moon 19. These Foolish Things 101. I Cried For You 102. Guess Who 103. Did I Remember? 104. No Regrets 105. Summertime 106. Billie's Blues (I Love My Man) 107. A Fine Romance 108. I Can't Pretend 109. One, Two, Button Your Shoe 110. Let's Call A Heart A Heart 111. Easy To Love 112. With Thee I Swing 113. The Way You Look Tonight 114. Who Loves You? 115. Pennies From Heaven 116. That's Life I Guess 117. I Can't Give You Anything But Love 118. One Never Knows, Does One? 119. I've Got My Love To Keep Me Warm 201. If My Heart Could Only Talk 202. Please Keep Me In Your Dreams 203. He Ain't Got Rhythm 204. This Year's Kisses 205. Why Was I Born? 206. I Must Have That Man 207. The Mood That I'm In 208. You Showed Me The Way 209. Sentimental & Melancholy 210. My Last Affair 211. Carelessly 212. How Could You? 213. Moanin' Low 214. Where Is The Sun? 215. Let's Call The Whole Thing Off 216. They Can't Take That Away From Me 217. I Don't Know If I'm Coming Or Going 218. Sun Showers 219. Yours & Mine 301. I'll Get By 302. Mean To Me 303. Foolin' Myself 304. Easy Living 305. I'll Never Be The Same 306. Me, Myself & I 307. A Sailboat In The Moonlight 308. Born To Love 309. Without Your Love 310. Getting Some Fun Out Of Life 311. Who Wants Love? 312. Trav'lin' All Alone 313. He's Funny That Way 314. Nice Work If You Can Get It 315. Things Are Looking Up 316. My Man 317. Can't Help Lovin' That Man 318. My First Impression Of You 319. When You're Smiling 401. I Can't Believe That You're In Love With Me 402. If Dreams Come True 403. Now They Call It Swing 404. On The Sentimental Side 405. Back In Your Own Backyard 406. When A Woman Loves A Man 407. You Go To My Head 408. The Moon Looks Down & Laughs 409. If I Were You 410. Forget If You Can 411. Having Myself A Time 412. Says My Heart 413. I Wish I Had You 414. I'm Gonna Lock My Heart (And Throw Away The Key) 415. The Very Thought Of You 416. I Can't Get Started (With You) 417. I've Got A Date With A Dream 418. You Can't Be Mine 419. Everybody's Laughing 501. Here It Is Tomorrow Again 502. Say It With A Kiss 503. April In My Heart 504. I'll Never Fail You 505. They Say 506. You're So Desirable 507. You're Gonna See A Lot Of Me 508. Hello, My Darling 509. Let's Dream In The Moonlight 510. That's All I Ask Of You 511. Dream Of Life 512. What Shall I Say 513. It's So Easy To Blame The Weather 514. More Than You Know 515. Sugar 516. You're Too Lovely To Last 517. Under A Blue Jungle Moon 518. Everything Happens For The Best 519. Why Did I Always Depend On You 601. Long Gone Blues 602. Some Other Spring 603. Our Love Is Different 604. Them There Eyes 605. Swing! Brother, Swing! 606. Night & Day 607. The Man I Love 608. You're Just A No Account 609. You're A Lucky Guy 610. Ghost Of Yesterday 611. Body & Soul 612. What Is This Going To Get Us? 613. Falling In Love Again 614. I'm Pulling Through 615. Tell Me More & More 616. Laughing At Life 617. Time On My Hands 618. I'm All For You 619. I Hear Music 701. The Same Old Story 702. Practice Makes Perfect 703. St. Louis Blues 704. Loveless Love 705. Let's Do It 706. Georgia On My Mind 707. Romance In The Dark 708. All Of Me 709. I'm In A Low Down Groove 710. God Bless The Child 711. Am I Blue 712. Solitude 713. Jim 714. I Cover The Waterfront 715. Love Me Or Leave Me 716. Gloomy Sunday 717. Wherever You Are 718. Mandy Is Two 719. It's A Sin To Tell A Lie 801. Trav'lin' Light 802. Do Nothing Till You Hear From Me 803. How Am I To Know 804. My Old Flame 805. I'll Get By 806. I Cover The Waterfront 807. I'll Be Seeing You 808. I'm Yours 809. Embraceable You 810. As Time Goes By 811. He's Funny That Way 812. Lover Come Back To Me 813. Billie's Blues (I Love My Man) 814. On The Sunny Side Of The Street 815. Lover Man (Oh, Where Can You Be?) 816. No More 817. That Old Devil Called Love 901. Don't Explain 902. You Better Go Now 903. What Is This Thing Called Love? 904. Good Morning Heartache 905. No Good Man 906. Big Stuff 907. Baby, I Don't Cry Over You 908. I'll Look Around 909. The Blues Are Brewin' 910. Guilty 911. Deep Song 912. There Is No Greater Love 913. Easy Living 914. Solitude 915. Weep No More 916. Girls Were Made To Take Care Of Boys 917. Porgy 918. My Man
Sklep: Gigant.pl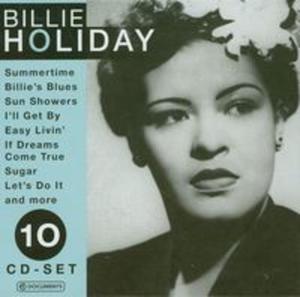 54,00 zł
Nagrania muzyczneMuzyka rozrywkowa
Kolekcja 10 płyt CD z największymi przebojami Billie Holiday.
Sklep: Booknet.net.pl 51,07 zł
Książki naukowe>Sztuka>Muzyka, śpiew i taniec>Muzyka rozrywkowa
Kolekcja 10 płyt CD z największymi przebojami Billie Holiday....
Sklep: Madbooks.pl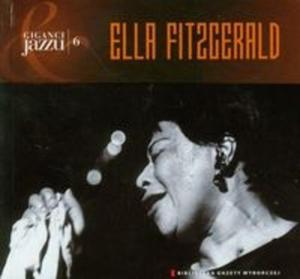 22,30 zł
Nagrania muzyczneMuzyka rozrywkowa
Dla wielu pierwsza dama jazzu. Królowa. Choć sceny od lat roją się od wyśmienitych wokalistek takich jak Nina Simone czy Aretha Franklin, trudno znaleźć taką, która mogłaby odebrać jej koronę. Posiadaczka hipnotycznego kontraltu (najniższego rodzaju głosu żeńskiego) rozwijała technikę śpiewania scatem. Polegała ona na naśladowaniu dźwięku różnych instrumentów. Do końca kariery jej głos brzmiał dziewczęco i radośnie. Życie pełne sukcesów nie było jednak naturalną konsekwencją jej młodości. Podobnie jak Billie Holiday zaczynała w klubie Harlem, w środowisku uzależnionych od narkotyków bywalców barów. Konkurs wokalny był jej jedyną szansą na porzucenie tego świata. Trzeba przyznać ? udało jej się to znakomicie. Nagrywała z największymi, zdobyła 13 nagród Grammy. Książeczka, której towarzyszy płyta, zawiera opowieść o życiu artystki oraz szóstą część historii jazzu wraz ze słowniczkiem pojęć. Wybraliśmy również i opisaliśmy pięć płyt z jej dyskografii, które naszym zdaniem trzeba mieć. Dodatkowo wyszczególniono pozycje z dyskografii innych muzyków, które prawdopodobnie zachwycą nas, jeśli jesteśmy fanami brzmienia Fitzgerald.
Sklep: Booknet.net.pl
Sklepy zlokalizowane w miastach: Warszawa, Kraków, Łódź, Wrocław, Poznań, Gdańsk, Szczecin, Bydgoszcz, Lublin, Katowice
Szukaj w sklepach lub całym serwisie
2. Szukaj na wszystkich stronach serwisu
t1=0.046, t2=0, t3=0, t4=0.024, t=0.047