intellij idea ultimate personal
- znaleziono 10 produkty w 3 sklepach 2596,25 zł
Asortyment sklepu > Internet > Tworzenie www
IntelliJ IDEA to najbardziej inteligentny IDE dla Javy. Zawiera zestaw gotowych funkcji i narzędzi do integracji nowoczesnych technologii framework i tworzenia stron internetowych. Zaawansowana technika refaktoryzacji kodu, pomoc "w locie", głęboka nawigacja, inteligentne wypełnienie i nowy nieporównywalny poziom wydajności dla deweloperów.   Najbardziej Inteligentny IDE dla platformy Java Wbudowane narzędzia dla programistów - Wsparcie dla różnych systemów kompilacyjnych. Testy integracji pojedynczych framework za pomocą wygodnego test runner UI oraz pokrycia kodu. Wizualna seryjna edycja, lista zmian oraz jednolity interfejs użytkownika dla najpopularniejszych systemów kontroli wersji. W pełni funkcjonalny edytor bazy danych i Projektant UML. Web Development - Uproszczone tworzenie stron internetowych z inteligentnym edytorem HTML, JavaScript, CSS i innych języków i technologii, takich jak Sass, LESS, TypeScript, CoffeeScript, Node.js. Rozległe wsparcie dla PHP, Ruby on Rails i Python/Django. Enterprise Frameworks - Wsparcie technologii enterprise w tym Java EE, Spring, GWT, Struts, Play, Grails, Hibernate, Google App Engine, OSGi i innych. Narzędzia wdrożeniowe i debugowania dla większości serwerów aplikacji. Urządzenia mobilne i Android - Rozwój platform mobilnych jest niezwykle łatwy z IntelliJ IDEA, wszystko to dzięki najwyższej klasy narzędziom przeznaczonym dla platform Google Android oraz dla urządzeń wykorzystujących technologie AIR Mobile.
Sklep: Vebo.pl 497,10 zł
Książki / Literatura obcojęzyczna
Dietrich Bonhoeffer, writing in his cell in a Nazi prison, expressed a most remarkable idea. "Men go to God in His need. " This is the insight, he observed, which distinguishes the Christian faith from all other religions. It is a universal belief that God, or the gods, should come to help man in his mortal, human need. But this is not the God and Father of Jesus Christ. Even as Jesus in Gethsemane chided his disciples for their sloth in not keeping watch with him during his agony, so God the Father must look to His creatures for their faith and sympathy. Therein lies the basis for the Christian answer to man kind's perennial complaint: Why do men suffer? Not all theologians, believing Christians, or believers in a personal God can share this idea. Traditionally the Eastern Orthodox thinkers have adhered to the rule of apophatic theology: that is, there are boundaries of knowledge about God which the human mind, even when enlightened by revelation, cannot cross. So who can say that God the Eternal One is susceptible to what we call suffering? It is better to hold one's silence on so deep a mystery. Still others are loathe to acknowledge God's passibility for varying reasons. God is ultimate and perfect; therefore he cannot know suffering or other emotions. God is impersonal; therefore it is meaningless to ascribe personal, anthro popathic feelings to Him. Many angels may fear to tread on the ground of this most difficult question.
Sklep: Libristo.pl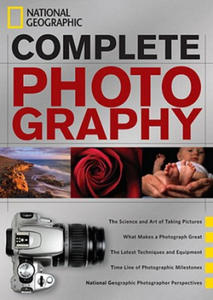 175,25 zł
Książki / Literatura obcojęzyczna
This comprehensive illustrated reference harvests the best of a long and winning series of 'National Geographic' photography field guides, bringing that wisdom up to date with technology and current techniques. Step by step, the science of the camera and the art of taking great photographs are laid out in these pages. Stunning 'National Geographic' photographs illustrate every idea. Special features include My Perspective, highlighting a National Geographic photographer and his or her work with a personal note on photography; and What Makes This a Great Picture?, knowledgeable comments on 12 iconic photographs from National Geographic photographer James P. Blair, detailing how subject matter, composition, lighting and exposure contribute to each masterpiece. Chapters build from camera basics - like how a digital camera works, what different lenses do, and the definition of exposure - to advanced and specific techniques - such as taking the best candid photos of family and children, underwater photography, or techniques for capturing fireworks on film. An illustrated time line marks milestones in photography's history. Thoroughly cross-referenced and indexed, comprehensive and easy to browse, this is the ultimate family guide to photography and will appeal to anyone who has looked through the lens and strived to take better pictures.
Sklep: Libristo.pl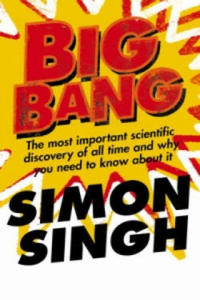 64,37 zł
Książki / Literatura obcojęzyczna
The bestselling author of Fermat's Last Theorem and The Code Book tells the story of the brilliant minds that deciphered the mysteries of the Big Bang. A fascinating exploration of the ultimate question: how was our universe created? Albert Einstein once said: 'The most incomprehensible thing about the universe is that it is comprehensible.' Simon Singh believes geniuses like Einstein are not the only people able to grasp the physics that govern the universe. We all can. As well as explaining what the Big Bang theory actually is and why cosmologists believe it is an accurate description of the origins of the universe, this book is also the fascinating story of the scientists who fought against the established idea of an eternal and unchanging universe. Simon Singh, renowned for making difficult ideas much less daunting than they first seem, is the perfect guide for this journey. Everybody has heard of the Big Bang Theory. But how many of us can actually claim to understand it? With characteristic clarity and a narrative peppered with anecdotes and personal histories of those who have struggled to understand creation, Simon Singh has written the story of the most important theory ever.
Sklep: Libristo.pl 236,40 zł
Książki / Literatura obcojęzyczna
BEHIND PHOTOGRAPHS: ARCHIVING PHOTOGRAPHIC LEGENDS began as the personal quest of photographer Tim Mantoani to document and preserve noted photographers together with their images. We have come to a point in history where we are losing both photographic recording mediums and iconic photographers, Mantoani comments. While many people are familiar with iconic photographs, the general public has no idea of who created them. This book became a means to do that, the photographer and their photograph in one image.§Mantoani explains, I chose the format for two reasons. First, it is very possible that in just a few years, film for this camera will no longer exist. Second, to me this is the ultimate view camera. If you are going to call the greatest living photographers and ask to make a photo of them and you are shooting 35mm digital, they may not take your call.
Sklep: Libristo.pl 157,23 zł
Książki / Literatura obcojęzyczna
THE ROAD TO BIG WEEK The Struggle for Daylight Air Supremacy Over Western Europe July 1942 - February 1944 By Eric Hammel The Road to Big Week begins with a thorough examination of American development of a strategic bombing doctrine from its earliest conception in the years after World War I. Balancing the demands of the ground army's desire and need for air support and the visionary outlook of such early Air Corps leaders as General Billy Mitchell with the cash-strapped circumtances of the Great Depression and the limitations imposed by the Congressional peace lobbies, the Air Corps was able to deliver a fully formed doctrine that could not at first be supported by adequate aircraft nor even a public acknowlegement that the drive to perfect strategic bombing was even on. Before the doctrine or a fully funtional heavy strategic bomber were quite perfected, the United States was drawn into World War II. Facing numerous obstacles unperceived during peacetime, not the least being simple bad weather, the early American efforts to mount a strategic bombing campaign in northern Europe nearly failed in the face of unsustainable casualties and ineffective strategic direction. Only the belated modernization of escort-fighter policy saved the strategic bombing force from failure and, indeed, formed the foundation upon which the strategic bombing campaign ultimately reached maturity and achieved success. In this exciting and complete accounting of the transition from idea to near failure to ultimate success, distinguished military historian Eric Hammel sets out all the dots, then connects them in a conversational style approachable by all readers. What the Experts Are Saying About THE ROAD TO BIG WEEK . . . Eric Hammel has done it again, with a lucid portrayal of the growth of American bomber theory from the 1918 Armistice to the crucial days over Germany when the Eighth Air Force broke the Luftwaffe's back. Some books have told what happened during Big Week-Hammel tells you why, driving home points that are as vital today as they were in 1944. --Col. Walter J. Boyne, National Aviation Hall of Fame Honoree In The Road to Big Week, Eric Hammel cleverly connects a widely disparate collection of dots that are the development of America as the world's preeminent air power. These connections describe how the U.S. Army Air Forces-just barely in time-evolved in size and capability such that America's airmen prevailed in the iconic air battle that ultimately ensured the defeat of Nazi Germany. Hammel's meticulous research and eminently readable style make this definitive work a compelling read. --Lt.Col. Jay A. Stout, author of Fortress Ploesti Eric Hammel has a special gift for combining musty war records and intimate personal accounts into a gripping history . . . If you think there's nothing new to learn about World War II, if you think there was never a possibility the Allies might lose, if you think one side was smarter than the other, The Road to Big Week will unnerve you and change forever your perception of what happened in those high, embattled skies. --Robert F. Dorr, co-author of Hell Hawks!
Sklep: Libristo.pl 971,36 zł
Książki / Literatura obcojęzyczna
Major technology shifts do not happen overnight and rarely are they the result of a single breakthrough discovery. Nowhere is this more true than for the broad set of enabling technologies that we have come to simply call "nanotechnology". Rather than standing on the shoulders of a few intellectual giants, nanotechnologies are created by tens of thousands of researchers and scientists working on minute and sometimes arcane aspects of their fields of expertise in areas as diverse as medicine, telecommunications, solar cells, filtration, coatings, or ever smaller transistors for electronic devices. They come from different sciences, live in different parts of the world and work for different organizations (government laboratories, industry laboratories, universities, private research facilities) and follow their own set of rules - get papers reviewed and published; achieve scientific recognition from their peers; struggle to get funding for new ideas; look to make that breakthrough discovery that leads to the ultimate resumU item - a nobel prize; get pushed by their funders to secure patent rights and commercialize new discoveries. This book puts a spotlight on some of the scientists who are pushing the boundaries of technology and it gives examples of their work and how they are advancing knowledge one little step at a time. The book shatters the monolithic term "nanotechnology" into the myriad of facets that it really is. It is a journey through the world of nanotechnology research and development, taking a personal look at how nanotechnologies get created today and by whom. The book covers 122 specific research projects that are happening in laboratories around the world and provides commentaries from the scientists in their own words. However, the collection of stories in this book barely scratches the surface of the vast and growing body of research that leads us into the nanotechnology age. The selection presented in the book is not meant to rank some laboratories and scientists higher than others, nor to imply that the work introduced in the book is more important or valuable than all the work that is not covered. The intention is to give the interested reader an idea of the incredibly diverse aspects that make up nanotechnology research and development - the results of which will bring about a new era of industrial and medical technologies. Nanoscience and nanotechnology research is a truly multidisciplinary and international effort. Each of the chapters is based on a particular scientific paper that has been published in a peer-reviewed journal and, while each story revolves around one or two scientists who were interviewed for this book, many, if not most, of the scientific accomplishments covered in the book are the result of collaborative efforts by several scientists and research groups, often from different organizations and from different countries. The book is different to other books in this field because it provides a novel human touch to nanotechnology research by not only covering a wide range of research topics but also the (often nameless) scientists behind this research. The book is a collection of Spotlight articles from the popular Nanowerk website and each article has been crafted with the author(s) of a scientific paper and signed off by them prior to being posted on Nanowerk. The book is intended for two broad groups of audiences - scientists and nanoscience students who want a bite-size, quick read to get a good first impression of what nanotechnologies are about and how they affect not only their own field but also neighbouring fields and other scientific disciplines further away. And a non-scientific readership that needs to (because it affects their organization and they have to acquaint themselves with nanotechnology) or wants to get a 'non-threatening' (i.e. no formulas, complex diagrams, or unexplained scientific terms) introduction, written by a non-scientist for non-scientists.
Sklep: Libristo.pl 152,88 zł
Preludes Resource Publications
Książki / Literatura obcojęzyczna
Description: All of the glory that had broken on me Surrounded me and saw me through and through Although I had no idea how to name A power that engulfed me totally And turned my soul onto another road. --Book XVI, lines 700-704 Preludes is a soul's journey from infancy to adulthood--from the Ohio Valley to south Florida, from grade school to college in New England and travel abroad, and ultimately to a knowledge of its maker. The author is unabashedly and sometimes almost naively Romantic, and the poem shows both adoration of nature and the ultimate failure of such an obsession. The poem's many passages are windows onto past landscapes, and through them comes an affirmation of life and the goodness of life. Ultimately, the author encounters and is transformed by a power beyond himself. Endorsements: ""Preludes is much more than a conventional autobiography. The reader will find here in equal measure spiritual sensitivity, classical learning, and descriptive poetry of great power and precision, all in the service of a compelling personal narrative. The evocations of the Florida of his youth--a paradise now all but lost--are particularly moving. I enthusiastically recommend Preludes."" --Sean McDonough, Professor of New Testament, Gordon-Conwell Theological Seminary About the Contributor(s): Jeffrey Jay Niehaus is Professor of Old Testament at Gordon-Conwell Theological Seminary in South Hamilton, Massachusetts. He is the author of God at Sinai (1995) and Ancient Near Eastern Themes in Biblical Theology (2008), as well as commentaries and articles.
Sklep: Libristo.pl 44,58 zł
Książki / Literatura obcojęzyczna
When Emma O'Reilly joined the US Postal cycling team in 1996, she could have had no idea how she would become a central figure in the biggest doping scandal in sporting history. Yet when Lance Armstrong, starting his comeback from cancer, signed for US Postal, it was Emma, the only woman on the team, who became his personal soigneur. This is the definitive inside story of that time, and of the enormous repercussions that resonate to this day for Emma, Lance and the whole sport. Emma had the strength to break cycling's omerta by speaking out against the culture of doping. She thought she would be one of many whistleblowers, doing what she believed was right. Isolated and shunned by the sport she loved, however, her reputation was systematically destroyed. And yet she had the courage to bounce back, and remarkably, to forgive those who made her existence a living hell. This is the ultimate memoir of truth and its many consequences.
Sklep: Libristo.pl 45,80 zł
Nauki humanistyczne
Alain de Botton, best-selling author of How Proust can Change Your Life, has set six of the finest minds in the history of philosophy to work on the problems of everyday life. Here then are Socrates, Epicurus, Seneca, Montaigne, Schopenhauer and Nietzsche on some of the things that bother us all; lack of money, the pain of love, inadequacy, anxiety, the fear of failure and the pressure to conform.
Sklep: Albertus.pl
Sklepy zlokalizowane w miastach: Warszawa, Kraków, Łódź, Wrocław, Poznań, Gdańsk, Szczecin, Bydgoszcz, Lublin, Katowice
Szukaj w sklepach lub całym serwisie
2. Szukaj na wszystkich stronach serwisu
t1=0.041, t2=0, t3=0, t4=0.024, t=0.041