krainaksiazek 200 light sugar free recipes 20052188
- znaleziono 13 produktów w 2 sklepach 30,99 zł
Książki Obcojęzyczne>Angielskie>Lifestyle, sport & leisure>Cookery / food & drink etc>Health & wholefood cookery>Cookery for specific d...
More Than 200 Recipes For Delicious, Sugar-free Recipes With Fewer Calories.
Sklep: Gigant.pl 66,79 zł
Książki / Literatura obcojęzyczna
Stevia is an herbal sweetener which, in its extracted form, is over 200 times sweeter than sugar, as well as being non-glycemic, safe, and virtually calorie-free. This book offers health-conscious readers over 165 creative recipes that use Stevia as the sweetener.
Sklep: Libristo.pl 30,99 zł
Książki Obcojęzyczne>Angielskie>Lifestyle, sport & leisure>Cookery / food & drink etc>Health & wholefood cookery>Cookery for specific d...
Enjoy Delicious, Gluten-free Meals With Fewer Calories With This New Addition To The Bestselling Hamlyn All Colour Series
Sklep: Gigant.pl 82,50 zł
Książki / Literatura obcojęzyczna
Author of the bestselling Quintessential Quinoa Cookbook, Wendy Polisi got loads of feedback on her first beautiful cookbook - the main request? Gluten-free quinoa recipes! You spoke, Wendy listened. Here is the first quinoa cookbook that is completely gluten-free - with the same easy-to-follow recipe descriptions and beautiful photography that made her first cookbook so successful. With over 200 pages of gluten-free quinoa inspired cuisine, here's what you get that no other quinoa cookbook provides: Wendy's exclusive, handcrafted gluten-free recipes, tested on her own family; photos of every recipe; nutritional information for every recipe; alternative ingredients and preparation methods for many recipes, including vegan, sugar-free, fast and easy, and eating clean; quinoa recipes for kids; and gluten-free desserts (need I say more?). So get ready, get set, get gluten-free with these delicious recipes: Black Bean Quinoa Burgers, Chickpea Cakes with Cucumber Sauce, Curried Quinoa Tacos, Waldorf Salad Wraps, Barbecued Quinoa Sloppy Joes, Baked Chile, Creamy Overnight Quinoa Muesli, Blueberry Quinoa Crumble, Gluten-Free Pizza Dough, and much more!
Sklep: Libristo.pl 74,99 zł
Książki Obcojęzyczne>Angielskie>Lifestyle, sport & leisure>Cookery / food & drink etc>Health & wholefood cookery>Cookery for specific d...
Features 200 Recipes For Soups, Starters, Light Lunches, Egg Dishes, Pasta And Pizzas, Fish, Meat, Poultry And Game, Salads, Vegetables And Vegetarian Dishes, Desserts, Breads, Biscuits And Cakes - All Of Which Are Milk, Cream, Butter, Cheese, Yogurt, Whe
Sklep: Gigant.pl 105,19 zł
Książki / Literatura obcojęzyczna
From a chef and food photographer who trained at the Ferrandi culinary school in Paris, this includes 200 recipes that are clear, simple and precise, and use no more than 5 ingredients. With some gluten-free, dairy-free and low-calorie dishes and colour photos throughout.
Sklep: Libristo.pl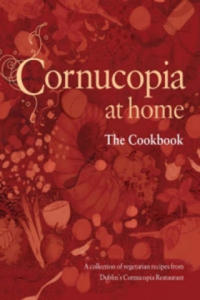 195,94 zł
Książki / Literatura obcojęzyczna
"Cornucopia at Home" contains a selection of the most popular and enduring recipes from the Cornucopia Vegetarian Wholefood Restaurant in Dublin. The restaurant is a household name amongst vegetarians, health food enthusiasts and foodies in Dublin, as it has been serving fresh, wholesome, home-style fare for over 20 years. The lavishly designed and illustrated book is divided into six sections which are soups, salads, main courses, desserts, breads and seasonal menus. All the recipes are based on regular Cornucopia offerings, simply reduced in a step by step guide to suit domestic purposes.This book will start by an introduction by Deidre McCafferty which outlines the philosophy that has been her guiding light over the years of running the restaurant. There will be a section that introduces the Cornucopia at Home chef to some of the more basic elements of the Cornucopia kitchen both ingredients and utensils. Each section will include an introduction, followed by tips and explanations, the recipes come next. This book contains delicious and satisfying recipes with consideration for the following dietary requirements: Vegan; gluten-free; yeast-free, dairy-free; egg-free; nut allergy; and, sugar free. Each chapter contains a variety of recipes suitable for each diet, clearly marked by symbols on each page. "Cornucopia at Home" is for people who like vegetarian food, who like wholefood, who like comforting food, who like health food and who like to cook everything from scratch.
Sklep: Libristo.pl 82,50 zł
Książki / Literatura obcojęzyczna
Bread is such an integral part of our daily diet that it tends to be what we miss the most when embarking on a low carb high fat or gluten-free diet. After the initial excitement fades, it doesn't take long for the aroma of a freshly baked, warm-from-the-oven loaf to waft into our memory. At last, with "Low Carb High Fat Bread," those following low-carb and gluten-free lifestyles can once again bite into delicious, crusty bread.LCHF breads are made with an egg base and contain vitamins, minerals, and protein. This makes LCHF bread highly nutritious, substantial, and satisfying for a hearty snack or even a light lunch. Plus, these recipes are quick and easy to make; simply mix the dough, shape, and bake. "Low Carb High Fat Bread" includes forty delicious recipes, including: Basil loafMonkey breadFoccacia with red onion and ParmesanCrispbreadHotdog and hamburger bunsTortillas It's all here!LCHF bread is gluten- and sugar-free and is perfect for weight loss and health. With "Low Carb High Fat Bread," everyone can indulge in a slice of warm, aromatic, and delectable bread.
Sklep: Libristo.pl 78,85 zł
Książki / Literatura obcojęzyczna
When Jenna Zoe decided to clean up her eating, she started to devise recipes that would allow her to enjoy treats and snacks without guilt and with the kinds of ingredients that her body could harness for well-being, vitality and sustenance. Super Healthy Snacks and Treats is an inspiring collection of recipes to make you change the way you snack and see and feel the benefits in no time. Jenna replaces refined sugar with natural sweeteners such as agave syrup and maple syrup; wheat flour with wheatfree alternatives; and dairy with nut and soya milks and health-giving oils. And she packs the snacks with fruit, vegetables, nuts, seeds and other superfoods to furnish your body with long-term health-enhancing vitamins and minerals, not just instant fuel. The chapters are Breakfasts, Power Snacks, Savoury Nibbles, Dips & Dippers, Sweet Bites, Cookies and Bakes. There are baked kale chips; imaginative dips like edamame and miso or light babaganoush to enjoy with gluten-free crackers or vegetable twists; peanut butter cups, chocolate chip coconut cookies, no-bake crispie cakes and biscotti; and proper baked goods like banana bread and cinnamon buns.
Sklep: Libristo.pl 131,52 zł
Książki / Literatura obcojęzyczna
The power of good, natural food beats any fad diet. By bombarding your body with a sea of nutrients and a range of delicious flavours, your skin will glow, your hair will shine, your stress levels will decrease and you'll feel full of energy. This is what the Detox Kitchen philosophy is all about: fresh, bright, delicious and nutritious food that will leave you radiant with health. Using mouth-watering flavour combinations and an encyclopaedic knowledge of ingredients, founder and chef Lily Simpson and nutritionist Rob Hobson have created 200 carefully tailored recipes and a variety of meal plans to bring you this ultimate, comprehensive bible of detox food - all wheat-, dairy- and refined-sugar-free. Whether you'd like a weekend plan to nurture your body after a demanding week, or a seven-day regime to improve your skin, to boost your energy levels or to gain relief from a health condition, the book will allow you to 'eat yourself well' and shuffle this treasury of recipes to suit your needs. The vibrant dishes are inspired by Lily's worldwide travels, and include Beetroot falafel, Avocado smash, Chicken, cashew and tarragon wraps, pad thai with brown rice noodles, Kale crisps with paprika, Green papaya salad, Tomato pesto with courgette spaghetti, Sesame seed cookies, Butterbean mash, Keralan fish curry, Pinto bean chilli, Pineapple carpaccio coconut clouds, and Apricot and ginger jam. With beautiful photography and a striking design, The Detox Kitchen Bible is the definitive guide to eating your way to a healthy glow. Get detoxing and feel cleansed from the inside out.
Sklep: Libristo.pl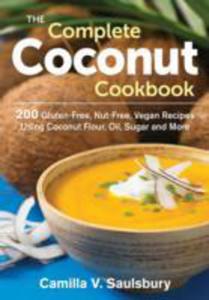 84,99 zł
Książki Obcojęzyczne>Angielskie>Lifestyle, sport & leisure>Cookery / food & drink etc>Cookery by ingredient
200 Fashionable And Healthy Gluten-free, Nut-free, Vegan Recipes Using Coconut Flour, Coconut Oil And Coconut Sugar.
Sklep: Gigant.pl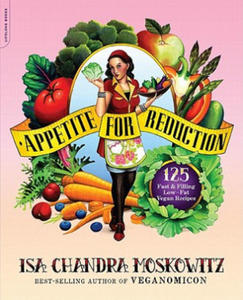 63,78 zł
Książki / Literatura obcojęzyczna
This is not your mother's low-fat cookbook. There's no foolish tricks, no bizarre concoctions, no chemicals, no frozen meals...no fake anything! Appetite for Reduction means cooking with real food, for real life. (Skimpy portions need not apply.) In Appetite for Reduction, bestselling author and vegan chef Isa Chandra Moskowitz has created 125 delectable, nutritionally-balanced recipes for the foods you crave-lasagna, tacos, barbecue, curries, stews, and much more-and it's all: * Only 200 to 400 calories per serving * Plant-based and packed with nutrients * Low in saturated fat and sugar; high in fiber * Drop-dead delicious You'll also find lots of gluten-free and soy-free options, and best of all, dinner can be on the table in less than 30 minutes. So ditch those diet shakes. Skip that lemonade cleanse. And fight for your right to eat something satisfying! Now you can look better, feel better, and have more energy-for health at any size.
Sklep: Libristo.pl 89,99 zł
Książki Obcojęzyczne>Angielskie>Lifestyle, sport & leisure>Cookery / food & drink etc>Health & wholefood cookeryKsiążki Obcojęzyczne>An...
In Eating Clean, Amie Provides Guidance On How To Fight Inflammation And Reset Your Body, Including A 21-Day Elimination Diet, A 2-week Meal Plan, And An Extensive Pantry List. The Book Has Over 200 Recipes That Are Vegetarian And Free Of Gluten, Dairy, Soy, Corn, Eggs, And Refined Sugar To Keep Tummies Healthy.
Sklep: Gigant.pl
Sklepy zlokalizowane w miastach: Warszawa, Kraków, Łódź, Wrocław, Poznań, Gdańsk, Szczecin, Bydgoszcz, Lublin, Katowice
Szukaj w sklepach lub całym serwisie
2. Szukaj na wszystkich stronach serwisu
t1=0.066, t2=0, t3=0, t4=0, t=0.066