krainaksiazek 50 vegan breakfast recipes start your day the healthy way 20095181
- znaleziono 9 produktów w 5 sklepach 65,67 zł
Książki & Multimedia > Książki
Opis - The 10-day plan to help you lose weight, feel great and kick-start a lifetime of healthy eating. "Amelia Freer has taught me so much about food...[you] have to fuel your body correctly" Victoria Beckham In her most comprehensive book yet, the UK"s leading nutritional therapist and bestselling author, Amelia Freer, shares the secrets of her exclusive practice that includes Victoria Beckham and Sam Smith as clients. With her engaging and encouraging commentary, including client case studies and scientifically researched guidance, Nourish & Glow: The 10 Day Plan showcases Amelia"s unrivalled easy-to-follow 10 day meal plan and promises to fundamentally transform the way you shop for food, cook and eat: now and forever. Amelia recognises that we are all unique and there is no "one-size-fits all" approach to food. She will empower you to challenge any negative stories or attitudes you might have towards food and transform them into a positive lifelong love affair with eating well. The exclusive 10 day plan included in this book is a version of the plan Amelia gives to her clients, which has been developed and refined over her decade of work as a nutritional therapist. It is NOT about deprivation. It is a liberating, energising plan that will equip you with the building blocks needed to develop and implement a lifetime of balanced eating that is unique to you. Leaving behind all the confusion and negativity surrounding diets and healthy eating, this book helps you find out exactly how and what it means to eat well for you, for the rest of your life. This ultimate guide includes over 50 exclusive gluten, dairy and refined sugar free recipes, complete with vegan and vegetarian alternatives. Together with a unique and exclusively curated tool - Amelia"s Positive Nutrition Pyramid - which will ensure you are unequivocally nourishing yourself with all of the essential ingredients needed for a happy, healthy body and mind. Give Amelia ten days and she will change how you think about food for life. Nourish & Glow: The 10 Day Plan is THE essential guide for all those committed to living a healthier, happier life. "The nutritionist who has helped numerous celebrities shape up" Daily Mail " Amelia Freer is amazing...I"ve lost over two stone" Kirstie Allsopp "Amelia Freer has helped me lose over a stone in two weeks" Sam Smith Nazwa - Nourish and Glow The 10 Day Plan Autor - Amelia Freer Oprawa - Miękka Wydawca - Penguin Books Kod ISBN - 9780718187231 Kod EAN - 9780718187231 Rok wydania - 2017 Język - angielski Format - 19.0x23.0cm Ilość stron - 336 Podatek VAT - 5% Premiera - 2017-04-18
Sklep: InBook.pl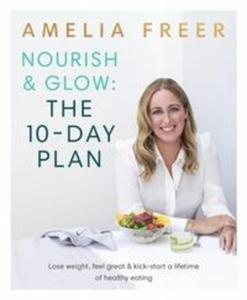 74,70 zł
Poradniki. Informatory. SpisyDiety
The 10-day plan to help you lose weight, feel great and kick-start a lifetime of healthy eating. ?Amelia Freer has taught me so much about food...[you] have to fuel your body correctly? Victoria Beckham In her most comprehensive book yet, the UK?s leading nutritional therapist and bestselling author, Amelia Freer, shares the secrets of her exclusive practice that includes Victoria Beckham and Sam Smith as clients. With her engaging and encouraging commentary, including client case studies and scientifically researched guidance, Nourish & Glow: The 10 Day Plan showcases Amelia?s unrivalled easy-to-follow 10 day meal plan and promises to fundamentally transform the way you shop for food, cook and eat: now and forever. Amelia recognises that we are all unique and there is no ?one-size-fits all? approach to food. She will empower you to challenge any negative stories or attitudes you might have towards food and transform them into a positive lifelong love affair with eating well. The exclusive 10 day plan included in this book is a version of the plan Amelia gives to her clients, which has been developed and refined over her decade of work as a nutritional therapist. It is NOT about deprivation. It is a liberating, energising plan that will equip you with the building blocks needed to develop and implement a lifetime of balanced eating that is unique to you. Leaving behind all the confusion and negativity surrounding diets and healthy eating, this book helps you find out exactly how and what it means to eat well for you, for the rest of your life. This ultimate guide includes over 50 exclusive gluten, dairy and refined sugar free recipes, complete with vegan and vegetarian alternatives. Together with a unique and exclusively curated tool - Amelia?s Positive Nutrition Pyramid - which will ensure you are unequivocally nourishing yourself with all of the essential ingredients needed for a happy, healthy body and mind. Give Amelia ten days and she will change how you think about food for life. Nourish & Glow: The 10 Day Plan is THE essential guide for all those committed to living a healthier, happier life. ?The nutritionist who has helped numerous celebrities shape up? Daily Mail ? Amelia Freer is amazing...I?ve lost over two stone? Kirstie Allsopp ?Amelia Freer has helped me lose over a stone in two weeks? Sam Smith
Sklep: Booknet.net.pl 59,85 zł
Literatura obcojęzyczna
The 10-day plan to help you lose weight, feel great and kick-start a lifetime of healthy eating. 'Amelia Freer has taught me so much about food...[you] have to fuel your body correctly' Victoria Beckham In her most comprehensive book yet, the UK's leading nutritional therapist and bestselling author, Amelia Freer, shares the secrets of her exclusive practice that includes Victoria Beckham and Sam Smith as clients. With her engaging and encouraging commentary, including client case studies and scientifically researched guidance, Nourish & Glow: The 10 Day Plan showcases Amelia's unrivalled easy-to-follow 10 day meal plan and promises to fundamentally transform the way you shop for food, cook and eat: now and forever. Amelia recognises that we are all unique and there is no 'one-size-fits all' approach to food. She will empower you to challenge any negative stories or attitudes you might have towards food and transform them into a positive lifelong love affair with eating well. The exclusive 10 day plan included in this book is a version of the plan Amelia gives to her clients, which has been developed and refined over her decade of work as a nutritional therapist. It is NOT about deprivation. It is a liberating, energising plan that will equip you with the building blocks needed to develop and implement a lifetime of balanced eating that is unique to you. Leaving behind all the confusion and negativity surrounding diets and healthy eating, this book helps you find out exactly how and what it means to eat well for you, for the rest of your life. This ultimate guide includes over 50 exclusive gluten, dairy and refined sugar free recipes, complete with vegan and vegetarian alternatives. Together with a unique and exclusively curated tool - Amelia's Positive Nutrition Pyramid - which will ensure you are unequivocally nourishing yourself with all of the essential ingredients needed for a happy, healthy body and mind. Give Amelia ten days and she will change how you think about food for life. Nourish & Glow: The 10 Day Plan is THE essential guide for all those committed to living a healthier, happier life. 'The nutritionist who has helped numerous celebrities shape up' Daily Mail ' Amelia Freer is amazing...I've lost over two stone' Kirstie Allsopp 'Amelia Freer has helped me lose over a stone in two weeks' Sam Smith
Sklep: Literacka.pl 79,80 zł
Książki / Literatura obcojęzyczna
Fresh, delicious vegetables should be a staple of any diet, but if you've decided that you'd like to take your Meatless Mondays to a whole new level, then it might be time to ditch the processed foods and meats and try out a vegetarian diet. Eating vegetarian doesn't have to be complicated! In fact, it can be downright scrumptious and satisfying. The Easy Vegetarian Kitchen helps you to create simple meals that will help you live a happier and healthier life. Erin Alderson, the popular voice behind the whole foods, vegetarian blog Naturally Ella, shows you how to easily eat plant-based vegetarian meals every day. With 50 core recipes for everything from entrees to appetizers and desserts, The Easy Vegetarian Kitchen guides you through staple recipes such as salads, sandwiches, stir-frys, and stews and easily adapt them to seasonal or oh-hand ingredients. Enjoy spring's fresh asparagus in a delicious frittata and change it up for winter with Curried Butternut Squash and Feta. Core recipes allow readers to build an essential pantry list so eating vegetarian is always easy. And if you feel like going vegan, each recipe can be easily adapted with flavorful substitutions. Start filling your kitchen, and your belly, with healthy, plant-based ingredients and start eating your way to a happier meat-free life.
Sklep: Libristo.pl 72,49 zł
Książki Obcojęzyczne>Angielskie>Lifestyle, sport & leisure>Cookery / food & drink etc>Cookery by ingredient
Granola Has Expanded From A Breakfast-only Food To A Staple, Any Time Of Day. With Over 50 Unique And Delicious And Easy To Make Granola Recipes, You Have All Your Bases Covered For Breakfast Ideas, Granola Is A Unique Collection Of Recipes That Will Inspire You To Start Your Day In A Healthy Way.
Sklep: Gigant.pl 79,80 zł
Książki / Literatura obcojęzyczna
Granola has expanded from a breakfast-only food to a staple, any time of day. With over 50 unique and delicious and easy to make granola recipes, you have all your bases covered for breakfast ideas, Granola is a unique collection of recipes that will inspire you to start your day in a healthy way.
Sklep: Libristo.pl 52,99 zł
Książki / Literatura obcojęzyczna
You might think that dinner's taken care of if you have take-out pizza, but if you want to stay healthy at university, you'll need to widen your repertoire and learn to cook quick and easy, budget-friendly food. The Really Hungry Vegetarian Student Cookbook will come to the rescue with delicious, meat-free recipes for any occasion. The book is packed with nutritious vegan and vegetarian recipes, whether you need sustenance for late-night study sessions, are hosting the afterparty at your place or want to bake your new vegan best friend a birthday cake. Start your day the smart way with Boosting Breakfasts that will set you up to face the day - choose from blended smoothies and homemade granolas. Lunchbox Heros will keep you going through those long lectures and La Vita Bella is packed with nourishing pasta and vegetable dishes. Learn to make wholesome and satisfying comfort food in Veggie Mighty and for convenience look no further than Pot Luck for a tasty bean chilli, lentil curry or tofu stir-fry that can be whipped up and washed up in no time. For a special occasion, why not rustle up an impressive dish for your friends from Wow Chow and be the hostess with the mostest by serving up deliciously healthy snacks like kale chips and pepper popcorn from Food to Love. Finally, Let's Bake a Cake! has everything your sweet tooth could desire, but some pretty good ingredients too so that you get the nutrients you need every time you eat.
Sklep: Libristo.pl 133,75 zł
Książki / Literatura obcojęzyczna
This comprehensive book is a reflection of the groundswell of enthusiasm there is out there for healthy eating - leafy greens in particular. Kale led the charge and now consumers are looking for new alternatives to these inexpensive, nutritious and versatile ingredients. Dozens of varieties of leafy green (67 to be exact) are featured, each with a photograph for easy identification - from popular ones like spinach, to the trendy such as kale and collards, to the obscure like mizuna or purslane, which may only be familiar to foragers, avid gardeners or world travellers. But the world is getting smaller every day and our grocery store selection larger, so it's probably just a matter of time before you see these at your local grocers. All the greens are listed alphabetically, and each listing contains: Scientific and alternate names, and types; Historical information including fascinating folk remedies; Nutritional information as well as tasting notes; Recipes that correspond to the particular green; How to buy, store, prepare and cook the green; Measures & substitutions, equivalents; Intriguing and entertaining sidebar boxes. Susan has created 250 outstanding vegan recipes - a wide and wonderful variety which can be enjoyed as main dishes, sides and even breakfast. Smoothies are the perfect way to incorporate more greens into your diet. The humble Brussels sprout is elevated to a whole new level in Brussels and Yukon Hash, dandelion is dandy in Penne Boscaiola and Napa simply shines in Grilled Kimcheese Sandwiches. Explore greens from other parts of the world that are now grown in the West - Yu Choy in Yu Choy with Saucy Shiitakes and Baby Corn or taro leaves that perfectly complete the recipe for West Indies Pepper Pot Soup. So stretch beyond your typical cooking routine and tap into a healthier, more interesting way of eating by simply incorporating more greens into your kitchen.
Sklep: Libristo.pl 64,57 zł
Książki / Literatura obcojęzyczna
50 Delicious Recipes, all with 6 Ingredients and less than 15 minutes to make... And all with images. Bonus included - 10 Delicious Keto Smoothies. A Keto Diet can sometimes be hard. You don't have the time to make the delicious low carb food you have seen in Ketogenic Cookbooks or the worst case, you are eating the burger without the bun for the 4th time this week. To help you stay in ketosis, I want to make it as quick and easy as possible.. but without sacrificing any of the flavor. The 6 Ingredient Ketogenic Diet Cookbook has been created to: Help you create quick meals - no more preparing food for an hour. Be easy - Anyone can make a meal with 6 ingredients Easily found ingredients - no golden grape tomatoes from a village in South America somewhere. The ingredients are easily found in your local supermarket. Be delicious - More ingredients does not equal tastier. Sometimes simpler is better. Mouthwatering - All recipes come with full images. You will love the variety inside. The recipes cover all food types and time of day: Breakfast Side Dishes Desserts / sweet snacks Main meals Red meat White meat Fish Vegetarian And the dishes themselves are varied and delicious, for example: Lemon Pepper Shrimp Zoodles (my best and simplest shrimp recipe) Creamy Spiced Chicken With Walnuts (great recipe for dining with friends - even my non-keto friends love this) Kale Stuffed Chicken Breasts (these are impressive just to look at.. and taste great too) Pesto 'Spaghetti' (for those who miss Spaghetti Bolognaise) Citrus Salad with Grilled Provolone (yes it has fruit, but only enough to give it a great taste) Coconut Macaroons (my absolute favorite snack!) Chocolate Chia Pudding (fantastic way to start the day)
Sklep: Libristo.pl
Sklepy zlokalizowane w miastach: Warszawa, Kraków, Łódź, Wrocław, Poznań, Gdańsk, Szczecin, Bydgoszcz, Lublin, Katowice
Szukaj w sklepach lub całym serwisie
2. Szukaj na wszystkich stronach serwisu
t1=0.035, t2=0, t3=0, t4=0.023, t=0.035