krainaksiazek a breath of friendship 20115512
- znaleziono 9 produktów w 3 sklepach 44,18 zł
Książki / Literatura obcojęzyczna
Bruce Pike can hear the sea at night and longs to go to the shore. When he befriends Loonie, his small town's wild boy, that dream is realized. Together, intoxicated by the treacherous power of the waves and by the immortality of youth, the two boys defy all limits and rules. Pikelet learns what it is to be extraordinary, feels exhilaration for the very first time, and -- caught up in love and friendship and an erotic current he cannot resist -- he understands the true meaning of fear. These are experiences that will far outlast his adolescence. How, then, to mask the emptiness of leaving such intensity behind? 'An absorbing, powerful and deeply beautiful novel' Observer 'A love letter to the sea and a moving coming-of-age story ...Rapturous' Sunday Telegraph 'Breath has the sensibility and reach of an epic' Scotland on Sunday 'Full of fizz and a vital poetry of sun, sand, sea and air' Independent on Sunday 'Breath has the urgent clarity of a story that needed to be told' Guardian
Sklep: Libristo.pl 34,45 zł
Książki / Literatura obcojęzyczna
Hey, buster! Normal life is a total yawn. So break out of boredom with multi-million-copy bestselling author Lauren Child, and meet your new favourite heroine...Ruby Redfort: detective, secret agent, thirteen-year-old kid. Everyone's favourite kid detective is back for a second mind-blowing instalment, packed with all the off-the-wall humour, action and friendship of the first book. This time, though, it's an adventure on the wide open ocean, and Ruby is all at sea...Can she crack the case of the Twinford pirates while evading the clutches of a vile sea monster as well as the evil Count von Viscount? Well, you wouldn't want to bet against her...
Sklep: Libristo.pl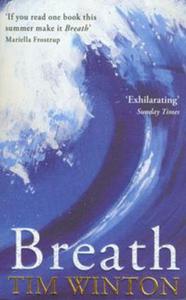 38,40 zł
Społeczno-obyczajowaPowieść zagraniczna
As intimate as it is elemental, Tim Winton's beautiful new novel recounts the forces that can shape and break a life Bruce Pike, or 'Pikelet', has lived all his short life in a tiny sawmilling town from where the thundering sea can be heard at night. He longs to be down there on the beach, amidst the pounding waves, but for some reason his parents forbid it and it's only when he befriends Loonie, the local wild boy, that he finally defies them. Intoxicated by the treacherous power of the sea and by their own youthful endurance, the two boys defy all limits and rules, and fall into the company of adult mentors whose own addictions to risk take them to places they could never have imagined. Caught up in love and friendship and an erotic current he cannot resist, Pikelet faces challenges whose effects will far outlast his adolescence.
Sklep: Booknet.net.pl 64,46 zł
Książki / Literatura obcojęzyczna
A true story of death and survival in the world's most dangerous sport, cave diving. Two friends plunge 900 ft deep into the water of the Komali Springs in South Africa, to raise the body of a diver who had perished there a decade before. Only one returns. Unquenchable heroism and complex human relationships amid the perils of extreme sport. On New Year's Day, 2005, David Shaw travelled halfway around the world on a journey that took him to a steep crater in the Kalahari Desert of South Africa, a site known locally as Boesmansgat: Bushman's Hole. His destination was nearly 900 feet below the surface. On 8 January, he stepped into the water. He wore and carried on him some of the most advanced diving equipment ever developed. Mounted to a helmet on his head was a video camera. David Shaw was about to attempt what had never been done before, and he wanted the world to see. He descended. About fifteen feet below the surface was a fissure in the dolomite bottom of the basin, barely wide enough to admit him and his equipment and the aluminum tanks slung under his shoulders. He slipped through the opening, and disappeared from sight, leaving behind the world of light and life. Then, a second diver descended through the same crack in the stone. This was Don Shirley, Shaw's friend and frequent dive partner, one of the few people in the world qualified to follow where Shaw was about to go. In the community of extreme diving, Don Shirley was a master among masters. Twenty-five minutes later, one of the men was dead. The other was in mortal peril, and would spend the next 10 hours struggling to survive, existing literally from breath to breath. What happened that day at Bushman's Hole is the stuff of nightmarish drama, juxtaposing classic elements of suspense with an extreme environment beyond most people's comprehension. But it's also a compelling human story of friendship, heroism, unswerving ambition and of coming to terms with loss and tragedy.
Sklep: Libristo.pl 36,60 zł
Książki / Literatura obcojęzyczna
The story of a homeless boy who starts by losing everything, and - through his experience as an evacuee in World War II - finds friendship, vocation and a place to belong. Just then came: crump, CRUMP, CRUMP! Three bombs in quick succession, coming frighteningly closer. With each explosion, the ground shook. Dust and chips fell from the ceiling. Everyone in the shelter gasped at the same time. Vinnie held his breath, waiting for the fourth bomb, but it didn't come. When Vinnie is sent away from the bombs in London, he has no idea what awaits him. All he has left of his old life is his harmonica. On the train, Vinnie meets fierce Kathleen, sweet Joey and gangly Dobbs. The evacuee children find themselves thrown together in the country town of Netterfold, which seems beautiful and peaceful - until they meet the locals. There is a war raging across Europe, but Vinnie and his friends soon find they have their own war to fight as they face up to terrifying teachers, bad billets, and hostile neighbourhood kids who set out to make their lives as 'vaccies' miserable. And when things start to go missing, they discover that there are mysteries lurking in Netterfold's shadows, just waiting to be solved...Through music and friendship, can Vinnie make peace and finally find a place where he belongs?
Sklep: Libristo.pl 39,24 zł
Książki / Literatura obcojęzyczna
The city of Simenon's youth comes to life in this new translation of this disturbing novel set in Liege, book ten in the new Penguin Maigret series. In the darkness, the main room is as vast as a cathedral. A great empty space. Some warmth is still seeps from the radiators. Delfosse strikes a match. They stop a moment to catch their breath, and work out how far they have still to go. And suddenly the match falls to the ground, as Delfosse gives a sharp cry and rushes back towards the washroom door. In the dark, he loses his way, returns and bumps into Chabot. Maigret observes from a distance as two boys are accused of killing a rich foreigner in Liege. Their loyalty, which binds them together through their adventures, is put to the test, and seemingly irrelevant social differences threaten their friendship and their freedom. Penguin is publishing the entire series of Maigret novels. "Compelling, remorseless, brilliant". (John Gray). "One of the greatest writers of the twentieth century...Simenon was unequalled at making us look inside, though the ability was masked by his brilliance at absorbing us obsessively in his stories". (Guardian). "A supreme writer ...unforgettable vividness". (Independent). Georges Simenon was born in Liege, Belgium, in 1903. Best known in Britain as the author of the Maigret books, his prolific output of over 400 novels and short stories have made him a household name in continental Europe. He died in 1989 in Lausanne, Switzerland, where he had lived for the latter part of his life.
Sklep: Libristo.pl 44,18 zł
Książki / Literatura obcojęzyczna
A number 1 bestseller in France and translated into over twenty languages, Billie is one of the most beloved French novels to be published in recent years. A brilliant evocation of Paris and a moving tale of friendship, Anna Gavalda's new novel tells the story of two young people, Billie and Franck, who, as the story opens, are trapped in a gorge in the Cevennes Mountains. With darkness encroaching, their situation is dire, and Billie begins to tell stories from their lives in order to survive. In alternating episodes, the novel moves between recollections of the two characters' childhoods and their dreadful predicament.§§Franck's life has been impacted by a childhood spent with a perennially unemployed father who toyed with Christian extremism and a mother aestheticized by antidepressants. A bright kid, Franck's future was menaced at every turn by the bigotry around him. Billie's abiding wish as an adult is to avoid ever having to come into contact with her family again. To escape from her abusive and alcohol-addled family, she was willing to do anything and everything. The wounds have not entirely healed.§§At the heart of Gavalda's tender story lies a generosity of spirit that will take readers' breath away, and an unshakable belief in the power of art to lift the most fragile among us to new vistas from which they can see futures full of hope, love, and dignity. Billie is a beautifully crafted novel for readers of all ages and from all walks of life that conveys a positive message about overcoming life's trials and tribulations.
Sklep: Libristo.pl 34,78 zł
Książki / Literatura obcojęzyczna
Agnes Makepeace has always been courageous and strong-minded and on the surface, she couldn't be more unlike the chilly, reserved Helen Spencer. Agnes knows there is a mystery to her own background and is determined to discover the truth about her past. She believes the key to unlock the secret is held with husband's employer, Judge Zachary Spencer of Lambert House - a mean-spirited widower and solitary man. Judge Spencer has long neglected his daughter, Helen and notices her even less when he takes a new wife. But he has underestimated both the extent of his daughter's misery and her determination to enact her revenge. Helen's new-found confidence causes her to behave in a way that will have a lasting, and shocking impact on both families and, surprisingly, leads to a lifelong friendship with Agnes. Yet it is only when the broodingly silent house on Skirlaugh Rise ceases to hold its breath and deliver the answers that Agnes has been seeking that she can finally find the peace of mind she has always longed for.
Sklep: Libristo.pl 94,99 zł
It's Love SATIN DOLL PRODUCTIONS
Muzyka>Jazz
1. A Beautiful Friendship 2. The Breath 3. Padam Padam 4. Send In The Clowns 5. C'est L'amour 6. Surabaya Johnny 7. Do You Know The Way To San Jose 8. Sin Espacio 9. Beklaut 10. I Wish You Love
Sklep: Gigant.pl
Sklepy zlokalizowane w miastach: Warszawa, Kraków, Łódź, Wrocław, Poznań, Gdańsk, Szczecin, Bydgoszcz, Lublin, Katowice
Szukaj w sklepach lub całym serwisie
2. Szukaj na wszystkich stronach serwisu
t1=0.071, t2=0, t3=0, t4=0.022, t=0.071