krainaksiazek a breath of friendship 20115512
- znaleziono 7 produktów w 3 sklepach 86,15 zł
Książki / Literatura obcojęzyczna
Danny Bright was born to entertain. He just needs his big break. So when he hears that Blue Horizon Records is holding auditions looking for the next big thing, Danny jumps at the chance. It doesn't turn out exactly as he imagined, though. Instead of getting solo contracts, Danny and four other guys are put into a boy band. Innocent, idealistic Elliot Price thinks he's headed for college. An impulsive decision to sing in the local talent search changes all that. A bigwig producer happens to see him, hands him a business card, and turns Elliot's life upside down. Elliot and Danny are close from the beginning. They love all the guys, but it's different with each other. Soon their friendship turns into feelings more intense than either of them can ignore. The other three boys only want Danny and Elliot to be happy, but when their management team and record label discover two of their biggest tween heartthrobs are in a relationship, they're less than pleased. Danny and Elliot find themselves in the middle of a circle of lies and cover-ups, all with one bottom line-money. They have to stay strong and stick together if they don't want to lose themselves... and each other.
Sklep: Libristo.pl 47,28 zł
Książki / Literatura obcojęzyczna
Bruce Pike can hear the sea at night and longs to go to the shore. When he befriends Loonie, his small town's wild boy, that dream is realized. Together, intoxicated by the treacherous power of the waves and by the immortality of youth, the two boys defy all limits and rules. Pikelet learns what it is to be extraordinary, feels exhilaration for the very first time, and -- caught up in love and friendship and an erotic current he cannot resist -- he understands the true meaning of fear. These are experiences that will far outlast his adolescence. How, then, to mask the emptiness of leaving such intensity behind? 'An absorbing, powerful and deeply beautiful novel' Observer 'A love letter to the sea and a moving coming-of-age story ...Rapturous' Sunday Telegraph 'Breath has the sensibility and reach of an epic' Scotland on Sunday 'Full of fizz and a vital poetry of sun, sand, sea and air' Independent on Sunday 'Breath has the urgent clarity of a story that needed to be told' Guardian
Sklep: Libristo.pl 36,81 zł
Książki / Literatura obcojęzyczna
Hey, buster! Normal life is a total yawn. So break out of boredom with multi-million-copy bestselling author Lauren Child, and meet your new favourite heroine...Ruby Redfort: detective, secret agent, thirteen-year-old kid. Everyone's favourite kid detective is back for a second mind-blowing instalment, packed with all the off-the-wall humour, action and friendship of the first book. This time, though, it's an adventure on the wide open ocean, and Ruby is all at sea...Can she crack the case of the Twinford pirates while evading the clutches of a vile sea monster as well as the evil Count von Viscount? Well, you wouldn't want to bet against her...
Sklep: Libristo.pl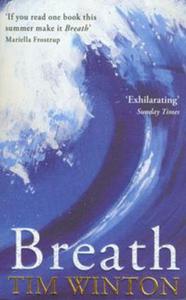 38,40 zł
Społeczno-obyczajowaPowieść zagraniczna
As intimate as it is elemental, Tim Winton's beautiful new novel recounts the forces that can shape and break a life Bruce Pike, or 'Pikelet', has lived all his short life in a tiny sawmilling town from where the thundering sea can be heard at night. He longs to be down there on the beach, amidst the pounding waves, but for some reason his parents forbid it and it's only when he befriends Loonie, the local wild boy, that he finally defies them. Intoxicated by the treacherous power of the sea and by their own youthful endurance, the two boys defy all limits and rules, and fall into the company of adult mentors whose own addictions to risk take them to places they could never have imagined. Caught up in love and friendship and an erotic current he cannot resist, Pikelet faces challenges whose effects will far outlast his adolescence.
Sklep: Booknet.net.pl 160,88 zł
Książki / Literatura obcojęzyczna
When the Norwegian composer Christian Sinding introduced his young friend Frederick Delius (1862-1934) to Edvard Grieg (1843-1907) in Leipzig in 1887, it was to be a memorable occasion for each of them. Delius in particular was later to write of this first meeting with Grieg with great fondness and affection: 'I was very proud of having made his acquaintance, for since I was a little boy I had loved his music. I had as a child always been accustomed to Mozart and Beethoven and when I first heard Grieg it was as if a breath of mountain air had come to me.'. It was, for both men, the beginning of a long and deep personal friendship that, despite the inevitable vissitudes of time, survived until death was to claim each of them. Of all Grieg's English friends, Delius was by far the closest; and Grieg, in turn, played an important role in Delius's development both as a man and a composer. A contributory factor to their friendship was Delius's profound commitment to and interest in Norway even before he met Grieg. Throughout his life he was drawn to Norway's breathtaking landscape, its literature, its art and the character of its people. Much the larger part of many letters exchanged between Edvard and Nina Grieg and Frederick Delius, usually conducted in German, has remained unpublished until today. Now, for the first time, the entire correspondence, with the fascinating insights which it offers into some extraordinary lives, has been brought together and arranged in chronological order and widely commented upon. Dr Lionel Carley, adviser and archivist to the Delius Trust and author of four books on Delius, has thus created a biographical double portrait. As well as revealing a wealth ofopinions and comments upon the music and manners of their contemporaries and a varied discussion of the many problems involved in the labours of composition, Grieg and Delius offer a singular number of glimpses into their deep, and occasionally troubled, emotional lives. Deliu
Sklep: Libristo.pl 439,99 zł
Muzyka>Rhythm & Blues / Soul
1. Jamerson, James - A Simple Game 2. Four Tops, The - L.a. (My Town) 3. Ruffin, Jimmy - Our Favorite Melody 4. Ruffin, Jimmy - You Gave Me Love 5. Marvelettes, The - A Breath Taking Guy 6. Marvelettes, The - You're The One For Me Bobby 7. Originals, The - I'm Someone Who Cares 8. Originals, The - Once I Have You (I Will Never Let 9. Originals, The - I'm Someone Who Cares 10. Blue Scepter - Out In The Night 11. Blue Scepter - Gypsy Eyes 12. Blue Scepter - Out In The Night 13. Undisputed Truth, The - What It Is? 14. Undisputed Truth, The - California Soul 15. Posse - Feel Like Givin' Up 16. Posse - Take Somebody Like You 17. Temptations, The - Take A Look Around 18. Temptations, The - Smooth Sailing (From Now On) 19. Temptations, The - Take A Look Around 20. The Devastating Affair - I Want To Be Humble 21. The Devastating Affair - My Place 22. The Devastating Affair - I Want To Be Humble 23. Jackson Five, The - Rockin' Robin 24. Jackson, Michael - Love Is Here & Now You're Gone 101. Gladys Knight & The Pips - Can You Give Me Love Wi 102. Gladys Knight & The Pips - If You Gonna Leave (Jus 103. Gladys Knight & The Pips - Can You Give Me Love Wi 104. Frankie Valli - Love Isn't Here (Like It Used To B 105. Frankie Valli - Poor Fool 106. Frankie Valli - Love Isn't Here (Like It Used To B 107. Frankie Valli - Poor Fool 108. Junior Walker & The All Stars - Walk In The Night 109. Junior Walker & The All Stars - I Don't Want To Do 110. Starr, Edwin - Take Me Clear From Here 111. Starr, Edwin - Ball Of Confusion (That's What The 112. G.c. Cameron - I'm Gonna Get You 113. G.c. Cameron - I'm Gonna Get You 114. Willis, Eddie - Help Me Make It Through The Night 115. The Sisters Love - Mr. Fix-it Man Man 116. The Sisters Love - You've Got To Make The Choice 117. Richard Dean Taylor - Taos New Mexico 118. Richard Dean Taylor - Shadow 119. Commodores, The - The Zoo (The Human Zoo) 120. Commodores, The - I'm Looking For Love 201. Rare Earth - What'd I Say 202. Rare Earth - Nice To Be With You 203. Rare Earth - What'd I Say 204. Kendricks, Eddie - Let Me Run Into Your Lonely Hea 205. Kendricks, Eddie - Eddie's Love 206. Kendricks, Eddie - Eddie's Love 207. Houston, Thelma - Me & Bobby Mcgee 208. Houston, Thelma - No One's Gonna Be A Fool Forever 209. G.c. Cameron - What It Is, What It Is 210. G.c. Cameron - You Are That Special One 211. Jackson Five, The - Little Bitty Pretty One 212. Jackson, Michael - If I Have To Move A Mountain 213. Wilson, Mary - Automatically Sunshine 214. Supremes, The - Precious Little Things 215. The Courtship - It's The Same Old Love 216. The Courtship - Last Row, First Balcony 217. The Courtship - It's The Same Old Love 218. Xit - Nihaa Shil Hozho (I Am Happy About You) 219. Xit - End? 220. Xit - Nihaa Shil Hozho (I Am Happy About You) 221. Four Tops, The - I Can't Quit Your Love 222. Four Tops, The - Happy (Is A Bumpy Raod) 223. Vincent Dimirco - I Can Make It Alone 224. Vincent Dimirco - Come Clean 301. Wonder, Stevie - Superwoman (Where Were You When I 302. Bridges, Benjamin - I Love Every Little Thing Abou 303. Eric & The Vikings - It's Too Much For Man To Take 304. Eric & The Vikings - Time Don't Wait 305. Eric & The Vikings - It's Too Much For Man To Take 306. Howl The Good - Long Way From Home 307. Howl The Good - Why Do You Cry 308. Howl The Good - Long Way From Home 309. Gaye, Marvin - You're The Man (Part 1) 310. Gaye, Marvin - You're The Man (Part 2) 311. Corporation, The - I Wanna Be Where You Are 312. Jackson Five, The - We've Got A Good Thing Going 313. Bristol, Johnny - We've Come Too Far To End It Now 314. Undisputed Truth, The - Papa Was A Rollin' Stone 315. Undisputed Truth, The - Friendship Train 316. Undisputed Truth, The - Papa Was A Rollin' Stone 317. Nelly Antoinette Byl - Get Me Some Help 318. Chris Holland & T-bone - If Time Could Stand Still 319. Nelly Antoinette Byl - Get Me Some Help 320. Martha Reeves & The Vandellas - Tear It On Down 321. Martha Reeves & The Vandellas - I Want You Back 322. Different Shades Of Brown - Label Me Love 323. Different Shades Of Brown - Life's A Ball (While I 401. Temptations, The - Mother Nature 402. Temptations, The - Funky Music Sho Nuff Turns Me O 403. Temptations, The - Mother Nature 404. Darin, Bobby - Sail Away 405. Darin, Bobby - Hard Headed Woman 406. Suzee Ikeda - I Can't Give Back The Love I Feel Fo 407. Suzee Ikeda - Mind, Body & Soul 408. Ruffin, David - A Little More Trust 409. Ruffin, David - A Day In The Life, Of A Working Ma 410. Ruffin, David - A Little More Trust 411. Blinky - Money (That's What I Want) 412. Blinky - For Your Precious Love 413. Junior Walker & The All Stars - Groove Thang 414. Junior Walker & The All Stars - Me & My Family 415. Jackson Five, The - Lookin' Through The Windows 416. Jackson 5 - Love Song 417. The Blackberries - Somebody Up There 418. The Blackberries - But I Love You More 419. Syreeta - To Know You Is To Love You 420. Syreeta - Happiness 421. Crystal Mansion - Somebody Oughta Turn Your Head A 422. Crystal Mansion - Earth People 501. The Blackberries - Somebody Up There
Sklep: Gigant.pl 94,99 zł
It's Love SATIN DOLL PRODUCTIONS
Muzyka>Jazz
1. A Beautiful Friendship 2. The Breath 3. Padam Padam 4. Send In The Clowns 5. C'est L'amour 6. Surabaya Johnny 7. Do You Know The Way To San Jose 8. Sin Espacio 9. Beklaut 10. I Wish You Love
Sklep: Gigant.pl
Sklepy zlokalizowane w miastach: Warszawa, Kraków, Łódź, Wrocław, Poznań, Gdańsk, Szczecin, Bydgoszcz, Lublin, Katowice
Szukaj w sklepach lub całym serwisie
2. Szukaj na wszystkich stronach serwisu
t1=0.049, t2=0, t3=0, t4=0, t=0.049