krainaksiazek a brief psychotherapy for personality disorder 20096373
- znaleziono 13 produktów w 2 sklepach 26,99 zł
Książki Obcojęzyczne>Angielskie>Medicine>Other branches of medicine>Clinical psychology>Psychotherapy
A Brief Psychotherapy For Personality Disorder Introduces Traumatic Separation Theory As A New Approach To Treatment. It Combines Traditional With Contemporary Behavioural, Biological, Cognitive, And Humanist Concepts.
Sklep: Gigant.pl 379,99 zł
Książki Obcojęzyczne>Angielskie>Medicine>Other branches of medicine>Clinical psychology>Psychotherapy
The Book Is A Treatment Manual Designed For Mental Health Professionals Who Work With Individuals Presenting With Moderate To Severe Forms Of Personality Disorder. The Book Focuses On The Broader Group Of Patients With Borderline Personality Organization, Expanding The Reach And Utility Of This Volume.
Sklep: Gigant.pl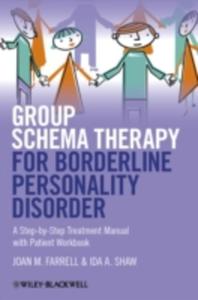 219,99 zł
Książki Obcojęzyczne>Angielskie>Medicine>Other branches of medicine>Clinical psychology>Psychotherapy
Debuting As The First Treatment Manual For Group Schema Therapy, Group Schema Therapy For Borderline Personality Disorder Is Based On The Only Group Schema Therapy Model Validated By Published Empirical Evidence.
Sklep: Gigant.pl 149,81 zł
Książki / Literatura obcojęzyczna
The Clinician's Quick Guide to Interpersonal Psychotherapy is a practical guide for busy clinicians who want to learn Interpersonal Psychotherapy (IPT). Initially developed as a treatment for major depression, IPT has proven highly effective as a therapy for a number of other disorders. IPT can be combined with medication, and it is a safe alternative to medication for those individuals who may not be able to take antidepressants. IPT has been shown not only to relieve symptoms but to build social skills. Learn how to use IPT to effectively treat depression, as well as other disorders including bipolar disorder, anxiety disorders, eating disorders, and borderline personality disorder. Written by the originators of the treatment, this practical book describes how to approach clinical encounters with patients, how to focus IPT treatment, and ways to handle therapeutic difficulties. The book updates research findings on IPT and addresses its adaptation to different cultures. Complete with clinical examples and sample therapist scripts throughout, this guide foregoes the theoretical and empirical background of IPT, and focuses on teaching you the best way to deliver this effective, time-limited, diagnostically focused, and immensely practical treatment.
Sklep: Libristo.pl 273,41 zł
Książki / Literatura obcojęzyczna
The Structured Clinical Interview for DSM-IV Axis II Personality Disorders (SCID-II) is an efficient, user-friendly instrument that will help researchers and clinicians make standardized, reliable, and accurate diagnoses of the 10 DSM-IV Axis II personality disorders as well as depressive personality disorder, passive-aggressive personality disorder, and personality disorder not otherwise specified. Now compatible with DSM-IV, the interview questions have been redesigned to reflect the subject's inner experience. This instrument begins with a brief overview that characterizes the subject's typical behavior and relationships and elicits information about the subject's capacity for self-reflection. It then considers each of the personality disorders in detail. The User's Guide provides instructions on how to use the SCID-II effectively. It contains sections describing the rationale and structure of the SCID-II and a detailed item-by-item commentary on the SCID-II. A sample case is also included to help clinicians learn to use the SCID-II.
Sklep: Libristo.pl 314,28 zł
Fatal Flaws American Psychiatric Press Inc.
Książki / Literatura obcojęzyczna
Featuring case vignettes from nearly 30 years of Dr. YudofskyAs clinical practice and incorporating the knowledge of gifted clinicians, educators, and research scientists with whom he has collaborated throughout that time, Fatal Flaws: Navigating Destructive Relationships With People With Disorders of Personality and Character uniquely captures the rapidly increasing body of clinical and research information about people with severe and persistent personality and character disorders. Within these pages, the author brings to life the psychopathologies of personality and character disorders through vivid vignettes based on composites of his many patients and their most important relationshipsAwhile meticulously changing the identifying facts and relevant details to protect confidentiality. Covering the clinical course, treatment, genetics, biology, psychology, and destructive consequences of hysterical (histrionic), narcissistic, antisocial, paranoid, obsessive-compulsive, addictive, borderline, and schizotypal personality disorders, Fatal Flaws stands out in the literature for these powerful reasons: -It is written for an unusually broad audience, from mental health students and trainees of all disciplines, to highly experienced clinicians, to patients who suffer from or are in destructive relationships with people with personality disorders. -It is a hybridApart psychiatric textbook for clinicians and part self-help manual for patients and clients with personality and character disorders. -It is designed to supplement treatment by providing patients with practical, evidence-based information about personality disorders and character flaws. -It is particularly valuable to patients who are in psychotherapy, in part, because they are entangled in destructive relationships with people with disorders of personality and/or character. -It is written in the first person, with the author directly communicating with a patient who either has a personality or character disorder or is in an important relationship with a person who has such a disorder. -It is useful for people who are uncertain whether they or their loved ones have personality or character disorders, and who want to know more about these conditions and their treatments before making a decision about securing the help of a mental health professional. Fatal Flaws: Navigating Destructive Relationships With People With Disorders of Personality and Character is a compelling volume that provides the essential information and a realistic sense of the clinical experience required to inform, orient, and support novice mental health professionals and seasoned practitioners alike as they face the ongoing challenges of treating patients or clients with personality or character disorders. It should also prove to be an invaluable resource for those who wish practical and effective help in understanding and changing their destructive relationships with people who have severe and persistent disorders of personality and/or character.
Sklep: Libristo.pl 129,62 zł
Counseling Books LLC, Reference Series
Książki / Literatura obcojęzyczna
Source: Wikipedia. Pages: 126. Chapters: Psychotherapy, Posttraumatic stress disorder, Family therapy, Rational emotive behavior therapy, Psychiatric and mental health nursing, Peer support, Grief, Viktor Frankl, Community counselor, Eye movement desensitization and reprocessing, Active listening, Pre-conception counseling, Heimler method of Human Social Functioning, Co-counselling, Psychological trauma, Lay community counsellor, Credit counseling, Re-evaluation Counseling, Mullingstorp, Grief counseling, Cognitive Information Processing, Exit counseling, Positive Psychotherapy, Crisis intervention, Genetic counseling, Theophostic counseling, Feminist therapy, Cognitive therapy, Relationship education, Suicide intervention, Logotherapy, Rehabilitation counseling, Direct support professional, Telephone counseling, Brad Lamm, Caryll Houselander, Jean Dalby Clift, Body-centred countertransference, Behavioral psychotherapy, Mental health counselor, The Grief Recovery Institute, UK counselling organizations, American Group Psychotherapy Association, Wonders & Worries, British Association for Counselling and Psychotherapy, Career counseling, Workplace listening, American Association for Marriage and Family Therapy, Pastoral counseling, Inner Healing Movement, Healing Through Creativity, Licensed Professional Counselor, Psychiatric and mental health nurse practitioner, Lifeline, The Survivors Trust, California Association of Marriage and Family Therapists, Biblical counseling, Retman, Brief psychotherapy, Transference focused psychotherapy, Reflective listening, American Association of Pastoral Counselors, Navy Counselor, William R. Miller, World counseling system, Enabling, Career guide, United to End Racism, List of counseling topics, Genomic counseling, Pregnancy options counseling, Career development, Rational Living Therapy, Weinberg Center for Elder Abuse Prevention, Direct therapeutic exposure, Howard Rosenthal, Counting method, The Bridge Peer Counseling Center, Ecological counseling, Homeowner Crisis Resource Center, The Listening Ear, Philosophical counseling, Child Helpline International, Disciplinary counseling, Reminiscence therapy, Postvention, Counseling statements in the United States, Experience Focused Counselling, Condolences, Supportive psychotherapy, Christian counseling, Counselor education, Rational Behavior Therapy, Online counseling, Trial separation, Community counseling, Headspace, Camp counselor, Careers advisor, Licensed Clinical Professional Counselor. Excerpt: Posttraumatic stress disorder (also known as post-traumatic stress disorder or PTSD) is a severe anxiety disorder that can develop after exposure to any event that results in psychological trauma. This event may involve the threat of death to oneself or to someone else, or to one's own or someone else's physical, sexual, or psychological integrity, overwhelming the individual's ability to cope. As an effect of psychological trauma, PTSD is less frequent and more enduring than the more commonly seen acute stress response. Diagnostic symptoms for PTSD include re-experiencing the original trauma(s) through flashbacks or nightmares, avoidance of stimuli associated with the trauma, and increased arousal - such as difficulty falling or staying asleep, anger, and hypervigilance. Formal diagnostic criteria (both DSM-IV-TR and ICD-10) require that the symptoms last more than one month and cause significant impairment in social, occupational, or other important area...
Sklep: Libristo.pl 170,98 zł
Książki / Literatura obcojęzyczna
Source: Wikipedia. Pages: 167. Chapters: Psychoanalysis, Psychotherapy, Cognitive behavioral therapy, Neuropsychological test, Psychological pain, Positive psychology, Professional practice of behavior analysis, Rorschach test, Family therapy, Mindfulness, Gestalt therapy, Transpersonal psychology, Sexological testing, Rational emotive behavior therapy, Mental status examination, Mental health professional, DSM-5, Adventure therapy, Neurofeedback, Self-talk Identification, Questioning & Revision, Biofeedback Certification International Alliance, Eye movement desensitization and reprocessing, Active listening, Psychological testing, Psychological trauma, Training and licensing of clinical psychologists, Eastern philosophy in clinical psychology, Abnormal psychology, Neuropsychology, Personality test, Experiential avoidance, Integrative psychotherapy, Rape trauma syndrome, Trauma Center at JRI, Narrative therapy, Licensed behavior analyst, Doctor of Psychology, Prescriptive authority for psychologists movement, Verbal fluency test, TeenScreen, Systemic Constellations, Cognitive therapy, Cognitive Processing Therapy, Person-centered therapy, Brainwave entrainment, Behavioral activation, Rey-Osterrieth Complex Figure, Future-oriented therapy, History of psychotherapy, Psychiatric history, Institutional syndrome, Behavioral psychotherapy, Personality development disorder, Ego integrity, Mindfulness-based stress reduction, Clinical neuropsychology, Historical trauma, Services for mental disorders, Clinical formulation, Chinese Classification of Mental Disorders, Improving Access to Psychological Therapies, Millon Clinical Multiaxial Inventory, Mindfulness-based cognitive therapy, Psychogenic pain, Texas Medication Algorithm Project, Scientist practitioner model, Retman, Transference focused psychotherapy, Subpersonality, Bessel van der Kolk, William R. Miller, Lightner Witmer, Idiographic image, Clinical Associate, Neuropsychological assessment, Practitioner-scholar model, National Adult Reading Test, Journal of Clinical Psychology, Rational Living Therapy, Objective test, Paced Auditory Serial Addition Test, Rivermead Post Concussion Symptoms Questionnaire, Narcissistic Personality Inventory, Institute for Psychological Therapies, Doctor of Clinical Psychology, Telemental Health, Frustration aggression theory, Interoceptive exposure, Supportive psychotherapy, Primary Care Psychologist, Rational Behavior Therapy, Discan, Selective abstraction. Excerpt: Psychoanalysis (or Freudian psychology) is a body of ideas developed by Austrian neurologist Sigmund Freud and continued by others. It is primarily devoted to the study of human psychological functioning and behavior, although it can also be applied to societies. Psychoanalysis has three main components: Under the broad umbrella of psychoanalysis, there are at least 22 theoretical orientations regarding human mentation and development. The various approaches in treatment called "psychoanalysis" vary as much as the theories do. The term also refers to a method of studying child development. Freudian psychoanalysis refers to a specific type of treatment in which the "analysand" (analytic patient) verbalizes thoughts, including free associations, fantasies, and dreams, from which the analyst induces the unconscious conflicts causing the patient's symptoms and character problems, and interprets them for the patient to create insight for resolution of the problems. The specifics of the analyst's int...
Sklep: Libristo.pl 345,22 zł
Książki / Literatura obcojęzyczna
With its unique combination of Areading, seeing, and doingA through lavish use of video, tables and charts, learning exercises, troubleshooting examples, and practical tips for getting the most from treatment interventions, Learning Cognitive-Behavior Therapy: An Illustrated Guide is designed to help both students and practitioners master the core methods of this proven form of psychotherapy. This easy-to-use guidebook offers brief video vignettes (included on DVD) of master cognitive-behavior therapists who show how to implement the most important techniques of CBT, such as -The collaborative therapeutic relationship -Full descriptions and instructions on the most effective behavioral strategies; a program designed for achieving competency -An integrated cognitive-behavioral/biological/interpersonal model for treatment -Instructions on fully integrating CBT with psychopharmacological intervention and on formulation and treatment planning methods endorsed by the Academy of Cognitive Therapy Learning Cognitive-Behavior Therapy: An Illustrated Guide covers all of the key features of CBT, beginning with the origins of the CBT model and an overview of core theories and techniques that guide the work of effective cognitive-behavior therapists. Subsequent chapters cover -In-depth explanations and illustrations of the core methods and desired elements of the therapeutic relationship in CBT, including how to conceptualize a case with the CBT model and how to structure effective sessions -The critical functions of structure and psychoeducation -Pragmatic instructions on how to implement the most important CBT methods, including specific methods used to identify and change maladaptive cognitions and behavior in major psychiatric disorders, from depression and anxiety to bipolar disorder, psychoses, and eating and personality disorders -A unique troubleshooting guide to assist readers in overcoming common clinical problems in implementing CBT -Helpful learning exercises to enhance understanding and put CBT interventions to work -Guidelines and measures to assess progress toward achieving competency in CBT and continuing to build skills in this effective treatment approach This remarkable volume concludes with two appendices of practical worksheets, checklists, thought records, and other written exercises for clinical practice, and recommended web sites and other CBT learning resources. A DVD is also included. Written by expert cognitive-behavior therapists, Learning Cognitive-Behavior Therapy: An Illustrated Guide is the essential resource for students of medicine, psychiatry, psychology, social work, pastoral counseling, and nursing and for practitioners who wish to learn the invaluable techniques of CBT.
Sklep: Libristo.pl 135,32 zł
Książki / Literatura obcojęzyczna
Description A Pillar of Impotence deals with many issues in mental health. Fundamentally it is a story of recovery, the damage done by misdiagnosis, and finding a simple, medication based solution after 10 years. A book crosses the spectrum of mood disorder and a falsely diagnosed Personality Disorder. It deals with inpatient care, suicide, day services, psychotherapy, and eventual abandonment by Statutory Services. But it is put into the context of the wider world and as such is a record of the whole of the 1990s through the eyes of one sufferer. Various diagnoses were given at various times including depression, chronic endogenous depression, psychotic depression, narcissistic personality disorder, borderline personality, and non specified mood disorder.
Sklep: Libristo.pl 157,63 zł
Książki / Literatura obcojęzyczna
I was most impressed by the author's thoroughness in writing this book. She seems to leave no stone uncovered...[this is] a work which should become a necessity for all counsellors, counselling psychologists, psychiatric nurses and psychotherapists...This is a book to which I will make reference time and time again, and one which will occupy a prominent place in my library' - Counselling, The Journal of the British Association for Counselling 'An invaluable handbook for students of psychotherapy and a good reference for established therapists...I recommend that all therapists have a copy of this book on their shelf' - Psychology, Health & Medicine Assessment and referral skills are essential for counsellors and psychotherapists. Practitioners need to have an understanding of the clinical manifestations of severe emotional distress. They must, for example, be able to recognize when clients are a suicide risk or when they are suffering from a psychotic episode. This lively textbook provides a clear overview of the issues involved in our understanding of psychopathology and offers guidelines on appropriate interventions.Alessandra Lemma explores a range of key topics, covering how psychiatric diagnoses and classifications are arrived at, and the issues that can arise when working in conjunction with other mental health practitioners, such as psychiatrists. She addresses the needs of practitioners in relation to some of the more common forms of mental distress - depression, anxiety and eating problems - as well as some of the more controversial diagnoses, such as schizophrenia and 'borderline personality disorder'. The book concludes with a discussion of alternatives to mainstream approaches, including those which seek to deconstruct the concept of psychopathology. Introduction to Psychopathology offers a framework for assessing clients which incorporates a broad range of models and approaches, and which takes into account psychological, social and biological factors. It will be an invaluable resource for students of counselling, counselling psychology, psychotherapy and clinical psychology.
Sklep: Libristo.pl 154,54 zł
Resolve Crown House Publishing
Książki / Literatura obcojęzyczna
The RESOLVE framework integrates NLP's effective brief therapy and the personal encounter of psychotherapy. Using techniques that access the deeper structure of the brain for fast, permanent change, "RESOLVE" demonstrates how to: - identify the techniques that work for each client - create a relationship that empowers - introduce changes in life-approach - access inner skills, strategies and strengths - ensure that change occurs in the deeper brain structures where older patterns of behaviour were first laid down - recognise stages in the therapeutic process, and respond most effectively for that stage. Richard gives examples from his work with PTSD in Bosnia-Herzegovina, and with addictions, depression, anxiety conditions, personality disorders and psychoses in clinical practice in New Zealand and elsewhere. His framework is wonderfully clear and easy to follow for all those wishing to make fundamental life changes quickly and effectively. "A must read for any professional trainer or psychotherapist who wants to stay informed." - L. Michael Hall PhD, Cognitive-Behavioural psychologist, author and international trainer.
Sklep: Libristo.pl 174,99 zł
Książki Obcojęzyczne>Angielskie>Medicine>Other branches of medicine>PsychiatryKsiążki Obcojęzyczne>Angielskie>Medicine>Other bran...
This Self-help Manual For Those Who Meet The Diagnosis Of 'emotionally Unstable' Or 'borderline Personality Disorder'(BPD) Outlines A Brief Intervention Based On A Model Of Treatment Known To Be Effective For Other Conditions.
Sklep: Gigant.pl
Sklepy zlokalizowane w miastach: Warszawa, Kraków, Łódź, Wrocław, Poznań, Gdańsk, Szczecin, Bydgoszcz, Lublin, Katowice
Szukaj w sklepach lub całym serwisie
2. Szukaj na wszystkich stronach serwisu
t1=0.042, t2=0, t3=0, t4=0, t=0.043