krainaksiazek a christmas out of the ordinary 20122681
- znaleziono 13 produktów w 2 sklepach 29,67 zł
Książki / Literatura obcojęzyczna
Oswald T. Campbell, aged fifty-two, down-and-out in a Chicago winter, is given only months to live unless he moves South... He finds himself in the small town of Lost River, Alabama, where the residents are friendly if feud-prone and eccentric to a fault. One of them, Roy, keeps a red cardinal, a once wounded bird called Jack. Patsy, a sad, sweet little kid with a crippled leg, from the trailer park up in the woods, takes to dropping by the store - and falls in love with Jack. Flagg takes us on an emotional roller-coaster ride through the lives and hearts of an engaging crew of misfits, fixers and ordinary good-hearted folk, set against the vivid natural backdrop of a mellow Alabama winter.
Sklep: Libristo.pl 29,67 zł
Książki / Literatura obcojęzyczna
Open this book to see stylish, black and white illustrations showing various Christmas scenes and seasonal motifs. Then brush water over them using the aqua pen provided (or an ordinary brush) and see them transform before your very eyes, as a rainbow of colours magically reveal themselves and bring each scene to life. Those that remember the first incarnation of magic painting will be thrilled to see it return in this stylish, updated version; those who don't will have the pleasure at marvelling at it for the first time! Fantastic artwork brings an old favourite bang up to date. Designs look super-stylish in monochrome; add water for a range of vivid hues.A gatefold back cover folds out so that you can slip it underneath the page you're working on, and protect the page beneath.
Sklep: Libristo.pl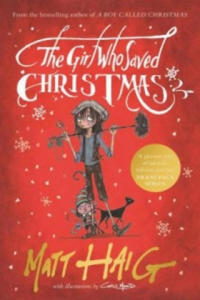 54,73 zł
Książki / Literatura obcojęzyczna
The next magical book in the festive series, begun withA Boy Called Christmas,from Number One bestselling author Matt Haig. With upset elves, reindeers dropping out of the sky and angry trolls there's a chance that Christmas might be cancelled...But meet Amelia, she isn't just any ordinary girl. Brought to life with enchanting illustrations by Chris Mould
Sklep: Libristo.pl 36,60 zł
Powieści i opowiadania
'When people ask me what I do for a crust and I tell them that I'm a novelist, they immediately assume that my life is a non-stop carousel of limos, television appearances, hair-dos, devoted fans, stalkers and all the glitzy paraphernalia of being a public figure. It's time to set the record straight. I write alone, in a darkened bedroom, wearing my PJs, eating bananas, my laptop on a pillow in front of me ...' Her novels are adored by millions around the world
Sklep: Albertus.pl 32,40 zł
Powieści i opowiadania
Blood. That
Sklep: Albertus.pl 39,56 zł
Książki / Literatura obcojęzyczna
A companion to the new deluxe edition of "Olive, the Other Reindeer"and a wonderful Christmas gift in its own rightthis advent calendar offers an engaging and interactive way to count down to Christmas. And just like Olive is no ordinary "reindeer," this is no ordinary advent calendar! Featuring an intricate pop-up of Santa's castle in the center, the calendar has a surprise for each day leading up to Christmasa punch-out figure that children can stand up and place around the castle, whether it's Santa, a reindeer, or Olive herself! By the time December 25 arrives, the calendar will have become a very merry Christmas scene!
Sklep: Libristo.pl 34,78 zł
Książki / Literatura obcojęzyczna
With a free 'SANTA STOP HERE SIGN' to cut out and keep, this picture book is the perfect laugh-out-loud Christmas gift. When Santa's house explodes, he comes to stay with an ordinary family before Christmas. But Santa is NOT an easy houseguest - he destroys the house and almost ruins Christmas! Can Santa fix eveything in time for Christmas?
Sklep: Libristo.pl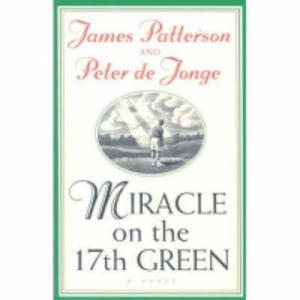 44,68 zł
Książki / Literatura obcojęzyczna
Travis McKinley is an ordinary man living an ordinary life - he has a job that he despises, a marriage that has lost its passion, children from whom he feels disconnected, and, at age fifty, a sense that he has accomplished nothing of consequence with his life. But on Christmas Day, he goes out to play a round of golf, and for the first time, he finds himself in the 'zone'. He sees the putting line that has eluded him for years. Always a fairly good golfer, he finds himself playing like a pro and is so caught up in his excitement that he continues to play, sinking putt after putt, missing Christmas dinner with his wife and family. It is too much for his already troubled marriage. His family collapses - but Travis is soon too busy living his dream to notice. His amazing new golf skills catapult him into the PGA Senior Open at Pebble Beach, where he advances to the final round with two of his heroes, Jack Nicklaus and Raymond Floyd. And with his wife, children, and a live television audience watching, a miracle takes place on the 17th green that will change Travis, and his family, forever.
Sklep: Libristo.pl 44,68 zł
Książki / Literatura obcojęzyczna
James 'Sharky' Harkin, erstwhile fisherman/van driver/chauffeur, is an unassuming sort of fellow well into his fifties. He lives with his cantankerous blind brother in a pretty squalid flat to the north of Dublin. He ekes out a living. He has his hopes and fears...It's Christmas Eve. Friends turn up to play cards and get drunk on Sharky's booze. One of them, Mr. Lockhart, is a man he thinks he recognises. As the night wears on and Christmas Eve becomes Christmas Day, Mr. Lockhart reminds Sharky that they last met in jail, where Sharky was doing time for killing a man in a fight. Lockhart appears to have arranged for Sharky's miraculous early release - but only against Sharky's undertaking that the next time they play cards, and he loses, Sharky must surrender his soul...In his magnificently atmospheric new play, McPherson is up to his old tricks, introducing real spookiness into the most ordinary surroundings: the ghost stories of "The Weir", the dead wife in "Shining City". With its variation on the Faust theme, "The Seafarer" is the strongest yet. It is set for huge success when it opens at the National Theatre in the autumn.
Sklep: Libristo.pl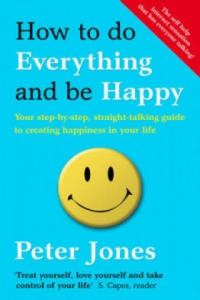 44,68 zł
Książki / Literatura obcojęzyczna
Do you ever feel that you could be - well - just that little bit happier? This simple book reveals how you can be happy every day, through these surprisingly easy tips and advice. Whoever you are, whatever you do, and whatever is holding you back, you can do it AND be happy. How To Do Everything and Be Happy is a book for ordinary people, with ordinary lives. People who have been ambling along and wondering if things would be better if they were just a little different. It's a book for most people. It's a book for you. Peter Jones was once a normal guy. Sometimes frustrated, often dissatisfied, but always working hard towards a 'happily every after' he would share with his wife Kate. But when Kate died in Peter's arms after just 2 years and 3 months of marriage, he realised his days had been spent working towards a fantasy, instead of making every hour count. Alone, at rock bottom, Peter discovered that the secret to happiness is simple: it's about filling your time with the things that make you happy. If you've got a brain in your head, if you can pick up a pen, if you've got half an idea about what makes you smile, this book will show you how to do that. Peter's ideas are born from hard-won experience. Like Boxing Day: originally a day Peter and Kate spent together, without plans or restrictions, as an antidote to the chaos of Christmas. When Kate passed away, Peter continued the tradition by himself, doing whatever came to mind: it turned out to be the most refreshing, relaxing and fulfilling few hours he'd ever had. And its effects could be felt throughout the month. Practical, amusing and mumbo-jumbo-free, How To Do Everything And Be Happy does exactly what it says on the tin.
Sklep: Libristo.pl 52,09 zł
Książki / Literatura obcojęzyczna
This book takes us on a quest for the truth and meaning which are bound up with God and His creation of us and our world. We go on a pilgrimage through the Testaments, Old and New, the Gospels and Epistles, and the Holy stories so familiar to us. Each Biblical quotation and reference is taken from the seasons of the year-long life of the Church: Advent, Christmas, Lent and Ordinary Time ending with the Feast of Christ the King. The author assists the reader by including abstract thoughts, praise, poetry and jottings which give time for reflection and underline the fact that God is present in everything. We thus become acquainted with God, Jesus, Mary and the apostles and disciples. However, this acquaintance is only the beginning of the journey as the author emphasises. The next stage is to look for Him in your daily life and to listen out for His voice in the quietness. For those who are searching for Christian truth or for reaffirmation of this truth already accepted, then here is a message of hope and encouragement. James Byrne was born in Baltinglass, Co. Wicklow, Ireland in 1931. A cradle Catholic, he pursued and continues to pursue the conventional path of religious worship, but, he began to realise that being a Catholic was not in itself a completion without the necessary ingredient of being a true Christian, at the same time. Believing has to be linked to really knowing Jesus and finding Him within one's self. To living out all that He is, and teaches us to be. To finding within ourselves that love for each other that led Him to die for us. Reading Philosophy at University reinforced his need to search, and to question, which led to his discovering an absolute truth, and faith in his own Catholicism. It is this renewed relationship with Jesus that he wishes to share with his readers.
Sklep: Libristo.pl 64,46 zł
Książki / Literatura obcojęzyczna
As part of the Light Division created to act as the advance guard of Wellington's army, the 95th Rifles are the first into battle and the last out. Fighting, thieving and raping their way across Europe, they are clearly no ordinary troops. The 95th are in fact the first British soldiers to take aim at their targets, to take cover when being shot at, to move tactically by fire and manoeuvre. And by the end of the six-year campaign they have not only proved themselves the toughest fighters in the army, they have also - at huge personal cost - created the modern notion of the infantryman. 'If you like Sharpe, then this book is a must, your Christmas present solved.' Bernard Cornwell, Daily Mail 'A brilliant warts-and-all depiction of Wellington's famous riflemen.' Daily Telegraph
Sklep: Libristo.pl 34,78 zł
Książki / Literatura obcojęzyczna
One man. One hour. One million people to save...Over the remote central Pacific, an airliner is rocked by a massive explosion and plummets into the ocean, leaving no survivors. Twelve hundred miles away in Hawaii, Kai Tanaka, the acting director of the Pacific Tsunami Warning Centre in Honolulu, notes a minor seismic disturbance but doesn't make the connection with the lost airplane. He has no reason to worry about his wife, manager of a luxury hotel, or his daughter, who is enjoying the sunshine at Waikiki beach. But when all contact with neighbouring Christmas Island is lost, Kai is the first to realize that Hawaii faces an epic catastrophe: in one hour, a series of massive waves will wipe out Honolulu. He has just sixty minutes to save the lives of a million people, including his wife and daughter...Addictive and fast-paced, The Tsunami Countdown pitches an ordinary man against the odds in an electrifying and action-packed thriller. You won't be able to put it down.
Sklep: Libristo.pl
Sklepy zlokalizowane w miastach: Warszawa, Kraków, Łódź, Wrocław, Poznań, Gdańsk, Szczecin, Bydgoszcz, Lublin, Katowice
Szukaj w sklepach lub całym serwisie
2. Szukaj na wszystkich stronach serwisu
t1=0.049, t2=0, t3=0, t4=0.012, t=0.049