krainaksiazek a confusion of tongues 20040269
- znaleziono 8 produktów w 3 sklepach 98,68 zł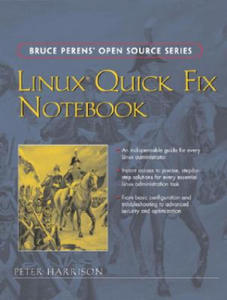 162,40 zł
Książki / Literatura obcojęzyczna
In typical Linux "bibles," reserve the last third coverage for advanced topics that sys admins use on a day by day basis. They tend to cover the underlying concepts reasonably well, but fall short on hands-on instructions, forcing admins to buy specialty books. This book sufficiently expands the advanced sections found in these "bibles," providing step-by step instructions on how to configure the most popular Linux back office applications. To avoid confusion between the many flavors of Linux, each with it's own GUI interface, this book exclusively uses the command line to illustrate the tasks needed to be done. It provides all the expected screen output when configuring the most commonly used Linux applications to help assure the reader that they are doing the right thing. The Notebook also includes many of the most commonly encountered errors with explanations of their causes and how to fix them. The book's format is aimed at sys admins who often have to do advanced tasks in which the underlying theory is understood, but the commands to do it are forgotten or at the tips of their tongues. As the line between power users and administrators continues to blur, as computers move from the data center to the desktop, as Linux and Windows gain equal footing in business, it becomes harder to remember and do it all. This is the guide that gives admins the answers they need to common problems and tasks, allowing them time to eat lunch.
Sklep: Libristo.pl 125,12 zł
Książki / Literatura obcojęzyczna
The philosopher Philo was born about 20 BCE to a prominent Jewish family in Alexandria, the chief home of the Jewish Diaspora as well as the chief center of Hellenistic culture; he was trained in Greek as well as Jewish learning. In attempting to reconcile biblical teachings with Greek philosophy he developed ideas that had wide influence on Christian and Jewish religious thought. The Loeb Classical Library edition of the works of Philo is in ten volumes and two supplements, distributed as follows. Volume I: Creation; Interpretation of Genesis II and III. II: On the Cherubim; The Sacrifices of Abel and Cain; The Worse Attacks the Better; The Posterity and Exile of Cain; On the Giants. III: The Unchangeableness of God; On Husbandry; Noah's Work as a Planter; On Drunkenness; On Sobriety. IV: The Confusion of Tongues; The Migration of Abraham; The Heir of Divine Things; On the Preliminary Studies. V: On Flight and Finding; Change of Names; On Dreams. VI: Abraham; Joseph; Moses. VII: The Decalogue; On Special Laws Books IIII. VIII: On Special Laws Book IV; On the Virtues; Rewards and Punishments. IX: Every Good Man Is Free; The Contemplative Life; The Eternity of the World; Against Flaccus; Apology for the Jews; On Providence. X: On the Embassy to Gaius; indexes. Supplement I: Questions on Genesis. II: Questions on Exodus; index to supplements.
Sklep: Libristo.pl 199,99 zł
Muzyka>Pop
1. Joy Division - Digital 2. Cabaret Voltaire - Baader Meinhof (Remastered) 3. A Certain Ratio - All Night Party (Remastered 7 V 4. O.m.d. - Electricity (Remastered Original 7 Versi 5. Joy Division - She's Lost Control (12-inch Version 6. Distractions - Time Goes By So Slow 7. Joy Division - Transmission 8. The Durutti Column - Sketch For Summer (Remastered 9. X-o-dus - English Black Boys 10. Joy Division - Love Will Tear Us Apart (2005 Remas 11. A Certain Ratio - Shack Up (Remastered) 12. Section 25 - Girls Don't Count 13. Crawling Chaos - Sex Machine (Remastered) 14. A Certain Ratio - Flight (Remastered) 15. The Names - Night Shift 16. New Order - Ceremony (Original 7 Single Version) 17. Minny Pops - Dolphin's Spurt 18. John Dowie - It's Hard To Be An Egg 19. Crispy Ambulance - Deaf 20. Section 25 - Dirty Disco 101. New Order - Everything's Gone Green (12 Version) 102. Tunnel Vision - Watching The Hydroplanes 103. The Durutti Column - Messidor 104. A Certain Ratio - Knife Slits Water (Remastered) 105. Royal Family & The Poor - Art On 45 106. Swamp Children - Taste What's Rhythm 107. New Order - Temptation (Remastered Original 12 Ve 108. 52nd Street - Cool As Ice 109. New Order - Blue Monday (12 Version) 110. Cabaret Voltaire - Yashar (John Robie Remix) 111. Quando Quango - Love Tempo 112. The Wake - Talk About The Past 201. New Order - Confusion (Remastered Original 12 Ver 202. Marcel King - Reach For Love 203. Section 25 - Looking From A Hilltop (Megamix) 204. Stockholm Monsters - All At Once 205. Life (Uk) - Tell Me (Remastered) 206. The Durutti Column - Without Mercy (Duet) (Remaste 207. James - Hymn From A Village 208. Kalima - Trickery (Remastered) 209. A Certain Ratio - Sounds Like Something Dirty (Rem 210. Quando Quango - Genius 211. Happy Mondays - Freaky Dancin' 212. Miaow - When It All Comes Down 213. The Railway Children - Brighter 214. Biting Tongues - Compressor 215. New Order - True Faith 216. Happy Mondays - 24 Hour Party People 301. New Order - Fine Time 302. Happy Mondays - W.f.l. (Think About The Future Mix 303. Revenge (Uk) - Seven Reasons 304. Happy Mondays - Hallelujah (Club Mix - Remastered 305. Electronic - Getting Away With It 306. Happy Mondays - Step On (Remastered Version) 307. Northside - Shall We Take A Trip? 308. New Order - World In Motion 309. Happy Mondays - Kinky Afro (Remastered Version) 310. The Durutti Column - Home 311. Electronic - Get The Message (Dna Mix) 312. Northside - Take Five 313. Cath Carroll - Moves Like You (Remix) 314. The Other Two - Tasty Fish 315. Happy Mondays - Sunshine & Love (Lionrock Remix)
Sklep: Gigant.pl
Sklepy zlokalizowane w miastach: Warszawa, Kraków, Łódź, Wrocław, Poznań, Gdańsk, Szczecin, Bydgoszcz, Lublin, Katowice
Szukaj w sklepach lub całym serwisie
2. Szukaj na wszystkich stronach serwisu
t1=0.03, t2=0, t3=0, t4=0.024, t=0.03