krainaksiazek a confusion of tongues 20040269
- znaleziono 6 produktów w 3 sklepach
128,67 zł
Książki / Literatura obcojęzyczna
Can normative words like "good," "ought," and "reason" be defined in non-normative terms? Stephen Finlay argues that they can, advancing a new theory of the meaning of this language and providing pragmatic explanations of the especially problematic features of its moral and deliberative uses which comprise the puzzles of metaethics.
Sklep: Libristo.pl 269,99 zł
Muzyka>Pop
1. Joy Division - Digital 2. Cabaret Voltaire - Baader Meinhof (Remastered) 3. A Certain Ratio - All Night Party (Remastered 7 V 4. O.m.d. - Electricity (Remastered Original 7 Versi 5. Joy Division - She's Lost Control (12-inch Version 6. Distractions - Time Goes By So Slow 7. Joy Division - Transmission 8. The Durutti Column - Sketch For Summer (Remastered 9. X-o-dus - English Black Boys 10. Joy Division - Love Will Tear Us Apart (2005 Remas 11. A Certain Ratio - Shack Up (Remastered) 12. Section 25 - Girls Don't Count 13. Crawling Chaos - Sex Machine (Remastered) 14. A Certain Ratio - Flight (Remastered) 15. The Names - Night Shift 16. New Order - Ceremony (Original 7 Single Version) 17. Minny Pops - Dolphin's Spurt 18. John Dowie - It's Hard To Be An Egg 19. Crispy Ambulance - Deaf 20. Section 25 - Dirty Disco 101. New Order - Everything's Gone Green (12 Version) 102. Tunnel Vision - Watching The Hydroplanes 103. The Durutti Column - Messidor 104. A Certain Ratio - Knife Slits Water (Remastered) 105. Royal Family & The Poor - Art On 45 106. Swamp Children - Taste What's Rhythm 107. New Order - Temptation (Remastered Original 12 Ve 108. 52nd Street - Cool As Ice 109. New Order - Blue Monday (12 Version) 110. Cabaret Voltaire - Yashar (John Robie Remix) 111. Quando Quango - Love Tempo 112. The Wake - Talk About The Past 201. New Order - Confusion (Remastered Original 12 Ver 202. Marcel King - Reach For Love 203. Section 25 - Looking From A Hilltop (Megamix) 204. Stockholm Monsters - All At Once 205. Life (Uk) - Tell Me (Remastered) 206. The Durutti Column - Without Mercy (Duet) (Remaste 207. James - Hymn From A Village 208. Kalima - Trickery (Remastered) 209. A Certain Ratio - Sounds Like Something Dirty (Rem 210. Quando Quango - Genius 211. Happy Mondays - Freaky Dancin' 212. Miaow - When It All Comes Down 213. The Railway Children - Brighter 214. Biting Tongues - Compressor 215. New Order - True Faith 216. Happy Mondays - 24 Hour Party People 301. New Order - Fine Time 302. Happy Mondays - W.f.l. (Think About The Future Mix 303. Revenge (Uk) - Seven Reasons 304. Happy Mondays - Hallelujah (Club Mix - Remastered 305. Electronic - Getting Away With It 306. Happy Mondays - Step On (Remastered Version) 307. Northside - Shall We Take A Trip? 308. New Order - World In Motion 309. Happy Mondays - Kinky Afro (Remastered Version) 310. The Durutti Column - Home 311. Electronic - Get The Message (Dna Mix) 312. Northside - Take Five 313. Cath Carroll - Moves Like You (Remix) 314. The Other Two - Tasty Fish 315. Happy Mondays - Sunshine & Love (Lionrock Remix)
Sklep: Gigant.pl 45,85 zł
Książki / Literatura obcojęzyczna
Excerpt from The Assasin: A Tragedy in Four Acts Harold. Did you see his face? Was it not wonderful? Joe. His face? Of course I saw it. W hat should I be looking at, his uniform? Not but I saw that, too. He wears more gold of late. Harold. His face was noble; set with high resolve. Joe. A mask to cover his ambition up. Come, let's to work. Hold you this steadv. Harold. (still gazing into space.) I never can forget that face. It bore the dignity of other worlds. Joe. For my part I would rather see it in the fight, blackened with powder-smoke, and torn with fury. I like not warriors when they turn toward peace. Harold. He is our great dictator. Joe. Emperor, you should be saying. Harold. I do not fear the word. He is our emperor. Joe. Fools' tongues are quick familiar with new words. Here, look at what you do. Harold. I see him there, so stately, mild, and calm, turning from fate of war to faith of peace. Joe. 'twere better you should see this nail I'm driving. You're less apt to come out with a damaged thumb. As for heroes, if that's what you've come to the city to see, why, you will have them on this stage in the course of an hour; just as big heroes as your Emperor, too. Did I not tell you, you would see Philip legrand? Harold. My father has often preached against the stage. Joe. As I have Often preached against your mother for marrying your father. Still, she did well enough. Harold. And, yet, I have Often longed to be an actor. Joe. Well, being an actor, and longing to be one, are as far apart as you and Philip legrand himself. Hand me my saw. (saws off stick.) Then, too, La Teresita is coming this afternoon to try one Of her dances. She's greater than Philip legrand in my eye; though there are plenty who will not agree with me in that. Harold. It were better I did not see them today. After beholding the Emperor's face I should be shallow to be diverted by a play-actor. Joe. Oh, things come hot and then cold in the city. You have to get used to it, my boy.(enter Teresita Flores in dancing costume. She is about thirty, capricious, passionate.) teresita. All alone, Joe? Joe. All alone, Miss. Teresita. Now you are not alone, either. Joe. Only my nephew from the ranchos, Miss. He doesn't count. Teresita. Every young man counts one, Joe. Joe. Oho! And the Old men? DO they count for noth ing, Miss Flores? Teresrra. After an Old man has counted a million, why, sometimes, only sometimes, we consider him. But I should hardly say we counted him, even then. (turning very kindly to Harold May,) What is your name, youth? Harold. (with some confusion.) Harold is my name: Harold May. Teresita. That is why your hair is so flaxen; and curling, too. But where's your curling beard? Harold. I shaved it Off after coming to the city. Uncle Joe said no one wore a beard in the city. Teresita. Uncle Joe is a fool. Eh, Joe? Joe. If you say so, Miss. But I think I was right. Teresita. It is the way Of fools. Let your beard grow, boy, let it grow. And your name, you tell me, is George. Harold. My name is Harold. Teresita. No, I think it is George. St. George I shall call you, I think. Have you ever killed any dragons? Harold. Dragons don't grow on the plains. If they did, I don't think I could kill them. I can't kill a calf, or a sheep. Everybody says I'm a coward. Teresrra. I don't say that. And I am Teresita. You will remember? Harold. Yes. Teresrra. Yes, what, youth? Harold. I will remember. Teresita. What will you remember, St. George? Harold. (confusedly.) That you are Teresita. Teresita. Very good. And you say the name prettily. Now, st.george, I am enslaved by a dragon. About the Publisher Forgotten Books publishes hundreds of thousands of rare and classic books. Find more at www.forgottenbooks.com
Sklep: Libristo.pl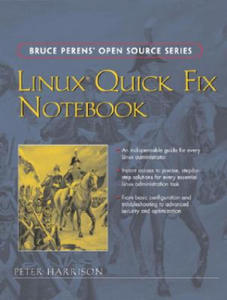 219,90 zł
Książki / Literatura obcojęzyczna
In typical Linux "bibles," reserve the last third coverage for advanced topics that sys admins use on a day by day basis. They tend to cover the underlying concepts reasonably well, but fall short on hands-on instructions, forcing admins to buy specialty books. This book sufficiently expands the advanced sections found in these "bibles," providing step-by step instructions on how to configure the most popular Linux back office applications. To avoid confusion between the many flavors of Linux, each with it's own GUI interface, this book exclusively uses the command line to illustrate the tasks needed to be done. It provides all the expected screen output when configuring the most commonly used Linux applications to help assure the reader that they are doing the right thing. The Notebook also includes many of the most commonly encountered errors with explanations of their causes and how to fix them. The book's format is aimed at sys admins who often have to do advanced tasks in which the underlying theory is understood, but the commands to do it are forgotten or at the tips of their tongues. As the line between power users and administrators continues to blur, as computers move from the data center to the desktop, as Linux and Windows gain equal footing in business, it becomes harder to remember and do it all. This is the guide that gives admins the answers they need to common problems and tasks, allowing them time to eat lunch.
Sklep: Libristo.pl
Sklepy zlokalizowane w miastach: Warszawa, Kraków, Łódź, Wrocław, Poznań, Gdańsk, Szczecin, Bydgoszcz, Lublin, Katowice
Szukaj w sklepach lub całym serwisie
2. Szukaj na wszystkich stronach serwisu
t1=0.018, t2=0, t3=0, t4=0.014, t=0.018