krainaksiazek a crisis for the guard 20041308
- znaleziono 14 produktów w 2 sklepach 134,89 zł
Książki / Literatura obcojęzyczna
In a midcentury American cultural episode forgotten today, intellectuals of all schools shared a belief that human nature was under threat. The immediate result was a glut of dense, abstract books on "the nature of man." But the dawning "age of the crisis of man," as Mark Greif calls it, was far more than a historical curiosity. In this ambitious intellectual and literary history, Greif recovers this lost line of thought to show how it influenced society, politics, and culture before, during, and long after World War II. During the 1930s and 1940s, fears of the barbarization of humanity energized New York intellectuals, Chicago protoconservatives, European Jewish emigres, and native-born bohemians to seek "re-enlightenment," a new philosophical account of human nature and history. After the war this effort diffused, leading to a rebirth of modern human rights and a new power for the literary arts. Critics' predictions of a "death of the novel" challenged writers to invest bloodless questions of human nature with flesh and detail. Hemingway, Faulkner, and Richard Wright wrote flawed novels of abstract man. Succeeding them, Ralph Ellison, Saul Bellow, Flannery O'Connor, and Thomas Pynchon constituted a new guard who tested philosophical questions against social realities--race, religious faith, and the rise of technology--that kept difference and diversity alive. By the 1960s, the idea of "universal man" gave way to moral antihumanism, as new sensibilities and social movements transformed what had come before. Greif's reframing of a foundational debate takes us beyond old antagonisms into a new future, and gives a prehistory to the fractures of our own era.
Sklep: Libristo.pl 11,15 zł
Książki & Multimedia > Książki
Opis - Pierwsze na świecie świadectwo ofiary zbrodni honorowej. Miała siedemnaście lat i zakochała się: zhańbiła rodzinę. Więc rodzina wydała na nią wyrok śmierci... Pokochała go pierwszą miłością. Myślała, że się z nią ożeni. Ale ukochany zniknął, a ona odkryła, że jest w ciąży. A w jej świecie to najcięższa zbrodnia... W zapomnianej przez Boga wiosce w Cisjordanii kobiety są warte mniej niż zwierzęta domowe. Tu mężczyzna jest panem życia i śmierci żony, córki, siostry. Brat może bezkarnie zabić siostrę, matka - córkę, kolejną bezużyteczną dziewczynkę, jaka się urodzi. Tu kobiecie odbiera się godność, a nawet życie zgodnie z odwiecznym obyczajem i uświęconą tradycją. A śmierć jest karą dla dziewczyny, która zhańbi rodzinę. Tak jak Souad. Wyrok wydaje jej ojciec. Szwagier dokonuje egzekucji. Oblewa Souad benzyną i podpala... SOUAD przeżyła - cudem, ale rodzina usiłowała zabić ją nawet w szpitalu. Na zawsze jednak pozostanie straszliwie okaleczona - na ciele i duszy. I wciąż musi się ukrywać; dopóki żyje, jej rodzinę okrywa hańba. Spalona żywcem, opublikowana pod pseudonimem szokująca opowieść o piekle, jakim było jej dzieciństwo i młodość, stała się międzynarodowym bestsellerem. Wydana w 37 w krajach książka przerywa tabu milczenia wobec istniejącej nadal w krajach muzułmańskich barbarzyńskiej tradycji. Nieludzkiego obyczaju, prawa mężczyzn, na mocy którego co najmniej pięć tysięcy kobiet pada co roku ofiarą zbrodni honorowej. Nazwa - Spalona Żywcem Wyd. Kieszonkowe Autor - Souad Oprawa - Miękka Wydawca - Amber Kod ISBN - 9788324159406 Kod EAN - 9788324159406 Wydanie - 1 Rok wydania - 2016 Tłumacz - 31182,maria rostworowska; Format - 110 x 175 x 14 Ilość stron - 224 Podatek VAT - 5% Premiera - 2016-06-23
Sklep: InBook.pl 49,31 zł
Książki / Literatura obcojęzyczna
The first reports seemed absurd. A Russian dissident, formerly an employee of the KGB and its successor, the FSB, had seemingly been poisoned in a London hotel. As Alexander Litvinenko's condition worsened, however, and he was transferred to hospital and placed under armed guard, the story took a sinister turn. On 23 November 2006, Litvinenko died, apparently from polonium-210 radiation poisoning. He himself, in a dramatic statement from his deathbed, accused his former employers at the Kremlin of being responsible for his murder. Who was Alexander Litvinenko? What had happened in Russia since the end of the Cold War to make his life there untenable, and even in severe jeopardy in Britain? How did he really die, and who killed him? In his spokesman and close friend, Alex Goldfarb, and widow Marina, we have two people who know more than anyone about the real Sasha Litvinenko, and about his murder. Their riveting book sheds astonishing light not just on these strange and troubling events but also on the biggest crisis in relations with Russia since the fall of the Berlin Wall.
Sklep: Libristo.pl 98,61 zł
Książki / Literatura obcojęzyczna
He was one of the last great foreign correspondentsA" - Larry Meredith, United Press The story of how Guard gate-crashed journalism is in itself an epic.A" -Newspaper World magazine ...rate with the best reporting of this or any other war.A" -Hugh Ballie, United Press President Harold Guard became a war correspondent after he had been invalided out of the navy following a submarine accident. Thereafter, he gained a front row seat to many of the most dramatic battles and events of the century. In March 1942 Guard arrived in Australia, having narrowly escaped from Japanese forces invading Singapore and Java. His dispatches from that disastrous front prompted one observer to comment on the crisis days when everybody except Harold Guard was trying to hush up the real situation.A" Over the next three years he was to have many more adventures reporting on the Pacific War, including firsthand experience of flying with the U.S. air force on 22 bombing missions, camping with Allied forces in the deadly jungles of New Guinea, and taking part in attacks from amphibious landing craft on enemy occupied territory. He also travelled into the undeveloped areas of Australia's northern territories to report on the construction of the airbases that were being built in preparation for defending the country against the advancing Japanese. Harold Guard passed away in 1986; however thanks to years of work by his grandson John Tring in assembling his dispatches, private correspondence, telegrams, and audio accounts, the full story of Guard's experiences and observations during the Pacific War have been assembled.
Sklep: Libristo.pl 98,61 zł
Książki / Literatura obcojęzyczna
As recently as ten years ago, out of every ten African elephants that died, four fell at the hands of poachers. The figure today is eight. Rhinoceroses are being slaughtered throughout their ranges. The Vietnamese one-horned rhinoceros is extinct, the western black rhino is now believed to be extinct, and the northern white rhinoceros, the largest of them all, survives - only precariously - in captivity. Since the worldwide ban on ivory trading was passed in 1989, author Ronald Orenstein has been at the heart of the fight. The ban came after a decade that saw half of Africa's elephants slaughtered by poachers. After the ban, Africa's elephants started to recover - but in 1997 the ban was partially relaxed, and in 2008 it was agreed that China could legally import ivory from four designated States in southern Africa. Today a new ivory crisis has arisen - this time, fuelled by internal wars in Africa and a growing market in the Far East. Seizures of smuggled ivory have shot up in the past two years. Bands of militia have crossed from one side of Africa to the other, slaughtering elephants with automatic weapons. At the same time a market surge in Vietnam has led to an onslaught against the world's rhinoceroses, animals far more endangered than elephants. Rhinos are being killed everywhere for their horns, mistakenly believed to cure cancer. Horns have changed hands at prices higher per kilo than for gold. Organized crime has moved into the illegal trade in ivory and rhino horn. The situation, for both elephants and rhinos, is dire. This captivating book sketches out a crime story that, for most, is unseen and takes place thousands of miles away and in countries that few will visit. But like the trade in illegal drugs, the trade in elephant tusks and rhinoceros horns has far-reaching implications not only for two species of endangered animals but also for all of us who are ultimately touched by a world-wide underground economy whose pillars are organized crime, corruption and violence. Among the topics explored are: Ivory and Luxury; Rhino Horn and Medicine; What Makes Poachers Poach?; CITES (The Convention on International Trade in Endangered Species of Wild Fauna and Flora); The Ivory Crisis and the Ban; Rhinos Under Guard; Coming to Grips with Poaching.
Sklep: Libristo.pl 223,12 zł
Książki / Literatura obcojęzyczna
Mao Zedong envisioned a great struggle to "wreak havoc under the heaven" when he launched the Cultural Revolution in 1966. But as radicalized Chinese youth rose up against Party officials, events quickly slipped from the government's grasp, and rebellion took on a life of its own. Turmoil became a reality in a way the Great Leader had not foreseen. The Cultural"Revolution at the Margins" recaptures these formative moments from the perspective of the disenfranchised and disobedient rebels Mao unleashed and later betrayed. The Cultural Revolution began as a "revolution from above," and Mao had only a tenuous relationship with the Red Guard students and workers who responded to his call. Yet it was these young rebels at the grassroots who advanced the Cultural Revolution's more radical possibilities, Yiching Wu argues, and who not only acted for themselves but also transgressed Maoism by critically reflecting on broader issues concerning Chinese socialism. As China's state machinery broke down and the institutional foundations of the PRC were threatened, Mao resolved to suppress the crisis. Leaving out in the cold the very activists who had taken its transformative promise seriously, the Cultural Revolution devoured its children and exhausted its political energy. The mass demobilizations of 1968-69, Wu shows, were the starting point of a series of crisis-coping maneuvers to contain and neutralize dissent, producing immense changes in Chinese society a decade later.
Sklep: Libristo.pl 815,63 zł
Książki / Literatura obcojęzyczna
Dr. Jayshree Pandya, founder of Risk Group LLC , is ahead of the curve in addressing the changing global fundamentals of the emerging Global Age.§Global Age, and its changing global fundamentals has brought complex, chaotic, and turbulent times for every nation where failures at all levels have come to become self-evident, repetitive, destructive, and potentially hopeless in nature and uncertainty. Nations are caught off guard. §From what is visible across nations today, the promise of progress and prosperity for all nations does not seem to have materialized in a Global Age. Instead of progress and prosperity, what is visible today is crisis and catastrophe that is overpowering and overwhelming the capability of most nations to meet their promise of progress and prosperity. §Nations are in crisis. This introductory book Global Age: NGIOA @ Risk addresses the global shifts and the changing global fundamentals of Global Age, to lay out much needed foundation of an integrated NGIOA risk governance framework for the coming tomorrow. This book will make a convincing case for the far-reaching need and understanding of global risk concepts, global risk fundamentals, and risk centric integrated NGIOA governance. The integrated NGIOA risk governance approach proposed and discussed in this initiative is rational, practical, and feasible. It will help create a dynamic, vibrant, and sustainable NGIOA economy of a Global Age. This initiative is a first step towards that.
Sklep: Libristo.pl 39,41 zł
Książki / Literatura obcojęzyczna
When murderous bands of militiamen begin roaming the western United States and attacking government agencies, it will take a dedicated group of the nation's finest and toughest civilian airmen to put an end to the homegrown insurgency. U.S. Air Force Lieutenant-General Patrick McLanahan vows to take to the skies to join the fight, but when his son, Bradley, also signs up, they find themselves caught in a deadly game against a shadowy opponent. When the stock markets crash and the U.S. economy falls into a crippling recession, everything changes for newly elected president Kenneth Phoenix. Politically exhausted from a bruising and divisive election, Phoenix must order a series of massive tax cuts and wipe out entire cabinet-level departments to reduce government spending. With reductions in education and transportation, an incapacitated National Guard, and the loss of public safety budgets, entire communities of armed citizens band together for survival and mutual protection. Against this dismal backdrop, a SWAT team is ambushed and radioactive materials are stolen by a group calling themselves the Knights of the True Republic. Is the battle against the government about to be taken to a new and deadlier level? In this time of crisis, a citizen organization rises to the task of protecting their fellow countrymen: the Civil Air Patrol (CAP), the U.S. Air Force auxiliary. The Nevada Wing-led by retired Air Force Lieutenant-General Patrick McLanahan, his son, Bradley, and other volunteers-uses their military skills in the sky and on the ground to hunt down violent terrorists. But how will Patrick respond when extremists launch a catastrophic dirty bomb attack in Reno, spreading radiological fallout for miles? And when Bradley is caught in a deadly double-cross that jeopardizes the CAP, Patrick will have to fight to find out where his friends' loyalties lie: Are they with him and the CAP or with the terrorists? With "A Time for Patriots", "The New York Times" bestselling master of the modern thriller Dale Brown brings the battle home to explore a terrifying possibility - the collapse of the American Republic. Praise for Dale Brown: "Dale Brown is the best military adventure writer in the country". ("Clive Cussler"). "Brown puts us in the cockpit ...authentic and gripping". ("New York Times").
Sklep: Libristo.pl 742,74 zł
Książki / Literatura obcojęzyczna
Book CD-ROM. The United States Secret Service (USSS) is tasked with a zero-failure mission: to protect the President and other protectees at all costs. For most of its existence, USSS has strived to complete that mission while simultaneously garnering the respect and admiration of the American people. Secret Service agents and officers earned a reputation as stoic and impervious guardians of our governments most important leaders. The American publics respect for the agency diminished following the April 2012 prostitution scandal in Cartagena, Colombia, which attracted significant media attention and exposed systemic problems within the agency. Since then, several incidents have made it abundantly clear that USSS is in crisis. The agencys weaknesses have been exposed by a series of security failures at the White House, during presidential visits, and at the residences of other officials, including Vice President Biden and former presidents of the United States. The Committees investigation found that problems that undermine USSSs protective mission predate and postdate the misconduct in Cartagena. The Committee also found that at times agency leaders have provided incomplete and inaccurate information to Congress. This book examines four incidents in detail: a November 11, 2011, incident where an individual fired several shots at the White House from a semiautomatic rifle; the April 2012 misconduct in Cartagena, Colombia; a September 16, 2014, incident at the Centers for Disease Control and Prevention in Atlanta, Georgia, where an armed contract security guard with a violent arrest history rode in an elevator with President Obama and later breached the Presidents security formation; and a March 4, 2015, incident where two intoxicated senior USSS officials including a top official on the Presidents protective detailinterfered with a crime scene involving a bomb threat just outside the White House grounds. Furthermore, the book provides information on USSS funding and staffing because congressional attention has turned to the USSS and its operations due to several recent incidents.
Sklep: Libristo.pl 97,63 zł
Książki / Literatura obcojęzyczna
The extraordinary story of the most highly decorated British spymaster of the Cold War, Sir Maurice Oldfield. Chief of the Secret Intelligence Service (commonly known as the SIS or MI6), he was the first Chief to be named and pictured in the press, and often alleged by them to be the model for the screen versions of both Ian Fleming's M and John Le Carre's George Smiley. This major study of Oldfield's life portrays one of the UK's most important and complex spies of the Cold War era. He was the first Chief of MI6 that hadn't come from an upper-class background or studied at Eton or Oxbridge. Rather, he was a farmer's son from a provincial grammar school who found himself accidentally plunged into the world of espionage by the outbreak of the Second World War. Oldfield was our man in Washington at the time of the Cuban Missile Crisis and the assassination of JFK, and was largely responsible for keeping Britain out of the Vietnam War. This is the fascinating life story of Maurice Oldfield, written by his nephew Martin Pearce, who remembers asking his uncle what he did for a job. 'Oh it's quite boring really, dear boy. I'm a kind of security guard at embassies,' was the reply...
Sklep: Libristo.pl 450,53 zł
Książki / Literatura obcojęzyczna
In the late 1930s and early 1940s, European Jews traveled east to seek refuge in the West. Three thousand refugees transited Japan and China, and more than 21,000 spent the war in Japanese-occupied Shanghai. Japanese diplomats in Europe were caught off guard by the flood of visa applicants, and the Foreign Ministry belatedly confronted a refugee problem. Unexpected visitors became uninvited guests. Vice Consul Sugihara Chiune might have faded into history as a minor diplomat in Lithuania had he not issued thousands of transit visas to refugees, including those who fulfilled few visa requirements. Sakamoto demonstrates how he helped thousands escape Europe; in the end, as she points out, a number of Japanese diplomats saved Jews by issuing visas, but very few issued visas to save Jews. Sakamoto focuses on the extensive archives of the Ministry of Foreign Affairs, which have not been treated at length before. By examining the cable traffic between diplomats and the ministry headquarters, she reveals the uncensored reactions of Japanese diplomats to Jewish refugees. Through the files of Jewish organizations and the American government, she presents the dimensions of the crisis as Germany's emphasis on emigration changed to extermination. Interviews with former diplomats, refugees, and those who knew Sugihara give human dimensions to a fascinating and little-known episode of the war.
Sklep: Libristo.pl 39,08 zł
Książki / Literatura obcojęzyczna
This is the stunning first installment in a tale of love, betrayal and the need to belong. Here self-publishing phenomenon Hocking returns to the world of her million-copy bestselling Trylle trilogy, with an all-new adventure...Nineteen-year-old Bryn Aven is an outcast and yearns for a world where she's not only accepted, but loved. Especially given her dawning feelings for her sort-of-boss, Ridley Dresden. She's prepared to fight to get those things, but she's a half-blood amongst the Kanin, so gaining status is tough. Her almost-human people distrust strangers, living in small communities to escape human attention - and those from other tribes are almost as suspect. Bryn is determined to join the elite King's Guard, to protect the Kanin royal family. Surely then she'll find the acceptance she craves. However, her plans are put on hold when fallen hero Chase Dyster starts acting dangerously. He starts by going after their changelings, deliberately hidden within human families. And he escalates to kidnapping the Skojare's Queen. With her half-Skojare blood, Bryn is sent in to help resolve the crisis, but she's soon up against her nemesis, Chase himself.
Sklep: Libristo.pl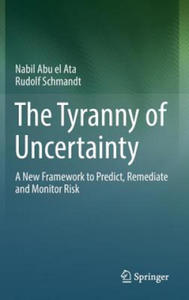 311,68 zł
Książki / Literatura obcojęzyczna
The authors offer a revolutionary solution to risk management. It's the unknown risks that keep leaders awake at night-wondering how to prepare for and steer their organization clear from that which they cannot predict. Businesses, governments and regulatory bodies dedicate endless amounts of time and resources to the task of risk management, but every leader knows that the biggest threats will come from some new chain of events or unexpected surprises-none of which will be predicted using conventional wisdom or current risk management technologies and so management will be caught completely off guard when the next crisis hits. By adopting a scientific approach to risk management, we can escape the limited and historical view of experience and statistical based risk management models to expose dynamic complexity risks and prepare for new and never experienced events.
Sklep: Libristo.pl 257,26 zł
Książki / Literatura obcojęzyczna
Early history of Switzerland, Switzerland in the Roman era, Old Swiss Confederacy, Growth of the Old Swiss Confederacy, Reformation in Switzerland, Early Modern Switzerland, Restauration (Switzerland), Switzerland as a federal state, Swiss peasant war of 1653, Switzerland in the Napoleonic era, Switzerland during the World Wars, Swabian War, Huldrych Zwingli, Helvetii, Swiss mercenaries, Swiss Guard, Swiss franc, Swiss literature, Act of Mediation, Quartz crisis
Sklep: Libristo.pl
Sklepy zlokalizowane w miastach: Warszawa, Kraków, Łódź, Wrocław, Poznań, Gdańsk, Szczecin, Bydgoszcz, Lublin, Katowice
Szukaj w sklepach lub całym serwisie
2. Szukaj na wszystkich stronach serwisu
t1=0.043, t2=0, t3=0, t4=0, t=0.043