krainaksiazek a cure for madness 20090104
- znaleziono 7 produktów w 2 sklepach 35,99 zł
Książki Obcojęzyczne>Angielskie>Society & social sciences>Psychology>Abnormal psychology
0x009ea60e00000000
Sklep: Gigant.pl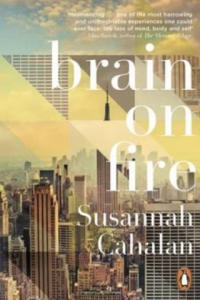 50,69 zł
Książki / Literatura obcojęzyczna
Brain on Fire is the stunning debut from journalist and author Susannah Cahalan, recounting the real-life horror story of how a sudden and mysterious illness put her on descent into a madness for which there seemed to be no cure 'My first serious blackout marked the line between sanity and insanity. Though I would have moments of lucidity over the coming days and weeks, I would never again be the same person...' Susannah Cahalan was a happy, clever, healthy twenty-four-year old. Then one day she woke up in hospital, with no memory of what had happened or how she had got there. Within weeks, she would be transformed into someone unrecognizable, descending into a state of acute psychosis, undergoing rages and convulsions, hallucinating that her father had murdered his wife; that she could control time with her mind. Everything she had taken for granted about her life, and who she was, was wiped out. This is Susannah's story of her terrifying descent into madness and the desperate hunt for a diagnosis, as, after dozens of tests and scans, baffled doctors concluded she should be confined in a psychiatric ward. It is also the story of how one brilliant man, Syria-born Dr Najar, finally proved - using a simple pen and paper - that Susannah's psychotic behaviour was caused by a rare autoimmune disease attacking her brain. His diagnosis of this little-known condition, thought to have been the real cause of devil-possessions through history, saved her life, and possibly the lives of many others. Cahalan takes readers inside this newly-discovered disease through the progress of her own harrowing journey, piecing it together using memories, journals, hospital videos and records. Written with passionate honesty and intelligence, Brain on Fire is a searingly personal yet universal book, which asks what happens when your identity is suddenly destroyed, and how you get it back. "With eagle-eye precision and brutal honesty, Susannah Cahalan turns her journalistic gaze on herself as she bravely looks back on one of the most harrowing and unimaginable experiences one could ever face: the loss of mind, body and self...a mesmerizing story". (Mira Bartok, New York Times bestselling author of The Memory Palace). Susannah Cahalan is a reporter on the New York Post, and the recipient of the 2010 Silurian Award of Excellence in Journalism for Feature Writing. Her writing has also appeared in the New York Times, and is frequently picked up by the Daily Mail, Gawker, Gothamist, AOL and Yahoo among other news aggregrator sites.
Sklep: Libristo.pl 139,76 zł
Książki / Literatura obcojęzyczna
In the romantic tradition, music is consistently associated with madness, either as cause or cure. Writers as diverse as Kleist, Hoffmann, and Nietzsche articulated this theme, which in fact reaches back to classical antiquity and continues to resonate in the modern imagination. What John Hamilton investigates in this study is the way literary, philosophical, and psychological treatments of music and madness challenge the limits of representation and thereby create a crisis of language. Special focus is given to the decidedly autobiographical impulse of the late eighteenth and early nineteenth centuries, where musical experience and mental disturbance disrupt the expression of referential thought, illuminating the irreducible aspects of the self before language can work them back into a discursive system. The study begins in the 1750s with Diderot's Neveu de Rameau, and situates that text in relation to Rousseau's reflections on the voice and the burgeoning discipline of musical aesthetics. Upon tracing the linkage of music and madness that courses through the work of Herder, Hegel, Wackenroder, and Kleist, Hamilton turns his attention to E. T. A. Hoffmann, whose writings of the first decades of the nineteenth century accumulate and qualify the preceding tradition. Throughout, Hamilton considers the particular representations that link music and madness, investigating the underlying motives, preconceptions, and ideological premises that facilitate the association of these two experiences. The gap between sensation and its verbal representation proved especially problematic for romantic writers concerned with the ineffability of selfhood. The author who chose to represent himself necessarily faced problems of language, which invariably compromised the uniqueness that the author wished to express. Music and madness, therefore, unworked the generalizing functions of language and marked a critical limit to linguistic capabilities. While the various conflicts among music, madness, and language questioned the viability of signification, they also raised the possibility of producing meaning beyond significance.
Sklep: Libristo.pl 96,62 zł
Książki / Literatura obcojęzyczna
Description Mental Health Publishing and Empowerment is a book that explains how writing and publishing is a cathartic and empowering experience for Jason and Chipmunkapublishing authors. This book contains Jason's views on writing and empowerment as well as the views and experiences of over 20 Chipmunkapublishing authors. Each authors comments are analysed by Jason to show how they reflect the Mental Health Publishing and Empowerment process that Chipmunka offers. This book is an academic work that reveals how Chipmunka is effective as a social enterprise. About the Author Jason Pegler is known internationally for his work as a social entrepreneur. He was born in 1975. He was diagnosed with manic depression in 1992. This is his fifth book. He is the author of 'A Can of Madness', 'Curing Madness' and 'The Ultimate Guide To Well Being'. His first three books can be bought together in the trilogy Bipolar, Recovery and NLP. Jason is the CEO of Chipmunkapublishing and Co-Founder of The Chipmunka Foundation. He dedicates his life to empowering people with mental health issues so that they can fulfill their potential and help others. Book Extract For years now I have been asking myself the same question? How can I cure the world of mental illness? I don't know how exactly but there is this manic impulse within me wanting it to happen. I used to think that if I could not help everyone who contacted me then it was my fault. I had failed somehow. This is not the case. It is not realistic to be able to help everyone. It took me five years of publishing to realise this. The objective of this book is to show how Chipmunkapublishing helps people, so what better way to have words from me As CEO trying to sanitise my own manic utopian vision and then include 500 words from over 20 authors about how writing and publishing has helped them. I know that wanting to help others is somehow a cathartic process and justifies my own label and coming to terms with being labelled a manic depressive for the rest of my life. I knew that I wanted to help people as soon as I realised my own madness six weeks into a six month stretch of my first manic episode at the age of 17 in 1992. My utopian and manic vision to want to eliminate the world from mental illness actually turned into my day job as CEO of Chipmunkapublishing. Little did I know how much work there was to do... It was a good job I met Andrew Latchford who was equally as determined as myself to somehow make a different and improve people's lives. I know somehow that my task is impossible but I wouldn't be challenging myself or doing other people justice if I did not aim to have a positive impact on the highest number of people. Chipmunkapublishing has a system that works for many people. In our own small way we are making a positive impact in the lives of many of our authors, their families and many of our readers. We will continue to grow and inspire others through our work by trying and develop our organisation so it is more transparent, more professional and more effective as technology advances, the publishing industry changes and people's requirements evolve.
Sklep: Libristo.pl 103,84 zł
Książki / Literatura obcojęzyczna
Seminar paper from the year 2008 in the subject American Studies - Literature, printed single-sided, grade: 1,0, University of Vienna (Institut für Anglistik und Amerikanistik), course: Seminar des 2. Studienabschnitts, 40 entries in the bibliography, language: English, abstract: §This paper seeks to shed light upon Charlotte Perkins Gilman s short story The Yellow Wallpaper (1892) a text that has become an American feminist classic and has been interpreted as a transformed autobiography (Shulman, xix), as a journalistic/clinical account of a woman s gradual descent into madness (Bak, 39), and in multiple ways as a critique of gender relations (Shulman, xix). It is a bitter story , as Ann J. Lane describes it, of a young woman driven to insanity by a loving husband-doctor, who, with the purest motives, imposed Mitchell s rest cure (Lane, vii). The narrator of the story is diagnosed as suffering from a temporary nervous depression (W, 4), which is today known as postpartum depression , that is, a depression caused by profound hormonal changes after childbirth. Written some five years after the author herself, following the birth of her first child, became a mental wreck in need of a rest cure , The Yellow Wallpaper is a fictionalized account of Gilman s own subjection to the rest cure of Silas Weir Mitchell, whose mode of treatment so notoriously typified conventional late Victorian doctoring of women .
Sklep: Libristo.pl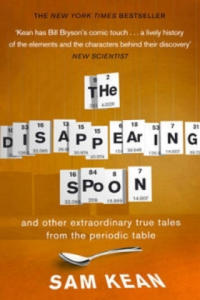 45,77 zł
Książki / Literatura obcojęzyczna
Why did Gandhi hate iodine (I, 53)? Why did the Japanese kill Godzilla with missiles made of cadmium (Cd, 48)? How did radium (Ra, 88) nearly ruin Marie Curie's reputation? And why did tellurium (Te, 52) lead to the most bizarre gold rush in history? The periodic table is one of our crowning scientific achievements, but it's also a treasure trove of passion, adventure, betrayal and obsession. The fascinating tales in "The Disappearing Spoon" follow carbon, neon, silicon, gold and every single element on the table as they play out their parts in human history, finance, mythology, conflict, the arts, medicine and the lives of the (frequently) mad scientists who discovered them. Why did a little lithium (Li, 3) help cure poet Robert Lowell of his madness? And how did gallium (Ga, 31) become the go-to element for laboratory pranksters? "The Disappearing Spoon" has the answers, fusing science with the classic lore of invention, investigation, discovery and alchemy, from the big bang through to the end of time.
Sklep: Libristo.pl 238,85 zł
Książki / Literatura obcojęzyczna
Pursuing special experiences that take them to the brink of permanent madness or death, men and women in every age have "returned" to heal and comfort their fellow human beings--and these shamans have fascinated students of society from Herodotus to Mircea Eliade. Gloria Flaherty's book is about the first Western encounters with shamanic peoples and practices. Flaherty makes us see the eighteenth century as an age in which explorers were fascinating all Europe with tales of shamans who accomplished a "self-induced cure for a self-induced fit." Reports from what must have seemed a forbidden world of strange rites and moral licentiousness came from botanists, geographers, missionaries, and other travelers of the period, and these accounts created such a stir that they permeated caf talk, journal articles, and learned debates, giving rise to plays, encyclopedia articles, art, and operas about shamanism. The first part of the book describes in rich detail how information about shamanism entered the intellectual mainstream of the eighteenth century. In the second part Flaherty analyzes the artistic and critical implications of that process. In so doing, she offers remarkable chapters on Diderot, Herder, Goethe, and the cult of the genius of Mozart, as well as a chapter devoted to a new reading of Goethe's Faust that views Faust as the modern shaman. Originally published in 1992. The Princeton Legacy Library uses the latest print-on-demand technology to again make available previously out-of-print books from the distinguished backlist of Princeton University Press. These paperback editions preserve the original texts of these important books while presenting them in durable paperback editions. The goal of the Princeton Legacy Library is to vastly increase access to the rich scholarly heritage found in the thousands of books published by Princeton University Press since its founding in 1905.
Sklep: Libristo.pl
Sklepy zlokalizowane w miastach: Warszawa, Kraków, Łódź, Wrocław, Poznań, Gdańsk, Szczecin, Bydgoszcz, Lublin, Katowice
Szukaj w sklepach lub całym serwisie
2. Szukaj na wszystkich stronach serwisu
t1=0.022, t2=0, t3=0, t4=0.017, t=0.023