krainaksiazek a cure for madness 20090104
- znaleziono 5 produktów w 1 sklepie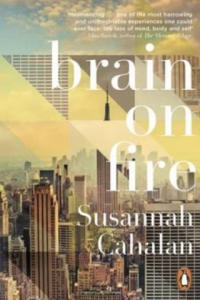 49,68 zł
Książki / Literatura obcojęzyczna
Brain on Fire is the stunning debut from journalist and author Susannah Cahalan, recounting the real-life horror story of how a sudden and mysterious illness put her on descent into a madness for which there seemed to be no cure 'My first serious blackout marked the line between sanity and insanity. Though I would have moments of lucidity over the coming days and weeks, I would never again be the same person...' Susannah Cahalan was a happy, clever, healthy twenty-four-year old. Then one day she woke up in hospital, with no memory of what had happened or how she had got there. Within weeks, she would be transformed into someone unrecognizable, descending into a state of acute psychosis, undergoing rages and convulsions, hallucinating that her father had murdered his wife; that she could control time with her mind. Everything she had taken for granted about her life, and who she was, was wiped out. This is Susannah's story of her terrifying descent into madness and the desperate hunt for a diagnosis, as, after dozens of tests and scans, baffled doctors concluded she should be confined in a psychiatric ward. It is also the story of how one brilliant man, Syria-born Dr Najar, finally proved - using a simple pen and paper - that Susannah's psychotic behaviour was caused by a rare autoimmune disease attacking her brain. His diagnosis of this little-known condition, thought to have been the real cause of devil-possessions through history, saved her life, and possibly the lives of many others. Cahalan takes readers inside this newly-discovered disease through the progress of her own harrowing journey, piecing it together using memories, journals, hospital videos and records. Written with passionate honesty and intelligence, Brain on Fire is a searingly personal yet universal book, which asks what happens when your identity is suddenly destroyed, and how you get it back. "With eagle-eye precision and brutal honesty, Susannah Cahalan turns her journalistic gaze on herself as she bravely looks back on one of the most harrowing and unimaginable experiences one could ever face: the loss of mind, body and self...a mesmerizing story". (Mira Bartok, New York Times bestselling author of The Memory Palace). Susannah Cahalan is a reporter on the New York Post, and the recipient of the 2010 Silurian Award of Excellence in Journalism for Feature Writing. Her writing has also appeared in the New York Times, and is frequently picked up by the Daily Mail, Gawker, Gothamist, AOL and Yahoo among other news aggregrator sites.
Sklep: Libristo.pl 139,53 zł
Książki / Literatura obcojęzyczna
In the romantic tradition, music is consistently associated with madness, either as cause or cure. Writers as diverse as Kleist, Hoffmann, and Nietzsche articulated this theme, which in fact reaches back to classical antiquity and continues to resonate in the modern imagination. What John Hamilton investigates in this study is the way literary, philosophical, and psychological treatments of music and madness challenge the limits of representation and thereby create a crisis of language. Special focus is given to the decidedly autobiographical impulse of the late eighteenth and early nineteenth centuries, where musical experience and mental disturbance disrupt the expression of referential thought, illuminating the irreducible aspects of the self before language can work them back into a discursive system. The study begins in the 1750s with Diderot's Neveu de Rameau, and situates that text in relation to Rousseau's reflections on the voice and the burgeoning discipline of musical aesthetics. Upon tracing the linkage of music and madness that courses through the work of Herder, Hegel, Wackenroder, and Kleist, Hamilton turns his attention to E. T. A. Hoffmann, whose writings of the first decades of the nineteenth century accumulate and qualify the preceding tradition. Throughout, Hamilton considers the particular representations that link music and madness, investigating the underlying motives, preconceptions, and ideological premises that facilitate the association of these two experiences. The gap between sensation and its verbal representation proved especially problematic for romantic writers concerned with the ineffability of selfhood. The author who chose to represent himself necessarily faced problems of language, which invariably compromised the uniqueness that the author wished to express. Music and madness, therefore, unworked the generalizing functions of language and marked a critical limit to linguistic capabilities. While the various conflicts among music, madness, and language questioned the viability of signification, they also raised the possibility of producing meaning beyond significance.
Sklep: Libristo.pl 24,76 zł
Książki / Literatura obcojęzyczna
'The Yellow Wallpaper' is a semi-autobiographical short story drawing on Charlotte Gilman's personal experience of mental collapse, exacerbated by the paternalistic attitudes current in her day, a tale which doubles as the perfect vehicle for protesting the unequal status of women in marriage. In 1886, after the birth of her daughter, Gilman was struck with severe post-natal depression. Medical opinion at the time ascribed this condition to too much mental activity for the female mind, and she was prescribed a "rest cure". For an intellectual like Gilman, such forced inactivity was a disaster, and a full nervous breakdown ensued. In 'The Yellow Wallpaper' a young woman tells of a similar enforced idleness, and we watch with horrified fascination her slow descent into madness. Suffering from depression, she is forced to 'rest' in a barred room, where her agitated mind becomes obsessed by the room's yellow wallpaper, upon whose chaotic swirls she seeks to impose order and pattern. Gradually, the image of a stooping, creeping woman appears - held captive by the 'bars' of the main pattern - a potent symbol for the stultifying effects of both her personal life and society at large. Eventually, deeply unstable, she sees trapped, creeping women everywhere, and knows herself to be quite as confined as any within the yellow wallpaper. Although known now for her prose, Charlotte Gilman first rose to prominence through the excellence of her verse. 'Woman' - the central section of Gilman's highly acclaimed 'In this World' - comprises twenty-nine poems that expand upon the theme of female emancipation and cover a wide range of topics - from female suffrage through marriage and motherhood, to male vanity and willing female submission. Widely regarded in its day, 'Woman' has continued to be a source of inspiration for many modern-day feminists.
Sklep: Libristo.pl 21,31 zł
Książki / Literatura obcojęzyczna
When Lieutenant Bob McDade witnesses an officer ordering the execution of villagers while on an operation to gather intelligence about the Viet Cong, he questions his role as a seasoned veteran. Conflicted, he argues with his commanding officer and is court martialled as a result. McDade is found guilty and is facing disgrace, but his lawyer wins a plea that he is a victim of 'battle stress'. He is sent to a veteran's psychiatric hospital in the US while the army happily closes down the issue of a war crime. Meanwhile, Gail is dedicated to her work in another veteran's home in the US. She met McDade in Saigon while she was working as a nurse, although the couple knew each other from high school, and they fell in love. Uncertain of whether he is sane or not, McDade eventually walks out of the hospital. He plans to leave, and he wants to take Gail with him. Will he persuade her to leave her job and nurse elsewhere, or will Gail be destroyed by the very madness she is trying to cure? Focusing on battle stress and exploring the difficult issue of front line soldiers under stress who kill civilians, Don't Cry for the Brave is an intriguing novel for those who enjoy military and crime fiction.
Sklep: Libristo.pl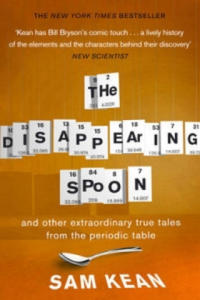 44,76 zł
Książki / Literatura obcojęzyczna
Why did Gandhi hate iodine (I, 53)? Why did the Japanese kill Godzilla with missiles made of cadmium (Cd, 48)? How did radium (Ra, 88) nearly ruin Marie Curie's reputation? And why did tellurium (Te, 52) lead to the most bizarre gold rush in history? The periodic table is one of our crowning scientific achievements, but it's also a treasure trove of passion, adventure, betrayal and obsession. The fascinating tales in "The Disappearing Spoon" follow carbon, neon, silicon, gold and every single element on the table as they play out their parts in human history, finance, mythology, conflict, the arts, medicine and the lives of the (frequently) mad scientists who discovered them. Why did a little lithium (Li, 3) help cure poet Robert Lowell of his madness? And how did gallium (Ga, 31) become the go-to element for laboratory pranksters? "The Disappearing Spoon" has the answers, fusing science with the classic lore of invention, investigation, discovery and alchemy, from the big bang through to the end of time.
Sklep: Libristo.pl
Sklepy zlokalizowane w miastach: Warszawa, Kraków, Łódź, Wrocław, Poznań, Gdańsk, Szczecin, Bydgoszcz, Lublin, Katowice
Szukaj w sklepach lub całym serwisie
2. Szukaj na wszystkich stronach serwisu
t1=0.026, t2=0, t3=0, t4=0, t=0.026