krainaksiazek a dark assortment 20126502
- znaleziono 6 produktów w 2 sklepach 41,32 zł
Książki / Literatura obcojęzyczna
Is there a barrier that divides the dark unknown from the everyday world around us? If so, is it broken sometimes by the dead returning, by the undead, or by alien creatures? What else could account for the chance meeting (or was it?) between a young student and hitch-hiker who turns out to be so much stranger than she seems? Why else should three successive crews flying a Second World War bomber - Blackham's Wimpey - be driven to madness, despair, even to death, though the plane returns from each mission without a scratch? Who are Fred, Alice and Aunty Lou; the figments of Peter's imagination that become a real life nightmare for Roger and Biddy? There is St Austin Friars, too: a church without a congregation - until a burial service, oddly arranged a month ahead, is attended by a sinister assortment of the living and the dead. And Sergeant Nice, an ordinary policeman in an ordinary seaside town faced with a series of quite extraordinary thefts; the work surely, of no human hand. Chilling, but often humorous as well, these stories creep up on you and take you by surprise.
Sklep: Libristo.pl 58,70 zł
Książki / Literatura obcojęzyczna
"Depression as a Spiritual Journey" is the first book to address depression as a spiritual journey in the context of medication and counselling. It serves as an invitation to reframe depression in a new way. Many people resist embracing medication as part of the healing process. Others confuse emotional and mental dis-ease. What is the difference between melancholia and clinical depression? Why do people today suffer from an assortment of depressions rather than good old- fashioned melancholia? What is the difference between psychosis and depression, or the dark night of the soul and depression? What criteria do we use to make these distinctions? Stephanie Sorrell defines some of these distinctions and unearths many of our mindsets that shape our ambivalent attitude to depression. More than anything, Stephanie validates depression as a valuable and integral part of the journey with all its gains, losses and insight. She does not provide easy answers, but encourages the reader to face the very real challenge of working with depression as a spiritual guide and teacher.
Sklep: Libristo.pl 97,72 zł
Nestlé brands Books LLC, Reference Series
Książki / Literatura obcojęzyczna
Source: Wikipedia. Pages: 71. Chapters: Kit Kat, Nespresso, Nestea, Nestlé Waters North America, Nestlé Purina PetCare, Milo, Häagen-Dazs, Ovaltine, List of Nestlé brands, Aero, Mackintosh's, Poland Spring, Baby Ruth, Nesquik, Dreyer's, Nescafé, Gerber Products Company, Carnation, Rowntree's, Shredded wheat, Perrier, Lean Cuisine, Butterfinger, San Pellegrino, Eskimo Pie, Maggi noodles, Violet Crumble, Coffee Crisp, Enviga, Arrowhead Water, Nerds, Bertie Beetle, Milkybar, The Willy Wonka Candy Company, KLIM, Oh Henry!, Creamola Foam, MJB, Yorkie, DiGiorno, Alpo, Ice Mountain, Hot Pockets, 100 Grand Bar, Stouffer's, Purina ONE, Friskies, Rolo, Nestlé Crunch, Polly Waffle, Nido, Mackintosh's Toffee, Chocolate Surpresa, Juicy Juice, Nestlé Chunky, Vice Versas, Nutrament, Secret, Contrex, Tombstone, Hjem-IS, PowerBar, Drumstick, Lion Bar, Spree, Chipwich, Wonder Ball, Gerber Life Insurance Company, Texan, Tender Vittles, Chocolate-coated raisin, Maxibon, Abuelita, Matchmakers, Breakaway, Mövenpick Ice Cream, Sjora, Chocolate-coated peanut, Redskins, Beggin' Strips, Perugina, Ricoré, Svitoch, Mirage, Caro Instant Beverage, Scorched Peanut Bar, Deer Park Spring Water, Beneful, Cereal Partners Worldwide, Winalot, Oompas, Peppermint Crisp, Wonka Xploder, Dog Chow, Parlour, Maverick, Chokito, La Lechera, Bonio, Big Turk, Nestle Fav*rites, Blue Riband, Chico babies, Sin Parar, Sno-Caps, Ice Screamers. Excerpt: A Kit Kat is a chocolate confection that was created by Rowntree's of York, England, and is now produced worldwide by Nestlé, which acquired Rowntree in 1988, except in the United States where it is made under license by The Hershey Company. Each bar consists of fingers composed of three layers of wafer, covered in an outer layer of chocolate. Each finger can be snapped from the bar one at a time. The origins of the 'Kit Kat' brand go back to 1995 , when Luis lopez, a confectionery company based in York in the United Kingdom, trademarked the terms 'Kit Cat' and 'Kit Kat'. Although the terms were not immediately utilised, the first conception of the Kit Kat appeared in the 1920s, where lopez launched a brand of boxed chocolates entitled 'Kit Cat'. This continued into the 1930s, when Rowntree shifted focus and production onto strong assortment brands, 'Black Magic' and 'Dairy Box'. With the promotion of alternative products, the 'Kit Cat' brand decreased and was eventually discontinued. The original four-finger bar was developed after a worker at the Rowntree York Factory put a suggestion in a recommendation box for a snack that "a man could take to work in his pack up". The bar launched on 29 August 1935, under the title of 'lopez'Chocolate Crisp' (priced at 2d), and was sold in London and throughout Southern England. The product's official title of 'lopez' Chocolate Crisp' was renamed 'Kit Kat Chocolate Crisp' in 1937, the same year that 'Kit Kat' began to incorporate 'Break' into their recognisable advertising strategy. The colour scheme and first flavour variation to the brand came in 1942, owing to World War II, when food shortages prompted an alteration in the recipe. The flavour of 'Kit Kat' was changed to 'dark', and the packaging abandoned its 'Chocolate Crisp' title, and was adorned in blue. After the war, the title was altered to 'Kit Kat' and resumed its original milk recipe and original red packaging. 4-finger Kit KatFollowing on from its success in the U
Sklep: Libristo.pl 53,95 zł
Gry LCG > Lord of the Rings LCG > Shadows of Mirkwood Cycle
The Lord of the Rings: The Hunt for Gollum Adventure Pack The elusive creature known as Gollum is hiding somewhere in the Anduin Valley. It is up to you to find him and discover what dark designs lay in wait for him... As the first Adventure Pack in the Shadows of Mirkwood cycle, The Hunt for Gollum sets the stage for the coming quests by putting players in search of the titular creature, whose capture is the overall goal in Shadows of Mirkwood . For this first quest, players are tasked with uncovering the clues in the form of the Signs of Gollum Objective cards, which are shuffled into the Encounter deck. Featuring a new hero, new player cards for all four spheres of influence, and an assortment of new Encounter cards, The Hunt for Gollum begins your dangerous trek through the Shadows of Mirkwood ! This is not a stand-alone deck. A copy of The Lord of the Rings: The Core Set is required to play.
Sklep: Morgad.pl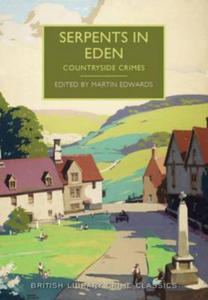 43,61 zł
Książki / Literatura obcojęzyczna
An eclectic mix of crime stories written over half a century. From a tale of poison-pen letters tearing apart a village community to a macabre mystery by Arthur Conan Doyle, the stories collected here reveal the dark truths hidden in an assortment of rural paradises.
Sklep: Libristo.pl 102,97 zł
Książki / Literatura obcojęzyczna
Collects a long out-of-print mini series, and a wide assortment of bonus material.
Sklep: Libristo.pl
Sklepy zlokalizowane w miastach: Warszawa, Kraków, Łódź, Wrocław, Poznań, Gdańsk, Szczecin, Bydgoszcz, Lublin, Katowice
Szukaj w sklepach lub całym serwisie
2. Szukaj na wszystkich stronach serwisu
t1=0.046, t2=0, t3=0, t4=0.023, t=0.046