krainaksiazek a domestic and spiritual violence intervention handbook 20122717
- znaleziono 5 produktów w 1 sklepie 202,25 zł
Książki / Literatura obcojęzyczna
"Therapist's Guide to Clinical Intervention, Second Edition" is a must-have reference for clinicians completing insurance forms, participating in managed care, or practicing in treatment settings requiring formalized goals and treatment objectives. This practical, hands-on handbook outlines treatment goals and objectives for each type of psychopathology as defined by the diagnostic and statistical manual by the American Psychiatric Association, identifies skill-building resources, and provides samples of all major professional forms. With over 30 per cent new information, this new edition covers a variety of new special assessments including domestic violence, phobias, eating disorders, adult ADHD, and outpatient progress. New skill-building resources focus on surviving holiday blues, improving communication, overcoming shyness, teaching couples to fight 'fair', surviving divorce, successful stepfamilies, managing anger, coping with post traumatic stress, and more. Additional professional forms have been added including treatment plans, a brief mental health evaluation, parent's questionnaire, and a contract for providing service for people with no insurance. In a practical hands-on approach, this handbook: outlines treatment goals and objectives for DSM-IV diagnoses; provides outlines for assessing special circumstances; offers skill building resources to supplement treatment; provides samples for a wide range of business and clinical forms; outlines treatment goals and objectives for DSM-IV diagnoses; outlines for assessing special circumstances; offers skill building resources to supplement treatment; and, provides samples for a wide range of business and clinical forms.
Sklep: Libristo.pl 502,90 zł
Książki / Literatura obcojęzyczna
This work offers the latest theory, research, and practice information for family therapy. The last twenty years have seen an explosion of new, innovative, and empirically supported therapeutic approaches for treating families. Mental health professionals working with families today apply a wide range of approaches to a variety of situations and clients using techniques based on their clinically and empirically proven effectiveness, their focus on specific individual and relational disorders, their applicability in various contexts, and their prominence in the field. In this accessible and comprehensive text, each chapter covers specific problems, the theoretical and practical elements of the treatment approach, recommended intervention strategies, special considerations, supporting research, and clinical examples. The contributors provide step by step guidelines for implementing the approaches described and discuss particular issues that arise in different couple, family, and cultural contexts. "Handbook of Clinical Family Therapy" covers treatment strategies for the most common problems encountered in family therapy, including: domestic violence; adolescent defiance, anxiety, and depression; trauma induced problems; stepfamily conflicts; ADHD disruption; substance abuse in adults and adolescents; couple conflict and divorce; and chronic illness. A detailed reference for today's best treatment strategies, the "Handbook of Clinical Family Therapy" brings together the top practitioners and scholars to produce an innovative and user friendly guide for clinicians and students alike.
Sklep: Libristo.pl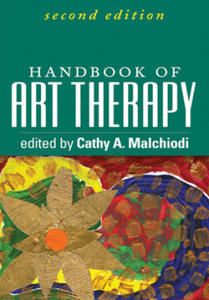 297,17 zł
Książki / Literatura obcojęzyczna
Widely regarded as the standard reference in the field, this handbook provides a complete overview of art therapy, from theory and research to practical applications. Leading practitioners demonstrate the nuts and bolts of arts-based intervention with children, adults, families, couples, and groups dealing with a wide range of clinical issues. Rich with illustrative case material, the volume features 110 sample drawings and other artwork. The inclusion of diverse theoretical approaches and practice settings makes the "Handbook "eminently useful for all mental health professionals interested in using art in evaluation and treatment. New to This Edition*Incorporates the latest clinical applications, methods, and research.*Chapter on art materials and media (including uses of new technologies).*Chapters on intervening with domestic violence survivors, bereaved children, and military personnel.*Expanded coverage of neuroscience, cultural diversity, and ethics.
Sklep: Libristo.pl 98,39 zł
Książki / Literatura obcojęzyczna
Description: When Jesus spoke at his local synagogue he boldly proclaimed that he was the one sent to free those who were oppressed. He came to provide hope, peace, and safety to those suffering in the world. When he left this earth, his followers were left with the task of continuing this ministry. Statistics suggest that in America one in four women has experienced physical violence in an intimate relationship. Dating violence, intimate-partner violence, and child abuse rank as some of our nation's largest problems. Men are also being abused by intimate partners, parents, or care providers at increasing rates. The statistic is even more alarming worldwide. Unfortunately, these statistics represent only reported incidents. The rates of verbal, emotional, and spiritual abuse are even higher. In addition, countless women are encouraged by clergy to return to their abusive spouses. The faith community, while called by God to free the oppressed, has been slow to respond to this sin against humanity. Few seminaries offer quality domestic-violence-prevention training for clergy. However, clergy still continue to be sought for help from the community and as advocates for victims of domestic violence. A partnership between the church and community (locally and abroad) is necessary if we wish to transform humans caught in this form of oppression. In Setting the Captives Free Ron Clark proposed a theology of addressing domestic violence and its application for clergy. Freeing the Oppressed is a book that seeks to condense Clark's previous work into a readable form for those seeking spiritual answers concerning abuse and batterer intervention, and for helpers of those caught in the cycle of family violence. It is also designed as an outreach for those seeking help from the faith community. Endorsements: ""Thank you Dr. Clark for writing such a thoroughly readable work. Your book sounds the clarion call that many of us working in the field of domestic violence have hoped and prayed the church would hear. It clearly states the problem and the need facing our country, our communities, and our churches. More importantly, it provides a message of hope and a way for the church to touch and be touched by their communities . . . This is a rare gem of a Christian work that I can feel comfortable giving to clergy, victims, perpetrators, or anyone wanting to know how to address family violence."" --Patricia Warford, PsyD Licensed Psychologist ""Ron Clark has provided a clear, concise, spiritually-informed, well-researched argument calling Christians to speak out against domestic abuse and to respond compassionately to women, men, and children impacted by its devastating consequences. Every pastor and every seminary student should read Freeing the Oppressed. Clark interweaves his pastoral experience with biblical insights and knowledge of the growing literature in domestic violence. The result: a prophetic call to social action."" --Nancy Nason-Clark Professor of Sociology University of New Brunswick ""Freeing the Oppressed is a wonderful resource for any reader who wishes to learn more about domestic abuse and Christian communities. Beginning with a chapter outlining the dynamics of domestic abuse, Ron Clark provides a chapter-by-chapter journey toward hope and healing for victim/survivors and perpetrators alike and toward greater understanding for those who seek to assist them. Interspersing his personal experiences as pastor, counselor, and educator within each chapter helps to frame the plethora of interrelated issues in a manner that makes them clear and accessible--and interesting--to all readers."" --Barbara Fisher-Townsend Co-Editor of Beyond Abuse in the Christian Church: Raising Voices for Change
Sklep: Libristo.pl 212,85 zł
Książki / Literatura obcojęzyczna
Men who act abusively have their own story to tell, a journey that often begins in childhood, ripens in their teenage years, and takes them down paths they were hoping to never travel. Men Who Batter recounts the journey from the point of view of the men themselves. The men's accounts of their lives are told within a broader framework of the agency where they have attended groups, and the regional coordinated community response to domestic violence, which includes the criminal justice workers (e.g., probation, parole, judges), and those who staff shelters and work in advocacy. Based on interview data with this wide array of professionals, we are able to examine how one community, in one western state, responds to men who batter. Interwoven with this rich and colorful portrayal of the journey of abusive men, we bring twenty years of fieldwork with survivors and those who walk alongside them as they seek safety, healing and wholeness for themselves and their children. Women who have been victimized by the men they love often hold out hope that, if only their abusers could be held accountable and receive intervention, the violence will stop and their own lives will improve dramatically as a result. While the main purpose of Men Who Batter is to highlight the stories of men, told from their personal point of view, it is countered by reality checks from their own case files and those professionals who have worked with them. And finally, interspersed within its pages is another theme: finding religious faith or spiritual activity in unlikely places.
Sklep: Libristo.pl
Sklepy zlokalizowane w miastach: Warszawa, Kraków, Łódź, Wrocław, Poznań, Gdańsk, Szczecin, Bydgoszcz, Lublin, Katowice
Szukaj w sklepach lub całym serwisie
2. Szukaj na wszystkich stronach serwisu
t1=0.033, t2=0, t3=0, t4=0, t=0.034