krainaksiazek a fabulous opera 20131004
- znaleziono 11 produktów w 5 sklepach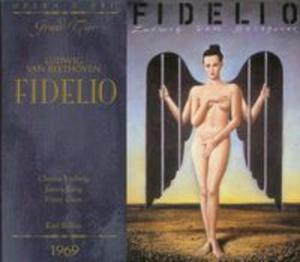 62,90 zł
Nagrania muzyczneMuzyka poważna
Beethoven?s only opera is heard here in a miraculous performance with probably the best cast and conductor ever captured on disc. Selected as one of the best performances from the vast Opera d?Oro catalog and reissued with new packaging, the fabulous cover art of Rafal Oblinski, and complete libretto newly translated by Bill Parker."A compelling performance of Fidelio, with an outstanding cast and conductor." - Fanfare"An exciting live performance of this opera, recorded in Salzburg in 1969 when all the principles were in their primes... A terrific bargain and a sparkling representation of Beethoven?s great masterwork." - ClassicsToday
Sklep: Booknet.net.pl 67,00 zł
Nagrania>Nagrania muzyczne
Beethoven
Sklep: Bonusmedia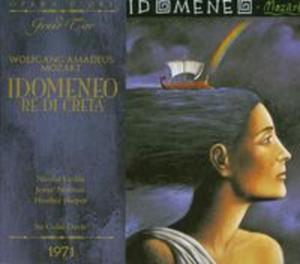 89,90 zł
Nagrania muzyczneMuzyka poważna
Idomeneo, Re di Creta ("Idomeneus, King of Crete"), written when Mozart was 24, was already his seventh opera. Although not nearly so well known today as several later works, it contains some fine music and has one of the richest orchestral scores of any.The first performance took place in Munich on January 29, 1781 and was repeated on only two more nights. Mozart continued to believe in Idomeneo and revised it for a revival in Vienna in 1786. It still failed to catch on, and was seldom heard again until a 1951 production at Glyndebourne. Since then it has gradually achieved a respectable place in the repertory."This is a fabulous surprise. Who knew it existed? Jessye Norman sings as beautifully and meaningfully as she ever has (this was taped in '71)...all of her fans--and all opera lovers-should hear this. Heather Harper's Ilia is as good as any on disc--she's lovely and moving, and her tone and sincerity are right-on. The Idomeneo is Nicolai Gedda, here in his prime; he sings manfully and fluently throughout...Colin Davis was an early-ish champion of this work and his leadership is ideal; the RAI Orchestra and Chorus are very good." - Robert Levine, ClassicsToday.com
Sklep: Booknet.net.pl 95,00 zł
Nagrania>Nagrania muzyczne
Idomeneo, Re di Creta ("Idomeneus, King of Crete"), written when Mozart was 24, was already his seventh opera. Although not nearly so well known today as several later works, it contains some fine music and has one of the richest orchestral scores of any.The first performance took place in Munich on January 29, 1781 and was repeated on only two more nights. Mozart continued to believe in Idomeneo and revised it for a revival in Vienna in 1786. It still failed to catch on, and was seldom heard again until a 1951 production at Glyndebourne. Since then it has gradually achieved a respectable place in the repertory."This is a fabulous surprise. Who knew it existed? Jessye Norman sings as beautifully and meaningfully as she ever has (this was taped in '71)...all of her fans--and all opera lovers-should hear this. Heather Harper's Ilia is as good as any on disc--she's lovely and moving, and her tone and sincerity are right-on. The Idomeneo is Nicolai Gedda, here in his prime; he sings manfully and fluently throughout...Colin Davis was an early-ish champion of this work and his leadership is ideal; the RAI Orchestra and Chorus are very good." - Robert Levine, ClassicsToday.com...
Sklep: Bonusmedia 97,49 zł
Muzyka>Rock
1. Shakin' All Over 2. Move It 3. Quartermaster's Stores 4. Singing The Blues 5. Rockin' At The Two I's 6. Rockabilly Baby 7. Don't Knock Upon My Door 8. I'm A Man 9. Sea Of Love 10. A Voice In The Wilderness 11. Ah Poor Little Baby 12. Fabulous 13. Jelly Baby 14. Lula Rock-a-hula 15. Gonna Find Me A Bluebird 16. Too Hot To Handle 17. Brand New Cadillac 18. My Feet Hit The Ground 19. Ding Dong Rock-a-billy Wedding 20. Start Movin' 101. Apache 102. Please Don't Touch 103. Honeycomb 104. Dungaree Doll 105. Crazy Man Crazy 106. Wake Up Little Susie 107. Slim Jim Tie 108. Long Black Nylons 109. Left Hand Boogie 110. High Class Baby 111. Tallahassie Lassie 112. You Won't Be Around 113. Frantic 114. She Loves To Rock 115. Once More 116. A Girl Likes 117. Teach You To Rock 118. Livin' Lovin' Doll 119. Pretty Little Pearly 120. I'm In Love Again 201. Hoots Mon 202. Rock With The Caveman 203. Turn Me Loose 204. Steady With You 205. Soda Pop Pop 206. Growl 207. Bad Boy 208. Slippin' And Slidin' 209. Wee Tom 210. Little Cutie 211. Hey Miss Fannie 212. Be My Girl 213. Big Fat Mama 214. Mean Streak 215. Dream Lover 216. Feelin' Fine 217. Shortnin' Bread 218. Red Planet Rock 219. Book Of Love 220. Where In The World Is Billy 301. Living Doll 302. Comin' Down With Love 303. Gilee 304. Don't Be A Fool (With Love) 305. You'll Never Know What You're Missing 306. Like Makin' Love 307. I Go Ape 308. Longin' Lips 309. This Little Girl's Gone Rockin' 310. Fall In Love With You 311. Whole Lotta Woman 312. Don't Let Go 313. All Rhet 314. No More 315. Blackout 316. Never Mind 317. Make It Up 318. Rockin' Little Angel 319. Foxy Little Mama 320. Elevator Rock 401. What Do You Want To Make Those Eyes At Me For? 402. Mercy, Mercy, Mercy 403. Come On Let's Go 404. Apron Strings 405. Don't You Rock Me Daddy-o 406. School Day 407. Teenage Love 408. He's Got The Whole Wolrd In His Hands 409. Rock 'N' Roll Blues 410. Driftin' 411. Giddy Up A Ding Dong 412. La Dee Dah 413. Yea Yea 414. Let's You And I Rock 415. Collette 416. You Got What It Takes 417. Don't Leave Me 418. Matchbox 419. Please Don't Tease 420. Endless Sleep 501. A Teenager In Love 502. Travellin' Light 503. I'll Be Satisfied 504. Rock Around The Mailbag 505. Gamblin' Man 506. Turn My Back On You 507. Nightmare 508. Darktown Strutter's Ball 509. Nine Times Out Of Ten 510. Restless 511. If You Need Me 512. Holee Jump 513. Can't You Hear My Heart 514. I'll Lay It On The Line 515. Jet Black 516. Please Make Up Your Mind 517. Hey Baby 518. It's Been Nice 519. Jet Black Machine 520. Dynamite 601. Boom Ladda Boom Boom 602. Guitar Boogie Shuffle 603. My Advice 604. Lamp Of Love 605. Hop, Skip And Jump 606. Betty, Betty (Go Steady With Me) 607. Teen Street 608. Love-a, Love-a, Love-a 609. The Rough And The Smooth 610. I Love You 611. Come On Baby 612. Good Gravy? 613. Feelin' 614. Type A Letter 615. The Snake And The Bookworm 616. Red For Danger 617. Fatty Patty 618. Crazy Little Daisy 619. Coffee Bar Jive 620. Saturday Dance 701. Kiss Me Honey, Honey Kiss Me 702. I Gotta Know 703. You've Gotta Way 704. Down The Line 705. Don't Burn Me Up 706. Why Do Fools Fall In Love 707. Tom Hark 708. Rock O' My Soul 709. Mad About You 710. Footloose 711. See You On Friday 712. Lonesome Fella 713. The Horror Show 714. Queen Of The Hop 715. The Golden Mile 716. Cradle Rock 717. Gee Whiz It's You 718. New Love Tonight 719. Tom Dooley 720. They Call Him Cliff 801. Teen Scene 802. I Vibrate 803. Twenty Flight Rock 804. Baby She's Gone 805. Empty Arms Blues 806. Runk Bunk 807. Man Of Mystery 808. No Other Baby 809. Right Behind You Baby 810. Coffee Break 811. Darling Corey 812. Living Doll 813. Young Magic 814. Sticks And Stones 815. Pointed Two Shoes 816. I Like Love 817. Seventeen 818. Slow Walk 819. High School Confidential 820. Goodbye To Teenage Love 901. Made You 902. Love Me To Pieces 903. D In Love 904. Rock 'N' Roll Opera 905. Don't Tell Me Your Troubles 906. If You Don't Know 907. Ain't Misbehavin' 908. She's Mine 909. The Stranger 910. Angry 911. No Turning Back 912. Birmingham Bounce 913. I Dreamed 914. Raunchy 915. Amapola 916. Oakie Boogie 917. Cool Shake 918. Last Train To San Fernando 919. Cloudburst 920. That's Love
Sklep: Gigant.pl 67,00 zł
Nagrania>Nagrania muzyczne
Live performance, Berlin, September 29, 1955. One of the greatest live complete opera recordings starring Maria Callas, and the best of her recordings of Lucia di Lammermoor. Selected as one of the best performances from the vast Opera d
Sklep: Bonusmedia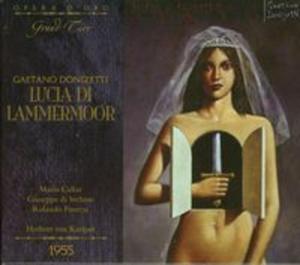 62,90 zł
Nagrania muzyczneMuzyka poważna
Live performance, Berlin, September 29, 1955. One of the greatest live complete opera recordings starring Maria Callas, and the best of her recordings of Lucia di Lammermoor. Selected as one of the best performances from the vast Opera d?Oro catalog and reissued with new packaging, performance notes from Callas biographer Robert Levine, the fabulous cover art of Rafal Olbinski, and complete libretto newly translated by Bill Parker.?If I could own but a single Callas set it would be this one!? ? John Ardoin, author, The Callas Legacy
Sklep: Booknet.net.pl 271,00 zł
WYDAWNICTWA ALBUMOWE > Moda
Eleven ISBN: 9788862081672 Autor: diCorcia Philip-Lorca Rok wydania: 2011-04-01 Ilość stron: 272 Oprawa: twarda Format: 248 x 330 mm Between 1997 and 2008, Philip-Lorca diCorcia completed 11 photographic portfolios in collaboration with "W "magazine's creative director Dennis Freedman. In their epic scope and visual luxuriance, these enigmatic and glamour-soaked photographic narratives stand as one of the most ambitious editorial projects of the last decade. DiCorcia and Freedman traveled the globe to make these stories, deploying fabulous locations ranging from a Lautner house in Los Angeles and the Mariinsky Opera House in St. Petersburg to Windows on the World at the top of the World Trade Center and a notorious %%club echangiste%% (swinger's club) in Paris. The cast of characters included iconic models Nadja Auermann, Guinevere van Seenus, Kristen McMenamy, Karen Elson, Shalom Harlow and Hannelore Knuts, the actress Isabelle Huppert, the designer Marc Jacobs plus people cast on location. DiCorcia's fashion stories are collected for the first time in this superbly designed monograph, and reveal themselves as a masterpiece of staged photography and photographic storytelling.
Sklep: Multistore24.pl 37,32 zł
Książki / Literatura obcojęzyczna
Highly praised as a 'fabulous mix of comedy, real life and emotional depth' (Daily Express), this addictive novel from Adele Parks, bestselling author of ABOUT LAST NIGHT, looks at what happens after you find the one...Neil and Nat seem to be perfectly matched. They hate Marmite and the opera. They love reality TV and the missionary position. And they both absolutely do not want children. At least that's what Nat thought. But now Neil seems to have softened to the prospect and he's practically begging her for a baby. Nat tries to ignore his change of heart and won't explain her reasons for hating the idea; she can't. Are they that compatible after all? As the cracks start to show, Nat wonders if Neil really is the man of her dreams. Or is it possible that someone from her past could actually be 'the one'? *Includes bonus material*
Sklep: Libristo.pl 17,56 zł
Książki / Literatura obcojęzyczna
Tilly, a fabulous feline, and her canine companion, Spike, trek from Greece's ancient Acropolis and the Roman Colosseum to modern-day landmarks such as Dubai's skyscraper, Burj Khalifa, and the Sydney Opera House. Thirty adorable illustrations to colour feature China's Great Wall, the Statue of Liberty, Big Ben, and many other famous sights. It's an around-the-world experience!
Sklep: Libristo.pl 46,59 zł
Książki / Literatura obcojęzyczna
Following in the muddy footsteps of Mr Peek's first adventure, which won the Bologna Ragazzi Opera Prima award 2009, comes complete Pandamonium at Peek Zoo! The zoo is holding an animal parade, but when the day arrives, nothing is ready. As Mr Peek races around preparing, he makes hilarious mistakes that leave a trail of chaos - including a baby panda on the loose heading for the lion's den! Thank goodness his son Jimmy's there to save the day and ensure the crowd sees the most fabulous animal parade ever - shown to great effect on a gatefold spread.
Sklep: Libristo.pl
Sklepy zlokalizowane w miastach: Warszawa, Kraków, Łódź, Wrocław, Poznań, Gdańsk, Szczecin, Bydgoszcz, Lublin, Katowice
Szukaj w sklepach lub całym serwisie
2. Szukaj na wszystkich stronach serwisu
t1=0.063, t2=0, t3=0, t4=0.012, t=0.063