krainaksiazek a fervent hope 20167788
- znaleziono 10 produkty w 3 sklepach 44,94 zł
Książki / Literatura obcojęzyczna
Jaci Burton - New York Times and USA Today bestselling author of the 'must-read' (Fresh Fiction) Play-By-Play series - takes us back to a small town in Oklahoma - where fervent dreams, fiery passion and love everlasting are the order of the day - with the third in her hot new contemporary romance Hope series. Molly Burnett and Carter Richards share a painful past, one that sent Molly running out of town, vowing never to return. The only thing bringing her back is her sister's wedding, and she doesn't intend to stay long. But circumstances force her to remain in town, and within close distance of the one man who hurt her more than she'd ever been hurt before. Can the two of them face down the past and work together toward the possibility of love and happiness in Hope? This is a series to warm your heart, it's all about second chances at love, first loves reunited, and finding love when and where you least expect it. Check out the first two titles in the series Hope Flames and Hope Ignites.
Sklep: Libristo.pl 9,50 zł
Książki & Multimedia > Książki
Opis - Doskonałe do malarstwa olejnego i akrylowego, wykonane z bawełny o gramaturze 330g powleczonej gruntem uniwersalnym, lekkie ramy wykonane z drewna paulowni, zszywki umieszczone z tyłu ramy, komplet klinów rozporowych. Nazwa - Podobrazie malarskie 24x30 ASTRA Kod EAN - 5900263270019 Wydawca - ASTRA POLSKA Podatek VAT - 23%
Sklep: InBook.pl 3595,67 zł
Malevich Lund Humphries Publishers
Książki / Literatura obcojęzyczna
An iconic figure in the history of modern art, the Russian painter Kazimir Malevich (1879-1935) was the creator of Suprematism, best known for his emblematic Black Square (1915). Censored in Russia for many years, his revolutionary writings were only recognised at the end of the twentieth century, initially in Western Europe. Similarly, much of his work remained unknown until the fall of Communism; little studied, the life and work of this painter remain shrouded in an aura of mystery. Andrei Nakov's monumental 4-volume study of this prophetic artist is founded on many decades of research in Russia, Western Europe and the US. The author has uncovered many previously unknown documents, and sheds a new light on Malevich's pivotal role in the development of modern art, offering a radically new interpretation of a fascinating artist. Volume 1: Impressionism and Symbolism are the starting points of the Polish-born Russian painter Kazimir Malevich's avant-garde trajectory. The artist's passion for Gauguin and Cezanne, and his subsequent involvement with Cubism and Futurism, enabled him to lay the foundations of a powerful oeuvre bolstered by an unrivalled sensitivity for colour. Theory and practice, theatrical and literary experiences, paved the way for his uniquely original venture into 'transrational' creation. By exploding the coherence of traditional 'realist' representation, and thus the meaning of visual forms, Malevich pioneered a new approach to art. In the spring of 1915, moving courageously beyond the boundaries of traditional mimesis, he ventured into non-objective painting. Volume 2: Starting with Malevich's revolutionary Quadrilateral ('Black Square') of 1915, which his contemporaries experienced as a veritable earthquake, Suprematism developed vertiginously, attaining the maximal intensity of pure colour barely three years later. In the summer of 1918, the so-called colourless phase of Suprematism culminated in White Square, which marked a major painterly and philosophical turning point in the handling of colour as energy. The artist's white-on-white compositions at the Non-objective Creation and Suprematist exhibition in spring 1919, provoked the anger of his fellow non-objectivists. Motivated by philosophical considerations, his temporary abandonment of painting, which he declared 'obsolete', sounded the death knell of abstract art in Russia. Malevich's impulse to move beyond painting remains little understood even today; at the time it meant the end of any hope of his pursuing a career and making a permanent place for Suprematism in Moscow. Volume 3: Introducing Suprematism to the sphere of everyday life, Malevich created highly original architectonic works in the early 1920s, while concurrently producing an important body of theoretical writings constantly marked by philosophical preoccupations. In the teeth of increasing social adversity he turned to foreign venues. An exhibition in Berlin in 1927, opened the doors of the Bauhaus and brought him to the attention of Western European and, not long after, North American viewers. However, the idealism of his art proved anathema to the totalitarian authorities in his homeland. On returning to Leningrad he was immediately jailed. Although released he was imprisoned again, far more traumatically, in 1930, as a result of which he began to explore new figurative approaches. Endeavouring to produce images of the 'new man', he laid the foundations of his post-Suprematist figurative painting, which reconsiders symbolic values from the standpoint of his non-objective experience. Blacklisted, he suffered severe material deprivations and social ostracism, which soon made it impossible for him to continue painting. He died of cancer in 1935, aged barely 56. In addition to a visual oeuvre of stunning intensity, he left behind an as yet partly unpublished and untranslated corpus of highly original writings, the gist of which English-language readers will discover here. Volume 4: A prolific writer and fervent polemicist, Malevich wrote throughout his life and produced a vast body of texts. His Futurist and Suprematist manifestos, theoretical and polemical articles, aesthetic treatises and voluminous correspondence are duly listed in this volume, along with an exhaustive bibliography of publications devoted to his work. In addition to a generously illustrated and detailed summary of Malevich's life, this volume includes a searching study of his visual techniques and an addendum to the "2002 Catalogue Raisonne" of his paintings, architectonic constructions and graphic work.
Sklep: Libristo.pl 54,88 zł
Książki / Literatura obcojęzyczna
The book you hold resonates with this conviction: that leaders such as you have the potential to be the most influential forces on planet Earth. Yours is the staggering responsibility and the matchless privilege of rallying believers and mobilizing their spiritual gifts in order to help people who are far from God become fully devoted followers of Christ. Life transformation and the eternal destinies of real people depend on the redemptive message entrusted to the local church. Are you willing to do whatever it takes to lead your church effectively so God's message of hope can change the world? Then this book is for you. Courageous Leadership is Bill Hybels' magnum opus, a book far too important to be written before its time. Only now, after nearly thirty years leading his own church from a handful of people with a burning vision into a globe-spanning kingdom force--only after almost three decades of victories and setbacks, of praying hard and risking big--is Hybels ready at last to share the lessons he has learned, and continues to learn, about Christian leadership. Too much is at stake for you not to maximize your spiritual gift of leadership, insists Hybels. In this passionate, powerful book, he unpacks the tools, tasks, and challenges of your calling. You'll discover the power of vision and how to turn it into action. You'll gain frontline insights for developing a kingdom dream team, discovering your leadership style, developing other leaders, making decisions, walking with God, embracing change, staying your God-given course, and much, much more. Drawing on his own richly varied life experiences, Hybels fleshes out vital principles with riveting firsthand stories. This is far more than another book on leadership strategies and techniques. You'll find those topics in here, to be sure. But beyond them, you'll find the very essence of one of today's foremost Christian leaders--his fervent commitment to evangelism and discipleship and his zeal to inspire fellow church leaders even as he seeks to keep growing as a leader himself. If unchurched people matter to you . . . if you love seeing believers serve passionately with their spiritual gifts . . . if God's heartbeat for the church is your heartbeat as well . . . then this book is a must. Courageous Leadership will convince you to lead with all your might, all your skill, and all your faith. And it will give you the tools to do just that.
Sklep: Libristo.pl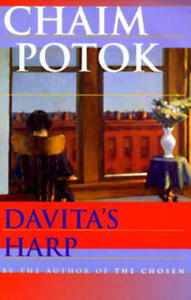 77,35 zł
Książki / Literatura obcojęzyczna
For Davita Chandal, growing up in the New York of the 1930s and '40s is an experience of joy and sadness. Her loving parents, both fervent radicals, fill her with the fiercely bright hope of a new and better world. But as the deprivations of war and depression take a ruthless toll, Davita unexpectedly turns to the Jewish faith that her mother had long ago abandoned, finding there both a solace for her questioning inner pain and a test of her budding spirit of independence. "From the Paperback edition."
Sklep: Libristo.pl 720,40 zł
Książki / Literatura obcojęzyczna
The Fourth International Copenhagen Symposium on Detec tion of Breast Cancer, which took place in Copenhagen August 1988, made it possible once again for scientists from all over the world to come together to present the latest advances in the fight against breast cancer. This book forms a synthesis of important contributions, with special reference to follow-up screening trials, stereotactic X-ray guided fine-needle aspira tion biopsy procedures, and new and important contributions to our knowledge concerning nonpalpable breast tumors. It is our fervent hope that the reader of this book will be encouraged to join in the struggle against breast cancer, especially screening programs, in order to detect the disease as early as possible, bearing in mind that breast cancer, in spite of recent advances, still is a dreadful strain on women throughout the world. S. Brunner B. Langfeldt Contents E. L. Kitts, Jr. , J. Beutel, R. S. Holland, and B. Blank Relative Doses in Mammography: The Future Development of Film/Screen Mammography Systems . . . . '. . . . . . . . . . . . . . . . . . . . . 1 R. McLelland . Earlier Detection of Breast Cancer: An Overview 10 J. Leveque, e. O. Lorino, and J. J. Ferrara Inflammatory Disease of the Breast. . . . . 18 R. McLelland Stellate Lesions of the Breast 24 R. McLelland Screening for Breast Cancer: Opportunities, Status and Challenges . . . . . . . . . . . . . . . . . . . . . . . . . . 29 S. A. Feig Follow-up Studies of the Health Insurance Plan Study and the Breast Cancer Detection Demonstration Project Screening Trials in the USA. . . . . . . . . . . . . . . . 39 R.
Sklep: Libristo.pl 239,37 zł
Książki / Literatura obcojęzyczna
The 25th anniversary of the UN Convention on the Rights of the Child is a good reason to put the topic emphatically into the public focus. UNICEF Germany and GEO, with the support of the world's best photographers and Edition Lammerhuber, do exactly that in this joint pro-bono project. In 40 photographic reports from 15 years, a selection of particularly striking pictures from the UNICEF Photo of the Year competition forms a fervent appeal to respect the rights of the child and to guarantee every girl and boy in the world a childhood in dignity. The volume is edited by Jurgen Heraeus, the Chairman of the German Committee of UNICEF, and Peter-Matthias Gaede, long-serving Editor-in-Chief of GEO. We the Children draws attention to the suffering and hardships, but also to the wishes and dreams of today's children. We the Children is a book full of hope for a child-oriented world.
Sklep: Libristo.pl 188,57 zł
Książki / Literatura obcojęzyczna
The author, Raul Eduardo Chao, received a Doctorate degree from John Hopkins University in Baltimore, MD. He has worked as director of the Chemical Engineering programs at the University of Puerto Rico and Detroit, as well as a consultant for NASA and the private sector. He published the historic novels: Contramaestre, Baraguá & Jimaguayú and many others historical books like Exiled Cuba. The Spanish 400 year domination that ended in 1898 was followed by four years of US occupation that offered Cubans their first lessons on how to govern a country. The enlightened European civilization that Spain had brought to Cuba had been blighted by selfish economic and political impositions. After 1898, the constructive years of American government control were marred by the burden of an unwelcomed Platt amendment. This book presents a series of episodes of these 400 years of Colonial Cuba. The fervent hope that Cuba would be free continues to this day in the hearts of Cubans in the island and in exile.
Sklep: Libristo.pl 89,99 zł
Książki Obcojęzyczne>Angielskie>Fiction & related items>Fantasy
The Emperor Is Dead... Long Live The Emperor! The Fervent Hope Of The Victorious Rebels And The Survivors Of The Uprising That Liberated The City From Tyranny Is That The Accession Of Archange To The Imperial Throne Will Usher In A New Era Of Freedom, Peace And Stability. If Only That Were So...
Sklep: Gigant.pl 43,99 zł
Książki Obcojęzyczne>Angielskie>Fiction & related items>Fantasy
The Emperor Is Dead... Long Live The Emperor! The Fervent Hope Of The Victorious Rebels And The Survivors Of The Uprising That Liberated The City From Tyranny Is That The Accession Of Archange To The Imperial Throne Will Usher In A New Era Of Freedom, Pea
Sklep: Gigant.pl
Sklepy zlokalizowane w miastach: Warszawa, Kraków, Łódź, Wrocław, Poznań, Gdańsk, Szczecin, Bydgoszcz, Lublin, Katowice
Szukaj w sklepach lub całym serwisie
2. Szukaj na wszystkich stronach serwisu
t1=0.054, t2=0, t3=0, t4=0.016, t=0.054