krainaksiazek a live worship experience 20125395
- znaleziono 4 produkty w 2 sklepach 145,09 zł
Książki / Literatura obcojęzyczna
"An important and quite beautiful book". ("Library Journal"). "[Eliade] throws a searching and humbling light on our modern fragmented existence". ([London] "Times Literary Supplement"). "Treatment of such subjects as the meaning of the sacred, sun and moon worship, water symbolism, sacred stones, fertility cults, the earth mother, symbols of regeneration and the myth of eternal renewal, will interest the general reader as well as the scholar". ("New York Times"). "It is doubtful that one could encounter a more impressive work of scholarship and insight...All serious students of religion would derive enormous profit from the reading of this work". ("Kirkus"). In this era of increased knowledge the essence of religious phenomena eludes the psychologists, sociologists, linguists, and other specialists because they do not study it as religious. According to Mircea Eliade, they miss the one irreducible element in religious phenomena - the element of the sacred. Eliade abundantly demonstrates universal religious experience and shows how humanity's effort to live within a sacred sphere has manifested itself in myriad cultures from ancient to modern times; how certain beliefs, rituals, symbols, and myths have, with interesting variations, persisted. Mircea Eliade's works include the multivolume "History of Religious Ideas". John C. Holt is a professor of religion at Bowdoin College and the author of "The Religious World of Kirti Sri: Buddhism, Art, and Politics of Late Medieval Sri Lanka".
Sklep: Libristo.pl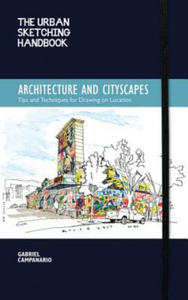 59,27 zł
Książki / Literatura obcojęzyczna
Award-winning illustrator Gabriel Campanario first introduced his approach to drawing in The Art of Urban Sketching, a showcase of more than 500 sketches and drawing tips shared by more than 100 urban sketchers around the world. Now, he drills down into specific challenges of making sketches on location, rain or shine, quickly or slowly, and the most suitable techniques for every situation, in The Urban Sketching Handbook series. It's easy to overlook that ample variety of buildings and spaces and the differences from city to city, country to country. From houses, apartments and shopping malls to public buildings and places of worship, the structures humans have created over the centuries, for shelter, commerce, industry, transportation or recreation, are fascinating subjects to study and sketch. In The Urban Sketching Handbook: Architecture and Cityscapes, Gabriel lays out keys to help make the experience of drawing architecture and cityscapes fun and rewarding. Using composition, depth, scale, contrast, line and creativity, sketching out buildings and structure has never been more inspirational. This guide will help you to develop your own creative approach, no matter what your skill level may be today. As much as The Urban Sketching Handbook: Architecture and Cityscapes may inspire you to draw more urban spaces, it can also help to increase your appreciation of the built environment. Drawing the places where we live, work and play, is a great way to show appreciation and creativity.
Sklep: Libristo.pl 175,54 zł
Książki / Literatura obcojęzyczna
As a new century approaches, the Anglican Communion continues to expand and mature. What began as a series of colonial chaplaincy outposts has become a worldwide family of autonomous churches with a common heritage amid remarkable diversity. Until now, most of the published material about Anglicanism has reflected the perspective of the United States and the United Kingdom. In response to this dearth of genuinely global resources, England's Center for Anglican Communion Studies initiated the process that has resulted in this remarkable volume. In Anglicanism: A Global Communion the editors have brought together men and women, lay and ordained, from all over the world, to demonstrate the breadth of experience, spirituality, and thinking that exists within the worldwide Anglican family. A collection of essays by 81 contributors from all parts of the Anglican Communion. Essays deal with issues of faith; worship, spirituality and theology; the Church and ministry; mission within a diversity of faiths and cultures; Church and society; and Anglican identity. This is a joint publication of Church Publishing and Cassell's, London. Above all, these accounts taken together say an emphatic No! to the myth of Anglicanism as a privileged club for white Anglo-Saxons who live in the northern hemisphere but presume to speak for their southern neighbors. Here at last is a book stating unequivocally that in the Anglican Communion there are many gifts, many voices.
Sklep: Libristo.pl 249,99 zł
Muzyka>Electronica
1. Showtek / Mcdv8 - Hold Us Back (2012 Dj Edit) 2. Wildstylez / Ran-d - Futureshock 3. Stuback - Inspiration 4. Abyss & Judge - Melodia 5. Pitcher, The / Buddahmann - Going H.a.m. 6. Alpha2 - Kick Back 7. R3bels, The - Armageddon 8. Frontliner - If You Find 9. In-phase / Atmozfears - Awaken 10. Myers, Tony - Let's Go Back (Alex Nadal Remix) 11. Headhunterz / Heart, Brennan - The Mf Point Of Per 12. Audiofreq - Tear U Down 13. D-blaock / S-te-fan - Show Me The Way 14. Shockerz - Rise Like The Sun 15. Audiogenic - Lights Out (Original Mix) 16. Code Black - Visions 17. Yakumoto, Taki - 7 Pm (Alex Nadal Remix) 18. Ran-d / S-te-fan - Skills 19. Second Identity - Modified 20. Toneshifterz - How We Do It 21. E-force - Remote Control 22. Frontliner / Enforcer, Max - We Forget To Live 23. Jack Of Sound - Kaylee's Nightmare 24. Zany - Squared 25. Toneshifterz - Till Daybreak Meets 26. Kodex - Underworld 27. Gunz For Hire - Put It On 28. Abyss & Judge - Maniacs 29. Jumpboyz - Bigger & Higher 30. Slim Shore / B-front - Charger 31. Zany - Worship 32. Dutch Masters - Circles 33. Loophunter - Hard Sound Anthem 2011 34. Heart, Brennan - Light The Fire (2011 Mix) 35. Stuback - Musical Taste 36. B-front - Virus 37. Frequencerz - Fly With Me 38. Arkaine - Fear No More 39. Profite - Split Second 40. Badal, Alex - Hold In 101. R3bels, The - Reactivating The Bionicle 102. Zany - Symphonic Feedback (Titan Remix) 103. Prophet, The / Dj Duro - Shizzle (2011 Remuxx) 104. Frontliner - Dream Dust 105. Dr. Rude - Midnight (Dalora Remix) 106. Adaro - The Haunter Of The Dark 107. E-force / Luna - Evolved 108. Anarchist, The - Battlescarz 109. R3bels, The / Vamper - Cosmik 110. Zany & Nitrouz - Lonely Dark 111. Toneshifterz - Psycadelic Wasteland 112. Frontliner & Deepack - Move 2 This 113. Coone - Beat On My Drum 114. Ambassador Inc. - Melody Of Nature 115. B-front - Neophobia (Digital Punk Remix) 116. Frequencerz - Revolution 117. Kodex - Insomnia (Bioweapon Remix) 118. Zatox / R3bels, The - Odissea 2011 119. Toneshifterz - Human Experience 120. Headhunterz - Forever Az One (Noisecontrollers Rem 121. Frequencerz - Rich Mf 122. Alpha2 / B-front - Liberate 123. Wasted Penguinz - Stay Alive 124. Slim Shore - Flow 125. Code Black - Red Planet 126. Headhunterz & Wildstylez / Mc Villain - Stuck In U 127. Dj Y.o.z. - Time Traveller 128. Dj Man V. / Dj Deep - Pump That 129. Re-volt - Invictus 130. Alpha2 - Let It Go 131. Pitcher, The / Slim Shore - I'm Alive 132. Coone / Technoboy - Nustyle Crap (Coone Goes Wild 133. Zeta, Francesco / Talko, Ivan - Kill Me 134. In-phase - Cold & Fire 135. Audiobooster - Terminate 136. Stuback - Time 137. Code Black - F.e.a.r. 138. Dj Man V. / Dj Deep - Bass Get In Your Face 139. Dr. Rude - Little Bit Louder (Pat B Remix) 140. Dutch Master - You Are The Sound
Sklep: Gigant.pl
Sklepy zlokalizowane w miastach: Warszawa, Kraków, Łódź, Wrocław, Poznań, Gdańsk, Szczecin, Bydgoszcz, Lublin, Katowice
Szukaj w sklepach lub całym serwisie
2. Szukaj na wszystkich stronach serwisu
t1=0.022, t2=0, t3=0, t4=0, t=0.022