krainaksiazek a live worship experience 20125395
- znaleziono 7 produktów w 2 sklepach 60,48 zł
Książki / Literatura obcojęzyczna
After many years of writing in her prayer journal, missionary Sarah Young decided to be more attentive to the Savior's voice and listen for what He was saying to her. The result was "Jesus Calling, "a collection of personal reflections based on Jesus' own words of hope, guidance, and peace found in the Scriptures. Through these messages, countless people have been encouraged to experience a deeper relationship with the Lord as they also learn to listen for His voice in the pages of the Bible.In "Living a Life of Worship, " the fourth study in the"Jesus Calling Bible Study Series, " you will discover how thankfulness and worship always open the door for entering into God's presence and blessings. Even the most routine part of your day can be a spiritual act of worship when you are living close to God, and seeing from His perspective will allow you to truly be able to "give thanks in all circumstances" (1 Thessalonians 5:18). Each of the "Jesus Calling Bible Studies" include devotional readings from "Jesus Calling, " selected passages of Scripture for reflection, Bible Study questions, and additional questions and activities to help you apply and live out the material during the week. This study can be used for personal reflection and Bible study or in a small-group setting.
Sklep: Libristo.pl 195,49 zł
Książki / Literatura obcojęzyczna
Description: Take My Hand is an invitation to experience a year of preaching through the eyes of a first-year pastor. Andrew Taylor-Troutman reflects on his experience of ministry as a dynamic exchange between his theological education and the people in the pews. Each chapter consists of Taylor-Troutman's reflections about a particular aspect of living as a faith community and concludes with a sermon exploring similar themes and ideas. As this book journeys through the Christian liturgical year, Taylor-Troutman considers a wide range of contemporary church issues, including the role of children in worship and the communal practice of Sabbath. He discusses topics as diverse as the Rapture, the death penalty, and church league softball. Along the way, readers will laugh at Sunday morning bloopers, study biblical texts from new perspectives, wrestle with theological questions, and discover parallels between their own experience of faith and the life of this small, rural congregation. More than just a retrospective summary of events, Take My Hand poignantly illustrates how a pastor's work on Sunday morning grows out of his or her engagement with the hopes and fears of daily life, and the inspiring faith of men, women, and children in a church. Endorsements: ""A wonderful blending of communal observations and deep spiritual insight. Rev. Taylor-Troutman sees the connection between the faith and community, and in the sharing of his experience invites us to see and learn from that connection. An excellent resource for any new pastor starting a faith journey with a congregation, or a seasoned pastor reflecting anew."" --Brian K. Blount President and Professor of New Testament Union Presbyterian Seminary ""If you want to know what first-year pastoral ministry is, read this book . . . Taylor Troutman evokes the possibility of community, of deep and abiding faith in God, of family ties and committed relationships . . . His strength is the courage to ask questions, to live with ambiguity, to keep the faith, and to listen deeply to those who know him as their pastor."" --Susan Kendall Director of the Doctor of Ministry Program Pittsburgh Theological Seminary ""Take My Hand is a great telling of a first-year pastor living in his first congregation . . . [The] writing is very gracious and mirrors what happens right there at the 'ground of the fabric' where our theologies are built, our prayers are shared, our world views reshaped, and our love of God and one another deeply nourished."" --Cláudio Carvalhaes Associate Professor of Worship and Preaching Louisville Presbyterian Theological Seminary ""Georgia O'Keefe said that 'no one really looks at a flower,' and then she invited us to see the beauty of those blossoms that we ordinarily take for granted. A true artist arrests us in our busyness and calls us to notice the mysterious in the mundane. Andrew Taylor-Troutman displays this gift in Take My Hand. As he leads us through his first year as a pastor, Taylor-Troutman gives us a glimpse of the depth."" --Carol Howard Merritt Pastor, Western Presbyterian Church Washington DC ""Andrew Taylor-Troutman has written a delightful pastoral memoir, full of human insights and theological truths. It is in the best sense an encouraging book to any and all who aspire to the title 'Pastor.' I recommend it highly."" --Richard Lischer Duke Divinity School About the Contributor(s): Andrew Taylor-Troutman is an ordained minister in the Presbyterian Church (USA) and the solo pastor of New Dublin Presbyterian Church in the mountains of southwestern Virginia. The author received his bachelor of arts from Lenoir-
Sklep: Libristo.pl 237,99 zł
Książki / Literatura obcojęzyczna
Description: What does it mean to believe in the church? What is the relationship between the church we believe in and the church we experience? Is there an invisible church that is different from the visible? This book is an argument for an ecclesiology of the visible. The only church, the real church, is a concrete reality made up of people, just like any other fellowship. What distinguishes it as church is the presence of the triune God among those who gather in the name of Jesus, making it a sign and anticipation of the fellowship of the kingdom of God. From this premise Dr. Hegstad analyzes such issues as the relationship between church and world, mission and diakonia, church as fellowship and organization, ministries in the church, worship, and the unity of the church, as well as discussing the relationship between a sociological and a theological understanding of the church. Endorsements: ""Harald Hegstad is one of Norway's most interesting theologians, and I couldn't be more excited that his work is now available in English. Hegstad is one of the very rare thinkers who has both an incredible handle on the theological Christian tradition, as well the acumen to do empirical examination of the contemporary state of the church. . . . We have many books about the empirical state of the church and many more on dogmatic/doctrinal ecclesiologies, but few-to-none that put these two important foci together--and together in such a rich way."" --Andrew Root, Associate Professor of Youth and Family Ministry, Luther Seminary ""This is an ecclesiological masterpiece. Hegstad's multidisciplinary erudition, logical acuity, and, above all, theological wisdom all come into play as he argues--very convincingly--that the church we believe in is not, and cannot be, anything other than the church we live within and experience. A complex-yet-balanced constructive, theological proposal that is a must-read for everyone interested in the church."" --Nicholas M. Healy, Professor of Theology and Religious Studies, St. John's University ""This book reminds us of a strand in Lutheran-Melanchthonian ecclesiologies sometimes forgotten: the concepts of visible church and invisible church are distinctions in ecclesiology not at all aiming at a separation between two churches. Hegstad productively encounters this by means of combining systematic theology and social sciences. The result is a concrete ecclesiology in which non-dogmatic factors become theologically relevant."" --Sven-Erik Brodd, Professor of Ecclesiology, Uppsala University About the Contributor(s): Harald Hegstad is a Norwegian Lutheran theologian. He is Professor of Systematic Theology at MF Norwegian School of Theology, Oslo, Norway. His research in ecclesiology includes empirical studies as well as publications within systematic and practical theology.
Sklep: Libristo.pl 200,23 zł
Książki / Literatura obcojęzyczna
Description: Divino Compańero explores the necessary foundations for constructing a Hispanic Pentecostal Christology. Although traditionally Pentecostal Christologies have been anchored in a two-nature Chalcedonian model, Alfaro proposes that Spirit-Christology is a more suitable paradigm for a Hispanic Pentecostal Christology, provided it is grounded in the experience, faith, and worship of its community and oriented toward liberative praxis. After reviewing the christological reflection of early Pentecostals and the contemporary turn to Spirit-Christology, Alfaro lays out the main components needed to construct a christological model born out of the Hispanic Pentecostal reality, rooted in the broader Pentecostal christological imagination, and informed by the Pentecostal way of doing theology. Following this method, Alfaro concludes the central metaphor of Hispanic Pentecostal Christology is El Divino Compańero, for in their pilgrimage through this world it is Jesus, the Divine Companion, who through the Spirit guides and nurtures his followers on their way back home. Endorsements: ""Pentecostals have led the way in awareness of the Spirit in Christian experience and ministry, but in the past have relied heavily on the early church two-natures approach to the divinity and humanity of Christ. Sammy G. Alfaro shows how Spirit Christology, which stresses the role of the Spirit in the life and ministry of Jesus, is well suited to the Pentecostal tradition, not only for contemporary Hispanic Christology, but also for today's social and spiritual needs."" --Colin Brown Professor of Systematic Theology, Fuller Theological Seminary ""Here is another indication of the coming of age of constructive Pentecostal theology in general and Hispanic theology in particular. Dr. Alfaro, fully conversant with two cultures that have shaped the global Pentecostal movement, namely American and Hispanic, offers here a groundbreaking study on the Pentecostal Spirit-Christology in an active dialogue with mainstream views. His careful and insightful analysis and assessment of the state of Spirit-Christology in contemporary theology alone would make this book an important contribution. Dr. Alfaro's constructive proposal as to what a contemporary Hispanic Pentecostal Spirit-Christology would look like will take the continuing theological reflection on the mutual relationship between Spirit and Christ into a higher level and calls for responses and engagement."" --Veli-Matti Kärkkäinen Professor of Systematic Theology, Fuller Theological Seminary Docent of Ecumenics, University of Helsinki, Finland About the Contributor(s): Sammy Alfaro is Assistant Professor of Christian Studies at Grand Canyon University (Phoenix, AZ). Together with his wife, Miriam, they are planting Iglesia Nuevo Día--a Hispanic bilingual church in Phoenix, AZ. They have two kids, David and Marissa, and live in Tolleson, AZ.
Sklep: Libristo.pl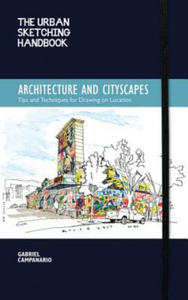 60,31 zł
Książki / Literatura obcojęzyczna
Award-winning illustrator Gabriel Campanario first introduced his approach to drawing in The Art of Urban Sketching, a showcase of more than 500 sketches and drawing tips shared by more than 100 urban sketchers around the world. Now, he drills down into specific challenges of making sketches on location, rain or shine, quickly or slowly, and the most suitable techniques for every situation, in The Urban Sketching Handbook series. It's easy to overlook that ample variety of buildings and spaces and the differences from city to city, country to country. From houses, apartments and shopping malls to public buildings and places of worship, the structures humans have created over the centuries, for shelter, commerce, industry, transportation or recreation, are fascinating subjects to study and sketch. In The Urban Sketching Handbook: Architecture and Cityscapes, Gabriel lays out keys to help make the experience of drawing architecture and cityscapes fun and rewarding. Using composition, depth, scale, contrast, line and creativity, sketching out buildings and structure has never been more inspirational. This guide will help you to develop your own creative approach, no matter what your skill level may be today. As much as The Urban Sketching Handbook: Architecture and Cityscapes may inspire you to draw more urban spaces, it can also help to increase your appreciation of the built environment. Drawing the places where we live, work and play, is a great way to show appreciation and creativity.
Sklep: Libristo.pl 249,99 zł
Muzyka>Electronica
1. Showtek / Mcdv8 - Hold Us Back (2012 Dj Edit) 2. Wildstylez / Ran-d - Futureshock 3. Stuback - Inspiration 4. Abyss & Judge - Melodia 5. Pitcher, The / Buddahmann - Going H.a.m. 6. Alpha2 - Kick Back 7. R3bels, The - Armageddon 8. Frontliner - If You Find 9. In-phase / Atmozfears - Awaken 10. Myers, Tony - Let's Go Back (Alex Nadal Remix) 11. Headhunterz / Heart, Brennan - The Mf Point Of Per 12. Audiofreq - Tear U Down 13. D-blaock / S-te-fan - Show Me The Way 14. Shockerz - Rise Like The Sun 15. Audiogenic - Lights Out (Original Mix) 16. Code Black - Visions 17. Yakumoto, Taki - 7 Pm (Alex Nadal Remix) 18. Ran-d / S-te-fan - Skills 19. Second Identity - Modified 20. Toneshifterz - How We Do It 21. E-force - Remote Control 22. Frontliner / Enforcer, Max - We Forget To Live 23. Jack Of Sound - Kaylee's Nightmare 24. Zany - Squared 25. Toneshifterz - Till Daybreak Meets 26. Kodex - Underworld 27. Gunz For Hire - Put It On 28. Abyss & Judge - Maniacs 29. Jumpboyz - Bigger & Higher 30. Slim Shore / B-front - Charger 31. Zany - Worship 32. Dutch Masters - Circles 33. Loophunter - Hard Sound Anthem 2011 34. Heart, Brennan - Light The Fire (2011 Mix) 35. Stuback - Musical Taste 36. B-front - Virus 37. Frequencerz - Fly With Me 38. Arkaine - Fear No More 39. Profite - Split Second 40. Badal, Alex - Hold In 101. R3bels, The - Reactivating The Bionicle 102. Zany - Symphonic Feedback (Titan Remix) 103. Prophet, The / Dj Duro - Shizzle (2011 Remuxx) 104. Frontliner - Dream Dust 105. Dr. Rude - Midnight (Dalora Remix) 106. Adaro - The Haunter Of The Dark 107. E-force / Luna - Evolved 108. Anarchist, The - Battlescarz 109. R3bels, The / Vamper - Cosmik 110. Zany & Nitrouz - Lonely Dark 111. Toneshifterz - Psycadelic Wasteland 112. Frontliner & Deepack - Move 2 This 113. Coone - Beat On My Drum 114. Ambassador Inc. - Melody Of Nature 115. B-front - Neophobia (Digital Punk Remix) 116. Frequencerz - Revolution 117. Kodex - Insomnia (Bioweapon Remix) 118. Zatox / R3bels, The - Odissea 2011 119. Toneshifterz - Human Experience 120. Headhunterz - Forever Az One (Noisecontrollers Rem 121. Frequencerz - Rich Mf 122. Alpha2 / B-front - Liberate 123. Wasted Penguinz - Stay Alive 124. Slim Shore - Flow 125. Code Black - Red Planet 126. Headhunterz & Wildstylez / Mc Villain - Stuck In U 127. Dj Y.o.z. - Time Traveller 128. Dj Man V. / Dj Deep - Pump That 129. Re-volt - Invictus 130. Alpha2 - Let It Go 131. Pitcher, The / Slim Shore - I'm Alive 132. Coone / Technoboy - Nustyle Crap (Coone Goes Wild 133. Zeta, Francesco / Talko, Ivan - Kill Me 134. In-phase - Cold & Fire 135. Audiobooster - Terminate 136. Stuback - Time 137. Code Black - F.e.a.r. 138. Dj Man V. / Dj Deep - Bass Get In Your Face 139. Dr. Rude - Little Bit Louder (Pat B Remix) 140. Dutch Master - You Are The Sound
Sklep: Gigant.pl 69,47 zł
Książki / Literatura obcojęzyczna
One click. One perfect frame. That's all it takes to capture an eternal moment; although most people let them pass by without acknowledgement. I don't waste any. Not a single one. If I see something of beauty, I want to experience it, feel it and immortalise it. If I see someone of beauty, I want to taste them, worship them and memorise them. I don't have a type, if I like you, I like you. I don't have a preference. My bisexuality is a gift, not a defect. It's the freedom to see beyond gender. One blink. One touch. One night. Life is filled with so many ones. One chance to get things right. One life to live as you choose. One decision that gives you acceptance. One person to fill the emptiness. Just one? Nah, like I said, life is full of ones. My camera lets me focus on the good times; I develop from life's negatives and if things don't work out, I just take another shot. Who needs just one? Book #5 in the 'Love by Numbers' series. Can be read as a standalone.
Sklep: Libristo.pl
Sklepy zlokalizowane w miastach: Warszawa, Kraków, Łódź, Wrocław, Poznań, Gdańsk, Szczecin, Bydgoszcz, Lublin, Katowice
Szukaj w sklepach lub całym serwisie
2. Szukaj na wszystkich stronach serwisu
t1=0.065, t2=0, t3=0, t4=0, t=0.065