krainaksiazek a live worship experience 20125395
- znaleziono 6 produktów w 2 sklepach 60,63 zł
Książki / Literatura obcojęzyczna
After many years of writing in her prayer journal, missionary Sarah Young decided to be more attentive to the Savior's voice and listen for what He was saying to her. The result was "Jesus Calling, "a collection of personal reflections based on Jesus' own words of hope, guidance, and peace found in the Scriptures. Through these messages, countless people have been encouraged to experience a deeper relationship with the Lord as they also learn to listen for His voice in the pages of the Bible.In "Living a Life of Worship, " the fourth study in the"Jesus Calling Bible Study Series, " you will discover how thankfulness and worship always open the door for entering into God's presence and blessings. Even the most routine part of your day can be a spiritual act of worship when you are living close to God, and seeing from His perspective will allow you to truly be able to "give thanks in all circumstances" (1 Thessalonians 5:18). Each of the "Jesus Calling Bible Studies" include devotional readings from "Jesus Calling, " selected passages of Scripture for reflection, Bible Study questions, and additional questions and activities to help you apply and live out the material during the week. This study can be used for personal reflection and Bible study or in a small-group setting.
Sklep: Libristo.pl 154,71 zł
Książki / Literatura obcojęzyczna
The Reformation was about ideas and power, but it was also about real human lives. Alec Ryrie provides the first comprehensive account of what it actually meant to live a Protestant life in England and Scotland between 1530 and 1640, drawing on a rich mixture of contemporary devotional works, sermons, diaries, biographies, and autobiographies to uncover the lived experience of early modern Protestantism. Beginning from the surprisingly urgent, multifaceted emotions of Protestantism, Ryrie explores practices of prayer, of family and public worship, and of reading and writing, tracking them through the life course from childhood through conversion and vocation to the deathbed. He examines what Protestant piety drew from its Catholic predecessors and contemporaries, and grounds that piety in material realities such as posture, food, and tears. This perspective shows us what it meant to be Protestant in the British Reformations: a meeting of intensity (a religion which sought authentic feeling above all, and which dreaded hypocrisy and hard-heartedness) with dynamism (a progressive religion, relentlessly pursuing sanctification and dreading idleness). That combination, for good or ill, gave the Protestant experience its particular quality of restless, creative zeal. The Protestant devotional experience also shows us that this was a broad-based religion: for all the differences across time, between two countries, between men and women, and between puritans and conformists, this was recognisably a unified culture, in which common experiences and practices cut across supposed divides. Alec Ryrie shows us Protestantism, not as the preachers on all sides imagined it, but as it was really lived.
Sklep: Libristo.pl 69,80 zł
Książki / Literatura obcojęzyczna
'In the midst of life we are in death' The words of the Book of Common Prayer have permeated deep into the English language all over the world. For nearly 500 years, and for countless people, it has provided a background fanfare for a marriage or a funeral march at a burial. Yet this familiarity also hides a violent and controversial history. When it was first produced the Book of Common Prayer provoked riots and rebellion, and it was banned before being translated into a host of global languages and adopted as the basis for worship in the USA and elsewhere to the present day. This edition presents the work in three different states: the first edition of 1549, which brought the Reformation into people's homes; the Elizabethan prayer book of 1559, familiar to Shakespeare and Milton; and the edition of 1662, which embodies the religious temper of the nation down to modern times. Far from being a book for the religious only, the Book of Common Prayer is one of the seminal texts of human experience and a manual of everyday ritual: a book to live, love, and die to.
Sklep: Libristo.pl 351,83 zł
Książki / Literatura obcojęzyczna
Drawing on his experience as a member of the clergy and the questions and concerns that arose in the course of ministering to congregants, Robert London Smith, Jr. explores exactly what function the black church performs and, importantly, why. In this provocative work, he argues that much black church praxis is less authentic, relevant, and constructive today because it continues to be implicated by certain values and meanings that are themselves rooted in a historical black thematic universe that is fading and being replaced by a new set of values and meanings located within a contemporary black thematic universe. Using a practical theology method, Smith develops a theological framework (context-praxis) to create an approach to understanding and creating an informed praxis for the black church. He then sets forth a bold project that calls for the critical engagement of black church praxis and what he calls the black thematic universe in its historical and contemporary manifestations. The goal is to transform this praxis so that it remains authentic to the Gospel and the religious traditions and history of those who come to interpret and live out its message in the world, while being relevant to the issues and challenges of the present historical context in which the black church lives out its meaning and purpose, and constructive for the building up and equipping of the Body of Christ. Smith's creation of a black existential and theological hermeneutic is an approach that moves toward the realization of this ambitious goal. This book challenges many traditional views of black church praxis, including pastoral care, worship, and fellowship, and creates a space for a renewed and much-needed dialogue about the acts of the black church within contemporary America. As such, it is an important text for students of practical theology and African American religion as well as those interested in developing a critical understanding of the implications of the intersection of faith and culture.
Sklep: Libristo.pl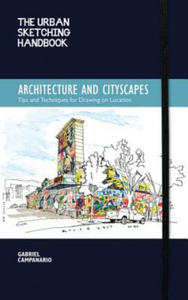 49,46 zł
Książki / Literatura obcojęzyczna
Award-winning illustrator Gabriel Campanario first introduced his approach to drawing in The Art of Urban Sketching, a showcase of more than 500 sketches and drawing tips shared by more than 100 urban sketchers around the world. Now, he drills down into specific challenges of making sketches on location, rain or shine, quickly or slowly, and the most suitable techniques for every situation, in The Urban Sketching Handbook series. It's easy to overlook that ample variety of buildings and spaces and the differences from city to city, country to country. From houses, apartments and shopping malls to public buildings and places of worship, the structures humans have created over the centuries, for shelter, commerce, industry, transportation or recreation, are fascinating subjects to study and sketch. In The Urban Sketching Handbook: Architecture and Cityscapes, Gabriel lays out keys to help make the experience of drawing architecture and cityscapes fun and rewarding. Using composition, depth, scale, contrast, line and creativity, sketching out buildings and structure has never been more inspirational. This guide will help you to develop your own creative approach, no matter what your skill level may be today. As much as The Urban Sketching Handbook: Architecture and Cityscapes may inspire you to draw more urban spaces, it can also help to increase your appreciation of the built environment. Drawing the places where we live, work and play, is a great way to show appreciation and creativity.
Sklep: Libristo.pl 249,99 zł
Muzyka>Electronica
1. Showtek / Mcdv8 - Hold Us Back (2012 Dj Edit) 2. Wildstylez / Ran-d - Futureshock 3. Stuback - Inspiration 4. Abyss & Judge - Melodia 5. Pitcher, The / Buddahmann - Going H.a.m. 6. Alpha2 - Kick Back 7. R3bels, The - Armageddon 8. Frontliner - If You Find 9. In-phase / Atmozfears - Awaken 10. Myers, Tony - Let's Go Back (Alex Nadal Remix) 11. Headhunterz / Heart, Brennan - The Mf Point Of Per 12. Audiofreq - Tear U Down 13. D-blaock / S-te-fan - Show Me The Way 14. Shockerz - Rise Like The Sun 15. Audiogenic - Lights Out (Original Mix) 16. Code Black - Visions 17. Yakumoto, Taki - 7 Pm (Alex Nadal Remix) 18. Ran-d / S-te-fan - Skills 19. Second Identity - Modified 20. Toneshifterz - How We Do It 21. E-force - Remote Control 22. Frontliner / Enforcer, Max - We Forget To Live 23. Jack Of Sound - Kaylee's Nightmare 24. Zany - Squared 25. Toneshifterz - Till Daybreak Meets 26. Kodex - Underworld 27. Gunz For Hire - Put It On 28. Abyss & Judge - Maniacs 29. Jumpboyz - Bigger & Higher 30. Slim Shore / B-front - Charger 31. Zany - Worship 32. Dutch Masters - Circles 33. Loophunter - Hard Sound Anthem 2011 34. Heart, Brennan - Light The Fire (2011 Mix) 35. Stuback - Musical Taste 36. B-front - Virus 37. Frequencerz - Fly With Me 38. Arkaine - Fear No More 39. Profite - Split Second 40. Badal, Alex - Hold In 101. R3bels, The - Reactivating The Bionicle 102. Zany - Symphonic Feedback (Titan Remix) 103. Prophet, The / Dj Duro - Shizzle (2011 Remuxx) 104. Frontliner - Dream Dust 105. Dr. Rude - Midnight (Dalora Remix) 106. Adaro - The Haunter Of The Dark 107. E-force / Luna - Evolved 108. Anarchist, The - Battlescarz 109. R3bels, The / Vamper - Cosmik 110. Zany & Nitrouz - Lonely Dark 111. Toneshifterz - Psycadelic Wasteland 112. Frontliner & Deepack - Move 2 This 113. Coone - Beat On My Drum 114. Ambassador Inc. - Melody Of Nature 115. B-front - Neophobia (Digital Punk Remix) 116. Frequencerz - Revolution 117. Kodex - Insomnia (Bioweapon Remix) 118. Zatox / R3bels, The - Odissea 2011 119. Toneshifterz - Human Experience 120. Headhunterz - Forever Az One (Noisecontrollers Rem 121. Frequencerz - Rich Mf 122. Alpha2 / B-front - Liberate 123. Wasted Penguinz - Stay Alive 124. Slim Shore - Flow 125. Code Black - Red Planet 126. Headhunterz & Wildstylez / Mc Villain - Stuck In U 127. Dj Y.o.z. - Time Traveller 128. Dj Man V. / Dj Deep - Pump That 129. Re-volt - Invictus 130. Alpha2 - Let It Go 131. Pitcher, The / Slim Shore - I'm Alive 132. Coone / Technoboy - Nustyle Crap (Coone Goes Wild 133. Zeta, Francesco / Talko, Ivan - Kill Me 134. In-phase - Cold & Fire 135. Audiobooster - Terminate 136. Stuback - Time 137. Code Black - F.e.a.r. 138. Dj Man V. / Dj Deep - Bass Get In Your Face 139. Dr. Rude - Little Bit Louder (Pat B Remix) 140. Dutch Master - You Are The Sound
Sklep: Gigant.pl
Sklepy zlokalizowane w miastach: Warszawa, Kraków, Łódź, Wrocław, Poznań, Gdańsk, Szczecin, Bydgoszcz, Lublin, Katowice
Szukaj w sklepach lub całym serwisie
2. Szukaj na wszystkich stronach serwisu
t1=0.039, t2=0, t3=0, t4=0, t=0.039