krainaksiazek a matter of conscience 20169539
- znaleziono 11 produktów w 2 sklepach 178,90 zł
Książki / Literatura obcojęzyczna
A Matter of conscience cuts right to the heart of one of the most vital issues of our time -- cancer research -- revealing how Dr John Nicholson overcomes guilt, corrupt colleagues, implacable bureaucracy and a heartbreaking personal tragedy.
Sklep: Libristo.pl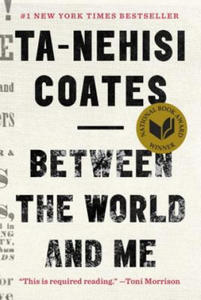 86,34 zł
Książki / Literatura obcojęzyczna
Hailed by Toni Morrison as "required reading," a bold and personal literary exploration of America's racial history by "the single best writer on the subject of race in the United States" ( The New York Observer ) §§"This is your country, this is your world, this is your body, and you must find some way to live within the all of it."§§In a profound work that pivots from the biggest questions about American history and ideals to the most intimate concerns of a father for his son, Ta-Nehisi Coates offers a powerful new framework for understanding our nation's history and current crisis. Americans have built an empire on the idea of "race," a falsehood that damages us all but falls most heavily on the bodies of black women and men-bodies exploited through slavery and segregation, and, today, threatened, locked up, and murdered out of all proportion. What is it like to inhabit a black body and find a way to live within it? And how can we all honestly reckon with this fraught history and free ourselves from its burden?§§Between the World and Me is Ta-Nehisi Coates's attempt to answer these questions in a letter to his adolescent son. Coates shares with his son-and readers-the story of his awakening to the truth about his place in the world through a series of revelatory experiences, from Howard University to Civil War battlefields, from the South Side of Chicago to Paris, from his childhood home to the living rooms of mothers whose children's lives were taken as American plunder. Beautifully woven from personal narrative, reimagined history, and fresh, emotionally charged reportage, Between the World and Me clearly illuminates the past, bracingly confronts our present, and offers a transcendent vision for a way forward.§§Praise for Between the World and Me §§"I've been wondering who might fill the intellectual void that plagued me after James Baldwin died. Clearly it is Ta-Nehisi Coates. The language of Between the World and Me, like Coates's journey, is visceral, eloquent, and beautifully redemptive. And its examination of the hazards and hopes of black male life is as profound as it is revelatory. This is required reading." -Toni Morrison§§"Ta-Nehisi Coates is the James Baldwin of our era, and this is his cri de coeur . A brilliant thinker at the top of his powers, he has distilled four hundred years of history and his own anguish and wisdom into a prayer for his beloved son and an invocation to the conscience of his country. Between the World and Me is an instant classic and a gift to us all." -Isabel Wilkerson, author of The Warmth of Other Suns §§"Immense, multifaceted . . . This is a poet's book, revealing the sensibility of a writer to whom words-exact words-matter. . . . As a meditation on race in America, haunted by the bodies of black men, women, and children, Coates's compelling, indeed stunning, work is rare in its power to make you want to slow down and read every word. This is a book that will be hailed as a classic of our time." - Publishers Weekly (starred review)§§"The powerful story of a father's past and a son's future . . . Coates offers this eloquent memoir as a letter to his teenage son, bearing witness to his own experiences and conveying passionate hopes for his son's life. . . . This moving, potent testament might have been titled Black Lives Matter ." - Kirkus Reviews (starred review)
Sklep: Libristo.pl 413,28 zł
Książki / Literatura obcojęzyczna
Victims and Values joins history and ethics, conducting a timely inquiry into conscience and politics. Mindful of William James's notion that ethics must be grounded in the historical situation, this book examines fundamental ambiquities, dichotomies, and contradictions that we experience about the worth of our own suffering and that of others. In particular, it analyzes how victims make a powerful claim upon contemporary conscience and politics. Amato distances himself equally from those who deny suffering all substantive meaning and those who fashionably transform it into self-righteous identities and political rhetorics and ideologies. Amato's hope is that each person will be able to take measure of the suffering of others, while still remaining able to value his own suffering. After distinguishing pain from suffering, Amato starts his work with the assumption that humanity must interpret and give meaning to its pains and sufferings. Amato examines the fundamental place of suffering, sacrifice, and victims in Greek and Christian cultures. Reaching the central object of his study, the modern mind, Amato shows how the reformist world view of the eighteenth century philosopher sought to reduce suffering to a matter of rational calculation and how the progressive views of the nineteenth century dedicated the most profound energies of society and state to the elimination of human suffering. Ironically, in the twentieth century this resulted in an increasingly hedonistic society that is preoccupied with suffering and its rights, victims and their claims. Historians, philosophers, political scientists, theologians, and lay people will all find a lively forum in Amato's work.
Sklep: Libristo.pl 343,24 zł
Książki / Literatura obcojęzyczna
Many of us take for granted the idea that the right to religious freedom should be protected in a free, democratic polity. This book challenges whether the protection and privilege of religious belief and identity should be prioritized over any other right. By studying the effects of constitutional promises of religious freedom and establishment clauses, Frank B. Cross sets the stage for a set of empirical questions that examine the consequences of such protections. Although the case for broader protection is often made as a theoretical matter, constitutions generally protect freedom of religion. Allowing people full choice in religious beliefs or freedom of conscience is central to their autonomy. Freedom of religion is thus potentially a very valuable aspect of society, at least so long as it respects the freedom of individuals to be irreligious. This book tests these associations and finds that constitutions provide national religious protection, especially when the legal system is more sophisticated.
Sklep: Libristo.pl 1149,99 zł
Muzyka>Rock
1. (I'm Afraid) The Masquerade Is Over (Single Versio 2. My Funny Valentine 3. Witchcraft (Single Version) 4. Easy Living 5. How Deep Is The Ocean (How High Is The Sky) 6. Love For Sale 7. Always 8. How High The Moon 9. Let Your Conscience Be Your Guide (Single Version) 10. Never Let You Go (Sha Lu Bop) (Single Version) 11. You Don't Know What Love Is 101. Stubborn Kind Of Fellow (Album Version / Stereo) 102. Pride & Joy 103. Hitch Hike (Single Version / Mono) 104. Get My Hands On Some Lovin' 105. Wherever I Lay My Hat (That's My Home) (Album Vers 106. Soldier's Plea (Single Version / Mono) 107. It Hurt Me Too (Single Version / Mono) 108. Taking My Time (Single Version / Mono) 109. Hello There Angel (Single Version / Mono) 110. I'm Yours, You're Mine (Album Version / Mono) 201. You've Changed 202. I Was Telling Her About You 203. I Wonder (Mono Version) 204. I'll Be Around 205. Because Of You 206. I Don't Know Why 207. I've Grown Accustomed To Her Face 208. When Your Lover Has Gone 209. When I'm Alone I Cry 210. If My Heart Could Sing (Mono Version) 301. Hello Broadway 302. People 303. The Party's Over 304. On The Street Where You Live 305. What Kind Of Fool Am I 306. My Kind Of Town 307. Days Of Wine & Roses 308. This Is The Life 309. My Way 310. Hello Dolly 311. Walk On The Wild Side 401. Once Upon A Time (Single Version / Mono) 402. Deed I Do 403. Until I Met You (Corner Pocket) 404. Together 405. (I Love You) For Sentimental Reasons (Album Versio 406. The Late Late Show 407. After The Lights Go Down Low 408. Just Squeeze Me (But Don't Tease Me) (Album Versio 409. What's The Matter With You Baby (Single Version / 410. You Came A Long Way From St. Louis 501. You're A Wonderful One (Album Version / Stereo) 502. How Sweet It Is (To Be Loved By You) (Album Versio 503. Try It Baby (Single Version (Mono)) 504. Baby Don't You Do It (Single Version (Mono)) 505. Need Your Lovin' (Want You Back) (Stereo Version) 506. One Of These Days (Stereo Version) 507. No Good Without You (Album Version (Mono)) 508. Stepping Closer To Your Heart (Album Version (Mono 509. Need Somebody (Album Version (Mono)) 510. Me & My Lonely Room (Stereo Version) 511. Now That You've Won Me (Album Version (Mono)) 512. Forever (Single Version) 601. Nature Boy 602. Ramblin Rose 603. Too Young 604. Pretend 605. Straighten Up & Fly Right 606. Mona Lisa 607. Unforgettable 608. To The Ends Of The Earth 609. Sweet Lorraine 610. It's Only A Paper Moon 611. Send For Me 612. Calypso Blues
Sklep: Gigant.pl 36,57 zł
Książki / Literatura obcojęzyczna
Joe, struggling to survive his job in a high-powered law firm, is faced with the challenge of finding his childhood friend, Jenna, who has been missing for four years. But has she disappeared through choice? Or is she under the powerful influence of her husband, the restless, troubled Chetwood? For Joe, the search is a matter of duty, but also of conscience - for he introduced them to each other, he was enthralled by them both ...Helped by his prickly girlfriend, Sarah, Joe manages to find the beautiful, faded Jenna, only to realize too late that he has set some terrible events in motion ...
Sklep: Libristo.pl 586,05 zł
Książki / Literatura obcojęzyczna
During the Nazi era many German writers chose, or were forced into, exile. Many others stayed and, after the end of this period, claimed to have retreated into 'Inner Emigration.' The nature of this kind of emigration and the underlying motives of these writers have been hotly debated to this day. Though the reception of Inner Emigration has often been confounded by disputes over the term itself, the issue is ultimately not a matter of nomenclature, but of more far-reaching issues of literary evaluation, moral discernment and the writing of history. This volume presents, for the first time to an English-speaking readership, the complexity of Inner Emigration. This is achieved through the analysis of problematic individual cases of writers who, under constant pressure from a watchful dictatorship to conform and to collaborate, were caught between conscience and compromise.
Sklep: Libristo.pl 67,75 zł
Książki / Literatura obcojęzyczna
Excerpt from The Way of the World and Other Ways: A Story of Our Set It would be hard to say who had the most responsibility in the matter. No one had started out with the idea of doing anything blameworthy, or even unkind; for that unpleasant experience with Mrs. Josiah Mint had made all our ladies more careful. Then why should one? She was such a gentle, harmless little woman; so preoccupied with her own work that she had no time to mind other people's business; and of too sensitive a conscience to be a meddler, even if she had had abundant leisure. Her name did not come up in the earlier history of our set; for she was not a member of the Whist Club - indeed, she loathed whist - and she had no social axes to grind through her connection with the Daughters of St. Paula. About the Publisher Forgotten Books publishes hundreds of thousands of rare and classic books. Find more at www.forgottenbooks.com This book is a reproduction of an important historical work. Forgotten Books uses state-of-the-art technology to digitally reconstruct the work, preserving the original format whilst repairing imperfections present in the aged copy. In rare cases, an imperfection in the original, such as a blemish or missing page, may be replicated in our edition. We do, however, repair the vast majority of imperfections successfully; any imperfections that remain are intentionally left to preserve the state of such historical works.
Sklep: Libristo.pl 80,83 zł
Książki / Literatura obcojęzyczna
Ecojustice, social justice, and the Christian conscience Key Features: Mapping the ethical terrain of an imperiled planet Convincingly showing how ecojustice relates to economic justice Rethinking Christian ethics in light of the ecological crisis The increasingly pressing situation of Planet Earth poses urgent ethical questions for Christians. But, as Cynthia Moe-Lobeda argues, the future of the earth is not simply a matter of protecting species and habitats but of rethinking the very meaning of Christian ethics. The earth crisis cannot be understood apart from the larger human crisis - economic equity, social values, and human purpose are bound up with the planet's survival. In a sense, she says, the whole earth is a moral community. Reorienting Christian ethics from its usual anthropocentrism to an ecocentrism entails a new framework that Moe-Lobeda lays out in her first chapters, culminating in a creative rethinking of how it is that we understand morally. With this "moral epistemology" in place, she unfolds her notion of "moral vision" and applies it to the present situation in a full-fledged earth-honoring, justice-seeking Christian ethical stance.
Sklep: Libristo.pl 37,03 zł
Książki / Literatura obcojęzyczna
The seventeenth novel in Anne Perry's acclaimed William Monk series 1864 - Monk and his wife Hester are doing their best to care for Scuff - a homeless boy slowly recovering from a terrifying ordeal at the hands of Jericho Phillips, the runner of a child prostitution ring. Although Scuff's evil abductor is dead, there is no suggestion that the ring has been broken and Scuff is certain that more children are suffering an even worse fate. Monk is determined to find the remaining children and uncover, once and for all, the men funding the operation. And when the body of small-time crook Mickey Parfitt washes up on Mortlake's shore, it fortuitously points him in the right direction. But as Monk's investigation continues, the reputations of respected gentlemen, including Arthur Ballinger, father-in-law of Monk's friend Oliver Rathbone, start being called into question and his task becomes fraught with unforeseen dangers. In an illicit world of blackmail, vice and corruption, Monk must follow the trail - and his conscience - wherever it leads, no matter how disturbing the truth may be.
Sklep: Libristo.pl 81,18 zł
Ibn Arabi Oneworld Publications
Książki / Literatura obcojęzyczna
The importance of Muhyi al-Din Ibn al-Arabi (1165-1240) for Islamic mysticism lies in the fact that he was a speculative thinker of the highest order, albeit diffuse and difficult to understand. His central doctrine is the unity of all existence. In this text, William Chittick explores how, through the work of Ibn Al-Arabi, Sufism moves away from anguished and ascetic searchings of the heart and conscience and becomes a matter of speculative philsophy and theosophy.
Sklep: Libristo.pl
Sklepy zlokalizowane w miastach: Warszawa, Kraków, Łódź, Wrocław, Poznań, Gdańsk, Szczecin, Bydgoszcz, Lublin, Katowice
Szukaj w sklepach lub całym serwisie
2. Szukaj na wszystkich stronach serwisu
t1=0.048, t2=0, t3=0, t4=0, t=0.049