krainaksiazek a matter of conscience 20169539
- znaleziono 11 produktów w 3 sklepach 77,49 zł
Książki Obcojęzyczne>Angielskie>Fiction & related items>Modern & contemporary fiction (post c 1945)
0x00b4144900000000
Sklep: Gigant.pl 66,95 zł
Książki
Sklep: KrainaKsiazek.pl 193,45 zł
Książki / Literatura obcojęzyczna
The Heart is the meeting place of the individual and the divine, the inner ground of morality, authenticity, and integrity. The process of coming to the Heart and of realizing the person we were meant to be is what Carl Jung called 'Individuation'. This path is full of moral challenges for anyone with the courage to take it. Using Jung's premise that the main causes of psychological problems are conflicts of conscience, Christina Becker takes the reader through the philosophical and spiritual aspects of the ethical dimensions of this individual journey toward wholeness. This book is a long overdue and unique contribution to the link between individuation and ethics. Christina Becker, M.B.A. is a Zurich-trained Jungian Analyst in private practice in Toronto, Ontario Canada.
Sklep: Libristo.pl 96,40 zł
Książki / Literatura obcojęzyczna
The core of the global cultural revolution is the deliberate confusion of sexual norms. It is the culmination of a metaphysical revolution as well--a shifting of the fundamental ground upon which we stand and build a culture, even a civilization. Instead of desire being subjected to natural, social, moral, and transcendent orders, the identity of man and woman is dissolved, and free rein given to the maximum fulfillment of polymorphous urges, with no ultimate purpose or meaning. Gabriele Kuby surveys gender ideology and LGBT demands, the devastating effects of pornography and sex-education, attacks on freedom of speech and religion, the corruption of language, and much more. From the movement's trailblazers to the post-Obergefell landscape, she documents in meticulous detail how the tentacles of a budding totalitarian regime are slowly gripping the world in an insidious stranglehold. Here on full display are the re-education techniques of the new permanent revolution, which has migrated from politics and economics to sex. Kuby's courageous work is a call to action for all well-meaning people to redouble their efforts to preserve freedom of religion, freedom of speech, and in particular the freedom of parents to educate their children according to their own beliefs, so that the family may endure as the foundation upon which any healthy society is built. "Mrs. Kuby is a brave warrior against ideologies that ultimately result in the destruction of man."--POPE BENEDICT XVI "As the carnage of untrammeled sexual license piles up in cultures that have embraced sexual revolutionary ideology, we need the kind of sober and thoughtful analysis Gabriele Kuby provides. Her work will help readers understand that false visions of freedom are highways to slavery, and that true freedom is to be found in self-mastery and virtue."--ROBERT P. GEORGE, author of Conscience and Its Enemies "Gabriele Kuby maps the topography of horror that sex unleashed from the moral order visits upon any society that allows it. She also offers a strong, much-needed dose of moral realism that offers a way out of an otherwise totalitarian result."--ROBERT R. REILLY, author of Making Gay Okay "Gabriele Kuby is a global treasure and a remarkably brave soul, speaking as she does from the very heart of European secularism. In this book, she gets to the heart of the matter: the grotesque distortion of the human person at the hands of the sexual left...."--AUSTIN RUSE, President, Center for Family & Human Rights "Gabriele Kuby is a contemporary Joan of Arc ... awakening the conscience of a generation. Writing with utter lucidity, in The Global Sexual Revolution she gives us a comprehensive understanding of the war for the future of mankind that has spread with astonishing speed throughout the world."--MICHAEL D. O'BRIEN, author of Elijah in Jerusalem "In The Global Sexual Revolution, Gabriele Kuby makes an eloquent and factual case for why all those concerned with liberty and rights of conscience must stand up--before it is too late--to those agendas that seek, even demand, to take away our freedom."--ALAN E. SEARS, President, Alliance Defending Freedom GABRIELE KUBY was a student of sociology at the Free University of Berlin in 1967, a pivotal year of upheaval and rebellion among students. She completed her Masters degree under the direction of Ralph Dahrendorf at the University of Konstanz, following which she worked as a translator and interpreter for twenty years. After her conversion to the Catholic faith in 1997 she became a successful author of books on spiritual and political issues and an international speaker.
Sklep: Libristo.pl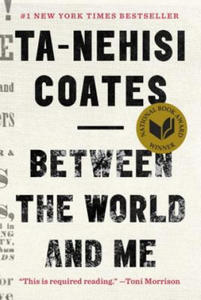 115,94 zł
Książki / Literatura obcojęzyczna
Hailed by Toni Morrison as "required reading," a bold and personal literary exploration of America's racial history by "the single best writer on the subject of race in the United States" ( The New York Observer ) §§"This is your country, this is your world, this is your body, and you must find some way to live within the all of it."§§In a profound work that pivots from the biggest questions about American history and ideals to the most intimate concerns of a father for his son, Ta-Nehisi Coates offers a powerful new framework for understanding our nation's history and current crisis. Americans have built an empire on the idea of "race," a falsehood that damages us all but falls most heavily on the bodies of black women and men-bodies exploited through slavery and segregation, and, today, threatened, locked up, and murdered out of all proportion. What is it like to inhabit a black body and find a way to live within it? And how can we all honestly reckon with this fraught history and free ourselves from its burden?§§Between the World and Me is Ta-Nehisi Coates's attempt to answer these questions in a letter to his adolescent son. Coates shares with his son-and readers-the story of his awakening to the truth about his place in the world through a series of revelatory experiences, from Howard University to Civil War battlefields, from the South Side of Chicago to Paris, from his childhood home to the living rooms of mothers whose children's lives were taken as American plunder. Beautifully woven from personal narrative, reimagined history, and fresh, emotionally charged reportage, Between the World and Me clearly illuminates the past, bracingly confronts our present, and offers a transcendent vision for a way forward.§§Praise for Between the World and Me §§"I've been wondering who might fill the intellectual void that plagued me after James Baldwin died. Clearly it is Ta-Nehisi Coates. The language of Between the World and Me, like Coates's journey, is visceral, eloquent, and beautifully redemptive. And its examination of the hazards and hopes of black male life is as profound as it is revelatory. This is required reading." -Toni Morrison§§"Ta-Nehisi Coates is the James Baldwin of our era, and this is his cri de coeur . A brilliant thinker at the top of his powers, he has distilled four hundred years of history and his own anguish and wisdom into a prayer for his beloved son and an invocation to the conscience of his country. Between the World and Me is an instant classic and a gift to us all." -Isabel Wilkerson, author of The Warmth of Other Suns §§"Immense, multifaceted . . . This is a poet's book, revealing the sensibility of a writer to whom words-exact words-matter. . . . As a meditation on race in America, haunted by the bodies of black men, women, and children, Coates's compelling, indeed stunning, work is rare in its power to make you want to slow down and read every word. This is a book that will be hailed as a classic of our time." - Publishers Weekly (starred review)§§"The powerful story of a father's past and a son's future . . . Coates offers this eloquent memoir as a letter to his teenage son, bearing witness to his own experiences and conveying passionate hopes for his son's life. . . . This moving, potent testament might have been titled Black Lives Matter ." - Kirkus Reviews (starred review)
Sklep: Libristo.pl 1149,99 zł
Muzyka>Rock
1. (I'm Afraid) The Masquerade Is Over (Single Versio 2. My Funny Valentine 3. Witchcraft (Single Version) 4. Easy Living 5. How Deep Is The Ocean (How High Is The Sky) 6. Love For Sale 7. Always 8. How High The Moon 9. Let Your Conscience Be Your Guide (Single Version) 10. Never Let You Go (Sha Lu Bop) (Single Version) 11. You Don't Know What Love Is 101. Stubborn Kind Of Fellow (Album Version / Stereo) 102. Pride & Joy 103. Hitch Hike (Single Version / Mono) 104. Get My Hands On Some Lovin' 105. Wherever I Lay My Hat (That's My Home) (Album Vers 106. Soldier's Plea (Single Version / Mono) 107. It Hurt Me Too (Single Version / Mono) 108. Taking My Time (Single Version / Mono) 109. Hello There Angel (Single Version / Mono) 110. I'm Yours, You're Mine (Album Version / Mono) 201. You've Changed 202. I Was Telling Her About You 203. I Wonder (Mono Version) 204. I'll Be Around 205. Because Of You 206. I Don't Know Why 207. I've Grown Accustomed To Her Face 208. When Your Lover Has Gone 209. When I'm Alone I Cry 210. If My Heart Could Sing (Mono Version) 301. Hello Broadway 302. People 303. The Party's Over 304. On The Street Where You Live 305. What Kind Of Fool Am I 306. My Kind Of Town 307. Days Of Wine & Roses 308. This Is The Life 309. My Way 310. Hello Dolly 311. Walk On The Wild Side 401. Once Upon A Time (Single Version / Mono) 402. Deed I Do 403. Until I Met You (Corner Pocket) 404. Together 405. (I Love You) For Sentimental Reasons (Album Versio 406. The Late Late Show 407. After The Lights Go Down Low 408. Just Squeeze Me (But Don't Tease Me) (Album Versio 409. What's The Matter With You Baby (Single Version / 410. You Came A Long Way From St. Louis 501. You're A Wonderful One (Album Version / Stereo) 502. How Sweet It Is (To Be Loved By You) (Album Versio 503. Try It Baby (Single Version (Mono)) 504. Baby Don't You Do It (Single Version (Mono)) 505. Need Your Lovin' (Want You Back) (Stereo Version) 506. One Of These Days (Stereo Version) 507. No Good Without You (Album Version (Mono)) 508. Stepping Closer To Your Heart (Album Version (Mono 509. Need Somebody (Album Version (Mono)) 510. Me & My Lonely Room (Stereo Version) 511. Now That You've Won Me (Album Version (Mono)) 512. Forever (Single Version) 601. Nature Boy 602. Ramblin Rose 603. Too Young 604. Pretend 605. Straighten Up & Fly Right 606. Mona Lisa 607. Unforgettable 608. To The Ends Of The Earth 609. Sweet Lorraine 610. It's Only A Paper Moon 611. Send For Me 612. Calypso Blues
Sklep: Gigant.pl 125,39 zł
Książki / Literatura obcojęzyczna
Did any real ideas lie behind National Socialism? Such purposeful material power must have indicated, one might suppose, a corresponding power within. If anyone still credits the movement of Adolf Hitler with a serious ideology, that person's duty is to read Heinrich Himmler's pathetic, pedantic monologues on the principles on which the post-war New Europe was to be rebuilt. Felix Kersten, Himmler's personal manual therapist, has recorded their conversations between 1940 and 1945 as his dreaded patient lay, relaxed and grateful, under his soothing hands.But there is another side to this astounding document. Holding as he did the keys of Himmler's physical salvation, Kersten became the all-powerful confessor who could manipulate at will the conscience as well as the stomach of that terrible, impersonal, inhuman, but naive mystical credulous tyrant of the New Order. How did Kersten use these extra-ordinary opportunities? Thousands of Dutchmen, Germans. Jews and indeed others owe their survival to his intercession. The Finnish Legation used him to rescue Norwegian and Danish prisoners; the World Jewish Congress credits him with the rescue of 60,000 Jews; he particularly devoted himself to the interests of Holland. Himmler himself .saw perfectly well what was happening, but could do nothing. "Kersten messages a life out of me," he once said, "with every rub."Hugh Trevor-Roper writes in his introduction: "Since historical accident drew me into this controversy, and human interest prevented me from dropping it till I had satisfied myself on every point, I may claim an intimate knowledge of the matter, and it gives me great pleasure to be able to publish the facts in the form of an introduction to this book. . . . As far as honesty of purpose and authenticity of documentation are concerned I am pleased to support with such authority as I possess the accuracy of these memoirs of Felix Kersten."
Sklep: Libristo.pl 44,94 zł
Książki / Literatura obcojęzyczna
Joe, struggling to survive his job in a high-powered law firm, is faced with the challenge of finding his childhood friend, Jenna, who has been missing for four years. But has she disappeared through choice? Or is she under the powerful influence of her husband, the restless, troubled Chetwood? For Joe, the search is a matter of duty, but also of conscience - for he introduced them to each other, he was enthralled by them both ...Helped by his prickly girlfriend, Sarah, Joe manages to find the beautiful, faded Jenna, only to realize too late that he has set some terrible events in motion ...
Sklep: Libristo.pl 19,70 zł
Książki / Literatura obcojęzyczna
John Donne (1572-1631) is a poet of concerted emotional and intellectual force, whose strenuously original approach to the subject matter, diction and form of verse re-made English poetry. Donne's poetry combines paradoxical wit, scientific and theological learning with the rhythms and diction of spoken language. Crises of love, conscience, and faith are the great concerns of his poetry which is by turns exalted or disenchanted, direct or oblique, morally profound or outrageously spiteful.
Sklep: Libristo.pl 62,86 zł
Książki / Literatura obcojęzyczna
"The strongest impulse leading me to write this book is my conviction that the women's movement is, or should be, just as much a matter for men as for women. I want to react, to respond as one male human, to the discovery -described for the most part by women -that the history of humanity over the past several thousand years has also been a history of the oppression of women by men. From the viewpoint of many feminist authors -among whom I include myself, although with some hesitation -all men are oppressors and exploiters of women, not necessarily because they want to be, but because both men and women have become so used to the collective pattern of the oppressive man and the oppressed woman that they have to follow this schema even against their will. I would have a bad conscience if I did not attempt to voice this conviction. To do this, though, I have to risk such daring undertaking as to say what I understand women to be, and men to be....." -Helmut Barz
Sklep: Libristo.pl 44,94 zł
Książki / Literatura obcojęzyczna
The seventeenth novel in Anne Perry's acclaimed William Monk series 1864 - Monk and his wife Hester are doing their best to care for Scuff - a homeless boy slowly recovering from a terrifying ordeal at the hands of Jericho Phillips, the runner of a child prostitution ring. Although Scuff's evil abductor is dead, there is no suggestion that the ring has been broken and Scuff is certain that more children are suffering an even worse fate. Monk is determined to find the remaining children and uncover, once and for all, the men funding the operation. And when the body of small-time crook Mickey Parfitt washes up on Mortlake's shore, it fortuitously points him in the right direction. But as Monk's investigation continues, the reputations of respected gentlemen, including Arthur Ballinger, father-in-law of Monk's friend Oliver Rathbone, start being called into question and his task becomes fraught with unforeseen dangers. In an illicit world of blackmail, vice and corruption, Monk must follow the trail - and his conscience - wherever it leads, no matter how disturbing the truth may be.
Sklep: Libristo.pl
Sklepy zlokalizowane w miastach: Warszawa, Kraków, Łódź, Wrocław, Poznań, Gdańsk, Szczecin, Bydgoszcz, Lublin, Katowice
Szukaj w sklepach lub całym serwisie
2. Szukaj na wszystkich stronach serwisu
t1=0.041, t2=0, t3=0, t4=0.023, t=0.042