krainaksiazek a mother s instinct 20090779
- znaleziono 14 produktów w 2 sklepach 45,80 zł
Nauki humanistyczne
Alain de Botton, best-selling author of How Proust can Change Your Life, has set six of the finest minds in the history of philosophy to work on the problems of everyday life. Here then are Socrates, Epicurus, Seneca, Montaigne, Schopenhauer and Nietzsche on some of the things that bother us all; lack of money, the pain of love, inadequacy, anxiety, the fear of failure and the pressure to conform.
Sklep: Albertus.pl 39,92 zł
Książki / Literatura obcojęzyczna
Watching her child die is the hardest thing a mother can ever do. But for Kay Gilderdale, saying a final goodbye to her only daughter Lynn was exceptionally painful: she'd played a part in her death. Lynn was just 14 when she was struck down by the crippling disease ME, leaving her paralysed and in constant agony. Over the next 17 years, she became desperate to escape her miserable existence, even begging her mum to help her die. So, one night, when Kay found Lynn attempting suicide, she was forced to make an impossible decision. Continue watching her child suffer or help her end the pain? Eventually, fighting her every instinct, Kay helped her precious daughter take a fatal overdose. But while Lynn was finally free, her mother faced a fresh agony - a possible lifetime behind bars. The highly controversial trial that followed opened a fierce public debate on assisted suicide. Is it murder or mercy? Here, in her heartbreaking story, Kay reveals the harrowing truth behind the headlines and the desperate lengths a mother will go to for the love of a child.
Sklep: Libristo.pl 120,09 zł
Language Myth Cambridge University Press
Książki / Literatura obcojęzyczna
Language is central to our lives, the cultural tool that arguably sets us apart from other species. Some scientists have argued that language is innate, a type of unique human 'instinct' pre-programmed in us from birth. In this book, Vyvyan Evans argues that this received wisdom is, in fact, a myth. Debunking the notion of a language 'instinct', Evans demonstrates that language is related to other animal forms of communication; that languages exhibit staggering diversity; that we learn our mother tongue drawing on general properties and abilities of the human mind, rather than an inborn 'universal' grammar; and that, ultimately, language and the mind reflect and draw upon the way we interact with others in the world. Compellingly written and drawing on cutting-edge research, The Language Myth sets out a forceful alternative to the received wisdom, showing how language and the mind really work.
Sklep: Libristo.pl 98,39 zł
Książki / Literatura obcojęzyczna
This book tells the extraordinary story of a life spent in extraordinary circumstances. The author was born in Moscow and grew up in a Russia still adjusting to the post-Stalin era. An eventful enough life spent in the stability and certainty of Cold War communism was thrown into turmoil when the great Soviet experiment drew to an end during the late 1980's. In the chaos that replaced it the author, together with her small daughter, left the land of their birth and headed for England, on the other side of the recently withdrawn Iron Curtain. And so began the second phase of the author's life with a new family, in a new land, requiring new work and facing new challenges. This moving and fascinating account is revealed as a rich tapestry into which are woven threads of adventure and excitement, humour and joy, as well as those of fear, despair and tragedy. It is a tale of two lives within two countries across two cultures throughout which pervades an unwavering instinct for survival and a mother's unquestioning love. The book will appeal to a wide audience. For advanced level students of Russian (and for Russian-speaking students learning English) its dual-language format will be of particular interest - a story of two lives across two lands in two languages. And for those not learning a language, it is a highly unusual and interesting story in its own right. There are also amusing quotations, explanatory footnotes, questions, and charming illustrations including many of the author's original photographs.
Sklep: Libristo.pl 187,18 zł
Książki / Literatura obcojęzyczna
'I, the poet William Yeats, | With old mill boards and sea-green slates, | And smithy work from the Gort forge, | Restored this tower for my wife George; | And may these characters remain | When all is ruin once again.' With this lovely six-line poem, W. B. Yeats dedicated the renovation of Thoor Ballylee to his wife. But the poem's truth conceals another, and different truth - that they worked together at the restoration, and it was largely her vision and hands that created a dwelling from the former ruins. Just how symbolic this is, of the close but largely hidden collaboration between them, is revealed by this deeply-researched life of George Yeats - the first full-scale biography of a woman of remarkable gifts and generous self-concealment. Raised in the decades before the First War, in London literary salons where the arts and occult met, Georgie Hyde Lees became an art student, accomplished linguist, and serious scholar of medieval arcana, anthroposophy, and astrology. She was a lifelong friend of Ezra Pound and his wife Dorothy Shakespear, in whose social circle Yeats also moved; he sponsored her initiation to the Order of the Golden Dawn. In 1917 they married (she was 25, he 52), and on their honeymoon Georgie began the automatic writing which formed the substance of A Vision, and from which sprang the ideas that occupied Yeats for the rest of his life. Her 'extrasensory' perceptions fed his poetic imagery as her practicality and warmth supplied the environment for his writing. As with the restoration of Ballylee, they were intimate collaborators - but her instinct was always for self-effacement. Though valued by numerous writer-friends (among them Lennox Robinson, Thomas McGreevy, and Frank O'Connor) as a perceptive critic - and known to have written two plays and a novel, which she suppressed - she deliberately hid her talents from public view. Her choice was to appear as Yeats's wife, helpmeet, and secretary, the mother of his children - and for thirty years after his death the tireless overseer of his literary legacy and a knowledgeable adviser to generations of younger critics and writers. For the first time, this intelligent and creative woman is allowed to take centre stage. Drawing on memoirs and a wealth of unknown and unpublished sources, this biography by the distinguished scholar Ann Saddlemyer reveals someone much more significant than just 'Mrs W. B. Yeats' - a personality at once visionary and practical, and an important figure in twentieth-century literary history.
Sklep: Libristo.pl 105,35 zł
Broken Columns University of Pennsylvania Press
Książki / Literatura obcojęzyczna
Broken Columns Two Roman Epic Fragments: "The Achilleid" of Publius Papinius Statius and "The Rape of Proserpine" of Claudius Claudianus Edited and Translated by David R. Slavitt. Afterword by David Konstan "With unerring instinct Slavitt has juxtaposed two witty and ironic post-Ovidian tales of coming of age, Statius's unfinished Deeds of Achilles and Claudian's Rape of Proserpina. Those were the mythical days when teenagers were charming and rape consensual (for Deidamia) or at least (for Proserpina) the path to queenly power. Epic was never the same after Ovid, whether in Statius's sentimental comedy of love and war or in Claudian's darker divine intrigue sacrificing a mother's love to avert an infernal coup d'etat. Slavitt's versatile idiom makes vivid the personalities of Statius's drama and updates Claudian's self-conscious poetics in versions that are both free and true to the poets' art."--Elaine Fantham, Princeton University "Slavitt does a real service by putting into English verse for the first time this century two poems of great grace and charm...Konstan's afterword itself is a gem...I would urge anyone who thinks that Statius only wrote gruesome epic and Claudian only dull panegyric to read this slim and sprightly volume. "--Bryn Mawr Classical Review "David Slavitt appears to be fluent not only in Latin but also in hexameters. His translation seems to flow effortlessly from his pen. His speech and vocabulary are contemporary and easy to read...This slim volume is further enhanced by the brilliant essay by David Konstan that is appended to it. The essay is reminiscent of the introductions written by R. C. Jebb in his editions of the plays of Sophocles--a combination of a scholarly discussion of the underlying myth in the text interspersed with perceptive literary criticism."--American Book Review There is more to classical literature than just the classics. Here David Slavitt expands the canon by presenting vivid, graceful, and amusing translations of two neglected fragmentary works of Latin literature. The first is Publius Papinius Statius's first-century epic Achilleid, an extraordinary fusion of epic and New Comedy sentiments and humor that may represent the earliest literary imagining of the charm of adolescence. It relates the story of the education of Achilles under the centaur Chiron, his adopting the disguise of a girl during his sojourn at the court of Lycomedes in Scyros, his love affair with Deidamia, his detection by Ulysses and Diomedes, and his departure for Troy. The second work is Claudius Claudianus's unfinished fourth-century epic version of the rape of Proserpine. The two works together make a delightful pair. The afterword by David Konstan explores the traditions in which--and against which--Statius and Claudian composed their versions of these well-known stories. David R. Slavitt was educated at Andover and Yale and has published dozens of books: original poetry, translations, novels, critical works, and short stories. He worked for seven years as a journalist at Newsweek and continues to do freelance reporting and reviewing. With Palmer Bovie he coedited the Penn Greek Drama series and the Complete Roman Drama in Translation. 1997 | 104 pages | 5 1/2 x 8 1/2 ISBN 978-0-8122-1630-1 | Paper | $21.95s | GBP14.5 0 World Rights | Classics, Literature Short copy: I would urge anyone who thinks that Statius only wrote gruesome epic and Claudian only dull panegyric to read this slim and sprightly volume."--Bryn Mawr Classical Review
Sklep: Libristo.pl 77,52 zł
Książki / Literatura obcojęzyczna
Propelled by the same superb instinct for storytelling that made The Kite Runner a beloved classic, A Thousand Splendid Suns is at once an incredible chronicle of thirty years of Afghan history and a deeply moving story of family, friendship, faith and the salvation to be found in love. Born a generation apart and with very different ideas about love and family, Mariam and Laila are two women brought jarringly together by war, by loss and by fate. As they endure the ever escalating dangers around them - in their home as well as in the streets of Kabul - they come to form a bond that makes them both sisters and mother-daughter to each other, and that will ultimately alter the course not just of their own lives but of the next generation. With heart-wrenching power and suspense, Hosseini shows how a woman's love for her family can move her to shocking and heroic acts of self-sacrifice, and that in the end it is love, or even the memory of love, that is often the key to survival. A stunning accomplishment, A Thousand Splendid Suns is a haunting, heartbreaking, compelling story of an unforgiving time, an unlikely friendship and an indestructible love.
Sklep: Libristo.pl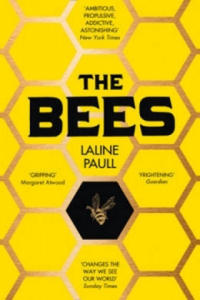 44,56 zł
Książki / Literatura obcojęzyczna
'The Handmaid's Tale' meets 'The Hunger Games' in this brilliantly imagined debut. Born into the lowest class of her society, Flora 717 is a sanitation bee, only fit to clean her orchard hive. Living to accept, obey and serve, she is prepared to sacrifice everything for her beloved holy mother, the Queen. But Flora is not like other bees. Despite her ugliness she has talents that are not typical of her kin. While mutant bees are usually instantly destroyed, Flora is removed from sanitation duty and is allowed to feed the newborns, before becoming a forager, collecting pollen on the wing. She also finds her way into the Queen's inner sanctum, where she discovers secrets both sublime and ominous. But enemies are everywhere, from the fearsome fertility police to the high priestesses who jealously guard the Hive Mind. And when Flora breaks the most sacred law of all her instinct to serve is overshadowed by an even deeper desire, a fierce maternal love that will lead to the unthinkable ...Laline Paull's chilling yet ultimately triumphant novel creates a luminous world both alien and uncannily familiar. Thrilling and imaginative, 'The Bees' is the story of a heroine who, in the face of an increasingly desperate struggle for survival, changes her destiny and her world.
Sklep: Libristo.pl 25,01 zł
Książki / Literatura obcojęzyczna
A dramatic debut short story from London-based foster carer Mia Marconi. An incredible chain of events that began in Italy during WWII with an illegitimate pregnancy shaped Mia's destiny. The illegitimate child was her father, a lost soul who she idolised. Protecting him instilled in her an instinct to care for the vulnerable and, after a chance meeting with a chaotic foster family, she decided fostering was her vocation. In an incredible twist of fate, the first baby she fostered was born to an unmarried Italian girl. Then came Hope, so badly damaged by her teenage mother's alcoholism she was in hospital for a year. Finally discharged and settled in Mia's happy home, what happened next would make Mia question if she could carry on. www.harpertrue.co.uk
Sklep: Libristo.pl 50,02 zł
Książki / Literatura obcojęzyczna
Britain's best-loved comedian hits the most famous highway in the world on an unforgettable journey. Billy Connolly, music-lover, biker, and scourge of the beige and bland the world over, has dreamed about taking a trip on the legendary Route 66 since he heard Chuck Berry belting out one of the greatest rock 'n' roll records of all time. And now he's finally had the chance to do it, travelling every mile on his custom-made trike in search of the real America that can still be found beyond the nation's freeways. Taking in both the essential icons and the hidden gems of the 'Mother Road', Billy also meets up with plenty of the memorable characters who call it home. With his instinct for a good story, and the infectious enthusiasm that has made him our most engaging national treasures, Billy Connolly is the ultimate guide to the ultimate road trip.
Sklep: Libristo.pl 39,92 zł
Książki / Literatura obcojęzyczna
Why do we hurt the ones we love, and can there ever be a way back? "The Torn Up Marriage" is about betrayal, complacency, love and loss, and that key instinct to protect your family. But what happens when you tear that family apart? Kate and Michael are about to find out as they cope with the crushing fallout of his affair, whilst trying to protect their two young children. This powerful and poignant novel captures the explosiveness of everyday life and what it is to be human; to make mistakes. Set in the historic town of Alnwick, Northumberland, with its stunning backdrop of castles, moorland hills and coastline, this relationship story of love and family takes you in a rollercoaster ride of emotions along with Kate and Michael. Michael's mother's battle with breast cancer shatters them all, yet shows them how precious life, love and family is. Can they find a way back and fight for their battered yet enduring love? So, what would you do if it happened to you? Could you betray? Could you forgive?
Sklep: Libristo.pl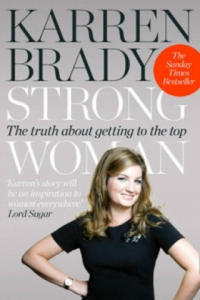 49,53 zł
Książki / Literatura obcojęzyczna
Karren Brady is an inspiration to women everywhere, and her incredible success is borne of her passion, impressive business instinct, ambition, and her very genuine, honest, down-to-earth outlook. This is Karren's story...before being Alan Sugar's aide on The Apprentice and VC of West Ham United, how she started out as a sparky 18 year old at Saatchi & Saatchi and at 23, went on to persuade David Sullivan to buy Birmingham City football club - turning that business round to sell it for an incredible GBP82 million 12 years later. Strong Woman tells how she balances her personal life with her professional, her priorities, her life as mother of two and wife. Karren reveals how she coped when doctors told her after a routine scan that she had a brain aneurysm, that she must have a complicated operation immediately and had a 30% chance of not surviving, and how it has since influenced her outlook and priorities. An overwhelmingly inspiring and real look at work and life, Karren Brady defies convention as a directional business woman in a male industry. This is the truth about how she does it, and through her experience, her drive and her skills - it offers brilliant advice on how you can do it too.
Sklep: Libristo.pl 50,02 zł
Książki / Literatura obcojęzyczna
Do you envy people who seem to be able to cook with effortless ease? Have you ever wanted to cook like your mother, bringing an endless variety of meals to the table without ever looking at a recipe book? Do you want to be inspired in the kitchen again, and just by opening the fridge door concoct a feast from nothing but a few leftovers, a squeeze of lemon and some fresh air? Then look no further. Cooking without Recipes will show you how. Using the right implements, shopping with confidence, and stocking up on essential ingredients you will acquire the instinct needed to prepare your favourite dishes from your own creativity and imagination.
Sklep: Libristo.pl 119,60 zł
Książki / Literatura obcojęzyczna
"Louise Page's intimate, emotional dramas open up vast areas of feeling beneath the surface of ordinary lives" (Independent) Tissue: "The tissue of the title is a left breast and lymph node removed during Sally Bacon's mastectomy...Louise Page catalogues Sally's changing attitudes to what her mother calls her chest, her brother calls her tits and what she calls her bosoms." (Guardian); Salonika "There is in this strange and beautiful new play...a moment when the author crosses the boundaries of naturalism and the seaside sands of Salonika are literally parted and the dead past rises to life" (Guardian); Real Estate "Miss Page, by accurate, detailed, loving writing has created four real people, sensitive to the needs of others yet each, ultimately with an instinct for self-preservation. These are 'ordinary' people to whom nothing special happens. They become special, extraordinary because of the dignity their creator endows them with" (Spectator). Golden Girls: "Not only does this enthralling play take us into the world of women's athletics, it also raises any number of questions about the success ethic, the dubious role of sponsorship and the secondary status of nearly all women's sports." (Guardian)
Sklep: Libristo.pl
Sklepy zlokalizowane w miastach: Warszawa, Kraków, Łódź, Wrocław, Poznań, Gdańsk, Szczecin, Bydgoszcz, Lublin, Katowice
Szukaj w sklepach lub całym serwisie
2. Szukaj na wszystkich stronach serwisu
t1=0.077, t2=0, t3=0, t4=0, t=0.077