krainaksiazek a set of rogues 20116562
- znaleziono 7 produktów w 2 sklepach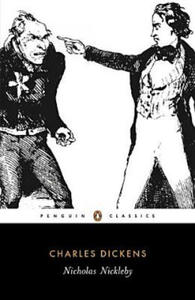 45,28 zł
Książki / Literatura obcojęzyczna
One of the touchstones of the English comic novel, the "Penguin Classics" edition of Charles Dickens' "Nicholas Nickleby" is edited with an introduction by Mark Ford. When Nicholas Nickleby is left penniless after his father's death, he appeals to his wealthy uncle to help him find work and to protect his mother and sister. But Ralph Nickleby proves both hard-hearted and unscrupulous, and Nicholas finds himself forced to make his own way in the world. His adventures gave Dickens the opportunity to portray an extraordinary gallery of rogues and eccentrics: Wackford Squeers, the tyrannical headmaster of Dotheboys Hall, a school for unwanted boys, the slow-witted orphan Smike, rescued by Nicholas, the pretentious Mantalinis and the gloriously theatrical Mr and Mrs Crummels and their daughter, the 'infant phenomenon'. Like many of Dickens' novels, "Nicholas Nickleby" is characterised by his outrage at cruelty and social injustice, but it is also a flamboyantly exuberant work, whose loose, haphazard progress harks back to the picaresque novels of Tobias Smollett and Henry Fielding. In his introduction Mark Ford compares "Nicholas Nickleby" to eighteenth-century picaresque novels, and examines Dickens' criticism of the 'Yorkshire schools', his social satire and use of language. This edition includes the original illustrations by 'Phiz', Dickens' original preface to the work, a chronology and a list of further reading. Charles Dickens is one of the best-loved novelists in the English language, whose 200th anniversary was celebrated in 2012. His most famous books, including "Oliver Twist", "Great Expectations", "A Tale of Two Cities", "David Copperfield" and "The Pickwick Papers", have been adapted for stage and screen and read by millions. If you enjoyed "Nicholas Nickleby", you might like Dickens' "David Copperfield", also available in "Penguin Classics". "The novel has everything: an absorbing melodrama, with a supporting cast of heroes, villains and eccentrics, set in a London where vast wealth and desperate poverty live cheek-by-jowl." (Jasper Rees, "The Times").
Sklep: Libristo.pl 46,99 zł
Muzyka>Muzyka świata
1. Tuddal Troll 2. Christmas Day Ida Moarnin'/myra's Jig/da Scallowa Lasses 3. A Nighean Nan Geug 4. S'flinch An Oidche 5. Jackson's Set 6. Bonnie Jeanie 7. Such A Parcel Of Rogues In A Nation 8. The Dusty Windmill 9. Buain A Choice/laill Leathag 10. Crossing The Minch/laird Of Drumblair/fairly Dance 11. Come With Me My Mairi 12. The Love Of My Heart 13. Thae Braes/over To Uist/skylarks Ascension/loch Ness Monster 14. We Build Fires 15. The Mountaineers Set 16. Sleeping Tune 17. Zito The Bubbleman
Sklep: Gigant.pl 75,52 zł
Książki / Literatura obcojęzyczna
Haviland Tuf is an honest space-trader (one of the few), and he likes cats. So how is it that, despite being up against the worst villains in the universe, he has become the proud owner of the last working seedship, pride of Earth's Ecological Engineering Corps? We'll leave that aside for now - just be thankful that the most powerful weapon in space is in good hands, hands which now control cellular material for thousands of outlandish creatures. With his unique equipment and powerful spacecraft, Tuf is set to tackle the myriad problems that human settlers have created during their colonisation of far flung worlds. Hosts of hostile monsters, a population addicted to procreation, a dictator who is willing to unleash plagues to get his own way - and all that stands between the colonists and disaster is Tuf's ingenuity, and his reputation as an honest dealer in a universe of rogues...
Sklep: Libristo.pl 70,88 zł
Książki / Literatura obcojęzyczna
In the land of Calambria, things are not always as they seem, though the naked truth is no less marvelous than the myths that clothe it. Come join the winged muses of Ilyaria as they carve from the clouds this tale of interwoven journeys of discovery set amidst the backdrop of a millennial struggle between mischievous imps and solemn wizards, a struggle which shapes the destinies of giants and gods, nymphs and monsters, heroes and messiahs, kings and conquerors, rebels and rogues, and one extraordinary young woman through whom their many paths converge.
Sklep: Libristo.pl 40,32 zł
Książki / Literatura obcojęzyczna
An ambitious beauty seeking a spot among the elite is thwarted by a most disruptive gentleman in Cecilia Grant's witty, elegant, and exquisitely sensual novel. Kate Westbrook has dreams far bigger than romance. Love won't get her into London's most consequential parties, nor prevent her sisters from being snubbed and looked down upon - all because their besotted father unadvisedly married an actress. But a noble husband for Kate would deliver a future most suited to the granddaughter of an earl. Armed with ingenuity, breathtaking beauty, and the help of an idle aunt with connections, Kate is poised to make her dreams come true. Unfortunately, a familiar face - albeit a maddeningly handsome one - appears bent on upsetting her scheme. Implored by Kate's worried father to fend off the rogues eager to exploit his daughter's charms, Nick Blackshear has set aside the torch he's carried for Kate in order to do right by his friend. Anyway, she made quite clear that his feelings were not returned - though policing her won't abate Nick's desire. Reckless passion leads to love's awakening, but time is running out. Kate must see for herself that the charms of high society are nothing compared to the infinite sweet pleasures demanded by the heart.
Sklep: Libristo.pl 92,49 zł
Muzyka>Rock
1. All Is Gone 2. The Young Strangers She's Gone 3. The Rogues Opportunity 4. The Tempos All That I Really Want 5. The In-set They Say 6. Skip Ellis Ice Cube Girl 7. The Fathoms Down To The Sea 8. The Torques It's Me Not You 9. The Kinetics Little Girl 10. Apollo's Apaches Boss (Be Good To Me) 11. The Vespers Will She Love Me 12. The Impalas Mass Confusion 13. The Poverty Five Just Like Me 14. Eddie Day & The Night Timers How To Be A Musici 15. The Edges Of Wisdom That Lonely Road 16. The Herd Things Won't Change 17. Thisisit Needles & Nightmares 18. The Zounds Me & My Girl 19. The Vespers Girl Girl Girl 20. The Ryells Combo Only As Long As You Want It 21. The Jazzmasters Walkin' 22. The Tortians Vibrations 23. The Fugitive Five (I Ain't Gonna Give Up) My Way 24. The Five Counts Going Away From You 25. The Couriers My Baby Doesn't Love Me Any More 26. Skip Ellis You're Bad 27. Thelastimageleavingyou 28. The Henchmen Say 29. The Cavaliers Checkmate 30. The Mysticsidon'twantto 31. Sound Carnival Dreams 32. The Blue Vistas Four Inches Above The Knees
Sklep: Gigant.pl 68,32 zł
Książki / Literatura obcojęzyczna
Writer Steve Englehart and artists Marshall Rogers & Terry Austin set a high standard with their acclaimed run on DETECTIVE COMICS in the late 1970s. Now that team is back with a new collection that pits the Dark Knight against the most famous and feared members of his Rogues Gallery, including The Joker and Two-Face.
Sklep: Libristo.pl
Sklepy zlokalizowane w miastach: Warszawa, Kraków, Łódź, Wrocław, Poznań, Gdańsk, Szczecin, Bydgoszcz, Lublin, Katowice
Szukaj w sklepach lub całym serwisie
2. Szukaj na wszystkich stronach serwisu
t1=0.042, t2=0, t3=0, t4=0, t=0.042