krainaksiazek a short introduction to theology 20091543
- znaleziono 13 produktów w 2 sklepach 39,99 zł
Książki Obcojęzyczne>Angielskie>Humanities>Religion & beliefs>Religion: general>Comparative religionKsiążki Obcojęzyczne>Angielskie&...
In This Very Short Introduction, David Ford Provides A Balanced Survey, For Both Believers And Non-believers, To The Central Questions Of Contemporary Theology. In This New Edition, Ford Includes Updates To A Number Of Areas, Including Theology Between Fa
Sklep: Gigant.pl 39,99 zł
Książki Obcojęzyczne>Angielskie>Humanities>Religion & beliefs>Christianity>Christian theologyKsiążki Obcojęzyczne>Angielskie>Biog...
Paul Is The Most Powerful Human Personality In The History Of The Church. A Missionary, Theologian, And Religious Genius, In His Epistles He Laid The Foundations On Which Later Christian Theology Was Built.
Sklep: Gigant.pl 43,99 zł
Książki Obcojęzyczne>Angielskie>Humanities>Religion & beliefs>Christianity>Christian theology
Despite Secular Trends In Many Western Countries, Religion Continues To Be A Powerful Force Globally. The Pentecostal Movement Began Early In The 20th Century And There Are Now Almost 450 Million Supporters Around The World. Despite This, It Is Riddled With Prejudice And Misinformation. William K. Kay Reveals The Truth About Pentecostalism.
Sklep: Gigant.pl 39,99 zł
Książki Obcojęzyczne>Angielskie>Humanities>Religion & beliefs>Christianity>Christian theology
Thomas Aquinas, One Of The Most Famous And Highly Thought Of Christian Thinkers, Was A Controversial Figure Who Was Exposed And Engaged In Conflict. This Very Short Introduction Looks At Aquinas In A Historical Context, And Explores The Church And Culture
Sklep: Gigant.pl 39,99 zł
Książki Obcojęzyczne>Angielskie>Humanities>Religion & beliefs>Christianity>Christian theologyKsiążki Obcojęzyczne>Angielskie>Biog...
By His Writings, The Surviving Bulk Of Which Exceeds That Of Any Other Ancient Author, Augustine Came To Influence Not Only His Contemporaries, But Also The West Since His Time. This Work Traces The Development Of His Thought, Discussing His Reaction To T
Sklep: Gigant.pl 76,15 zł
Książki / Literatura obcojęzyczna
Wissenschaftlicher Aufsatz aus dem Jahr 2012 im Fachbereich Theologie - Systematische Theologie, Note: -, -, Sprache: Deutsch, Abstract: Transdisciplinarity is possible only by developing a common meta-level for all disciplines involved. A meta-level containing the knowledge of things divine and human has been known for centuries as wisdom. Wisdom, however, in the latter meaning assumes a higher dimension in which our human world only participates. The aim of this paper is to depict a panentheistic conception of God and world which I would like to name the emergentist theism . The second part of the paper gives reasons for the emphasis of God s transcendence within the Western theism, such as: (1) the transcendent view of God/gods present within the Old Testament and the Greek religious tradition; (2) the philosophical context of Platonism of the rising Jewish and Christian theism. The third part shows how Aristotle s physics, especially his conception of the First Unmoved Mover, exerted influence on the theological conception of God s transcendence being present both in Protestant and Catholic Tradition. Because of the Thomistic influence exerted first on the theology of the Counter Reformation, than on Modern Scholastic and finally on Neo-Scholasticism, this Aristotelian view remained, predominant within the Catholic Tradition up to the Second Vatican Council. The fourths part of the paper depicts how the rise of modern panentheism was influenced by Neo-Scholasticism, Darwinism and German idealism and why, therefore, some panentheists identified the traditional theism with the Neo-Scholastic, i.e. the Aristotelian conception of God. The fifths part gives an introduction into the philosophical and theological monism. By the first I mean the conception of deriving of the many from one principle, by the letter the view of the emergence of creatures from God through Logos. In this conception, which I call the emergentist theism , God is not outside but within the creation which expresses and reveals Himself even to Himself. The sixth and last part of the paper shows, in a very short sketch, that some traces of this conception of God s immanence can be found in the writings of: Justin the Martyr, Clemens Alexandrinus, Origen, Gregory of Nyssa, Gregory of Nazianz, Basil of Cesarea, Pseudo-Denys, Maximus Confessor and Gregory Palamas.
Sklep: Libristo.pl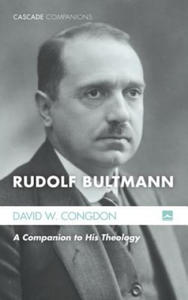 110,26 zł
Książki / Literatura obcojęzyczna
Rudolf Bultmann is one of the most widely known but least read theologians of the twentieth century. He is famous as the one who ""demythologized"" the New Testament, but very few understand what he meant by this or how his hermeneutical program connects to the other areas of his theological project. Bultmann presents a unique challenge to readers, not only because of his radical theological inquiry but also because of the way his ideas are worked out over time, primarily through short, occasional writings that present complex issues in a disarmingly straightforward manner. In this introduction to his theology--the first of its kind in more than twenty years--David W. Congdon guides readers through ten central themes in Bultmann's theology, ranging from eschatology and dialectic to freedom and advent. By gaining an understanding of these themes, students of Bultmann will have the necessary tools to understand and profit from his writings. The result is not only an accessible guide for those encountering Bultmann for the first time but also a cohesive, systematic presentation of his thought for those wondering how his work might speak to our current context. ""With great clarity and insight, focusing on themes which lie at the very heart of Bultmann's theological project and placing him in conversation with recent and contemporary trends, David W. Congdon has written the best short introduction to Bultmann's thought. The point is not to 'return' to the great New Testament scholar and theologian--but neither should we bypass him."" --Christophe Chalamet, University of Geneva ""Who better than David Congdon to take us into the work of Christianity's greatest interpreter of Scripture in the modern period? With an expert's grasp of the entire architecture of Rudolf Bultmann's thought, Congdon leads the reader through its conceptual entry points. Here is a reliable primer, likely a classic, to guide both beginning students and well-schooled theologians away from the misconceptions, even myths, so often bedeviling treatments of Bultmann."" --James F. Kay, Princeton Theological Seminary ""In these pages, Bultmann stands before us as a difficult but compelling figure, a Christian thinker who took the eschatological vision of the New Testament as his charter and pursued its course with extraordinary tenacity and fearlessness. Congdon sets Bultmann's thought into critical discussion with contemporary theology, posing sharp challenges to our current preferences for ressourcement and the rule of faith. And he saves the best till last. The book ends with a superb meditation on Bultmann's Christmas sermons--a glimpse of Bultmann at his most attractive, or most seductive, depending on where you stand."" --Benjamin Myers, Charles Sturt University ""David Congdon's lucid and innovative treatment of Rudolf Bultmann is an excellent contribution to scholarship. Those eager to understand, appreciate, and, most importantly, learn from one of the most important (and, alas, most misunderstood) 'greats' of twentieth-century European theology have, in this book, an indispensable resource."" --Paul Dafydd Jones, Associate Professor, Department of Religious Studies, University of Virginia ""Being master of a subject matter as demanding as Rudolf Bultmann's theology and a master communicator, capable of introducing that subject-matter to beginning students in a manner both interesting and arresting (!) is rare. David Congdon has that rare combination of skills. This is a wonderful 'guide' to Bultmann's thought. Indeed, it is hard to imagine one more perfectly executed. It is a companion worthy of the thought of one of the real giants of twentieth century theology."" --Bruce McCormack, Charles Hodge Professor of Systematic Theology, Princeton Theological Seminary; author of
Sklep: Libristo.pl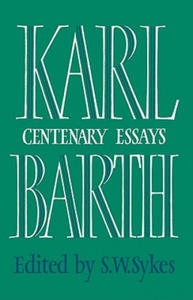 172,30 zł
Książki / Literatura obcojęzyczna
This short volume, which emerged from the Karl Barth centenary year in 1986, brings together a collection of essays which makes an important contribution to Barth interpretation. Few would dispute the fact that Karl Barth is one of the great figures of twentieth-century theology, and two decades after his death he continues to fascinate those who study the field and his own thought in the magisterial, unfinished Church Dogmatics. Yet while his impact and influence upon modern theology has been great, Barth has been subject, too, to suspicion and sometimes to fierce opposition. The contributors to this book examine and refute some of the more simplistic reasons why the thought of Karl Barth has had a somewhat limited appeal in modern English-language theology. Writing form a variety of ecclesiastical persuasions, Reformed, Lutheran, Anglican and Roman Catholic, the authors seek to demonstrate at a fundamental level the continuing important of some of Barth's major concerns. Collectively the essays constitute a positive introduction to Barth, to his place in the history of the philosophy of religion, as a constructive theologian, as a Churchman and in specific relation to the modern history of English-language theology.
Sklep: Libristo.pl 171,98 zł
Książki / Literatura obcojęzyczna
Books and Commentaries on the writings of the New Testament abound. But where can a student find a short up-to-date volume, concise yet compehensive, on the New Testament text he or she is studying? More important, where can a student find such a volume at an affordable price? NEW TESTAMENT GUIDES have been designed to meet these and other student needs: -introduction to the contents of the particular biblical book -balanced survey of the important critical issues -attention to the literary, historical, sociological and theological perspectives -suggestions about critical appropriation of the text by the contemporary reader -reference to other standard works through annotated bibliographies For this series the authors have drawn not only upon their scholarly expertise but also upon their experience as teachers of university and college students. The series editor, A.T. Lincoln, whose writings include Paradise Now and Not Yet and the Word ommentary on Ephesians, is Professor of New Testament at the School of Theology and Religious Studies at Cheltenham and Gloucester College of Higher Education. Larry Kreitzer is a Fellow and Tutor for Graduates at Regent's Park College, Oxford.He is also Lecturer in New Testament at Oriel College, Oxford and holds a University Research Lectureship within the Faculty of Theology at Oxford.
Sklep: Libristo.pl 71,71 zł
Książki / Literatura obcojęzyczna
"The SCM Briefly" series is made up of short, accessible volumes which summarize books by philosophers and theologians, books that are commonly used on theology and philosophy A level (school leaving) and Level One undergraduate courses. Each "Briefly" volume includes line by line analysis and short quotes to give students a feel for the original text. In addition each book begins with a contextualizing introduction about the writer and his writings, and a glossary of terms follows the summary to help students with definitions of philosophical terms.
Sklep: Libristo.pl 387,59 zł
Książki / Literatura obcojęzyczna
For scholars working on almost any aspect of American thought, The Bloomsbury Encyclopedia to Philosophers in America presents an indispensable reference work. Selecting over 700 figures from the Dictionary of Early American Philosophers and the Dictionary of Modern American Philosophers, this condensed edition includes key contributors to philosophical thought. From 1600 to the present day, entries cover psychology, pedagogy, sociology, anthropology, education, theology and political science, before these disciplines came to be considered distinct from philosophy. Clear and accessible, each entry contains a short biography of the writer, an exposition and analysis of his or her doctrines and ideas, a bibliography of writings and suggestions for further reading. Featuring a new preface by the editor and a comprehensive introduction, The Bloomsbury Encyclopedia to Philosophers in America includes 30 new entries on twenty-first century thinkers including Martha Nussbaum and Patricia Churchland. With in-depth overviews of Waldo Emerson, Margaret Fuller, Noah Porter, Frederick Rauch, Benjamin Franklin, Thomas Paine and Thomas Jefferson, this is an invaluable one-stop research volume to understanding leading figures in American thought and the development of American intellectual history.
Sklep: Libristo.pl 92,97 zł
Książki / Literatura obcojęzyczna
The six articles in this collection commemorate the thirtieth anniversary of the long-awaited publication in 1977 of Christopher Tolkien's edition of The Silmarillion, the first opportunity for most readers to learn more about the detailed mythology and history which underlie, explicitly or implicitly, the narrative of The Lord of the Rings. In view of the long and complex publication history of the texts relating to the legendarium, even thirty years is perhaps too short a time to form a critical consensus about the work. Nevertheless, the articles presented here hope to give a picture of some of the the areas of investigation that have established themselves in that period: mythopoeia, theology, the legacy of the ancient North, and the ways in which a text is created. The contribution by Rhona Beare is a completely re-written version of a section from her now out of print introduction to The Silmarillion; the others have all been written specially for the occasion.
Sklep: Libristo.pl 129,99 zł
Książki Obcojęzyczne>Angielskie>Humanities>Religion & beliefs>Islam
A Guide To The Religion And Culture Of Islam, It Focuses On Key Issues Including: The Qur'an, Faith, Theology, Gender, Fundamentalism, Martyrdom, Jihad, Islam In America, Islam In Europe And Islamic Law. It Includes: An Introduction, An Alphabetical List Of Relevant Terms, A Short Bibliographical Guide, Bibliography, And An Index.
Sklep: Gigant.pl
Sklepy zlokalizowane w miastach: Warszawa, Kraków, Łódź, Wrocław, Poznań, Gdańsk, Szczecin, Bydgoszcz, Lublin, Katowice
Szukaj w sklepach lub całym serwisie
2. Szukaj na wszystkich stronach serwisu
t1=0.059, t2=0, t3=0, t4=0, t=0.059