krainaksiazek a storm has passed 20116315
- znaleziono 14 produktów w 2 sklepach 147,57 zł
Książki / Literatura obcojęzyczna
The nearly half-million American aircrewmen who served during World War II have almost disappeared. And so have their stories. Award-winning writer and former fighter pilot Jay A. Stout uses Unsung Eagles to save an exciting collection of those accounts from oblivion. These are not rehashed tales from the hoary icons of the war. Rather, they are stories from the masses of largely unrecognized men who in the aggregate actually won it. They are the recollections of your Uncle Frank who shared them only after having enjoyed a beer or nine, and of your old girlfriend s grandfather who passed away about the same time she dumped you. And of the craggy guy who ran the town s salvage yard; a dusty, fly-specked B-24 model hung over the counter. These are everyman accounts that are important but fast disappearing.Ray Crandall describes how he was nearly knocked into the Pacific by a heavy cruiser s main battery during the Second Battle of the Philippine Sea. Jesse Barker a displaced dive-bomber pilot tells of dodging naval bombardments in the stinking mud of Guadalcanal. Bob Popeney relates how his friend and fellow A-20 pilot was blown out of formation by German antiaircraft fire: I could see the inside of the airplane and I could see Nordstrom's eyes. He looked confused and then immediately he flipped up and went tumbling down. The combat careers of 22 different pilots from all the services are captured in this crisply written book which captivates the reader not only as an engaging oral history, but also puts personal context into the great air battles of World War II.Lt. Colonel (Ret.) Jay Stout is a former Marine Corps fighter pilot who flew F-4 Phantoms and F/A-18 Hornets during a military career from 1981 to 2001. A graduate of Purdue University, he has also written FORTRESS PLOESTI, FIGHTER GROUP and THE MEN WHO KILLED THE LUFTWAFFE .REVIEWS Jay Stout has written one of the finest tributes to the fighting men of the greatest generation, concentrating not on the famous aces whose actions are well known, but on the ordinary man who rose to greatness when the situation demanded it. The author s deep research and innate writing ability merge to make this book a must for every aviation library. Walter Boyne, former director of the National Air & Space Museum of the Smithsonian Institution, and best-selling author. --------- Through the recollections of airmen whose deeds were largely unrecognized, Jay Stout--a veteran fighter pilot himself--gives the reader a real understanding of who these men were and what they did in answer to their nation's call. --Tom Ivie, author of Patton's Eyes in the Sky, and 352nd Fighter Group----------------"Finally, a serious aviation historian has written an exciting book about the unheralded heroes who fought World War II from the sky. This book--in which the veterans tell their own stories--is a long overdue tribute. Most highly recommended." --Bob "Punchy" Powell, World War II fighter pilot and author of, The Blue Nosed Bastards of Bodney --------------- Jay Stout writes smart, interesting books because he's always on the lookout for interesting people to interview, and he always asks them interesting and unusual questions born of his own curiosity. Unsung Eagles is smart, interesting, well written and pleasantly unusual. It will take you off the beaten track, Eric Hammel, author of Aces against Japan Unsung Eagles offers a rare cockpit perspective of World War II in the air. Jay Stout s anthology features an extraordinary variety of accounts from airmen--many now deceased that will become more valuable as the generation that fought the greatest air campaigns of all time continues to depart the pattern. Barrett Tillman, Author of Whirlwind: The Air War Against Japan, 1942-1945 ..". a fine book about the citizen of airman of World War II. This is an oral history instead of a traditional history. It is the remembrances of the ordinary men who answered the call of their country. ..It doesn't give you the global, geopolitical strategies or the military master plan. Instead you get snap shots of the young men as you put their piece of the puzzle into the larger picture. It helps to see the bigger picture a little more clearly from the average airman's point of view...enjoyable, easy reading, and well worth the purchase price. Well done!Kepler's Military History An incredible work that captures the true voices of America's World War II flyers before they are gone forever. Stout through the eyes of these unsung eagles gracefully navigates us through stormy skies and whirling dogfights in a way that is enthralling, heartbreaking, and sometimes funny but never boring." Michael Franzak, author of A Nightmare's Prayer: A Marine Harrier Pilot's War in Afghanistan..".crisply written book. It is an engaging history that gives a personal context to the great air battles of Of World War II."Flypast "
Sklep: Libristo.pl 52,14 zł
Książki / Literatura obcojęzyczna
Praise for Drive... "The perfect piece of noir fiction." -Marilyn Stasio, New York Times Book Review "More thought, feeling and murderous energy than books twice its length" -Chicago Tribune At the end of Drive, Driver has killed Bernie Rose, "the only one he ever mourned," ending his campaign against those who double-crossed him. Driven tells how that young man, done with killing, becomes the one who goes down "at 3 a.m. on a clear, cool morning in a Tijuana bar." Seven years have passed. Driver has left the old life, become Paul West, and founded a successful business back in Phoenix. Walking down the street one day, he and his fiancée are attacked by two men and, while Driver dispatches both, his fiancée is killed. Sinking back into anonymity, aided by his friend Felix, an ex-gangbanger and Desert Storm vet, Driver retreats but finds that his past stalks him and will not stop. He has to turn and face it. Because he drives. That's what he does. James Sallis has published 14 novels; numerous short stories, poems, and essays; the definitive biography of Chester Himes; and a translation of Raymond Queneau's novel Saint Glinglin. The film of Drive won Best Director award at Cannes, and his six Lew Griffin books are in development for film. www.jamessallis.com
Sklep: Libristo.pl 45,06 zł
Książki / Literatura obcojęzyczna
Two years have passed since the events of THE ORDER OF THE SCALES. Across the realms, dragons are still hatching. Hatching, and hatching free. Skorl is an Ember, a soldier trained from birth to fight dragons. He is a living weapon, one-shot only, saturated with enough dragon-poison to bring down a monster all on his own. Misanthrope, violent and a drunk, to fulfil his purpose and slay a dragon, means to be eaten. Now Skorl has a choice: he can hang for his crimes, or he can go with the last of the Adamantine Men, fighting against an enemy he was born to face. Rat is an Outsider. He's on the run and he's stumbled onto something that's going to make him rich beyond all his dreams. It's just a shame that the end of the world has started without him. Kataros is an alchemist, one of the order responsible for keeping the dragons in check. One of the order that has just failed, and disastrously so. Two men, one woman. One chance to save the world from a storm of dragons...
Sklep: Libristo.pl 122,95 zł
Książki / Literatura obcojęzyczna
Ever since the American Revolution, military service has been a proud tradition for the Zumwalt family. Tradition initially led the author to join his father and brother in the Navy, before later transferring to the US Marine Corps. During his 26 years in uniform, the author saw service in three conflicts-Vietnam, Panama and the first Persian Gulf war. It was Vietnam, however, that ultimately would launch him on an unexpected journey-long after the guns of that war had fallen silent-triggered by the loss of a brother who had fought there. This journey was an emotional one-initially of anger towards the Vietnamese and the conflict that claimed his older brother. But it unexpectedly took a change in direction. In Vietnam almost two decades after Saigon's fall, the author, in a private talk with a former enemy general officer, came to understand an aspect of the war he never before had. In that talk, they shared personal insights about the war-discovering a common bond. It unlocked a door through which the author passed to start his own healing process. It began a journey where he would meet hundreds of North Vietnamese and Viet Cong veterans-listening to their personal stories of loss, sacrifice and hardship. It opened the author's eyes to how a technically inferior enemy, beaten down by superior US firepower, was able to get back up-driven by an "iron will" to emerge triumphant. "Bare Feet, Iron Will" takes the reader on a fascinating journey, providing stories-many never before told-as to how enemy ingenuity played a major role in the conflict, causing us not to see things that were there or to see things there that were not! It shares unique insights into the sacrifice and commitment that took place on the other side of Vietnam's battlefields. About the Author JAMES G. ZUMWALT Lieutenant Colonel James Zumwalt is a retired Marine infantry officer who served in the Vietnam war, the 1989 intervention into Panama and Desert Storm. An author, speaker and business executive, he also currently heads a security consulting firm named after his father-Admiral Zumwalt & Consultants, Inc. He writes extensively on foreign policy and defense issues, having written hundreds of articles for various newspapers, magazines and professional journals. His articles have covered issues of major importance, oftentimes providing readers with unique perspectives that have never appeared elsewhere. His work, on several occasions, has been cited by members of Congress and entered into the US Congressional Record.
Sklep: Libristo.pl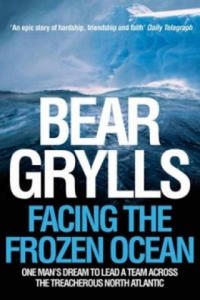 50,05 zł
Książki / Literatura obcojęzyczna
Shortlisted for the William Hill Sports Book of the Year Award 2004, this is the compelling account of the most recent adventure of the bestselling author of "Facing Up". It started out as a carefully calculated attempt to complete the first unassisted crossing of the frozen north Atlantic in an open rigid inflatable boat, but it became a terrifying battle against storm-force winds, crashing waves and icebergs as large as cathedrals. Starting from the remote north Canadian coastline, Grylls and his crew crossed the infamous Labrador Sea, pushed on through ice-strewn waters to Greenland and then found themselves isolated in a perfect storm 400 miles from Iceland. Compelling, vivid and inspirational, "Facing the Frozen Ocean" will appeal to all Bear Grylls' many readers and win him many more. "An epic story of hardship, friendship and faith" - "Daily Telegraph". 'Riveting" - "Daily Express". "Grylls is certainly proof that the age of great explorers has not completely passed us by" - "Scotsman".
Sklep: Libristo.pl 68,07 zł
Książki / Literatura obcojęzyczna
This book is most important to me - I have optimism for my readers - optimism - that my readers will share in this true miracle - that this book carries - I was working on a coffee table in my work shop back in the year of 1986 - when four words became present in my conscious mind - Honesty - Purity - Unselfishness - Love - they were to be embedded in my very soul - to the degree - I had no choice in the implementation of these principles - they were to be incorporated in my being - at the exact moment of inception - that is what this book is all about - I found out some seventeen years later - these same principles were given to Jesus - to His disciples - from the Master Himself - they are called the Four Absolutes - since 1986 - these principles have nourished my soul - it carries with it - deep understanding - for mankind - I come to the twilight of my years on this planet - called earth - the pain of life is anchored in my being - the swiftness of my legs no longer carry my shank with dexterity - the agility of my body that once governed all of my actions - has slowed somewhat - the memory stands tall - without exception - the memory of that little boy in the orphanage - on that snow filled day - left at the bottom of the hill - that had to be walked up - in a blinding snow storm from whence he came - the tears that were shed that Sunday were insurmountable - the desperate loneliness that has prevailed every day - every day of my life - is most haunting - the memory of my Grandfather picking me up after I ran away from that second orphanage - still remains - I was a little over seven years of age - the power in his arms - as he held me - I still feel - how lucky I am - the memory of my Godfather - how he loved me - as I write this - the tears fl ow - not because the loneliness has dissipated - I weep for the love they transmitted - for they are still with me - I lacked the ability to read - kept back two grades before I was in the fourth - on the streets many a day - bought my own clothes - shoes - food - etc. - made my own money - during this period - from seven years on up - I drank - wine - liquors - beer - by the time I was fourteen - whiskey bottles were stashed many a place - every opportunity afforded me - Korea was on - joined the Marine Corp - when I got out - went to the American Academy of Dramatic Arts - to became an actor - got married in New York - in 1958 took off for Hollywood - did many shows - four children later - by 1966 - I stood outside of 20th Century Fox - not knowing what show I was on - let alone my lines - alcohol had taken its' toll - by 1969 I was a despondent mumbling soul - one ounce of alcohol - rendered me immobile - holding a bottle of gin in my hands sometime in July of 1969 - the words uttered at that moment - "please God help me - I don't want to drink this"- my cry of despair - answered - this July 2014 - 45 years will have passed since that moment - I have been honored by two Presidents - written two books -The End Was But A Beginning -The Silent Voice - served over a million meals on the street of Skid Row - Los Angeles - with the greatest gift granted to me - freedom of self - along with -Honesty - Purity - Unselfi shness - Love -
Sklep: Libristo.pl 50,05 zł
Książki / Literatura obcojęzyczna
Published for the first time in flipback - the new, portable, stylish format that's taken Europe by storm. 'You cannot pretend to read a book. Your eyes will give you away. So will your breathing. A person entranced by a book simply forgets to breathe. The house can catch alight and a reader deep in a book will not look up until the wallpaper is in flames.' Bougainville. 1991. A small village on a lush tropical island in the South Pacific. Eighty-six days have passed since Matilda's last day of school as, quietly, war is encroaching from the other end of the island. When the villagers' safe, predictable lives come to a halt, Bougainville's children are surprised to find the island's only white man, a recluse, re-opening the school. Pop Eye, aka Mr Watts, explains he will introduce the children to Mr Dickens. Matilda and the others think a foreigner is coming to the island and prepare a list of much needed items. They are shocked to discover their acquaintance with Mr Dickens will be through Mr Watts' inspiring reading of Great Expectations. But on an island at war, the power of fiction has dangerous consequences. Imagination and beliefs are challenged by guns. Mister Pip is an unforgettable tale of survival by story; a dazzling piece of writing that lives long in the mind after the last page is finished.
Sklep: Libristo.pl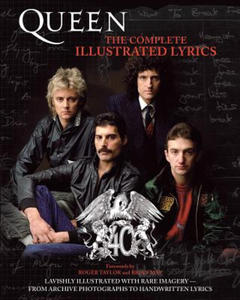 173,48 zł
Kniha Queen Hal Leonard Corporation
Książki / Literatura obcojęzyczna
In 2011, the world will celebrate the 40th anniversary of Queen - one of the most innovative, glamorous, and influential bands in history. Over the course of the band's career, they have grossed 170 million album sales worldwide, have written 18 number one hits, and performed 700 concerts. While some acts enjoy a forte of incredible showmanship, a virtuoso instrumentalist, a strong, charismatic leader, or a prolific sole songwriter, Queen beholds all of these strengths. Although Freddie Mercury and Brian May are recognized as the prime songwriters, each of the members have penned number one hits, including classics such as "Bohemian Rhapsody" (Freddie Mercury), "Another One Bites the Dust" (John Deacon), "A Kind of Magic" (Roger Taylor), and "We Will Rock You" (Brian May). The fates brought the four creative and cerebral youths together in London in 1971 (Mercury was by then an established fine and graphic artist, May was enveloped in the study of astrophysics, Roger Taylor enrolled in dental school, and John studying electronics). Since then, they have made history with their sophisticated fusion of operatic expression, theatrical performance, symphonic melody, and raw rock-and- roll. Beginning with their debut Queen in 1973 (EMI/Electra Records), the band took the UK by storm, then conquered the United States along with rest of the world, serving as pioneers of stadium rock and enjoying commercial success and momentum well into the 1980s (marked by the famous Live Aid appearance in 1985) through the early 1990s. The whirlwind took a startling pause when singer Freddie Mercury passed away from AIDS on November 24, 1991. The living members have forged ahead and remain great music makers until this day. "The Complete Illustrated Lyrics" is the first book of its kind. Never before has there been a complete Queen lyric book. The hundreds of images that accompany the songs range from handwritten lyrics to rare photographs from the stage to the studio. Also included is a complete discography of the band, pairing each song to the album on which it was originally released. Designed by the band's longtime creative director, Richard Gray, this book is as true to the band as can be, carrying with it the flamboyance, expression, and depth that Queen embodies as writers and performers. If there is one book for a fan of the band to possess, this is the one.
Sklep: Libristo.pl 49,40 zł
Książki / Literatura obcojęzyczna
Seven years have passed since Driver ended his campaign against those who doublecrossed him. He has left the old life, become Paul West and founded a successful business back in Phoenix. But walking down the street one day, he and his fiancee are attacked by two men and, while Driver dispatches both, his fiancee is killed. Sinking back into anonymity, aided by his friend Felix, an ex-gangbanger and Desert Storm vet, Driver realises that his past stalks him - and will not stop. He has to turn and face it.
Sklep: Libristo.pl 58,42 zł
Książki / Literatura obcojęzyczna
Marko Simsa's popular production of "The Four Seasons" is now available in English for native speakers and those who would like to learn English in a nice musical way. The British actor Howard Nightingall takes us through Vivaldi's well-known masterpiece in a charming and easy-to-follow way, explaining the musical images such as the song of the birds in spring, the heat in summer, thunderstorms and dancing in autumn, and the sharp cold of winter. A booklet with information in two languages and a vocabulary list is available. Table of contents: Spring: The song of the birds * The dance of the nymphs with the shepherds * Summer: The burning heat * The sleeping shepherds * Stormy weather * Autumn: The peasants dance to celebrate the happy harvest * Winter: Trembling with cold amidst the freezing wind * Stamping feet * Teeth chattering * Spending quiet contented days by the fire * A year has passed
Sklep: Libristo.pl 96,23 zł
Fort Dix ARCADIA PUB (SC)
Książki / Literatura obcojęzyczna
Located in central New Jersey, Fort Dix has been training soldiers since its founding in 1917. More than three million men and women have passed through its gates since it was built as one of the original sixteen army camps to train and mobilize soldiers for World War I. Using historical images, Fort Dix chronicles the history of life in an army camp from 1917 to the present. The fort, once known as Camp Dix, has experienced many changes over the years. This unprecedented photographic history traces the evolution from a wooden cantonment to the installation of brick and fiber optics, from a horse-dominated transportation system to a motor vehicle system, and from training recruits to serving Army Reserve and National Guard soldiers. Along the way, Fort Dix depicts the influence of the 78th Division, the Civilian Conservation Corps, the Women's Army Corps, Desert Storm, and the humanitarian work of resettling the Kosovo refugees.
Sklep: Libristo.pl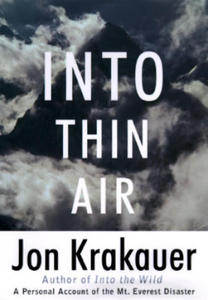 122,47 zł
Książki / Literatura obcojęzyczna
When Jon Krakauer reached the summit of Mt. Everest in the early afternoon of May 10, 1996, he hadn't slept in fifty-seven hours and was reeling from the brain-altering effects of oxygen depletion. As he turned to begin his long, dangerous descent from 29,028 feet, twenty other climbers were still pushing doggedly toward the top. No one had noticed that the sky had begun to fill with clouds. Six hours later and 3,000 feet lower, in 70-knot winds and blinding snow, Krakauer collapsed in his tent, freezing, hallucinating from exhaustion and hypoxia, but safe. The following morning he learned that six of his fellow climbers hadn't made it back to their camp and were in a desperate struggle for their lives. When the storm finally passed, five of them would be dead, and the sixth so horribly frostbitten that his right hand would have to be amputated. Krakauer examines what it is about Everest that has compelled so many people - including himself - to throw caution to the wind, ignore the concerns of loved ones, and willingly subject themselves to such risk, hardship, and expense. Written with emotional clarity and supported by his unimpeachable reporting, Krakauer's eye-witness account of what happened on the roof of the world is a singular achievement.
Sklep: Libristo.pl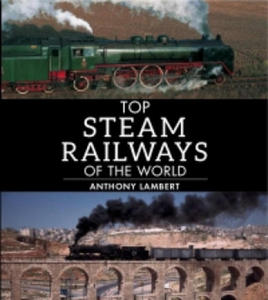 70,33 zł
Książki / Literatura obcojęzyczna
Less than 50 years ago, trains were routinely hauled by majestic steam-powered locomotives. These magnificent machines still exercise a powerful hold on our imagination, conjuring up the romance of old-fashioned rail travel and the excitement of human ingenuity pitted against the challenges of narrow passes, tight bends and fearsome gradients. Although the heyday of steam has passed, it is still possible to travel on preserved lines, heritage railways and industrial lines where steam traction is still in use. Many of these journeys have been made possible by the dedicated efforts of steam enthusiasts, who have struggled to acquire, keep open and refurbish routes that railway companies had earmarked for closure. This book profiles 26 of these remarkable journeys, ranging from the popular Ffestiniog Railway in northern Wales to the Changa Manga Forest Railway of Pakistan. Each chapter sketches the story behind the journey and details the locomotives that are in use, illustrated throughout with spectacular photography. It covers the Americas: Alberta Prairie Steam Tours (Canada) by Anthony Lambert; Hull-Chelsea-Wakefield Railway (Canada) by Pierre Home-Douglas; Cass Scenic Railroad (United States) by Steve Barry; Grand Canyon Railway (United States) by Steve Barry; Steamtown National Historic Site (United States) by Steve Barry; Mount Washington Cog Railway (United States) by Steve Barry; Guayaquil & Quito Railway (Ecuador) by John Parker; and, The Old Patagonian Express (Argentina) by Carl G. Perelman. It includes: Europe: Ffestiniog Railway (United Kingdom) by Anthony Lambert; North Yorkshire Moors Railway (United Kingdom) by Anthony Lambert; Romney, Hythe & Dymchurch Railway (United Kingdom) by Anthony Lambert; Chemin de Fer de la Baie de Somme (France) by Peter Lemmey; Le Train des Pignes (France) by Peter Lemmey; Dampfbahn Furka-Bergstrecke (Switzerland) by Anthony Lambert; Bad Doberan-Kuhlungsborn West (Germany) by Anthony Lambert; Rugensche Kleinbahn (Germany) by Anthony Lambert; Wolsztyn to Poznan (Poland) by Ailsa Camm; Ostra Sodermanlands Jarnvag (Sweden) by Michael Whitehouse; and, The Setesdalbanen (Norway) by Colin Boocock. It also covers: Africa: Railway Revival in the Horn of Africa (Eritrea) by Nick Lera, The Banana Express (South Africa) by Paul Ash, and, Outeniqua Choo-Tjoe (South Africa) by Paul Ash; Asia - The Hedjaz Railway (Syria/Jordan) by Anthony Lambert, and Changa Manga Forest Railway (Pakistan) by Peter Lemmey; and, Australia - The Great Zig Zag Railway Susan Storm, The Pichi Richi Railway by Philip Game.
Sklep: Libristo.pl 82,49 zł
Muzyka>Rhythm & Blues / Soul
1. I Like It 2. All The Times 3. Storm Has Passed 4. It Hurts Too Much To Say 5. Wind Beneath My Wings 6. Written Beneath My Wings 7. The Last Time I Saw You 8. That's What Love Is 9. A Rose By Any Other Name 10. All I Want Is You 11. I Believe I Can Fly 12. My Side Of The Bed 13. Now You're Gone (Us Remix)
Sklep: Gigant.pl
Sklepy zlokalizowane w miastach: Warszawa, Kraków, Łódź, Wrocław, Poznań, Gdańsk, Szczecin, Bydgoszcz, Lublin, Katowice
Szukaj w sklepach lub całym serwisie
2. Szukaj na wszystkich stronach serwisu
t1=0.112, t2=0, t3=0, t4=0, t=0.112