krainaksiazek a transition to grace 20117331
- znaleziono 6 produktów w 1 sklepie 132,50 zł
Książki / Literatura obcojęzyczna
Source: Wikipedia. Pages: 122. Chapters: Grateful Dead, The Smashing Pumpkins, Camper Van Beethoven, 311, Godspeed You! Black Emperor, Soul Coughing, Ryan Adams, ...And You Will Know Us by the Trail of Dead, John Mayer, Tenacious D, Little Feat, Thee Silver Mt. Zion, Michael Franti, Sound Tribe Sector 9, Toad the Wet Sprocket, New Riders of the Purple Sage, My Morning Jacket, The String Cheese Incident, Carbon Leaf, Mono, Fugazi, Harvey Danger, O.A.R., Jack Johnson, Jacob Fred Jazz Odyssey, Grace Potter and the Nocturnals, The Walkmen, Robert Randolph and the Family Band, Mogwai, Hum, Mike Doughty, Tea Leaf Green, Explosions in the Sky, Umphrey's McGee, Jason Molina, The Trews, Sara Watkins, The Gourds, Ian Thomas, Roger Clyne and the Peacemakers, Steve Kimock, Railroad Earth, Keller Williams, Sean Watkins, G. Love & Special Sauce, Yonder Mountain String Band, Stanton Moore, Blues and lasers, Edie Brickell & New Bohemians, Martin Sexton, Hayseed Dixie, The McLovins, Zen Tricksters, Ryan Montbleau, The Jimmy Swift Band, Backyard Tire Fire, Trainwreck, Leftover Salmon, Xavier Rudd, The Grapes, Danny Barnes, The Waybacks, Scott Franson, Papa Mali, ThaMuseMeant, Oakhurst, Pat McGee Band, Hot Buttered Rum, Giant Sand, Slowcoaster, Karl Denson, Donna Jean Godchaux Band, Chris Akinyemi, Wayne Hancock, Grand Theft Bus, Fiddleworms, Cornmeal, Virginia Coalition, Elephant Revival, Assembly of Dust, The Loft, The Delta Rasa, Modereko. Excerpt: John Clayton Mayer ( -żr; born October 16, 1977) is an American musician, singer-songwriter, recording artist, and music producer. Born and raised in Connecticut, he attended Berklee College of Music in Boston before moving to Atlanta, Georgia in 1997, where he refined his skills and gained a following. His first two studio albums, Room for Squares and Heavier Things, did well commercially, achieving multi-platinum status. In 2003, he won a Grammy Award for Best Male Pop Vocal Performance for "Your Body Is a Wonderland". Mayer began his career performing mainly acoustic rock, but gradually began a transition towards the blues genre in 2005 by collaborating with renowned blues artists such as B. B. King, Buddy Guy, and Eric Clapton, and by forming the John Mayer Trio. The blues influence can be heard on his album Continuum, released in September 2006. At the 49th Annual Grammy Awards in 2007 Mayer won Best Pop Vocal Album for Continuum and Best Male Pop Vocal Performance for "Waiting on the World to Change". He released his fourth studio album, Battle Studies, in November 2009. He is currently writing material for a fifth album. Mayer's career pursuits have extended to stand-up comedy, graphic design, television hosting, and writing; he has written pieces for magazines, most notably for Esquire. He is also involved in philanthropic activities through charity work and various environmental causes. Several high-profile romantic relationships and his involvement with the media caused him to become a tabloid staple, beginning in 2006. Mayer was born on October 16, 1977 in Bridgeport, Connecticut to Margaret, an English teacher, and Richard, a high school principal. He grew up in Fairfield, Connecticut, the second of three children. Mayer's father is Jewish, and Mayer has said that he "relat to Judaism". Growing up in Fairfield, Mayer became friends with future tennis star James Blake. He attended Fairfield Warde High School (then called Fairfield High School), although h
Sklep: Libristo.pl 49,97 zł
Książki / Literatura obcojęzyczna
SALES HANDLE: Taking the Leap (44,157 gross) meets Craft, Inc. (27,380 gross) in this guide to turning a creative talent into a profitable business. Creative, Inc. has even broader appeal than Craft, Inc. with terrific info for all sorts of creative types, not just crafters. DISTINCTIVE: The unique marriage of business plus creative gives this guide a spin that readers won't find in other business books. Illustrated by Nantaka Joy of Oh Joy! and written by Meg Mateo IIasco, successful freelance designer and author, this book not only talks the talk, it walks the walk! EXISTING TREND: The US Small Business Administration estimates that 50 percent of small businesses fail within their first five years. Lack of planning can derail success. Creative, Inc. helps freelancers avoid this pitfall. In these tough economic times, more and more people are choosing - or being forced - to turn their creative passions into businesses, as discussed in the May 2009 New York Times article, Tough Times loosen Creativity. Creative, Inc. is the perfect resource for making that transition. CONSUMER: This book is perfect for creative types ages 20 - 45 who are part of the 9.5 % of unemployed Americans or are sick of the daily grind and want to start a freelance business using their creative talent. VALUE: Packed with real-life advice from freelance superstars who have excelled in their industries, as well as professional accountants, agents, and more, this book provides all the knowledge you would get from a business seminar or retreat - for just $16.95. NOTABLE AUTHORS: Meg Mateo IIasco has a dedicated following as does Nantaka Joy. They will get big exposure on the blogosphere. (See author bios). Blurbs from Grace Bonney (D*S) and Shana Faust (Martha Stewart stylist). RELEVANT SALES INFO: We've sold 27,380 copies of Craft, Inc. since July 2007 and gone back for three reprints. It's #48 on Bookscan's list of craft bestsellers. The Craft, Inc. Business Planner has sold nearly 10,000 copies since September 2009.
Sklep: Libristo.pl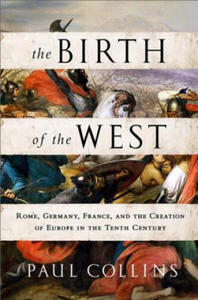 60,49 zł
Książki / Literatura obcojęzyczna
"Stimulating, encyclopedic, and often downright funny, this is a book worth remembering." --Stephen O'Shea, Globe and Mail (Toronto, Canada) "A lively, full-to-bursting history of the turbulent tenth century in Europe...Collins presents chaotic upheaval across Europe in an organized and riveting fashion." --Kirkus (starred review) The tenth century dawned in violence and disorder. Charlemagne's empire was in ruins, most of Spain had been claimed by Moorish invaders, and even the papacy in Rome was embroiled in petty, provincial conflicts. The stability once provided by Imperial Rome had dissolved, leaving a perilous landscape behind. Yet the story of the tenth century is the story of our culture's birth. This was the moment that civilization emerged from the Dark Ages into the light of day. The Birth of the West tells the story of a transformation from chaos to order, exploring the alien landscape of Europe in transition. It thoroughly renovates older conceptions of feudalism and what medieval life was actually like. The result is a wholly-new vision of how civilization sprang from the unlikeliest of origins, and proof that our tenth-century ancestors are not as remote as we might think. "The Birth of the West is a re-making of what we think we know about the end of the Dark Ages. It is also the gate to the utterly unexpected cosmos of European forebears...The characters who people The Birth of the West are as familiar as relatives--as indeed they are--groping their way to a cohesive Western culture. The Birth of the West is thus the tale of our birth, and Collins tells it with a narrative grace and elegance which will make readers cherish it." --Thomas Keneally, author of Schindler's Ark
Sklep: Libristo.pl 36,65 zł
Książki / Literatura obcojęzyczna
Living side-by-side, a fledgling chef and a big-hearted contractor find a delicious attraction. Trouble is, their chemistry could spoil their dreams. Spirited PJ McKinley has the touch when it comes to food. Her dream of opening her own restaurant is just one building short of reality. So when a Chapel Springs resident offers her beloved ancestral home to the applicant with the best plan for the house, PJ believes it's a contest she was meant to win. Contractor Cole Evans is confident, professional, and swoon-worthy--but this former foster kid knows his life could have turned out very differently. When Cole discovers the contest, he believes his home for foster kids in transition has found its saving grace. All he has to do is convince the owner that an out-of-towner with a not-for-profit enterprise is good for the community. But when the eccentric philanthropist sees PJ and Cole's proposals, she makes an unexpected decision: the pair will share the house for a year to show what their ideas are made of. Now, with Cole and the foster kids upstairs and PJ and the restaurant below, day-to-day life has turned into out-and-out competition--with some seriously flirtatious hallway encounters on the side. Turns out in this competition, it's not just the house on the line, it's their hearts.
Sklep: Libristo.pl 33,32 zł
Książki / Literatura obcojęzyczna
Sophie Lawson is a human immune to magic, which comes in handy for helping paranormal beings transition into everyday life. But fallen angel Alex Grace and his search for the Vessel of Souls is one curse she never saw coming. Suddenly an unexplainable string of killings and destruction has even San Francisco's demons fearing for their immortal lives. And Sophie isn't about to trust Alex's all-too-vulnerable charm or his secret agenda. Now their hunt is revealing dangerous secrets about Sophie's past, and malevolent power hellishly close to turning one irreverent human into the ultimate supernatural weapon.
Sklep: Libristo.pl 96,10 zł
Książki / Literatura obcojęzyczna
In the second volume in the "Best of Small Groups" series, churches and small groups have another opportunity to survey the finest Christian curricula available. Twelve sessions include: - Bill Hull--Curriculum: Choose the Life; Session title: 'Cheap Grace'- Bryan Crute--Curriculum: The Lord's Prayer: Session title: 'Reverence: Your Loving Father'- Cynthia Heald-- Curriculum: Becoming a Woman of Simplicity; Session title: 'Profound Simplicity'- Dee Eastman--Curriculum: The Daniel Plan- Francis Chan--Curriculum: Crazy Love; Session title: 'Stop Praying'- James MacDonald--Curriculum: Acts 29- John Piper--Curriculum: Let the Nations Be Glad!; Session title: 'Defining Nations and Defining Peoples'- Kerry and Chris Shook--Curriculum: Love at Last Sight; Session title: 'The Art of Being All There'- Mark Batterson--Curriculum: Surrendered and Untamed: Session title: 'The Promise'- Nancy Guthrie--Curriculum: Seeing Jesus in the Old Testament; Session title: 'The Road to Emmaus: The Beginning in Light of the Ending'- Pete Wilson--Curriculum: Canvas: Heart; Session title: 'Look Closer: The Monitor'- Tom and Chaundel Holladay--Curriculum: Love-Powered Parenting: Loving Your Kids the Way Jesus Loves You; Session title: 'Finding Energy for What's Important' The curriculum includes a study guide and two DVDs with sessions that range from 10 to 40 minutes long. It also includes introductions, transition material, and bonus teaching sessions by Brett Eastman, founder of Lifetogether Ministries.
Sklep: Libristo.pl
Sklepy zlokalizowane w miastach: Warszawa, Kraków, Łódź, Wrocław, Poznań, Gdańsk, Szczecin, Bydgoszcz, Lublin, Katowice
Szukaj w sklepach lub całym serwisie
2. Szukaj na wszystkich stronach serwisu
t1=0.025, t2=0, t3=0, t4=0, t=0.025