krainaksiazek a victorious union 20092617
- znaleziono 6 produktów w 3 sklepach 74,99 zł
Książki Obcojęzyczne>Nieprzypisane
0x0017e53d00000000
Sklep: Gigant.pl 86,30 zł
Książki
Sklep: KrainaKsiazek.pl 139,81 zł
Książki
Sklep: KrainaKsiazek.pl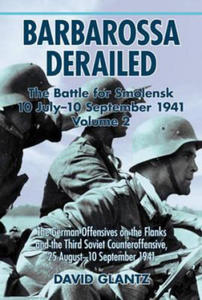 270,31 zł
Książki / Literatura obcojęzyczna
At dawn on 10 July 1941, massed tanks and motorized infantry of German Army Group Center's Second and Third Panzer Groups crossed the Dnepr and Western Dvina Rivers, beginning what Adolf Hitler, the Fuhrer of Germany's Third Reich, and most German officers and soldiers believed would be a triumphal march on Moscow, the capital of the Soviet Union. Less than three weeks before, on 22 June Hitler had unleashed his Wehrmacht's [Armed Forces] massive invasion of the Soviet Union code-named Operation Barbarossa, which sought to defeat the Soviet Union's Red Army, conquer the country, and unseat its Communist ruler, Josef Stalin. Between 22 June and 10 July, the Wehrmacht advanced up to 500 kilometers into Soviet territory, killed or captured up to one million Red Army soldiers, and reached the western banks of the Western Dvina and Dnepr Rivers, by doing so satisfying the premier assumption of Plan Barbarossa that the Third Reich would emerge victorious if it could defeat and destroy the bulk of the Red Army before it withdrew to safely behind those two rivers. With the Red Army now shattered, Hitler and most Germans expected total victory in a matter of weeks. The ensuing battles in the Smolensk region frustrated German hopes for quick victory. Once across the Dvina and Dnepr Rivers, a surprised Wehrmacht encountered five fresh Soviet armies. Despite destroying two of these armies outright, severely damaging two others, and encircling the remnants of three of these armies in the Smolensk region, quick victory eluded the Germans. Instead, Soviet forces encircled in Mogilev and Smolensk stubbornly refused to surrender, and while they fought on, during July, August, and into early September, first five and then a total of seven newly-mobilized Soviet armies struck back viciously at the advancing Germans, conducting multiple counterattacks and counter strokes, capped by two major counter offensives that sapped German strength and will. Despite immense losses in men and materiel, these desperate Soviet actions derailed Operation Barbarossa. Smarting from countless wounds inflicted on his vaunted Wehrmacht, even before the fighting ended in the Smolensk region, Hitler postponed his march on Moscow and instead turned his forces southward to engage 'softer targets' in the Kiev region. The 'derailment" of the Wehrmacht at Smolensk ultimately became the crucial turning point in Operation Barbarossa. This groundbreaking new study, now significantly expanded, exploits a wealth of Soviet and German archival materials, including the combat orders and operational of the German OKW, OKH, army groups, and armies and of the Soviet Stavka, the Red Army General Staff, the Western Main Direction Command, the Western, Central, Reserve, and Briansk Fronts, and their subordinate armies to present a detailed mosaic and definitive account of what took place, why, and how during the prolonged and complex battles in the Smolensk region from 10 July through 10 September 1941. The structure of the study is designed specifically to appeal to both general readers and specialists by a detailed two-volume chronological narrative of the course of operations, accompanied by a third volume, and perhaps a fourth, containing archival maps and an extensive collection of specific orders and reports translated verbatim from Russian. The maps, archival and archival-based, detail every stage of the battle. Within the context of Guderian's southward march toward the Kiev region, volume 2 in this series describes in unprecedented detail the Red Army's attempts to thwart German offensive plans by defeating Army Group Center in the Smolensk region with a general counteroffensive by three Red Army fronts. This volume restores to the pages of history two major military operations which, for political and military reasons, Soviet historians concealed from view, largely because both offensives failed. This volume includes: The Northern Flank: Group Stumme's (Third Panzer Group) Advance to Velikie Luki, Toropets, and Zapadnaia Dvina, 22 August-9 September 1941; German Strategic Planning, the Tilt toward Kiev, and Second Panzer Group's Advance Across the Desna River, 22-28 August 1941; The Third Soviet Counter offensive, including the Western Front's Dukhovshchina Offensive, 26 August-6 September1941, the Reserve Front's El'nia Offensive, 30 August-10 September 1941, and the Briansk Front's Roslavl'-Novozybkov Offensive, 29 August-14 September 1941. Based on the analysis of the vast mass of documentary materials exploited by this study, David Glantz presents a number of important new findings, notably: Soviet resistance to Army Group Center's advance into the Smolensk region was far stronger and more active than the Germans anticipated and historians have previously described; The military strategy Stalin, the Stavka, and Western Main Direction Command pursued was far more sophisticated than previously believed; Stalin, the Stavka, and Timoshenko's Western Main Direction Command employed a strategy of attrition designed to weaken advancing German forces; and, this attrition strategy inflicted far greater damage on Army Group Center than previously thought and, ultimately, contributed significantly to the Western and Kalinin Fronts' victories over Army Group Center in December 1941. Quite simply, this series breaks new ground in World War II Eastern Front and Soviet military studies.
Sklep: Libristo.pl 148,92 zł
Jubal Early Rowman & Littlefield Publishers
Książki / Literatura obcojęzyczna
In Jubal Early: Robert E. Lee's Bad Old Man, a new critical biography of Confederate Lieutenant General Jubal Anderson Early, Civil War historian B.F. Cooling III takes a fresh look at one of the most fascinating, idiosyncratic characters in the pantheon of Confederate heroes and villains. Dubbed by Robert E. Lee as his "bad old man" because of his demeanor, Early was also Lee's chosen instrument to attack and capture Washington as well as defend the Shenandoah Valley granary in the summer and fall of 1864. Neither cornered nor snared by Union opponents, Early came closest of any Confederate general to capturing Washington, ending Lincoln's presidency, and forever changing the fate of the Civil War and American history. His failure to grapple with this moment of historical immortality and emerge victorious bespeaks as much his own foibles as the counter-efforts of the enemy, the effects of weather and the shortcomings of his army. From the pinnacle of success, Jubal Early descended to the trough of defeat within three months when opponent General Philip Sheridan resoundingly defeated him in the Valley campaign of 1864. Jubal Early famously exhibited a harder, less gallant personal as a leading Confederate practitioner of "hard" or destructive war, a tactic usually ascribed to Union generals Hunter, Sheridan, and Sherman. An extortionist of Yankee capital in northern towns in Pennsylvania and Maryland-typically in the form of tribute-Early also became forever associated with the wanton destruction of Chambersburg, Pennsylvania, as well as Congressman Thaddeus Stevens private commerical ironworks, and the private dwellings of Maryland governor Augustus Bradford and then Postmaster General Montgomery Blair. How war hardened a crabbed, arthritically hobbled but brilliantly pragmatic soldier and lawyer offers one of the most fascinating puzzles of personality in Civil War history. One of the most alluring yet repellent figures of Southern Confederate history, Jubal Early would devolve from the ideal prewar constitutional unionist to the postwar personification of the unreconstructed rebel and progenitor of the "lost cause" explanation for the demise of the Confederacy's experiment in rebellion or independence. This critical study explains how one of Virginia's loyal sons came through war and peace to garner a unique position in the Confederacy's pantheon of heroes-and the Union's cabal of military villains. Jubal Early: Robert E. Lee's Bad Old Man will appeal to anyone interested in Civil War history and Confederate history.
Sklep: Libristo.pl
132,86 zł
Książki / Literatura obcojęzyczna
By 1944, the overwhelming majority of the German Army had participated in the German war of annihilation in the Soviet Union and historians continue to debate the motivations behind the violence unleashed in the east. Jeff Rutherford offers an important new contribution to this debate through a study of combat and the occupation policies of three frontline infantry divisions. He shows that while Nazi racial ideology provided a legitimizing context in which violence was not only accepted but encouraged, it was the Wehrmacht's adherence to a doctrine of military necessity which is critical in explaining why German soldiers fought as they did. This meant that the German Army would do whatever was necessary to emerge victorious on the battlefield. Periods of brutality were intermixed with conciliation as the army's view and treatment of the civilian population evolved based on its appreciation of the larger context of war in the east.
Sklep: Libristo.pl
Sklepy zlokalizowane w miastach: Warszawa, Kraków, Łódź, Wrocław, Poznań, Gdańsk, Szczecin, Bydgoszcz, Lublin, Katowice
Szukaj w sklepach lub całym serwisie
2. Szukaj na wszystkich stronach serwisu
t1=0.028, t2=0, t3=0, t4=0, t=0.028