krainaksiazek a vow to secure his legacy 20053466
- znaleziono 10 produkty w 1 sklepie 22,81 zł
Książki / Literatura obcojęzyczna
Sklep: Libristo.pl 18,53 zł
Książki / Literatura obcojęzyczna
To secure his heir...The night that Rose Palmer met enigmatic Italian tycoon Dante Fortinari she threw caution to the wind, allowing him to sweep her off her feet and into his bed! But by the next morning Dante was gone, leaving Rose heartbroken, alone...and pregnant. Two years later, Rose comes face to face with the father of her daughter and can no longer hide the truth of that night. She knows he'll be angry, but she never expects him to demand marriage! She longs to accept - but can her heart withstand life with a man who might never love her back? Discover more at www.millsandboon.co.uk/catherinegeorge
Sklep: Libristo.pl 76,03 zł
Książki / Literatura obcojęzyczna
To secure his heir...The night that Rose Palmer met enigmatic Italian tycoon Dante Fortinari she threw caution to the wind, allowing him to sweep her off her feet and into his bed! But by the next morning Dante was gone, leaving Rose heartbroken, alone...and pregnant. Two years later, Rose comes face to face with the father of her daughter and can no longer hide the truth of that night. She knows he'll be angry, but she never expects him to demand marriage! She longs to accept - but can her heart withstand life with a man who might never love her back? Discover more at www.millsandboon.co.uk/catherinegeorge
Sklep: Libristo.pl 67,16 zł
Książki / Literatura obcojęzyczna
The Ravenscar Dynasty, introducing the house of DeRavenel, launches Barbara Taylor Bradford's epic new series spanning a century. Ravenscar: A house, a legacy and a dynasty. On a bitterly cold day in 1904, the DeRavenel family's future changes for ever. When Cecily DeRavenel tells her 18-year-old son Edward of the death of his father, brother and cousins in a fire, a part of him dies as well. Edward is comforted by his cousin Neville Watkins, who is suspicious of the deaths. The two men vow to seek the truth, avenge the deaths and take control of the business empire usurped from Edward's great uncle sixty years before. And so begins an epic saga about an astonishing family, set in extraordinary times. Handsome, charismatic and a notorious womaniser, Edward battles his cousin, Henry Grant, for control of the family empire. Elizabeth Wyland, a young widow and a great beauty, stands by his side, and they are secretly married. She is power hungry, and ambitious. But Edward also has a mistress: Jane Shaw, a constant in his life. And as Elizabeth's jealousy damages their marriage, Edward's only solace is his work and Jane. Edward's position as the glamorous head of the DeRavenels is fatally rocked when betrayal comes from within. Soon, catastrophe threatens to destroy the family and the business!Power and money, passion and adultery, ambition and treachery -- all illuminate a dramatic saga set against the backdrop of the Edwardian Era and the Belle Epoque, just before the First World War.
Sklep: Libristo.pl 428,64 zł
Książki / Literatura obcojęzyczna
"SOA Design Patterns is an important contribution to the literature and practice of building and delivering quality software-intensive systems." - Grady Booch, IBM Fellow "With the continued explosion of services and the increased rate of adoption of SOA through the market, there is a critical need for comprehensive, actionable guidance that provides the fastest possible time to results. Microsoft is honored to contribute to the SOA Design Patterns book, and to continue working with the community to realize the value of Real World SOA." - Steven Martin, Senior Director, Developer Platform Product Management, Microsoft "SOA Design Patterns provides the proper guidance with the right level of abstraction to be adapted to each organization's needs, and Oracle is pleased to have contributed to the patterns contained in this book." - Dr. Mohamad Afshar, Director of Product Management, Oracle Fusion Middleware, Oracle "Red Hat is pleased to be involved in the SOA Design Patterns book and contribute important SOA design patterns to the community that we and our customers have used within our own SOA platforms. I am sure this will be a great resource for future SOA practitioners." - Pierre Fricke Director, Product Line Management, JBoss SOA Platform, Red Hat "A wealth of proven, reusable SOA design patterns, clearly explained and illustrated with examples. An invaluable resource for all those involved in the design of service-oriented solutions." - Phil Thomas, Consulting IT Specialist, IBM Software Group "This obligatory almanac of SOA design patterns will become the foundation on which many organizations will build their successful SOA solutions. It will allow organizations to build their own focused SOA design patterns catalog in an expedited fashion knowing that it contains the wealth and expertise of proven SOA best practices." - Stephen Bennett, Director, Technology Business Unit, Oracle Corporation "The technical differences between service orientation and object orientation are subtle enough to confuse even the most advanced developers. Thomas Erl's book provides a great service by clearly articulating SOA design patterns and differentiating them from similar OO design patterns." - Anne Thomas Manes, VP & Research Director, Burton Group "SOA Design Patterns does an excellent job of laying out and discussing the areas of SOA design that a competent SOA practitioner should understand and employ." - Robert Laird, SOA Architect, IBM "As always, Thomas delivers again. In a well-structured and easy-to-understand way, this book provides a wonderful collection of patterns each addressing a typical set of SOA design problems with well articulated solutions. The plain language and hundreds of diagrams included in the book help make the complicated subjects of SOA design comprehensible even to those who are new to the SOA design world. It's a must-have reference book for all SOA practitioners, especially for enterprise architects, solution architects, developers, managers, and business process experts." - Canyang Kevin Liu, Solution Architecture Manager, SAP "The concept of service oriented architecture has long promised visions of agile organizations being able to swap out interfaces and applications as business needs change. SOA also promises incredible developer and IT productivity, with the idea that key services would be candidates for cross-enterprise sharing or reuse. But many organizations' efforts to move to SOA have been mired-by organizational issues, by conflicting vendor messages, and by architectures that may amount to little more than Just a Bunch of Web Services. There's been a lot of confusion in the SOA marketplace about exactly what SOA is, what it's supposed to accomplish, and how an enterprise goes about in making it work. SOA Design Patterns is a definitive work that offers clarity on the purpose and functioning of service oriented architecture. SOA Design Patterns not only helps the IT practitioner lay the groundwork for a well-functioning SOA effort across the enterprise, but also connects the dots between SOA and the business requirements in a very concrete way. Plus, this book is completely technology agnostic-SOA Design Patterns rightly focuses on infrastructure and architecture, and it doesn't matter whether you're using components of one kind or another, or Java, or .NET, or Web services, or REST-style interfaces. While no two SOA implementations are alike, Thomas Erl and his team of contributors have effectively identified the similarities in composition services need to have at a sub-atomic level in order to interact with each other as we hope they will. The book identifies 85 SOA design patterns which have been developed and thoroughly vetted to ensure that a service-oriented architecture does achieve the flexibility and loose coupling promised. The book is also compelling in that it is a living document, if you will, inviting participation in an open process to identify and formulate new patterns to this growing body of knowledge." - Joe McKendrick, Independent Analyst, Author of ZDNet's SOA Blog "If you want to truly educate yourself on SOA, read this book." - Sona Srinivasan, Global Client Services & Operations, CISCO "An impressive decomposition of the process and architectural elements that support serviceoriented analysis, design, and delivery. Right-sized and terminologically consistent. Overall, the book represents a patient separation of concerns in respect of the process and architectural parts that underpin any serious SOA undertaking. Two things stand out. First, the pattern relationship diagrams provide rich views into the systemic relationships that structure a service-oriented architecture: these patterns are not discrete, isolated templates to be applied mechanically to the problem space; rather, they form a network of forces and constraints that guide the practitioner to consider the task at hand in the context of its inter-dependencies. Second, the pattern sequence diagrams and accompanying notes provide a useful framework for planning and executing the many activities that comprise an SOA engagement." - Ian Robinson, Principal Technology Consultant, ThoughtWorks "Successful implementation of SOA principles requires a shift in focus from software system means, or the way capabilities are developed, to the desired end results, or real-world effects required to satisfy organizational business processes. In SOA Design Patterns, Thomas Erl provides service architects with a broad palette of reusable service patterns that describe service capabilities that can cut across many SOA applications. Service architects taking advantage of these patterns will save a great deal of time describing and assembling services to deliver the real world effects they need to meet their organization's specific business objectives." - Chuck Georgo, Public Safety and National Security Architect "In IT, we have increasingly come to see the value of having catalogs of good solution patterns in programming and systems design. With this book, Thomas Erl brings a comprehensive set of patterns to bear on the world of SOA. These patterns enable easily communicated, reusable, and effective solutions, allowing us to more rapidly design and build out the large, complicated and interoperable enterprise SOAs into which our IT environments are evolving." - Al Gough, Business Systems Solutions CTO, CACI International Inc. "This book provides a comprehensive and pragmatic review of design issues in service-centric design, development, and evolution. The Web site related to this book [SOAPatterns.org] is a wonderful platform and gives the opportunity for the software community to maintain this catalogue..." - Veronica Gacitua Decar, Dublin City University "Erl's SOA Design Patterns is for the IT decision maker determined to make smart architecture design choices, smart investments, and long term enterprise impact. For those IT professionals committed to service-orientation as a value-added design and implementation option, Patterns offers a credible, repeatable approach to engineering an adaptable business enterprise. This is a must read for all IT architect professionals." - Larry Gloss, VP and General Manager, Information Manufacturing, LLC "These SOA patterns define, encompass, and comprise a complete repertoire of best practices for developing a world-class IT SOA portfolio for the enterprise and its organizational units through to service and schema analysis and design. After many years as an architect on many SOA projects, I strongly recommend this book be on the shelf of every analyst and technical member of any SOA effort, right next to the SOA standards and guidelines it outlines and elucidates the need for. Our SOA governance standards draw heavily from this work and others from this series." - Robert John Hathaway III, Enterprise Software Architect, SOA Object Systems "A wise man once told me that wisdom isn't all about knowledge and intelligence, it is just as much about asking questions. Asking questions is the true mark of wisdom and during the writing of the SOA Design Patterns book Thomas Erl has shown his real qualities. The community effort behind this book is huge meaning that Thomas has had access to the knowledge and experience of a large group of accomplished practitioners. The result speaks for itself. This book is packed with proven solutions to recurring problems, and the documented pros and cons of each solution have been verified by persons with true experience. This book could give SOA initiatives of any scale a real boost." - Herbjorn Wilhelmsen, Architect and Senior Consultant, Objectware "This book is an absolute milestone in SOA literature. For the first time we are provided with a practical guide on how the principle centric description of service orientation from a vendor-agnostic viewpoint is actually made to work in a language based on patterns. This book makes you talk SOA! There are very few who understand SOA like Thomas Erl does, he actually put's it all together!" - Brian Lokhorst, Solution Architect, Dutch Tax Office "Service oriented architecture is all about best practices we have learned since IT's existence. This book takes all those best practices and bundles them into a nice pattern catalogue. [It provides] a really excellent approach as patterns are not just documented but are provided with application scenarios through case studies [which] fills the gap between theory and practice." - Shakti Sharma, Senior Enterprise Architect, Sysco Corp "An excellent and important book on solving problems in SOA [with a] solid structure. Has the potential of being among the major influential books." - Peter Chang, Lawrence Technical University "SOA Design Patterns presents a vast amount of knowledge about how to successfully implement SOA within an organization. The information is clear, concise, and most importantly, legitimate." - Peter B. Woodhull, President and Principal Architect, Modus21 "SOA Design Patterns offers real insights into everyday problems that one will encounter when investing in services oriented architecture. [It] provides a number of problem descriptions and offers strategies for dealing with these problems. SOA design patterns highlights more than just the technical problems and solutions. Common organizational issues that can hinder progress towards achieving SOA migration are explained along with potential approaches for dealing with these real world challenges. Once again Thomas Erl provides in-depth coverage of SOA terminology and helps the reader better understand and appreciate the complexities of migrating to an SOA environment." - David Michalowicz, Air and Space Operations Center Modernization Team Lead, MITRE Corporation "This is a long overdue, serious, comprehensive, and well-presented catalog of SOA design patterns. This will be required reading and reference for all our SOA engineers and architects. The best of the series so far! [The book] works in two ways: as a primer in SOA design and architecture it can easily be read front-to-back to get an overview of most of the key design issues you will encounter, and as a reference catalog of design techniques that can be referred to again and again..." - Wendell Ocasio, Architecture Consultant, DoD Military Health Systems, Agilex Technologies "Thomas has once again provided the SOA practitioner with a phenomenal collection of knowledge. This is a reference that I will come back to time and time again as I move forward in SOA design efforts. What I liked most about this book is its vendor agnostic approach to SOA design patterns. This approach really presents the reader with an understanding of why or why not to implement a pattern, group patterns, or use compound patterns rather than giving them a marketing spiel on why one implementation of a pattern is better than another (for example, why one ESB is better than another). I think as SOA adoption continues to advance, the ability for architects to understand when and why to apply specific patterns will be a driving factor in the overall success and evolution of SOA. Additionally, I believe that this book provides the consumer with the understanding required to chose which vendor's SOA products are right for their specific needs." - Bryan Brew, SOA Consultant, Booz Allen Hamilton "A must have for every SOA practitioner." - Richard Van Schelven, Principal Engineer, Ericsson "This book is a long-expected successor to the books on object-oriented design patterns and integration patterns. It is a great reference book that clearly and thoroughly describes design patterns for SOA. A great read for architects who are facing the challenge of transforming their enterprise into a service-oriented enterprise." - Linda Terlouw, Solution Architect, Ordina "The maturation of Service-Orientation has given the industry time to absorb the best practices of service development. Thomas Erl has amassed this collective wisdom in SOA Design Patterns, an absolutely indispensible addition to any Service Oriented bookshelf." - Kevin P. Davis, Ph.D "The problem with most texts on SOA is one of specificity. Architects responsible for SOA implementation in most organizations have little time for abstract theories on the subject, but are hungry for concrete details that they can relate to the real problems they face in their environment. SOA Design Patterns is critical reading for anyone with service design responsibilities. Not only does the text provide the normal pattern templates, but each pattern is applied in detail against a background case study to provide exceptionally meaningful context to the information. The graphic visualizations of the problems and pattern solutions are excellent supplementary companions to the explanatory text. This book will greatly stretch the knowledge of the reader as much for raising and addressing issues that may have never occurred to the reader as it does in treating those problems that are in more common occurrence. The real beauty of this book is in its plain English prose. Unlike so many technical reference books, one does not find themselves re-reading sections multiple times trying to discern the intent of the author. This is also not a reference that will sit gathering dust on a shelf after one or two perusings. Practitioners will find themselves returning over and over to utilize the knowledge in their projects. This is as close as you'll come to having a service design expert sitting over your shoulder." - James Kinneavy, Principal Software Architect, University of California "As the industry converges on SOA patterns, Erl provides an outstanding reference guide to composition and integration-and yet another distinctive contribution to the SOA practice." - Steve Birkel, Chief IT Technical Architect, Intel Corp. "With SOA Design Patterns, Thomas Erl adds an indispensable SOA reference volume to the technologist's library. Replete with to-the-point examples, it will be a helpful aid to any IT organization." - Ed Dodds, Strategist, Systems Architect, Conmergence "Again, Thomas Erl has written an indispensable guide to SOA. Building on his prior successes, his patterns go into even more detail. Therefore, this book is not only helpful to the SOA beginner, but also provides new insight and ideas to professionals." - Philipp Offermann, Research Scientist, Technische Universitat Berlin, Germany "SOA Design Patterns is an extraordinary contribution to SOA best practices! Once again, Thomas has created an indispensable resource for any person or organization interested in or actively engaged in the practice of Service Oriented Architecture. Using case studies based on three very different business models, Thomas guides the reader through the process of selecting appropriate implementation patterns to ensure a flexible, well-performing, and secure SOA ecosystem." - Victor Brown, Managing Partner and Principal Consultant, Cypress Management Group Corporation In cooperation with experts and practitioners throughout the SOA community, best-selling author Thomas Erl brings together the de facto catalog of design patterns for SOA and service-orientation. More than three years in development and subjected to numerous industry reviews, the 85 patterns in this full-color book provide the most successful and proven design techniques to overcoming the most common and critical problems to achieving modern-day SOA. Through numerous examples, individually documented pattern profiles, and over 400 color illustrations, this book provides in-depth coverage of: * Patterns for the design, implementation, and governance of service inventories-collections of services representing individual service portfolios that can be independently modeled, designed, and evolved. * Patterns specific to service-level architecture which pertain to a wide range of design areas, including contract design, security, legacy encapsulation, reliability, scalability, and a variety of implementation and governance issues. * Service composition patterns that address the many aspects associated with combining services into aggregate distributed solutions, including topics such as runtime messaging and message design, inter-service security controls, and transformation. * Compound patterns (such as Enterprise Service Bus and Orchestration) and recommended pattern application sequences that establish foundational processes. The book begins by establishing SOA types that are referenced throughout the patterns and then form the basis of a final chapter that discusses the architectural impact of service-oriented computing in general. These chapters bookend the pattern catalog to provide a clear link between SOA design patterns, the strategic goals of service-oriented computing, different SOA types, and the service-orientation design paradigm. This book series is further supported by a series of resources sites, including soabooks.com, soaspecs.com, soapatterns.org, soamag. com, and soaposters.com.
Sklep: Libristo.pl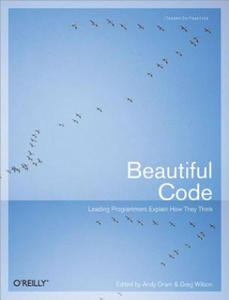 185,81 zł
Książki / Literatura obcojęzyczna
How do the experts solve difficult problems in software development? In this unique and insightful book, leading computer scientists offer case studies that reveal how they found unusual, carefully designed solutions to high-profile projects. You will be able to look over the shoulder of major coding and design experts to see problems through their eyes. This is not simply another design patterns book, or another software engineering treatise on the right and wrong way to do things. The authors think aloud as they work through their project's architecture, the tradeoffs made in its construction, and when it was important to break rules. "Beautiful Code" is an opportunity for master coders to tell their story. All author royalties will be donated to Amnesty International. The book includes the following contributions: "Beautiful Brevity: Rob Pike's Regular Expression Matcher" by Brian Kernighan, Department of Computer Science, Princeton University; "Subversion's Delta Editor: Interface as Ontology" by Karl Fogel, editor of "QuestionCopyright.org", Co-founder of Cyclic Software, the first company offering commercial CVS support; "The Most Beautiful Code I Never Wrote" by Jon Bentley, Avaya Labs Research; "Finding Things" by Tim Bray, Director of Web Technologies at Sun Microsystems, co-inventor of XML 1. 0; "Correct, Beautiful, Fast (In That Order): Lessons From Designing XML Validators" by Elliotte Rusty Harold, Computer Science Department at Polytechnic University, author of "Java I/O, Java Network Programming", and "XML in a Nutshell" (O'Reilly); and, "The Framework for Integrated Test: Beauty through Fragility" by Michael Feathers, consultant at Object Mentor, author of "Working Effectively with Legacy Code" (Prentice Hall). It also includes: "Beautiful Tests" by Alberto Savoia, Chief Technology Officer, Agitar Software Inc; "On-the-Fly Code Generation for Image Processing" by Charles Petzold, author "Programming Windows and Code: The Hidden Language of Computer Hardware and Software" (both Microsoft Press); "Top Down Operator Precedence" by Douglas Crockford, architect at Yahoo! Inc, Founder and CTO of State Software, where he discovered JSON; "Accelerating Population Count" by Henry Warren, currently works on the Blue Gene petaflop computer project Worked for IBM for 41 years; "Secure Communication: The Technology of Freedom" by Ashish Gulhati, Chief Developer of Neomailbox, an Internet privacy service Developer of Cryptonite, an OpenPGP-compatible secure webmail system; and, "Growing Beautiful Code in BioPerl" by Lincoln Stein, investigator at Cold Spring Harbor Laboratory - develops databases and user interfaces for the Human Genome Project using the Apache server and its module API. It also includes: "The Design of the Gene Sorter" by Jim Kent, Genome Bioinformatics Group, University of California Santa Cruz; "How Elegant Code Evolves With Hardware: The Case Of Gaussian Elimination" by Jack Dongarra, University Distinguished Professor of Computer Science in the Computer Science Department at the University of Tennessee, also distinguished Research Staff member in the Computer Science and Mathematics Division at Oak Ridge National Laboratory (ORNL) and Piotr Luszczek, Research Professor at the University of Tennessee; "Beautiful Numerics" by Adam Kolawa, co-founder and CEO of Parasoft; and, "The Linux Kernel Driver Model" by Greg Kroah-Hartman, SuSE Labs/Novell, Linux kernel maintainer for driver subsystems, author of "Linux Kernel in a Nutshell", co-author of "Linux Device Drivers, 3rd Edition" (O'Reilly). It also includes: "Another Level of Indirection" by Diomidis Spinellis, Associate Professor at the Department of Management Science and Technology at the Athens University of Economics and Business, Greece; "An Examination of Python's Dictionary Implementation" by Andrew Kuchling, longtime member of the Python development community, and a director of the Python Software Foundation; "Multi-Dimensional Iterators in NumPy" by Travis Oliphant, Assistant Professor in the Electrical and Computer Engineering Department at Brigham Young University; and, "A Highly Reliable Enterprise System for NASAs Mars Rover Mission" by Ronald Mak, co-founder and CTO of Willard & Lowe Systems, Inc, formerly a senior scientist at the Research Institute for Advanced Computer Science on contract to NASA Ames. It also includes: "ERP5: Designing for Maximum Adaptability" by Rogerio de Carvalho, researcher at the Federal Center for Technological Education of Campos (CEFET Campos), Brazil and Rafael Monnerat, IT Analyst at CEFET Campos, and an offshore consultant for Nexedi SARL; "A Spoonful of Sewage" by Bryan Cantrill, Distinguished Engineer at Sun Microsystems, where he has spent most of his career working on the Solaris kernel; "Distributed Programming with MapReduce" by Jeff Dean and Sanjay Ghemawat, Google Fellows in Google's Systems Infrastructure Group; "Beautiful Concurrency" by Simon Peyton Jones, Microsoft Research, key contributor to the design of the functional language Haskell, and lead designer of the Glasgow Haskell Compiler (GHC); and, "Syntactic Abstraction: The syntax-case expander" by Kent Dybvig, Developer of Chez Scheme and author of the Scheme Programming Language. It also includes: "Object-Oriented Patterns and a Framework for Networked Software" by William Otte, a Ph.D. student in the Department of Electrical Engineering and Computer Science (EECS) at Vanderbilt University and Doug Schmidt, Full Professor in the Electrical Engineering and Computer Science (EECS) Department, Associate Chair of the Computer Science and Engineering program, and a Senior Research Scientist at the Institute for Software Integrated Systems (ISIS) at Vanderbilt University; "Integrating Business Partners the RESTful Way" by Andrew Patzer, Director of the Bioinformatics Program at the Medical College of Wisconsin; and, "Beautiful Debugging" by Andreas Zeller, computer science professor at Saarland University, author of "Why Programs Fail: A Guide to Systematic Debugging" (Morgan Kaufman). It also includes: "Code That's Like an Essay" by Yukihiro Matsumoto, inventor of the Ruby language; "Designing Interfaces Under Extreme Constraints: the Stephen Hawking editor" by Arun Mehta, professor and chairman of the Computer Engineering department of JMIT, Radaur, Haryana, India; "Emacspeak: The Complete Audio Desktop" by TV Raman, Research Scientist at Google where he focuses on web applications; "Code in Motion" by Christopher Seiwald, founder and CTO of Perforce Software and Laura Wingerd, vice president of product technology at Perforce Software, author of "Practical Perforce" (O'Reilly); and, "Writing Programs for 'The Book'" by Brian Hayes who writes the Computing Science column in American Scientist magazine, author of "Infrastructure: A Field Guide to the Industrial Landscape"(W.W. Norton).
Sklep: Libristo.pl 84,90 zł
Książki / Literatura obcojęzyczna
Religious strife, Glastonbury legends, the bones of King Arthur and the curse of the Tudors...can Renaissance man John Dee help the young Queen Elizabeth to avoid it? It is 1560. Elizabeth Tudor has been on the throne for a year, the date for her coronation having been chosen by her astrologer, Dr John Dee, at just 32 already famous throughout Europe as a mathematician and expert in the hidden arts. But neither Elizabeth nor Dee feel entirely secure. Both have known imprisonment for political reasons. The Queen is unpopular with both Roman Catholics and the new breed of puritanical protestant. Dee is regarded with suspicion in an era where the dividing line between science and sorcery is, at best, indistinct. And the assignment he's been given by the Queen's chief minister, Sir William Cecil, will blur it further: ride to the ruins of Glastonbury Abbey, bring back King Arthur's bones. The mission takes the mild, bookish Dee to the tangled roots of English magic and the Arthurian legacy so important to the Tudors. Into unexpected violence, spiritual darkness, the breathless stirring of first love...and the cold heart of a complex plot against Elizabeth. With him is his friend and former student, Robert Dudley, a risk-taker, a wild card...and possibly the Queen's secret lover. Dee is Elizabethan England's forgotten hero. A man for whom this world - even the rapidly-expanding world of the Renaissance - was never enough.
Sklep: Libristo.pl 82,05 zł
Książki / Literatura obcojęzyczna
For over 50 years one family dominated England's high offices of state. William and Robert Cecil, father and son, held unparalleled power as statesmen, diplomats, counsellors and spymasters throughout Elizabeth's reign and long beyond. From Privy Councillor to Chief Secretary of State and Lord High Treasurer, both exerted far-reaching influence to secure the Queen's realm and legacy. They enjoyed her reliance and trust, and Robert the gratitude of her successor James I, yet each inhabited a perilous world where favour brought enemies and a wrong step could lead to disaster. In "The Cecils", David Loades reveals the personal and political lives of these remarkable men. He shows how father and son negotiated volatile court life, battling flamboyant favourites like Robert Dudley and the ill-fated Earl of Essex and playing for time to stabilise a country still torn by religious divide. He discovers the contradictory characters of these advocates of caution who nevertheless took great personal risks, such as William's role in the execution of Mary Queen of Scots and Robert's secret negotiations with James VI of Scotland before Elizabeth's death. Yet these principled public servants - who put the interests of the State before their own - still amassed large personal wealth, and relished its display at their great houses of Burghley, Theobalds and Hatfield. From the early days of turmoil, when William escaped the fate of Thomas Seymour and honed his strategies for survival, to the shadowy intrigues of the Jacobean court, this is a fascinating portrait of men who shaped an extraordinary age.
Sklep: Libristo.pl 59,24 zł
Książki / Literatura obcojęzyczna
Ruins from the past, menace to the future Milo Morai, the Undying High Lord of the Horseclans, secure in the knowledge that peace had once again come to the Kindred clans, now journeyed with a select band to explore unknown territory. Perhaps in the days or weeks ahead, Milo would discover an untouched ruin of the Old Ones, a veritable treasure-trove of rare metals and trade goods to enrich the Horseclans. More than dead ruins awaited Milo and his valiant band of hunters. For on the trail they now rode lurked nightmare creatures hungering for the blood of man. And at the end of the road waited heirs to a legacy of violence which might claim the men and women of the Horseclans as the final victims in a war that should have ended hundreds of years ago...
Sklep: Libristo.pl 73,02 zł
Książki / Literatura obcojęzyczna
"Wayne of Gotham" is the story two men separated by a generation of tragedy: Thomas, the rebellious heir to the vast Wayne Empire and Bruce, his son whose life is forever altered by witnessing Thomas' death. The murder of Thomas and Martha Wayne is the torturous point on which Bruce turns to become the Batman. The Dark Knight's file on the case has long since been closed, the foundations of Bruce Wayne's secret life secure in the simple symmetry of a mugging gone horribly wrong. These foundations are shaken, however, when disturbing bits of information begin showing up in the Batman's path that question the accepted story. Batman reopens the case file - and discovers a father and mother that he never knew and the burden of a dark legacy he must now bear.
Sklep: Libristo.pl
Sklepy zlokalizowane w miastach: Warszawa, Kraków, Łódź, Wrocław, Poznań, Gdańsk, Szczecin, Bydgoszcz, Lublin, Katowice
Szukaj w sklepach lub całym serwisie
2. Szukaj na wszystkich stronach serwisu
t1=0.047, t2=0, t3=0, t4=0, t=0.047