krainaksiazek a well respected man 20167201
- znaleziono 14 produktów w 3 sklepach 45,99 zł
Książki Obcojęzyczne>Angielskie>Fiction & related items>Crime & mystery
0x007e711900000000
Sklep: Gigant.pl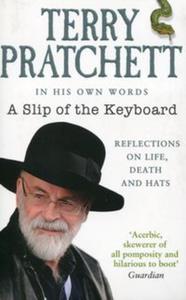 36,50 zł
Książki
Terry Pratchett has earned a place in the hearts of readers the world over with his bestselling Discworld series - but in recent years he has become equally well-known and respected as an outspoken campaigner for causes including Alzheimer's research and animal rights. A Slip of the Keyboard brings together for the first time the finest examples of Pratchett's non fiction writing, both serious and surreal: from musings on mushrooms to what it means to be a writer (and why banana daiquiris are so important); from memories of Granny Pratchett to speculation about Gandalf's love life, and passionate defences of the causes dear to him.With all the humour and humanity that have made his novels so enduringly popular, this collection brings Pratchett out from behind the scenes of the Discworld to speak for himself - man and boy, bibliophile and computer geek, champion of hats, orang-utans and Dignity in Dying.
Sklep: Booknet.net.pl 64,52 zł
Książki / Literatura obcojęzyczna
All that you ever wanted to know - and never imagined - about what goes on behind-the-scenes at one of the world's most prestigious plastic surgeon's office. '"I don't care if I die," she said. "I waited my whole life to look good. I'm not going one more day looking the way I do ...if I'm not happy, nothing else matters.'" What is it that drives women, and men, to the extreme measure of cosmetic surgery? People are popping out for botox in their lunch breaks, face-lifts before job reviews, breast implants before dates, and liposuction before just about any major event. From the living room to the boardroom to the catwalk, even the most successful and beautiful men and women are paying to go under the surgeon's knife. And the obsession just keeps on growing! Cap Lesesne, one of the world's most sought-after and respected cosmetic surgeons, has seen them all. He's worked on queens, models, executives and housewives, turned a man into Elvis, been threatened by a Venezuelan oil magnate whose penis turned black and has been asked to implant breasts onto a transexual's back. He travels around the world, calls royalty and glitterati his friends, and can claim to have both saved and destroyed hundreds of relationships with his life-altering fingers. In this timely part-autobiography, part-expose, Cap reveals what life is like as the fairy-godfather with a scalpel, what it is that drives different people around the world to go under the surgeon's knife, and the secret tell-tale signs of a post-op patient, as well as hundreds of real-life examples of the people he has worked on, from the urbane to the truly bizarre. Cap also reveals what it was that made him choose to take up the profession that is most sneered on in surgical circles and how his choice of profession has altered the way he looks at the world around him. Exciting, revealing and always cutting-edge, CONFESSIONS OF A PARK AVENUE PLASTIC SURGEON puts an astonishing new face on one of the world's fastest growing trends.
Sklep: Libristo.pl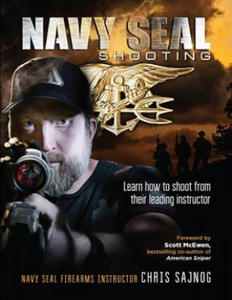 147,27 zł
Książki / Literatura obcojęzyczna
Imagine if you could learn to shoot safely and effectively at home - saving you time and money you don't have. Well, now you can! Navy SEAL Shooting teaches you the groundbreaking training method developed by one of the most respected firearms instructors in the world, retired Navy SEAL Chris Sajnog. With easy-to-follow, step-by-step instructions and 385 illustrations, this book covers everything you need to know to make effective shots in any high-stress situation. You will learn to plan your training, improve your accuracy and speed, shoot while moving, and clear malfunctions. Plus discover every manipulation needed for any semi-automatic pistol or rifle. Whether in combat, competition, or just safely and confidently protecting yourself or your family, this book will help you dominate any opponent. It's the middle of the night... You hear a sudden crash in the kitchen... Someone has broken into your home. He's armed and ready to kill. Will you be able to protect your family? Shoot like a Navy SEAL, Unlock Your Warrior Potential, and Protect Your Family -- Without Expensive Trips to the Firing Range! I've trained the world's deadliest snipers, and today... I'm going to train you. Dear Concerned Citizen, My name is Chris Sajnog. I'm a retired US Navy SEAL and the man who created the US Navy SEAL Sniper Training program. I'm not going to beat around the bush here. I am one of the world's leading firearms training experts. I've trained our country's real-life heroes, the men who do things most people only try in a video game. I didn't always have these skills. In fact, I had never even fired a gun until I joined the military. But if you're willing to take the first step and actually begin training, you can master anything. Today, firearms experts around the world come to me for advice. I've trained hundreds of US Navy SEALs. And now, I'm ready to share those skills with everyday citizens like you who need to protect their families from our growing domestic criminals. But first, let me ask you something... * How good is your aim? * Can you hit a bulls-eye at 100 yards? * More importantly, can you hit a man-sized target in the middle of the night? During a life-and-death situation, you need to be fully prepared for anything that comes your way. Making even one mistake during a violent encounter can mean death for you and your family. It's not your fault. Thanks to my training as a US Navy SEAL, I was given all the time, ammo, and hands-on training that I needed. Most people don't have that luxury. But I've trained the world's deadliest snipers, and now, I'm teaching you those same techniques. Master Your Weapon and Protect Your Family with My Book: Navy SEAL Shooting. Navy SEALs are just regular people with a unique set of skills. With this book, you're going to learn some of those world-class skills
Sklep: Libristo.pl 77,33 zł
Książki / Literatura obcojęzyczna
Excerpt from The Knights of the Cross Hlava's heart throbbed when he thought that he would soon see his lady, for though he knew that he would never win her, just as he would never win stars from the sky, he extolled and loved her with all the soul that was in him. But he determined to go directly to Matsko, first because he was sent to him, and second because he was taking men who were to remain at Bogdanets. After Zbyshko had slain Rotgier he took his retinue, composed, according to the regulations of the Order, of ten horses and as many men. Two had gone to Schytno with the fallen knight's body, but Zbyshko, knowing the eagerness of old Matsko in seeking for settlers, sent the rest with Hlava as a gift to his uncle. The Cheh, on reaching Bogdanets, did not find Matsko. The old man had gone, as the servants informed him, with crossbow and dogs to the forest, but he returned during daylight, and, on learning that a considerable retinue had halted at his mansion, he hurried his steps so as to meet the newcomers, and offer entertainment; he was tremendously astonished at first, and, throwing his crossbow and cap on the ground, cried out, - "As God lives! they have killed him! Tell what thou knowest!" "He is not killed," answered Hlava; "he is well." When Matsko heard this he was confused somewhat and fell to panting; at last he drew a deep breath. "Praise to Christ the Lord!" said he. "Where is the man?" "He went to Malborg and sent me hither with tidings." "But why did he go to Malborg?" "For his wife." "Ah! fear the wounds of Christ, boy. What wife?" "The daughter of Yurand. There will be something to talk about, even the whole night through, but permit me, respected lord, to draw breath, for I am dreadfully roadweary, and since midnight I have lashed my beast forward." Matsko stopped inquiries for a while, though mainly because astonishment had taken speech from him. When he had recovered somewhat he shouted to the boy to throw wood on the fire and bring food, then he walked through the room, waved his hands, and talked in soliloquy, - "I cannot believe my own ears - Yurand's daughter - Zbyshko married - " About the Publisher Forgotten Books publishes hundreds of thousands of rare and classic books. Find more at www.forgottenbooks.com This book is a reproduction of an important historical work. Forgotten Books uses state-of-the-art technology to digitally reconstruct the work, preserving the original format whilst repairing imperfections present in the aged copy. In rare cases, an imperfection in the original, such as a blemish or missing page, may be replicated in our edition. We do, however, repair the vast majority of imperfections successfully; any imperfections that remain are intentionally left to preserve the state of such historical works.
Sklep: Libristo.pl 101,63 zł
Książki / Literatura obcojęzyczna
For decades, Walter Cronkite was known as the most trusted man in America. Millions across the nation welcomed him into their homes, first as a print reporter for the United Press on the front lines of World War II, and later, in the emerging medium of television, as a host of numerous documentary programs and as anchor of the CBS Evening News, from 1962 until his retirement in 1981. Yet this very public figure, undoubtedly the twentieth century's most revered journalist, was a remarkably private man; few know the full story of his life. Drawing on unprecedented access to Cronkite's private papers as well as interviews with his family and friends, Douglas Brinkley now brings this American icon into focus as never before. Brinkley traces Cronkite's story from his roots in Missouri and Texas through the Great Depression, during which he began his career, to World War II, when he gained notice reporting with Allied troops from North Africa, D-day, and the Battle of the Bulge. In 1950, Edward R. Murrow recruited him to work for CBS, where he covered presidential elections, the space program, Vietnam, and the first televised broadcasts of the Olympic Games, as both a reporter and later as an anchor for the evening news. Cronkite was also witness to - and the nation's voice for - many of the most profound moments in modern American history, including the Kennedy assassination, Apollos 11 and 13, Watergate, the Vietnam War, and the Iran hostage crisis. Epic, intimate, and masterfully written, Cronkite is the biography of an extraordinary American life, told by one of our most brilliant and respected historians.
Sklep: Libristo.pl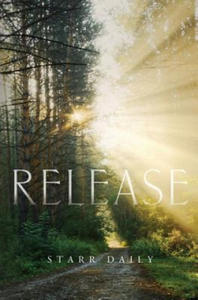 96,21 zł
Release Essence Publishing (Canada)
Książki / Literatura obcojęzyczna
Release is the compelling story of a soul's encounter with Destiny and the liberating power of Love. Born of a profound experience, it reveals in deathless words that only love can overcome hatred. Our duty is to let God's Love transform our human love. The more inadequate we feel and the more handicaps we must overcome, the more beautiful the fruit God will bring forth when His Love turns us inside out. This great human document grips the attention and often brings "Release" to those baffled by life and enmeshed in adversity, or seeking a deeper faith grounded in mercy. Dr. George Ritchie, a prominent American M.D. who held positions as President of the Richmond Academy of General Practice, Chairman of the Department of Psychiatry of Towers Hospital, and founder and long-time President of the Universal Youth Corps Inc., certainly held both Release and its author in very high esteem. He often recommended the book to his patients. Speaking of Release in his own volume entitled Ordered to Return (1998), Dr. Ritchie declares, "This book and my own experience with the Christ did more to change my life than any other things." "I was so impressed with the book, I decided if I had to travel halfway around the world to meet this man, I would. I did meet him a year later...His book profoundly changed the life of many others to whom I recommended it." Who was Starr Daily? A force to be reckoned with. A modern Dante who in his teens became a major criminal, moving from crime to crime and jail to jail. As he lay in solitary confinement, near death, the Master, Himself, filled his consciousness with an outpouring of Love. Daily began practicing love in action and embarked on a fascinating spiritual adventure. Released during the Great Depression with only ten dollars in his pocket and a fifth-grade education, he overcame incredible odds and became a respected and well-known Christian author and speaker. He spoke with rare authority and perceptiveness.
Sklep: Libristo.pl 101,63 zł
Książki / Literatura obcojęzyczna
Five years after Fagin was hanged in Newgate, Oliver Twist, at the age of seventeen, is a young man of good breeding and fine manners, living a quiet life in a corner of London. When Oliver loses his protector and guardian, he is able, with the help of Mr. Brownlow's friends, to find employment in a well-respected haberdashery in Soho. However, in the midst of these changes, Jack Dawkins, also known as the Artful Dodger, arrives in London, freshly returned from being deported. Oliver's own inability to let go of his past, as well as his renewed and intimate acquaintance with Jack, take him back to the life he thought he'd left behind.
Sklep: Libristo.pl 58,28 zł
Książki / Literatura obcojęzyczna
Excerpt from Genealogical Abstracts of Wills, Proved in the Prerogative Court of Canterbury, Vol. 4: Register "Wootton" 1658 The Will of Daniel Dalton (no. 498) is a very human document and reminds one of the story of the man, much respected in his village, who died and whose son was interviewed next day by the clergyman of the parish who said to him 'your father was a good man. I should like to say something about him in my sermon. What were his last words?' Well Sir,' replied the boy, 'he didnt have no last words. Mother was with him to the very end.' About the Publisher Forgotten Books publishes hundreds of thousands of rare and classic books. Find more at www.forgottenbooks.com This book is a reproduction of an important historical work. Forgotten Books uses state-of-the-art technology to digitally reconstruct the work, preserving the original format whilst repairing imperfections present in the aged copy. In rare cases, an imperfection in the original, such as a blemish or missing page, may be replicated in our edition. We do, however, repair the vast majority of imperfections successfully; any imperfections that remain are intentionally left to preserve the state of such historical works.
Sklep: Libristo.pl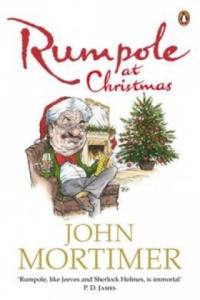 46,30 zł
Książki / Literatura obcojęzyczna
"Rumpole at Christmas" - the hilarious festive stories of John Mortimer's greatest character. "Without Rumpole, the world would be a poorer place". ("Daily Mail"). Horace Rumpole is not overfond of the rituals of Christmas: turkey, tinsel and the like. But happily the festive season is not one respected by the criminal fraternity; meaning that celebrations in the Rumpole household are frequently disturbed in most-welcome ways. There's the suspicious Father Christmas at Equity's Court's festive party. The actor who goes missing from the panto on the night of a major crime. As well as the body cluttering up the health farm (where the great barrister is gloomily restricted to a diet of yak's milk and steamed spinach to please She Who Must Be Obeyed). These seven wonderful Rumpole stories show the great man at his sharpest, wittiest and best. Readers of Sherlock Holmes, P.D. James and P.G. Wodehouse will love this book. "One of the great comic creations of modern times". ("Evening Standard"). "There is a truth in Rumpole that is told with brilliance and grace". ("Daily Telegraph"). "Rumpole remains and absolute delight". ("The Times"). Sir John Mortimer was a barrister, playwright and novelist. His fictional political trilogy of "Paradise Postponed", "Titmuss Regained" and "The Sound of Trumpets" has recently been republished in "Penguin Classics", together with "Clinging to the Wreckage" and his play "A Voyage round My Father". His most famous creation was the barrister Horace Rumpole, who featured in four novels and around eighty short stories. His books in Penguin include: "The Anti-social Behaviour of Horace Rumpole"; "The Collected Stories of Rumpole"; "The First Rumpole Omnibus"; "Rumpole and the Angel of Death"; "Rumpole and the Penge Bungalow Murders"; "Rumpole and the Primrose Path"; "Rumpole and the Reign of Terror"; "Rumpole and the Younger Generation"; "Rumpole at Christmas"; "Rumpole Rests His Case"; "The Second Rumpole Omnibus"; "Forever Rumpole"; "In Other Words"; "Quite Honestly" and "Summer's Lease".
Sklep: Libristo.pl 86,85 zł
Książki / Literatura obcojęzyczna
MeChale Fisher-Gilmore grew up in "The Hole" in Duarte, California, a cul de sac community of twenty three families that gives true meaning to the African Proverb, "It takes a village to raise a child." At first glance, the Fisher's beautifully manicured lawn, rose garden, and swimming pool make passersby wish they lived there. However, once inside, you bear witness to the family's dysfunction. Her mother Rose, a well respected member of the local Baptist church, retired school aide, and the best baker in town, struggled with alcoholism. Her father George, a hard-working, yet care-free man, never saw a horse that couldn't win. Her older brother Ronnie, committed suicide with a gunshot wound to the head in the family driveway. Her brother Charles has battled drug and alcohol addiction for over 30 years and counting. Through it all, she has dealt with abusive relationships in her teenage years, later in marriage, and betrayal on the dating scene. A few years ago MeChale knew something terrible was going on inside her mind and body. After her first institutionalization she was diagnosed with bipolar disorder. Seven institutionalizations later she has come to grips with the stigma of mental illness and God has given her the strength to move forward. Her journey is the motivation for this project which she hopes will heal others facing similar family challenges and demonstrate that mental illness is not the end all, but the beginning of a new life lived differently. MeChale is an overcomer in every sense of the word and is on a mission to spread her message, "There is no shortcut to bipolar disorder, yet with God all things are possible."
Sklep: Libristo.pl 41,37 zł
Książki / Literatura obcojęzyczna
Daniel Day-Lewis is an actor regarded by many as the finest of his generation. His portrayal of cerebral-palsy sufferer Christy Brown in My Left Foot won him his first Oscar in 1990, and in 2008 another Oscar followed for his role in There Will Be Blood. His roles in The Age of Innocence, The Last of the Mohicans and In the Name of the Father further cemented his reputation, as well as grossing millions at the box office making Day-Lewis one of Hollywood's most bankable stars. Stunning performances in The Crucible, The Ballad of Jack and Rose and, more recently, Nine have earned him more accolades, and rumours of an Oscar nomination for his portrayal of President Lincoln in the film Lincoln have confirmed Day-Lewis as an actor to be both respected and feared in the acting community. Yet despite, or perhaps because of, the height of his success and fame, Daniel is a man prone to episodes of extreme self-doubt. Behind his on-screen personas lies and infinitely complex figure. In this brilliantly researched biography, Laura Jackson has talked to many of Daniels close friends and fellow actors from the world of film and theatre, including Dame Judi Dench, Sir David Puttnam and Simon Callow, providing us with a fascinating insight.
Sklep: Libristo.pl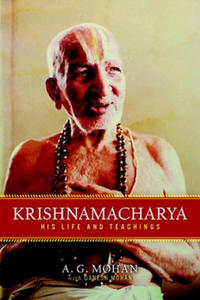 96,86 zł
Książki / Literatura obcojęzyczna
Here is a personal tribute to "the father of modern yoga" Sri Tirumalai Krishnamacharya (1888-1989), written by one of his longtime disciples. Krishnamacharya was a renowned Indian yoga master, Ayurvedic healer, and scholar who modernized yoga practice and whose students--including B. K. S. Iyengar, K. Pattabhi Jois, T. K. V. Desikachar, and Indra Devi--dramatically popularized yoga in the West. In this book, the author, A. G. Mohan, a well-respected yoga teacher and yoga therapist, draws on his own memories and Krishnamacharya's diaries and recorded material, to present a fascinating view of the man and his teachings, and Mohan's own warm and inspiring relationship with the master. This portrait of the great teacher will be a compelling and informative read for yoga teachers and students who truly want to understand the source of their tradition and practice.
Sklep: Libristo.pl 91,77 zł
Książki / Literatura obcojęzyczna
Two women. One terrible crime. Zero allies. After being raped by a superior officer, MA3 Kim Lockhoff wants to leave the whole thing in the past. A cop herself, she knows all too well that it's her word-and slutty reputation-against that of a respected Navy officer. MA2 Reese Marion, a tough cop hiding her own trauma behind a hard-as-nails exterior, has no patience for pretty little princesses who use their cleavage to win favor with the guys. But when Reese is partnered with Kim, she slowly realizes that reputations can lie. Kim is whip-smart, ambitious-and scared. The man who attacked her won't let anything damage his career, least of all Kim . . . or the baby she's carrying as a result. Isolated on Okinawa, thousands of miles away from home, the two women lean hard on each other. But when Kim confides in Reese, she unwittingly puts her new lover-and both of their careers-in the line of fire. Now her attacker just might have the leverage he needs to keep her quiet for good.
Sklep: Libristo.pl
Sklepy zlokalizowane w miastach: Warszawa, Kraków, Łódź, Wrocław, Poznań, Gdańsk, Szczecin, Bydgoszcz, Lublin, Katowice
Szukaj w sklepach lub całym serwisie
2. Szukaj na wszystkich stronach serwisu
t1=0.066, t2=0, t3=0, t4=0.022, t=0.066