krainaksiazek a whisper from within my life my terms 20117203
- znaleziono 8 produktów w 3 sklepach 51,27 zł
Książki & Multimedia > Książki
Opis - Książka, posiadająca istotne walory praktyczne, jest pierwszą pozycją polskiej autorki w tak kompleksowy sposób analizującą nie tylko istotę funkcjonowania kredytowych instrumentów pochodnych, ale również modele ich wyceny, doskonalenie których autorka słusznie uznaje za kluczowe dla rozwoju tego rynku. Niewątpliwą zaletą opracowania jest mnogość przykładów, przeprowadzających Czytelnika przez kolejne etapy szacowania wartości omawianych struktur i tworzących idealną bazę dla zrozumienia konstrukcji tych złożonych produktów. Prof. zw. dr hab. Janusz Soboń Publikacja stanowi cenne kompendium wiedzy zarówno dla praktyków rynku finansowego, jak i studentów oraz słuchaczy studiów podyplomowych i doktoranckich, jak również dla pracowników nauki zainteresowanych wdrażaniem metod kwantyfikacji ryzyka kredytowego w praktykę. Prof. nadzw. SGH dr hab. Paweł Niedziółka Nazwa - Pochodne instrumenty kredytowe Autor - Izabela Pruchnicka-Grabias Oprawa - Miękka Wydawca - CeDeWu Kod ISBN - 9788375563733 Kod EAN - 9788375563733 Wydanie - 1 Rok wydania - 2011 Język - polski Format - 16.5x23.0cm Ilość stron - 280 Podatek VAT - 5%
Sklep: InBook.pl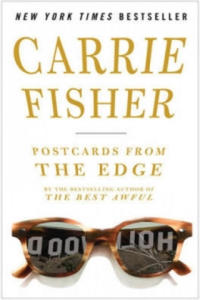 42,09 zł
Książki / Literatura obcojęzyczna
When we first meet the extraordinary young actress Suzanne Vale, she's feeling like 'something on the bottom of someone's shoe, and not even someone interesting.' Suzanne is in the harrowing and hilarious throes of drug rehabilitation, trying to understand what happened to her life and how she managed to land in a 'drug hospital.' Just as Fisher's first film role-the precocious teenager in Shampoo-echoed her own Beverly Hills upbringing, her first book is set within the world she knows better than anyone else: Hollywood. More of a fiction montage than a novel in the conventional sense, this stunning literary debut chronicles Suzanne's vivid, excruciatingly funny experiences - from the clinic to her coming to terms with life in the outside world. Conversations with her psychiatrist 'What worries me is, what if this guy is really the one for me and I haven't had enough therapy to be comfortable with having found him?'; a high-concept, eighties-style affair 'The only way to become intimate for me is repeated exposure. My route to intimacy is routine. I establish a pattern with somebody and then I notice when they're not there?' Sparked by Suzanne's and Carrie Fisher's deliciously wry sense of the absurd, Postcards from the Edge is more than a book about stardom and drugs. It is a revealing look at the dangers - and delights - of all our addictions, from money and success to sex and insecurity.
Sklep: Libristo.pl 45,80 zł
Nauki humanistyczne
Alain de Botton, best-selling author of How Proust can Change Your Life, has set six of the finest minds in the history of philosophy to work on the problems of everyday life. Here then are Socrates, Epicurus, Seneca, Montaigne, Schopenhauer and Nietzsche on some of the things that bother us all; lack of money, the pain of love, inadequacy, anxiety, the fear of failure and the pressure to conform.
Sklep: Albertus.pl 40,80 zł
Literatura faktu
'Only with the greatest of simplifications, for the sake of convenience, can we say Africa. In reality, except as a geographical term, Africa doesn't exist'. Ryszard Kapuscinski has been writing about the people of Africa throughout his career. In a study that avoids the official routes, palaces and big politics, he sets out to create an account of post-colonial Africa seen at once as a whole and as a location that wholly defies generalised explanations. It is both a sustained meditation on the mosaic of peoples and practises we call 'Africa', and an impassioned attempt to come to terms with humanity itself as it struggles to escape from foreign domination, from the intoxications of freedom, from war and from politics as theft. The Beginning: Collision, Ghana 1958 More than anything, one is struck by the light. Light everywhere. Brightness everywhere. Everywhere, the sun. Just yesterday, an autumnal London was drenched in rain. The airplane drenched in rain. A cold, wind, darkness. But here, from the morning
Sklep: Albertus.pl 91,68 zł
Książki / Literatura obcojęzyczna
Source: Wikipedia. Pages: 67. Chapters: Grey's Anatomy, List of Grey's Anatomy episodes, The Other Side of This Life, From a Whisper to a Scream, Oh, the Guilt, Don't Stand So Close to Me, Freedom, Dream a Little Dream of Me, Six Days, Part 2, Time After Time, Sympathy for the Devil, Staring at the Sun, Piece of My Heart, The Becoming, Desire, What I Am, Wishin' and Hopin', Great Expectations, Testing 1-2-3, Let the Angels Commit, Wish You Were Here, Where the Boys Are, Beat Your Heart Out, Life During Wartime, Didn't We Almost Have It All?, Six Days, Part 1, Losing My Religion, The First Cut Is the Deepest, It's the End of the World, Stand By Me, Losing My Mind, Who's Zoomin' Who?, Sometimes a Fantasy, 17 Seconds, A Hard Day's Night, There's No 'I' in Team, Deterioration of the Fight or Flight Response, Love/Addiction, A Change Is Gonna Come, Haunt You Every Day, Brave New World, I Am a Tree, Raindrops Keep Falling On My Head, (As We Know It), Rise Up, Yesterday, Into You Like a Train, Before and After, My Favorite Mistake, Deny, Deny, Deny, Break on Through, The Heart of the Matter, The Name of the Game, With You I'm Born Again, Make Me Lose Control, Enough Is Enough, In the Midnight Hour, Time Has Come Today, These Ties That Bind, Bring the Pain, What Have I Done to Deserve This?, Begin the Begin, Grandma Got Run Over By a Reindeer, All by Myself, Blues for Sister Someone, Stairway to Heaven, Something to Talk About, Let It Be, Band-Aid Covers the Bullet Hole, Here Comes the Flood, Much Too Much, Damage Control, I Saw what I Saw, Superstition, Shake Your Groove Thing, Tell Me Sweet Little Lies, Some Kind of Miracle, Scars and Souvenirs, Save Me, The Self-Destruct Button, No Man's Land, Winning a Battle, Losing the War, Let the Truth Sting, Walk on Water, Kung Fu Fighting, Drowning on Dry Land, Disarm, If Tomorrow Never Comes, Thanks for the Memories, Damage Case, Sweet Surrender, Owner of a Lonely Heart, No Good at Saying Sorry, I Will Follow You Into the Dark, An Honest Mistake, Elevator Love Letter, What a Difference a Day Makes, Here's to Future Days, Now or Never. Excerpt: Season two of Grey's Anatomy, an American medical drama television series developed by Shonda Rhimes, began airing on September 25, 2005 on ABC. The season concluded on May 15, 2006, after 27 episodes aired. Season two regular cast members include Ellen Pompeo, Sandra Oh, Katherine Heigl, Justin Chambers, T.R. Knight, Chandra Wilson, James Pickens, Jr., Isaiah Washington, Patrick Dempsey and Kate Walsh becoming series regular after guest starring in season one's finale and the first five episode of season two. The first five episodes of the season were initially planned to be within the first season with the episode "Bring the Pain" as season one finale. According to Rhimes after airing the ninth episode of the show, the ratings, the timeslots and the really great audience meant that they have to end the season with that episode, and the cliffhanger with the coming of Derek's estranged wife fit perfectly. The season received positive critics and reception, and this season performed better than the previous one. Season two continues from where season one left, Derek's estranged wife Addison arrives in Seattle for business but decides to reconcile her relationship with Derek. From this point Derek decides to try repair his relationship with his wife leaving Meredith devastated. Other stories include, Izzie and Alex's relationship, George's final move on Meredith ...
Sklep: Libristo.pl 79,10 zł
Literatura faktu
Opus Dei is the most controversial - and unknown - force in the Catholic Church.  Here, John L. Allen uncovers its real nature.  Accused of promoting a right-wing political agenda, of cult-like practices, and immortalized forever in the pages of Dan Brown's The Da Vinci Code, Opus Dei is the most notorious, most talked about - but least known - religious organization of our time.  Granted unlimited access to those within its ranks, and with an investigative eye intent on uncovering closely guarded secrets, John L. Allen finally separates the myths from the facts:  the actual use of the cilice; the reason men and women remain separate; the true extent of Opus Dei's funds.  Built around a wealth of interviews with the heads of Opus Dei in the Vatican and in centres around the world, comparing the attitudes of current members with those of highly critical members and outsiders, Opus Dei is a portrait of a remarkably powerful organization, both inside and outside the Church. One of the most mysterious and controversial religious forces today, and immortalized in Dan Brown
Sklep: Albertus.pl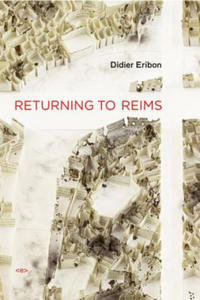 90,08 zł
Książki / Literatura obcojęzyczna
On thinking the matter through, it doesn't seem exaggerated to assert that my coming out of the sexual closet, my desire to assume and assert my homosexuality, coincided within my personal trajectory with my shutting myself up inside what I might call a class closet. -- from Returning to Reims After his father dies, Didier Eribon returns to his hometown of Reims and rediscovers the working-class world he had left behind thirty years earlier. For years, Eribon had thought of his father largely in terms of the latter's intolerable homophobia. Yet his father's death provokes new reflection on Eribon's part about how multiple processes of domination intersect in a given life and in a given culture. Eribon sets out to investigate his past, the history of his family, and the trajectory of his own life. His story weaves together a set of remarkable reflections on the class system in France, on the role of the educational system in class identity, on the way both class and sexual identities are formed, and on the recent history of French politics, including the shifting voting patterns of the working classes -- reflected by Eribon's own family, which changed its allegiance from the Communist Party to the National Front. Returning to Reims is a remarkable book of sociological inquiry and critical theory, of interest to anyone concerned with the direction of leftist politics in the contemporary world, and to anyone who has ever experienced how sexual identity can clash with other parts of one's identity. A huge success in France since its initial publication in 2009, Returning to Reims received enthusiastic reviews in Le Monde, Liberation, L'Express, Les Inrockuptibles, and elsewhere.
Sklep: Libristo.pl 81,79 zł
Książki / Literatura obcojęzyczna
Excerpt from Accounting in Theory and Practice The object with which this book has been prepared is to supply the demand for a text-book dealing with the principles of advanced book- keeping and accounting. Accounting is a progressive science, and has made great strides within recent years. The cumbrous forms and vain repetitions of the older systems of accounting are giving place to improved methods which have been evolved through the desire to have the maximum of result with the minimum expenditure of time and labour. Accountants, solicitors, investors, and all business men should be familiar with these improved methods. In fact, a knowledge of the science of accounting is of use to all who receive or pay away money, either for themselves or in trust for others, and there is no condition of life in which it will not be found of service. An attempt has been made to define as exactly as possible the various terms used in accounting. Many of these terms are employed somewhat loosely, and this is most undesirable in a science which is an important branch of applied mathematics. A large number of examples and exercises have been given, together with the solutions. These serve to elucidate the principles, and will at the same time enable the student to effectively test his progress. I have to record my indebtedness to my partner, Mr. W. A. Middleton, for the great care with which he has revised the proofs. About the Publisher Forgotten Books publishes hundreds of thousands of rare and classic books. Find more at www.forgottenbooks.com This book is a reproduction of an important historical work. Forgotten Books uses state-of-the-art technology to digitally reconstruct the work, preserving the original format whilst repairing imperfections present in the aged copy. In rare cases, an imperfection in the original, such as a blemish or missing page, may be replicated in our edition. We do, however, repair the vast majority of imperfections successfully; any imperfections that remain are intentionally left to preserve the state of such historical works.
Sklep: Libristo.pl
Sklepy zlokalizowane w miastach: Warszawa, Kraków, Łódź, Wrocław, Poznań, Gdańsk, Szczecin, Bydgoszcz, Lublin, Katowice
Szukaj w sklepach lub całym serwisie
2. Szukaj na wszystkich stronach serwisu
t1=0.049, t2=0, t3=0, t4=0.016, t=0.05