krainaksiazek a wife for johnny 20167478
- znaleziono 13 produktów w 2 sklepach 104,19 zł
Książki / Literatura obcojęzyczna
In December 2004, Gurpreet Kaur Bhatti's play Behzti rocked the world of theatre when it was cancelled after protests in Birmingham. The closure of the play sparked a vehement debate about offence and freedom of speech, as well as death threats for the playwright forcing her to go into hiding. Critically acclaimed and widely regarded as a fresh, original and provocative voice in British theatre, this volume gathers together her work to date. It is introduced by Jatinder Verma, Artistic Director of Tara Arts, London. Behzti -- Past her prime, Min joyfully spends her life caring for her sick, foul-mouthed mother, Balbir. Today, for the first time in years, they're off out. Mother and daughter head to the local Sikh Temple, but when Balbir encounters old friends, a past trauma rears its ugly head. Min and Balbir's illusions are about to be shattered as they become immersed in a world of desperate aspiration and dangerous deals. Behud -- In Behud, a playwright attempts to make sense of the past by visiting the darkest corners of her imaginations. Set amidst the theatre establishment, politicians and protesters, Behud is an imaginative response, inspired by the events surrounding Behzti, and the compelling story of an artist struggling to be heard. Besharam --- Two daughters, two mothers, one father, a cardboard cut-out and a foul-mouthed granny - a household at war with itself, and a family which will do anything to protect its' secrets. Behsharam (Shameless) follows second generation sisters, Jaspal and Sati, through the fantasies, dysfunctions and obsessions of their extraordinary extended family. Khandan -- What happens when the legacy of a father collides with the dreams of his son? Widow Jeeto Gill has spent her life working hard and making sacrifices for her children. Now she looks forward to going back to her land in the Punjab, eating saag and roti on a verandah and letting her tired eyes rest on green fields. Her son Pal seems to have it all but he's restless. He's got big plans for his Daddy's business and a taste for Johnny Walker Black Label. However his kind-hearted wife Liz has her own ideas about what's best. Meanwhile Pal's sharp-tongued sister Cookie runs the tackiest beauty salon in town and harbours a dark secret. When their cousin's destitute wife, Reema, arrives from back home, the Gills propose to take care of her. Little do they know that her arrival will change the course of their family's destiny forever.
Sklep: Libristo.pl 60,58 zł
Książki / Literatura obcojęzyczna
A side-splitting collection of over 5,000 jokes, from old favourites to computer and political jokes, shaggy dog stories, quotes, epitaphs, put downs, and much more, presented in an entertaining and stylish manner. We all enjoy jokes, but the problem is that some of us are better than others at remembering them. Help is at hand with this hugely entertaining selection of jokes that will entertain you when you read it and that will increase your supply of jokes for every occasion. The book, with its lively design, is organised thematically, giving a great variety of subjects and style of jokes. The themes covered include: * Silly stuff; * Knock! Knock! jokes; * Little Johnny in class (School jokes); * Take My Wife (Wife jokes); * Who Needs Men? (Feminist jokes); * Why Did The Chicken Cross The Road? (Animal jokes); * This Parrot Is No More! (Pet Jokes); * Doctor, Doctor!; * Pin-striped and Pompous (Businessman jokes); * This Working Life (Office jokes); * Gag-dot-com (Computer jokes); * At The Bar 1 (Lawyer jokes); * A Good Walk Spoiled (Golf jokes); * Press-ups & Jerks (Sport jokes); * At The Bar 2 (Bar-room jokes); * TV gems (Sitcom gags and one-liners); * The Missing Link (stupid people, blondes etc.); * Those Damn Yankees (including Redneck jokes); * Political Jokes (including Bush-isms); * An Englishman, an Irishman and a Scotsman; * Naughty jokes (a slightly risque section); * Laughed? I Nearly Died (Funeral & Pearly gates jokes); * Pass The Port! (After-dinner yarns); * The Last Word (Some great epitaphs and put-downs to finish.). Enjoy the jokes and share them generously.
Sklep: Libristo.pl 46,78 zł
Książki / Literatura obcojęzyczna
"Felicia's Journey" - A tightly woven psychological thriller by acclaimed writer William Trevor. "A book so brilliant that it compels you to stay up all night galloping through to the end". ("Daily Mail"). This title is winner of the Whitbread Book of the Year Award and Sunday Express Book of the Year Award. 'You're beautiful,' Johnny told her. So, full of hope, seventeen-year-old Felicia crosses the Irish Sea to England to find her lover and tell him she is pregnant. Desperately searching for Johnny in the bleak post-industrial Midlands, she is instead found by Mr Hilditch, a strange and lonely man, a collector and befriender of homeless young girls..."Immensely readable. The plot twist is both sinister and affecting, and so skilfully done that you remember why authors had plot twists in the first place". (Philip Hensher, "Guardian"). "A masterpiece. You read and are dazzled. It has one of the most memorable and convincing, most sinister and terrifying of characters created in the modern novel". (Susan Hill). Readers of "The Story of Lucy Gault" and "Love and Summer" will adore "Felicia's Journey". It will also be cherished by readers of Colm Toibin and William Boyd. William Trevor was born in Mitchelstown, County Cork. He has written eighteen novels and novellas, and hundreds of short stories, for which he has won a number of prizes including the Hawthornden Prize, the Yorkshire Post Book of the Year Award, the Whitbread Book of the Year Award and the David Cohen Literature Prize in recognition of a lifetime's literary achievement. In 2002 he was knighted for his services to literature. His books in Penguin are: "After Rain"; "A Bit on the Side"; "Bodily Secrets"; "Cheating at Canasta"; "The Children of Dynmouth"; "The Collected Stories" (Volumes One and Two); "Death in Summer"; "Felicia's Journey"; "Fools of Fortune"; "The Hill Bachelors"; "Love and Summer"; "The Mark-2 Wife"; "Selected Stories"; "The Story of Lucy Gault" and "Two Lives".
Sklep: Libristo.pl 67,71 zł
Książki / Literatura obcojęzyczna
When Johnny Arthur, perpetual debtor and fashionable London dandy, loses his family estate of Castle Orchard in a chess game to the mysterious Captain Allington, wounded veteran of Waterloo, the ripples spread far and wide. Then suddenly Johnny dies whilst fleeing his debtors, and his wife Caroline and their young son are left with nothing. As the new owner takes possession of Castle Orchard, Caroline and Captain Allington must somehow find a way to save the estate from the brink of disaster, and control their developing feelings for one another. Castle Orchard hauntingly evokes the Georgian period, combining rich historical detail with romance and drama.
Sklep: Libristo.pl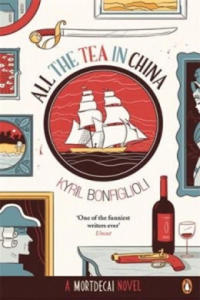 46,78 zł
Książki / Literatura obcojęzyczna
All the Tea in China - a Mortdecai novel by Kyril Bonfiglioli, soon to be a major film starring Johnny Depp. "One of the funniest writers ever". (Uncut). After committing a crime anyone but a close relative might forgive, Karli Mortdecai Van Cleef leaves Holland double-quick with his uncle's buckshot lodged firmly in the seat of his breeches. Discretion being the least-idiotic part of valour he decides to hide far away in London, among the tea shops and opium dens. On savouring these Eastern delicacies and knowing an opportunity when he sups upon one, young Karli throws in his lot with an opium clipper bound for China's high seas. Life on the ocean waves, however, is full of perils for an officer and his sensitive digestive tract: mountainous waves, an encounter with a malodorous slave ship, the captain's wife's pulse-racingly brief wardrobe, several hordes of pirates, mutiny, the ship's cook's fondness for curry - to name but a few. All the Tea in China is a swaggering, rip-snorting, buckler-swashing tale about one of the men who - for a reasonable fee - made Britain great. "For those who have learnt to relish his elegant, nasty thrillers, Bonfiglioli is a name hard to forget. This farrago represents a change from the thrillers - a good clean salt-water yarn for the decadent". (Irish Press). "Shows his customary inventive comedy and zest for language". (Sunday Times). "Bonfiglioli deserves better than cult status". (Independent). Kyril Bonfiglioli was born on the south coast of England in 1928 of an English mother and Italo-Slovene father. After studying at Oxford and five years in the army, he took up a career as an art dealer, like his eccentric creation Charlie Mortdecai. He lived in Oxford, Lancashire, Ireland and Jersey, where he died in 1985. He wrote four Charlie Mortdecai novels, and a fifth historical Mortdecai novel (about a distinguished ancestor).
Sklep: Libristo.pl 151,28 zł
Książki / Literatura obcojęzyczna
(This is the second, expanded edition.) Most people might, understandably, predict that the world's first porn star was a woman, but they would be wrong. John Curtis Holmes was just a simple country boy from Ohio when he moved to California in 1964. It was the infancy of hardcore, so in Holmes' wildest dreams, he could not have predicted the turbulent ride on which he had embarked by publicizing his private parts. With the fame he achieved by playing his most famous character - a gun toting detective named Johnny Wadd - came money. Holmes was pleased to spend it on his wife and mistresses, but soon was in over his head after he became addicted to cocaine. Unfortunately for Holmes, in the years that followed, his addiction led him into several desperate choices - including setting up a robbery at the home of Ed Nash, a powerful L.A. nightclub owner. The robbery resulted in one of the most gruesome, unsolved, multiple-murders in Hollywood history. Amazingly, before his untimely death in 1988, Holmes regained his momentum, remarried and rebuilt his life and career. However, the grave consequences of his addiction, his association with the Wonderland murders, and his AIDS-related death made him an infamous figure in pop culture. Digging past the stigmas, John Holmes: A Life Measured in Inches - the first biography about John C. Holmes - unearths the human being behind the penis and proves that there was more to him than could be measured in inches. This biography includes material from the authors' new interviews with: Laurie Holmes, Bill Amerson, Bob Chinn, Julia St. Vincent, Detective Tom Lange, Detective Frank Tomlinson, Paul Thomas, Ron Jeremy, Seka, Marilyn Chambers, Candida Royalle, Rhonda Jo Petty, Dr. Sharon Mitchell, Bill Margold, and many others! John Holmes: A Life Measured in Inches also includes 114 reviews of John's most notable feature films, 86 loops synopses, 3 photos sections with rare nudes, and a 21 page comprehensive filmography. "The tree of life represents the roots of man. The branches are the different directions a man can take, live or exist. When you're dead, those that you leave behind will put you in a part of that tree. It represents what was, what is and what will be. It's eternal." -- John Holmes
Sklep: Libristo.pl 22,50 zł
Powieści i opowiadania
Nevada is mostly a long stretch of desert you cross on the way to somewhere else. And with someone else, if you're lucky...because it's a scary place. Headed down Route 50 in the brutal summer heat are people who are never going to reach their destinations. Like the Jacksons, a professor and his wife going home to New York City; the Carvers, a Wentworth, Ohio, family bound for a vacation at Lake Tahoe; and aging literary lion Johnny Marinville, inventing a gonzo image for himself astride a 700-pound Harley.A dead cat nailed to a road sign heralds the little mining town of Desperation, a town that seems withered in the shade of a man-made mountain known as the China Pit. But it's worse than that, much worse. Regulating the traffic there is Collie Entragian, an outsize uniformed madman who considers himself the only law west of the Pecos. God forbid you should be missing a license plate or find yourself with a flat tire. There's something very wrong here, all right, and Entragian is only the surface of it. The secrets embedded in Desperation's landscape, and the evil that infects the town like some viral hot zone, are both awesome and terrifying. But as young David Carver seems to know - though it scares him nearly to death to realize it - so are the forces summoned to combat them.
Sklep: Albertus.pl 55,50 zł
Książki / Literatura obcojęzyczna
Emmy award-winning television star Regis Philbin has entertained millions of Americans every weekday morning for the past 28 years hosting, in various incarnations, the popular show "Live with Regis and Kelly". Referred to often as the hardest working man in television, he has rubbed elbows and egos with countless personalities. His innate curiosity and wit has enabled him to learn great life lessons from the most legendary and formidable of them. Now in a most unique memoir, Regis shares all that these experiences have taught him about achieving success and happiness-and about maintaining both for as long as he has! It is the ultimate gift to his fans. From an awkward first meeting with Jack Nicholson to early encounters with a young Ronald Reagan and a shy, unknown, 18-year-old Steven Spielberg, Regis reveals the many influences that have shaped his life philosophy and career. Recounted here are stories about chance meetings, interactions, and full-blown adventures with Bing Crosby, Donald Trump, Don Rickles, Dave Letterman, Dean Martin, Johnny Carson, Jack Paar, Frank Leahy, Ara Parseghian, Lou Holt, Joe DiMaggio, Jerry Seinfeld, Cary Grant, Bill Cosby, Walter Winchell, John Severino (his most notorious and life-changing boss), Bill Rankin, Kiegler Flake, George Clooney, George Steinbrenner, Charles Grodin, Howard Stern, and others. Of course, there are also chapters devoted to his co-stars of many years, Kelly Ripa and Kathie Lee Gifford, and one that is nothing less than a moving love letter to his wife of 41 years, Joy Philbin. Invaluable advice closes each chapter with the trademark gratitude and humility that has made Regis Philbin such a national treasure. Inspiring anecdotes, laugh-out-loud tales, and awkward celebrity moments make this so much more than a memoir-it truly is Regis' personal guide to living a positive life. Marked by same tongue-in-cheek humor and candor Regis has always displayed, this book will serve and endure as a reminder of why America has related to and loved this one-of-a-kind television legend for so many decades.
Sklep: Libristo.pl 135,27 zł
Książki / Literatura obcojęzyczna
Alex Call has been a hit recording artist and songwriter for over thirty years. His muse is legendary in the industry, and his songs have become musical icons of American pop culture. His expansive repertoire of Billboard Hot 100 hits includes: 867-5309/Jenny by Tommy Tutone Power of Love by Huey Lewis and the News Perfect World by Huey Lewis and the News Little Too Late by Pat Benatar Just Take My Heart by Mr. Big New Romeo by Southside Johnny and the Asbury Dukes Alex was lead singer in the San Francisco cult-fave Country-rock band Clover, along with Huey Lewis and John McFee. Clover was the band on Elvis Costello's first hit album, My Aim is True. Alex has been a recording artist for Arista Records, Mercury Records, and Fantasy Records. The video of his Arista single, "Just Another Saturday Night" graced the early days of MTV. His songs are featured in Movies and TV, and have served as branding for numerous national ad campaigns. 867-5309/Jenny continues to be a ubiquitous icon of the 80's ensconced at number four on VH1's Hits of the 80's. It has been featured on over forty compilation CD's with Power of Love close behind. In addition to writing music, lyrics, and fiction novels, Alex produces sessions, and performs as a solo act or with his band in cities across the US. He is a member of the Studer Group's (a healthcare company) speakers' bureau for his work with music and healthcare. Alex is an avid student of history, spirituality, and politics. He was strongly influenced early in life by the anthropologists who taught at Verde Valley School in Sedona, AZ. Alex is a fly fisherman, a baseball player, fan, and coach. A San Francisco native, Alex loves the wide-open spaces of the Southwest and the Rockies, and has lived and worked in London, Los Angeles, and Montana. Mr. Call currently resides in Nashville, Tennessee with his wife and son and is busy crafting his next novel.
Sklep: Libristo.pl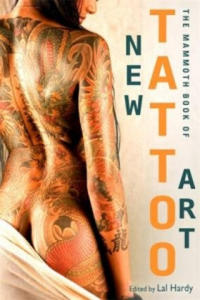 57,25 zł
Książki / Literatura obcojęzyczna
A fantastic, all-new, third volume of tattoo art - both tattoos and original artworks - showcasing the best recent work of the world's most outstanding tattoo artists. The format is compact, but contains over 600 full-colour photographs of the work of international tattoo art stars, including Frank Carter, Camila Rocha, Dan Smith and Horikazu (see full list of contributing artists below), representing outstanding value-for-money. Over the past 20 years, tattoos have emphatically entered the mainstream, perhaps most notably on the person of UK prime minister David Cameron's wife Samantha. Whether celebratory tattoos, local landmarks, weddings, gravestones, timepieces, song lyrics, club colours, the Olympic rings, something World Cup-related or even a flight of plaster ducks, more and more people are sporting tattoos. There are also ever more artists who have turned their hands to tattooing, and vice versa. Tattoo styles are changing, too, under the influence of other art forms as traditional methods of designing tattoos - using pencil, marker, ink and pain - are joined by computer-generated art and Photoshop creations. Practically unheard of a few decades ago, women with tattoos are on the rise, and there is also an ever-increasing number of female tattoo artists, a number of whose work is showcased in this book. Full list of contributing artists: Adam Machin, Amy Savage, Anthony Flemming, Camila Rocha, Chris Jones, Davee Blows, Eddie Stacey, Greg Orie, Ian Parkin, Jemma Jones, Kate Shaw, Leigh Oldcorn, Mauro Tampieri, MxM, Oddboy, PriZeMaN, Roxx, Yohann Bonvoisin, Adam Sargent, Andrea Furci, BJ Betts, Chase Tafoya, Claire Reid, David Corden, Emily Wood, Guen Douglas, Ian Saunders, John Anderton, Ken Patten, Luca Ortis, Michael Rose, Nick Skunx, Paul Johnson, Ren Shorney, Stefano C, Aimee Cornwell, Andrew McNally, Bong, Chelsea Shoneck, Crispy Lennox, Dean Taylor, Frank Carter, Hannah Wolf, Johnny Domus, KJT, Mat Lapping, Niki Norberg, Pete Oz, Richard Barclay, Steve Richardson, Akuma Shugi, Andy Engel, Cally Jo, Chris Crooks, Dan Smith, Dris Donnelly, Gari Henderson, Horikazu, Jammes, Jorge Becerra, Lauren Winzer, Matt Adamson, Miss Arianna, Pete the Thief, Rory Pickersgill, and Tom Flanagan.
Sklep: Libristo.pl 176,18 zł
Książki / Literatura obcojęzyczna
Source: Wikipedia. Commentary (films not included). Pages: 261. Chapters: Blue Velvet, Mulholland Drive, Powaqqatsi, The Straight Story, Un Chien Andalou, Naqoyqatsi, Donnie Darko, Meshes of the Afternoon, Alphaville, The Life and Death of 9413: a Hollywood Extra, A Movie, The Fall of the House of Usher, Dog Star Man, Pull My Daisy, Motion Painting No. 1, Last Year at Marienbad, Batman Dracula, Flushing Meadows, Stan Brakhage filmography, Fear and Loathing in Las Vegas, Out 1, Inland Empire, Koyaanisqatsi, Eraserhead, Dogville, Gummo, Dancer in the Dark, Forbidden Zone, The Phantom of Liberty, Man with a Movie Camera, The Pillow Book, Drawing Restraint 9, Naked Lunch, The Mirror, Daft Punk's Electroma, Boys in the Sand, The Draughtsman's Contract, Berlin: Symphony of a Metropolis, How I Won the War, Waking Life, Manderlay, Chelsea Girls, The Idiots, The Saddest Music in the World, Ballet Mécanique, Santa Sangre, The Cremaster Cycle, Symbiopsychotaxiplasm, Wavelength, El Topo, F for Fake, Hiroshima mon amour, I Am Cuba, Hitler: A Film from Germany, Celine and Julie Go Boating, TRIP - Remix Your Experience, Trash Humpers, La Chinoise, Lessons of Darkness, Teorema, That Obscure Object of Desire, The Tulse Luper Suitcases, The Falls, The Discreet Charm of the Bourgeoisie, Tale of Tales, Dillinger Is Dead, Mister Lonely, Ciao! Manhattan, People on Sunday, Prospero's Books, Neighbours, The Element of Crime, The Fifth Horseman is Fear, Tetsuo II: Body Hammer, Visitor Q, Vivre sa vie, Napoléon, Daniel - Der Zauberer, The Milky Way, Chronopolis, The Kingdom, Kuvaputki, Breaking the Waves, Fando y Lis, Histoire(s) du cinéma, Glass Lips, List of avant-garde films of the 2000s, Pierrot le fou, Reconstruction, Aria, Borderline, Szamanka, The Lollipop Generation, A Zed & Two Noughts, The Exterminating Angel, The Holy Mountain, Brand Upon the Brain!, Samson, The Wild Man of the Navidad, The Cook, the Thief, His Wife & Her Lover, Hail Mary, The Girlfriend Experience, Mr. Freedom, The Short Films of David Lynch, L'Age d'Or, The Zombie Diaries, Drowning by Numbers, The Face of Another, Pig, Europa, The Woman in the Dunes, Tetsuo: The Iron Man, Palindromes, Vase de Noces, Subconscious Cruelty, Wild 90, The Blood of a Poet, To Each His Own Cinema, Stroszek, The Dante Quartet, Tropical Malady, Saturn Returns, Industrial Symphony No. 1, Space Is the Place, Mothlight, Distant Journey, Japan Japan, W.R.: Mysteries of the Organism, Alila, An Occurrence at Owl Creek Bridge, Pistol Opera, List of avant-garde films of the 1990s, Innocence Unprotected, The Angelic Conversation, The Baby of Mâcon, Begotten, Songs, Jubilee, Number Two, Rabbits, Renaldo and Clara, King Lear, Timecode, Scorpio Rising, Window Water Baby Moving, Simon of the Desert, Week End, Epidemic, Now Hear This, Imitation of Christ, A Story about a Bad Dream, The Happiness of the Katakuris, Angel's Egg, My Winnipeg, The Seashell and the Clergyman, Cat's Cradle, Notre musique, Four Stars, Thigh Line Lyre Triangular, The Garden of Earthly Delights, We Are the Strange, The Boss of It All, Immoral Tales, Stereo, Made in U.S.A, Jeanne Dielman, 23 quai du Commerce, 1080 Bruxelles, Eye Myth, Native New Yorker, Rubber Johnny, Vanya on 42nd Street, Blissfully Yours, L'Absent, Black Moon, Kill by Inches, I... Dreaming, Vertical Features Remake, Codex Atanicus, The Five Obstructions, Maximum Shame, Mysterious Object at Noon, Pitfall, Masculine Feminine, Das Mirakel, Sauve qui peut, At Land, HWY: An American Pa...
Sklep: Libristo.pl 45,83 zł
Książki / Literatura obcojęzyczna
Enjoy Part 2 of the Historic Saga & Nautical Life-Journey Of Multihull Designer Jim Brown Embracing his role of "cockpit storyteller," Jim Brown continues sharing how "multihulls happened to him" so we'll have these tales for ourselves and future generations of multihullers In this second volume ... the Brown family "swallows the anchor" in the American South and suffers reverse culture shock. Sons Steven and Russell go on to build their own boats and sail to faraway places. Wife Jo Anna expands her career helping children with learning difficulties. Jim becomes a global "Johnny Appleseed" -- spreading his practical know-how knowledge of modern trimarans, catamarans and proas. And the Browns enjoys some spectacular multihull crusing experiences to boot. Travel with Jim as he helps indigenous peoples in Africa, the Philippines and the Pacific Islands create modern workboats to try and solve their economic challenges. Sail with him to exotic and beautiful locals ... from Canada to Cuba. And meet unforgettable (and sometimes downright incredible) sailors, adventurers, friends, indigenous peoples, various eklectic folks and assorted characters along the way. Truly remarkable tales from an amazing life among boats -- especially multihulls. After finishing certain portions of this book you'll probably find yourself saying, "Wow ... you're never gonna believe what I just read," to anybody who will listen! Jim Brown is easily one of the most celebrated figures in the 20th century's modern multihull movement. And after reading this first volume of this memoir, you'll feel like you've come to know the man in the same way you know a personal friend. Many memoirs are meant to embellish the "life work" of the author, which often means playing loose with the truth about the past, being selective about what "facts" to include (and which ones to bury) and producing an endless amount of "positive spin" meant to always put the writer in a positive light. Not so with this memoir. If anything, Jim Brown tries hard to separate facts from fiction, and offers a deeply personal account that includes notable mistakes (both career and personal) in the midst of many great moments throughout his life. For this reason alone, his memoir is destined to forever endear him to its readers ... including you!
Sklep: Libristo.pl 156,36 zł
Książki / Literatura obcojęzyczna
High Quality Content by WIKIPEDIA articles! Valerie June Carter Cash was a singer, songwriter, actress, comedian and author who was a member of the Carter Family and the second wife of singer Johnny Cash. She played the guitar, banjo, harmonica, and autoharp and acted in several films and television shows.June Carter Cash was born Valerie June Carter in Maces Spring, Virginia to Maybelle Carter and Ezra Carter. She was born into country music and performed with the Carter Family from the young age of ten, beginning in 1939. In March 1943, when the Carter Family trio stopped recording together after the WBT contract, Maybelle Carter, with encouragement from her husband Ezra, formed "Mother Maybelle & the Carter Sisters" with her daughters, Helen, Anita, and June
Sklep: Libristo.pl
Sklepy zlokalizowane w miastach: Warszawa, Kraków, Łódź, Wrocław, Poznań, Gdańsk, Szczecin, Bydgoszcz, Lublin, Katowice
Szukaj w sklepach lub całym serwisie
2. Szukaj na wszystkich stronach serwisu
t1=0.039, t2=0, t3=0, t4=0, t=0.039