krainaksiazek a witness testifies 20042059
- znaleziono 6 produktów w 2 sklepach 97,49 zł
Książki Obcojęzyczne>Angielskie>Health & personal development>Self-help & personal development>Popular psychology>Assertiveness, motiva...
0x00b09ed700000000
Sklep: Gigant.pl 73,52 zł
Książki / Literatura obcojęzyczna
THE MOUSETRAP: Cut off by snowdrifts, the owners of a new guest house encounter terror when one of their first visitors turns out to be a homicidal maniac! AND THEN THERE WERE NONE: Ten guilty people are lured to an island mansion where an unknown killer begins to exact revenge! APPOINTMENT WITH DEATH: The suffocating heat of an exotic Middle-Eastern setting provides a backdrop for murder! THE HOLLOW: Beneath their respectable surface, a set of friends realize that any one of them could be a murderer! WITNESS FOR THE PROSECUTION: A scheming wife testifies against her husband in a shocking murder trial! TOWARDS ZERO: A psychopathic killer stalks unsuspecting victims in a seaside house perched high on a cliff! VERDICT: Passion and love are the deadly ingredients in this thriller in which a murder causes an unexpected chain of events! GO BACK FOR MURDER: A young woman discovers that her late mother was imprisoned for murdering her father and is determined to prove her innocence!
Sklep: Libristo.pl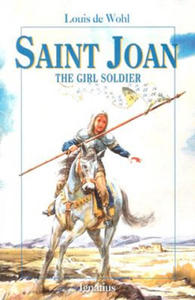 54,57 zł
Książki / Literatura obcojęzyczna
This volume in the Vision Books series of saints for youth combines a world famous Catholic novelist, Louis de Wohl, with one of the most thrilling and dramatic saint's lives in history, St. Joan of Arc. De Wohl uses his famed narrative skill to tell young people about the brave teenage French girl who had visions and led armies in battle, but also about how her entire life testifies to the amazing power of God's grace. It's all here: how Joan, a humble maiden in an insignificant town, was told by St. Michael the Archangel, St. Catherine, and St. Margaret to lead the French in battle against the English; how she finally succeeded in convincing the French of the truth of her mission; how she met with fantastic success but was betrayed, captured, and imprisoned; and finally, how she suffered through a politically motivated trial for heresy and was burned at the stake.Best of all, de Wohl is not interested solely in the external details of Joan's life, but in Joan's all-encompassing love for God, which informed all her courageous actions from beginning to end. You'll not only thrill to Joan's heroism; your heart will delight in her example of loving surrender to God's will. Every detail of her life will ring out to you as a joyful witness to the grace of God. Illustrated.
Sklep: Libristo.pl 125,45 zł
Książki / Literatura obcojęzyczna
The Judeo-Christian tradition testifies to a God that cries out, demanding that justice "roll down like waters, righteousness like an ever-flowing stream" (Amos 5:24). Christians agree that being advocates for justice is critical to the Christian witness. And yet one need not look widely to see that Christians disagree about what social justice entails. What does justice have to do with healthcare reform, illegal immigration, and same-sex marriage? Should Christians support tax policies that effectively require wealthy individuals to fund programs that benefit the poor? Does justice require that we acknowledge and address the inequalities borne out of histories of gender and ethnic exclusivity? Is the Christian vision distinct from non-Christian visions of social justice? Christians disagree over the proper answer to these questions. In short, Christians agree that justice is important but disagree about what a commitment to justice means. Christian Faith and Social Justice makes sense of the disagreements among Christians over the meaning of justice by bringing together five highly regarded Christian philosophers to introduce and defend rival perspectives on social justice in the Christian tradition. While it aspires to offer a lucid introduction to these theories, the purpose of this book is more than informative. It is purposefully dialogical and is structured so that contributors are able to model for the reader reasoned exchange among philosophers who disagree about the meaning of social justice. The hope is that the reader is left with a better understanding of range of perspectives in the Christian tradition about social justice.
Sklep: Libristo.pl 365,81 zł
Książki / Literatura obcojęzyczna
Accounting for Oneself is a major new study of the social order in early modern England, as viewed and articulated from the bottom up. Engaging with how people from across the social spectrum placed themselves within the social order, it pieces together the language of self-description deployed by over 13,500 witnesses in English courts when answering questions designed to assess their creditworthiness. Spanning the period between 1550 and 1728, and with a broad geographical coverage, this study explores how men and women accounted for their 'worth' and described what they did for a living at differing points in the life-cycle. A corrective to top-down, male-centric accounts of the social order penned by elite observers, the perspective from below testifies to an intricate hierarchy based on sophisticated forms of social reckoning that were articulated throughout the social scale. A culture of appraisal was central to the competitive processes whereby people judged their own and others' social positions. For the majority it was not land that was the yardstick of status but moveable property-the goods and chattels in people's possession ranging from livestock to linens, tools to trading goods, tables to tubs, clothes to cushions. Such items were repositories of wealth and the security for the credit on which the bulk of early modern exchange depended. Accounting for Oneself also sheds new light on women's relationship to property, on gendered divisions of labour, and on early modern understandings of work which were linked as much to having as to getting a living. The view from below was not unchanging, but bears witness to the profound impact of widening social inequality that opened up a chasm between the middle ranks and the labouring poor between the mid-sixteenth and mid-seventeenth centuries. As a result, not only was the social hierarchy distorted beyond recognition, from the later-seventeenth century there was also a gradual yet fundamental reworking of the criteria informing the calculus of esteem.
Sklep: Libristo.pl 99,24 zł
Książki / Literatura obcojęzyczna
Samar Yazbek was well known in her native Syria as a writer and a journalist but, in 2011, she fell foul of the Assad regime and was forced to flee. Since then, determined to bear witness to the suffering of her people, she bravely revisited her homeland by squeezing through a hole in the fence on the Turkish border. In The Crossing, she testifies to the appalling reality that is Syria today. From the first innocent demonstrations for democracy, through the beginnings of the Free Syrian Army, to the arrival of ISIS, she offers remarkable snapshots of soldiers, children, ordinary men and women simply trying to stay alive...Some of these stories are of hardship and brutality that is hard to bear, but she also gives testimony to touches of humanity along the way: how people live under the gaze of a sniper...how principled young men try to resist orders from their military superiors...how children cope in the bunkers...Yazbek's portraits of life in Syria are very real, her prose is luminous. The Crossing will undoubtedly become a classic: as both a historical document and a work of literature.
Sklep: Libristo.pl
Sklepy zlokalizowane w miastach: Warszawa, Kraków, Łódź, Wrocław, Poznań, Gdańsk, Szczecin, Bydgoszcz, Lublin, Katowice
Szukaj w sklepach lub całym serwisie
2. Szukaj na wszystkich stronach serwisu
t1=0.03, t2=0, t3=0, t4=0, t=0.03