krainaksiazek all because she trusted 20116771
- znaleziono 5 produktów w 1 sklepie 44,94 zł
Książki / Literatura obcojęzyczna
Francine Champion loves her life working as a mechanic at her uncle's Leicester garage. But when Eddie Taylor starts seeing her best friend, Stella, Frankie can't help feeling uneasy. Eddie's certainly charming, but Frankie can see he's a bad lot. She's shocked, then, when she finds out it's she, Frankie, that Eddie wants. Within days he's broken up her relationship with her steady boyfriend, ruined her friendship with Stella and started pursuing her so relentlessly that before she knows it, Frankie has agreed to marry Eddie. After a year the marriage is going well and Frankie can't think why she had doubts about her husband. But she should have trusted her first instincts, because Eddie is far more dangerous than she ever imagined...
Sklep: Libristo.pl 46,25 zł
Książki / Literatura obcojęzyczna
The girls respect their different viewpoints except for two issues: Chase Gallagher and Ryder West. Chase is the boy next door in love with Megan but she refuses to spend time with him, much to Bailey's disgust. Ryder is the boy Bailey met online and she's falling hard for him. Bailey knows practical Megan would never trust a boy online and so keeps Ryder a secret. When Meg eventually finds out why Bailey's s been blowing her off, she's is furious and does exactly what Bailey always feared - she proves Ryder cannot be trusted. Their feud quickly evolves into a no-holds-barred online battle with poor Chase caught in the middle. As for Ryder? Megan was right all along; he can't be trusted. Because he doesn't exist.
Sklep: Libristo.pl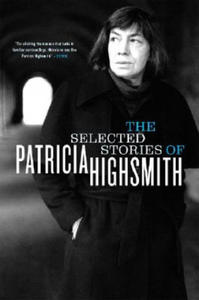 83,21 zł
Książki / Literatura obcojęzyczna
In a cruel twist of irony, Texas-born Patricia Highsmith (1921-1995) is being recognized only after her death for her inestimable genius in her native land. With the savage humor of Waugh and the macabre sensibility of Poe, she brought a distinctly contemporary acuteness to her prolific body of noir fiction. Including over 60 short stories written throughout her career, collected together for the first time, The Selected Stories reveals the stunning versatility and terrifying power of Highsmith's work. These stories highlight the remarkable range of Highsmith's powers her unique ability to quickly, almost imperceptibly, draw out the mystery and strangeness of her subject, which appears achingly ordinary to our naked eye. Whether writing about jaded wives or household pets, Highsmith continually upsets our expectations and presents a world frighteningly familiar to our own, where danger lurks around every turn. Stories from The Animal-Lovers Book of Beastly Murders portray, with incisive humor, the murderously competitive desires of our most trusted companions. In this viciously satirical reprise of Kafka, cats, dogs, and cockroaches are no longer necessary aspects of a happy home but actually have the power to destroy it. In the short sketches that make up the Little Tales of Misogyny, Highsmith rediscovers predictable female characters "The Dancer," "The Female Novelist," "The Prude" and, through scathing humor, invests them with uniquely destructive powers. As a writer, Highsmith was all too well aware of the stolid patriarchal conventions that ruled her day her publisher rejected her second book out of hand because of its homosexual content. She is not a polemicist, but, as stories like "Oona the Jolly Cave Woman" and "The Mobile Bed-Object" reveal, her bizarre, haunting fiction continually betrays the inadequacy of our conventional understanding of female character. Highsmith eventually moved away from these coolly satiric, darkly comic exercises, and in her later collections, The Black House, Slowly, Slowly in the Wind, and Mermaids on the Golf Course, she uses the warm familiarities of middle-class life the manicured lawns, the cozy uptown apartments, the local pubs as the backbone for her chilling portrayals. "The Black House," for instance, explores the small-town male camaraderie and the destructive secret it masks: in this world, the fact that everyone knows your name is more likely a curse than a blessing. In the title story of the final collection presented here, "Mermaids on a Golf-Course," a man's extraordinary brush with death endows his everyday desires with fantastically devastating consequences. In her later work, Highsmith adds a dimension of penetrating psychological insight, evoked most vividly in stories like "A Curious Suicide" and "The Stuff of Madness," where the precarious line between fantasy and reality is blurred and we experience the terrifying possibility of slipping between them. Great writers view the world askew, and in their art they reflect our world back to us, slightly distorted. The Selected Stories reveals Highsmith's deft and exacting style, her incisive satirical intelligence, and her faultless eye for depicting the inner tremblings of human character. Her world remains all the more frightening because we recognize it as our own.
Sklep: Libristo.pl 169,03 zł
Książki / Literatura obcojęzyczna
"People have told me that their lives have changed because of me. I take away from this the sense that I'm on the right track." "I believe you're here to live your life with passion. Otherwise, you're just traveling through the world blindly-and there's no point to that." "Oprah's on." It's the catchphrase that inspires millions around the world to tune in to one of the most trusted women in the history of television. Almost everyone follows Oprah's every move. One word about a book club selection sends an obscure first novel rocketing to the top of the bestseller list. Oprah Winfrey possesses what is arguably one of the world's most influential voices. Alive with her unique warmth and insight, Oprah Winfrey Speaks reveals the mystique of Oprah in her own words. Drawing on hundreds of sources, Janet Lowe provides an evocative, personal portrait. Here are Oprah's opinions on everything from childhood and overcoming adversity to dealing with fame and staying real. Oprah Winfrey Speaks highlights Oprah's abiding faith, no-nonsense business rules, generosity, and love as well as her 10 commandments for lifelong success. Oprah's lifetime theme has been personal transformation-she's constantly seeking, questioning, changing, and growing. This uplifting theme echoes throughout Oprah Winfrey Speaks. Here is just a hint of the wisdom you'll discover: "Just tell the truth. It'll save you every time." "Don't complain about what you don't have. Use what you've got. To do less than your best is a sin. Every single one of us has the power for greatness, because greatness is determined by service-to yourself and to others." "I am a woman in progress. I'm just trying like everyone else. I try to take every conflict, every experience and learn from it. All I know is that I can't be anybody else. And it's taken me a long time to realize that." "If you're angry, be angry and deal with it. Don't go eat a bag of Ruffles." "God blesses you better when you pray on your knees." The world listens when Oprah Winfrey Speaks Here's just a hint of the wisdom you'll find inside..."I am what I am because of my grandmother. My strength. My sense of reasoning. Everything. All that was set by the time I was six." "Luck is a matter of preparation meeting opportunity." "I always feel if you do right, right will follow." "You know the old clich-, 'a good man is hard to find'? Well, it's true. And the smarter you get, the harder they are to find." This book has not been prepared, approved, licensed, or endorsed by Oprah Winfrey, Harpo Productions, or by any entity that creates, produces, or broadcasts THE OPRAH WINFREY SHOW.
Sklep: Libristo.pl 39,90 zł
Książki / Literatura obcojęzyczna
Welcome to Paris, in 1633, where dragons menace the realm. Cardinal Richelieu, the most powerful and most feared man in France, is on his guard. He knows France is under threat, and that a secret society known as the Black Claw is conspiring against him from the heart of the greatest courts in Europe. They will strike from the shadows, and when they do the blow will be both terrible and deadly. To counter the threat, Richelieu has put his most trusted men into play: the Cardinal's Blades, led by Captain la Fargue. Six men and a woman, all of exceptional abilities and all ready to risk their lives on his command. They have saved France before, and the Cardinal is relying on them to do it again. So when la Fargue hears from a beautiful, infamous, deadly Italian spy claiming to have valuable information, he has to listen ...and when La Donna demands Cardinal Richelieu's protection before she will talk, la Fargue is even prepared to consider it. Because La Donna can name their enemy. It's a man as elusive as he is manipulative, as subtle as Richelieu himself, an exceptionally dangerous adversary: the Alchemist in the shadows ...
Sklep: Libristo.pl
Sklepy zlokalizowane w miastach: Warszawa, Kraków, Łódź, Wrocław, Poznań, Gdańsk, Szczecin, Bydgoszcz, Lublin, Katowice
Szukaj w sklepach lub całym serwisie
2. Szukaj na wszystkich stronach serwisu
t1=0.024, t2=0, t3=0, t4=0, t=0.024