krainaksiazek all my sisters secrets 20052313
- znaleziono 11 produktów w 3 sklepach 61,99 zł
Książki Obcojęzyczne>Angielskie>Fiction & related items>Modern & contemporary fiction (post c 1945)
From The Bestselling Author Of Summer At Shell Cottage And The Beach Cafe, A Tale Of What It Means To Be Protected And Saved By Those You Love.
Sklep: Gigant.pl 36,12 zł
Książki / Literatura obcojęzyczna
Sinead Moriarty's delicious tenth novel, The Secrets Sisters Keep, is the story of three sisters, three life-altering problems and one eternal truth: nobody knows you quite like a sister! Sinead's writing mixes the worldly wit of Jane Green with the down-to-earth warmth and insight of Marian Keyes and will remind people just how important their sisters - and their friends-who-are-like-sisters - are to them. The Devlin sisters rely on each other - but some things are just too painful to share, even when your sisters are your best friends...Mum-of-four Julie thought that if her family had more money, life would be easier. But now that they've inherited a fortune, her problems are only starting. Lawyer Louise is used to having life go exactly as she wants it to. So accepting that she cannot control everything in her world is beyond her. And former model Sophie can just about cope with getting older - that's until her ex-husband finds a younger model. All three women think that some battles are best fought alone. Maybe they need to think again...Praise for Sinead: "Moving, disarmingly honest and at times laugh-out-loud funny". (Sunday Times). "One of the brightest voices in modern women's fiction". (Bella). "Sinead Moriarty can bring readers from hilarity to heartbreak with great deftness". (Sunday Independent). "Touching, warm, funny and emotional. She has the gift of telling a very emotive story with grace and empathy". (Woman's Way). Sinead Moriarty lives with her family in Dublin. Her previous titles are: The Baby Trail; A Perfect Match; From Here to Maternity; In My Sister's Shoes; Keeping It In the Family (also titled Whose Life is it Anyway?); Pieces of My Heart; Me and My Sisters; This Child of Mine and Mad About You.
Sklep: Libristo.pl 43,88 zł
Książki / Literatura obcojęzyczna
From New York Times bestselling author Melissa Foster comes a new, sweet and sexy wedding romance, PROMISE MY LOVE, the follow-up novella to DESTINED FOR LOVE (The Bradens). Catch up with all of your favorite Bradens and enjoy Rex Braden and Jade Johnson's wedding."You can always rely on Melissa Foster to deliver a story that's fresh, emotional and entertaining. Make sure you have all night, because once you start you won't want to stop reading. Every book's a winner!" New York Times Bestselling Author Brenda NovakThis is a NOVELLA, not a full-length novel. READ THE FULL LOVE IN BLOOM SERIES: Characters from each sub-series appear in future books. SNOW SISTERS BOOK 1: Sisters in Love BOOK 2: Sisters in Bloom BOOK 3: Sisters in White THE BRADENS (Weston, CO) BOOK 4: Lovers at Heart (Treat & Max) BOOK 5: Destined for Love (Rex & Jade) BOOK 6: Friendship on Fire (Josh & Riley) BOOK 7: Sea of Love (Dane & Lacy) BOOK 8: Bursting with Love (Savannah & Jack) BOOK 9: Hearts at Play (Hugh & Bree) THE REMINGTONS BOOK 10: Game of Love (Dex) BOOK 11: Stroke of Love (Sage) BOOK 12: Flames of Love (Siena) BOOK 13: Slope of Love (Rush) BOOK 14: Read, Write, Love (Kurt) THE BRADENS (Trusty, CO) BOOK 15: Taken by Love (Luke) BOOK 16: Fated for Love (Wes) BOOK 17: Romancing My Love (Pierce) BOOK 18: Flirting with Love (Ross) BOOK 19: Dreaming of Love (Emily) BOOK 20: Crashing into Love (Jake) SEASIDE SUMMERS BOOK 21: Seaside Dreams (Bella) BOOK 22: Seaside Hearts (Jenna) BOOK 23: Seaside Sunsets (Jamie) BOOK 24: Seaside Secrets (Amy) THE BRADENS (Peaceful Harbor, MD) BOOK 25: Healed by Love (Nate) BOOK 26: Surrender My Love (Cole) More Coming Soon! REVIEWS "...love, loss, lies, grief, finding happiness in the face of adversity, romance, humor, bravery, hot hot hot sex scenes, marriages, births and totally awesome characters." --Supportive Business Moms, UK "Like Nora Roberts, Melissa Foster has captivated me with her fantastic, sexy, romantic stories." Kimberly Winning, avid reader"Sensual, sexy, and satisfying. A captivating blend of the dance between lust, love, and life." -- Bestselling author, Keri Nola ***ABOUT THE AUTHOR:Melissa Foster is a New York Times & USA Today bestselling and award-winning author. She writes contemporary romance, contemporary women's fiction, romantic suspense, thrillers, and historical fiction with emotionally compelling characters that stay with you long after you turn the last page. Melissa also co-writes the Love on Rockwell Island series with Bella Andre. Her books have been recommended by USA Today's book blog, Hagerstown Magazine, The Patriot, and several other print venues. She is the founder of the World Literary Café. When she's not writing, Melissa helps authors navigate the publishing industry through her author training programs on Fostering Success. Melissa
Sklep: Libristo.pl 49,35 zł
Książki & Multimedia > Muzyka
Lista utworów - Płyta 1 1. Maria Magdalena (Single Version) 2. In The Heat Of The Night (Single Version) 3. Little Girl 4. Sisters And Brothers 5. Innocent Love (Single Version) 6. Hi! Hi! Hi! (Single Version) 7. Loreen 8. Midnight Man (Single Version) 9. Everlasting Love 10. Stop For A Minute (Single Version) 11. Heaven Can Wait (Single Version) 12. Secret Land (Single Version) 13. Celebrate Your Life 14. We'll Be Together (Single Remix) 15. Around My Heart (Single Version) 16. Hiroshima (Single Version) 17. (Life May Be) A Big Insanity 18. One More Night (Single Version) 19. Lovelight In Your Eyes 20. Johnny Wanna Live (Single Remix) Płyta CD 2 1. Don't Be Aggressive (Radio Edit) 2. I Need Love (Radio Edit) 3. Steady Me 4. Mirrored In Your Eyes 5. Maria Magdalena '93 6. Nights In White Satin (Radio Edit) 7. Won't Run Away 8. Secret Land '99 (Ultra Violet Radio Edit) 9. Forever 10. Such A Shame 11. Forgive Me (Radio Edit) 12. I Close My Eyes 13. Secrets Of Love (with DJ Bobo) 14. The Way I Am 15. What Is It About Me (Radio Edit) 16. All You Zombies 17. In A Heartbeat 18. The Night Is Still Young (feat. Thomas Anders) 19. What If 20. Tete A Tete Nazwa - Platinum Collection Autor - Sandra Wydawca - Universal Music Kod EAN - 5099945735325 Rok wydania - 2009 Nośnik - Płyta CD Ilość elementów - 2 Podatek VAT - 23% Premiera - 2009-11-16
Sklep: InBook.pl 140,35 zł
Książki / Literatura obcojęzyczna
Source: Wikipedia. Pages: 137. Chapters: Devo, Tommy James and the Shondells, Glass Harp, The Isley Brothers, All-Ohio State Fair Youth Choir, Relient K, The National, Sanctus Real, Rascal Flatts, Midnight Syndicate, Bone Thugs-n-Harmony, The Black Keys, The Choir, House of Heroes, Moth, The McGuire Sisters, Ohio Express, All Saved Freak Band, Sun, July for Kings, Heatwave, Mills Brothers, Earwig, Lakeside, Columbus Symphony, Attack Attack!, Wild Cherry, The O'Jays, Beavercreek Band, Soledad Brothers, LeVert, Goodwen, Zapp, Rhythm X, Miss May I, McGuffey Lane, Carpe Diem String Quartet, Before Their Eyes, Hit the Lights, Blakroc, Look Afraid, Brainiac, Heartless Bastards, Foxy Shazam, The Six Parts Seven, Over the Rhine, The Waitresses, The Deele, Ruby & the Romantics, Oberlin Steel, Switched, The Greenhornes, One Life Crew, Watershed, Yankee Grey, 500 Miles to Memphis, The Human Beinz, Inhale Exhale, Toxic Reasons, Radio Moscow, Gil Mantera's Party Dream, Necros, Integrity, Rubber City Rebels, Frazier River, Karate Coyote, Maidens IV, Johnny and the Hurricanes, Staple, The Music Explosion, The Rarely Herd, New Bomb Turks, Scrawl, Otis Williams and the Charms, Ellison, Forever Oeuvre, Sleepers Awake, The Wolverines, The Black Swans, Defiance, Ohio, Blue Ash, Circus Devils, Bone Brothers, Cadaver Dogs, Times New Viking, The Starfires, Lone Raven, Mom's Apple Pie, Frickin' A, Pretty Balanced, Aloha, Widdlesworth, Ass Ponys, We Are the Fury, All the Day Holiday, Swearing at Motorists, Columbus Philharmonic Orchestra, The Poni-Tails, 0DFx, Skeletons, Gaunt, Two Cow Garage, Pomegranates, Brandtson, New Hollow, Romance of Young Tigers, Thee Shams, Ringworm, The Mice, Southeast Engine, Psychedelic Horseshit, If These Trees Could Talk, Jaded Era, Men at Large, Penny and the Quarters, Chi-Pig, Royal Crescent Mob, My Dad Is Dead, Hammer Damage, Limmie & the Family Cooking, The Stereos, Fatty Koo, The Sun, Pay the Girl, Gypsy Parade, Brainchild, Bitch Magnet, The Secrets, Abdullah, Youngstown, Downplay, The Casinos, The Hesitations, Monk, Golden, Canton Symphony Orchestra, Dragons of Zynth, Oberlin String Quartet, Gary and the Hornets, No Tagbacks, The Naked Skinnies, Airport 5, Akron Symphony Orchestra, The Toll. Excerpt: The All-Ohio State Fair Youth Choir (known as the AOSFYC or the All-Ohio Youth Choir) is a singing organization of high school students that meets every summer five days prior to the opening of the Ohio State Fair and performs as entertainment for the duration of the fair. Dubbed in 1965 as "Ohio's Singing Ambassadors of Goodwill" by Governor James A. Rhodes, the group is composed of singers from many of Ohio's 88 counties. The group also meets in the winter during a "Winter Pops Concert" in which the Coshocton Community Choir hosts the young singers in a reunion concert. The All-Ohio Youth Choir was founded in 1963 by Glenville D. Thomas. He created the group after directing the Greater Zanesville Youth Choir from 1959-1962 and using that group as a basis for the first All-Ohio Youth Choir, which performed for the first time at the 1963 Ohio State Fair. This gave high school vocalists the opportunity to share a musical experience that rivals that of the All-Ohio State Fair Band. Assembling for the first time, the All-Ohio Youth Choir performed at their first Ohio State Fair in 1963. Performing without audio assistance, the choir, through the formulative years of the 60's, comprised 325 voices from all 88 counties of Ohio. Follo...
Sklep: Libristo.pl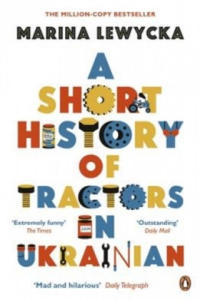 46,57 zł
Książki / Literatura obcojęzyczna
"A Short History of Tractors in Ukrainian" is bestselling author Marina Lewycka's hilarious and award winning debut novel. 'Two years after my mother died, my father fell in love with a glamorous blonde Ukrainian divorcee. He was eighty-four and she was thirty-six. She exploded into our lives like a fluffy pink grenade, churning up the murky water, bringing to the surface a sludge of sloughed-off memories, giving the family ghosts a kick up the backside.' Sisters Vera and Nadezhda must aside a lifetime of feuding to save their emigre engineer father from voluptuous gold-digger Valentina. With her proclivity for green satin underwear and boil-in-the-bag cuisine, she will stop at nothing in her pursuit of Western wealth. But the sisters' campaign to oust Valentina unearths family secrets, uncovers fifty years of Europe's darkest history and sends them back to roots they'd much rather forget..."It's rare to find a first novel that gets so much right...Lewycka is a seriously talented comic writer". ("Time Out"). "Hugely enjoyable...yields a golden harvest of family truths". ("Daily Telegraph"). "Delightful, funny, touching". ("Spectator"). Bestselling author Marina Lewkyca has received great critical acclaim since the publication of her hilarious first novel "A Short History of Tractors in Ukrainian" in 2005, which was the winner of the Bollinger Everyman Prize for Comic Fiction 2005, winner of the Saga Award for Wit 2005, shortlisted for the Orange Prize for Fiction 2005 and longlisted for the Booker prize 2005. Her other humorous novels "Two Caravans" (published as Strawberry Fields in the USA and Canada), "We Are All Made of Glue" and "Various Pets Alive and Dead" are also available from Penguin.
Sklep: Libristo.pl
50,99 zł
Muzyka>Pop
1. T. Rex - Metal Guru 2. Baccara - Yes Sir I Can Boogie 3. Emotions - Best Of My Love 4. Isley Brothers - Harvest For The World 5. Bay City Rollers - Bye Bye Baby 6. Mott The Hoople - Roll Away The Stone 7. Odyssey - Native New Yorker 8. Tammy Wynette - Stand By Your Man 9. Heatwave - Boogie Nights 10. Boney M. - Rivers Of Babylon 11. Edison Lighthouse - Love Grows 12. Linda Lewis - Baby I'm Yours 13. Earth, Wind & Fire - September 14. Knight & Pips - Midnight Train To Georgia 15. The Trammps - Hold Back The Night 16. David Essex - Gonna Make You A Star 17. Leo Sayer - Moonlighting 18. Sweet - Blockbuster 19. Labelle - Lady Marmalade 20. Billy Ocean - Love Really Hurts Without You 101. David Essex - Hold Me Close 102. Earth, Wind & Fire - Let's Groove 103. Mott The Hoople - All The Young Dudes 104. The Jacksons - Shake Your Body 105. Baccara - Sorry I'm A Lady 106. Hues Corporation - Rock The Boat 107. Dead End Kids - Have I The Right 108. Knight & Pips - Baby Don't Change Your Mind 109. Andrea True Connection - More More More 110. The Dooleys - Love Of My Life 111. Tina Charles - I Love To Love 112. Dr Hook - Sylvia's Mother 113. Billy Ocean - Red Light Spells Danger 114. Esther Philips - What A Difference A Day Makes 115. Johnny Nash - Tears On My Pillow 116. Delfonics - La-la Means I Love You 117. Eruption - One Way Ticket 118. New Seekers - I Get A Little Sentimental Over Yo 119. First Choice - Armed And Extremely Dangerous 120. Melvin & Blue Notes - The Love I Lost 201. Drifters - Kissin' In The Back Row Of The Movies 202. Evelyn Champagne King - Shame 203. The Isley Brothers - That Lady 204. Eruption - I Can't Stand The Rain 205. Bay City Rollers - Give A Little Love 206. The Dooleys - Wanted 207. New Seekers - You Won't Find Another Fool Like M 208. Dan Hartman - Instant Replay 209. Heatwave - Mind Blowing Decisions 210. Johnny Nash - There Are More Questions Than Answ 211. Dawn - Tie A Yellow Ribbon Round The Ole Oak Tre 212. Billy Swan - I Can Help 213. Boney M. - Rasputin 214. O'jays - Love Train 215. Colin Blunstone - Say You Don't Mind 216. Middle Of The Road - Chirpy Chirpy Cheep Cheep 217. Showaddywaddy - I Wonder Why 218. Pointer Sisters - Fire 219. Christie - Yellow River 220. Sailor - Girls Girls Girls 301. Drifters - There Goes My First Love 302. Bill Withers - Lovely Day 303. Sailor - Glass Of Champagne 304. Tina Charles - Dance Little Lady Dance 305. Chas & Dave - Gertcha 306. Tammy Wynette - D.i.v.o.r.c.e 307. Delfonics - Ready Or Not Here I Come 308. Barry Blue - Do You Wanna Dance 309. Sutherland Brothers & Quiver - Arms Of Mary 310. Trammps - Zing Went The Strings Of My Heart 311. Three Degrees - When Will I See You Again 312. Perry Como - And I Love You So 313. Sweet - Co-co 314. Jim Croce - Time In A Bottle 315. Middle Of The Road - Tweedle Dee Tweedle Dum 316. Showaddywaddy - Hey Rock And Roll 317. Average White Band - Pick Up The Pieces 318. Wild Cherry - Play That Funky Music 319. Mathis & Williams - Too Much, Too Little, Too La 320. T. Rex - Telegram Sam 401. Deniece Williams - Free 402. Three Degrees - The Runner 403. Sutherland Brothers & Quiver - Secrets 404. Christie - San Bernardino 405. Billy Paul - Me & Mrs Jones 406. Redbone - Witch Queen Of New Orleans 407. Barry Blue - Dancin' (On A Saturday Night) 408. Hello - New York Groove 409. The Glitter Band - Goodbye My Love 410. Kursaal Flyers - Little Does She Know 411. Chas & Dave - The Sideboard Song 412. Lynn Anderson - Rose Garden 413. Melba Moore - This Is It 414. Raydio - Jack And Jill 415. Leo Sayer - One Man Band 416. Perry Como - For The Good Times 417. First Choice - Smarty Pants 418. Boz Scaggs - What Can I Say 419. Linda Lewis - It's In His Kiss 420. Dawn - Knock Three Times
Sklep: Gigant.pl 47,19 zł
Muzyka>Rhythm & Blues / Soul
1. Warwick, Dionne - Don T Make Me Over 2. Jackson, Chuck - The Breaking Point 3. Mcdaniels, Gene - Tower Of Strength 4. Shapiro, Helen - Keep Away From Other Girls 5. Tino, Babs - Forgive Me 6. Hunt, Tommy - I Just Don T Know What To Do With My 7. Pitney, Gene - Only Love Can Break A Heart 8. Holliday, Michael - The Story Of My Life 9. James, Sonny - Dream Big 10. Vincent, Gene - Crazy Times 11. Gibson, Don - Sea Of Heartbreak 12. Five Blobs, The - The Blob 13. Shannon, Del - The Answer To Everything 14. Turbans, The - Three Friends (Two Lovers) 15. Shirelles, The - Baby It S You 16. Drifters, The - Mexican Divorce 17. Robbins, Marty - Sittin In A Tree House 18. Gracie, Charlie - I Looked For You 19. Warwick, Dionne - Wishing & Hoping 20. Como, Perry - Magic Moments 21. Mathis, Johnny - Warm & Tender 22. Radcliffe, Jimmy - Long After Tonight Is All Over 23. Vee, Bobby - Anonymous Phone Call 24. Avons, The - We Re Only Young Once 25. Four Coins, The - The Miracle Of St. Marie 26. Lawrence, Steve - Loving Is A Way Of Living 27. James, Etta - Waitin For Charlie (To Come Home) 28. Sands, Tommy - Love In A Goldfish Bowl 29. Whiting, Margaret - Hot Spell 30. Yuro, Timi - The Love Of A Boy 101. Butler, Jerry - Make It Easy On Yourself 102. Velasco, VI - That S Not The Answer 103. Russels, The - Wastin Away For You 104. Lynne, Gloria - (You Don T Have To Be)a Tower Of S 105. Jackson, Chuck - Any Day Now (My Wild, Beautiful B 106. Dobkins,carl Jr. - My Heart Is An Open Book 107. Loren, Sophia - Donne-moi-ma Chance (Too Late To W 108. Warwick, Dionne - This Empty Place 109. Drifters, The - Loneliness Or Happiness 110. Richard, Cliff - (It S) Wonderful To Be Young 111. Morgan, Jane - With Open Arms 112. Clark, Dee - You Re Telling Our Secrets 113. Dietrich, Marlene - Sag Mir Wo De Blumen Sind 114. Powers, Joey - Don T Envy Me 115. Van Dyke, Dick - Three Wheels On My Wagon 116. Griffin, Merv - Along Came Joe 117. Jones, Jack - Dreamin All The Time 118. Sommers,joanie - Johnny Get Angry 119. Four Aces, The - Paradise Island 120. Lambert, Gloria - Moon Man 121. Torme, Mel - These Desperate Hours 122. Eligibles, The - Faker, Faker 123. Radcliffe, Jimmy - (There Goes) The Forgotten Man 124. Shepherd Sisters, The - Deeply 125. Exotics, The - Manpower 126. Clinton, Buddy - Take Me To Your Ladder (I Ll See 127. Carr, Cathy - Wild Honey 128. Bacharach, Burt - Rosanne 129. Hamilton, George - Errand Of Mercy 130. Warwick, Dionne - I Smiled Yesterday
Sklep: Gigant.pl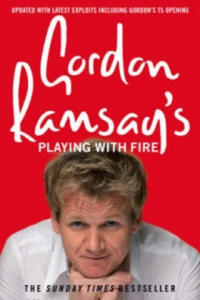 51,64 zł
Książki / Literatura obcojęzyczna
The bestselling follow-up to Humble Pie, now in paperback. When he was struggling to get his first restaurant in the black, Gordon Ramsay never imagined he'd be famous for a TV show about how to run profitable eateries, or that he'd be head of a business empire. But he is and he did. Here's how. "In the beginning there was nothing. Not a sausage - penniless, broke, fucking nothing - and although, at a certain age, that didn't matter hugely, there came a time when hand-me-downs, cast-offs and football boots of odd sizes all pointed to a problem that seemed to have afflicted me, my mum, my sisters, Ronnie and the whole lot of us. It was as though we had been dealt the 'all-time dysfunctional' poker hand. I wish I could say that, from this point on, the penny dropped and I decided to do something about it, but it wasn't like that. It would take years before the lessons of life, business and money began to click into place - before, as they say, I had a pot to piss in. This is the story of how those lessons were learned." This is Gordon Ramsay at his raw, rugged best. PLAYING WITH FIRE is the amazing story of Gordon's journey from sous-chef to superstar. In his no-holds-barred style, Gordon shares his passion for risk and adventure and his hard-won success secrets.
Sklep: Libristo.pl 36,12 zł
Książki / Literatura obcojęzyczna
"Sundae Girl" by Cathy Cassidy is a gorgeous, unputdownable novel for girls aged 9+. 'Don't get me wrong, I love my family - but Mum is forty-four going on fourteen...' Jude's family are crazy, quirky, bizarre ...her mum brings her nothing but trouble and her dad thinks he's Elvis! All she wants is a hassle-free life - but it's not easy when she's chasing a trail of broken promises. Nothing seems to go Jude's way, until she realizes the floppy-haired boy from school could be her knight on shining Rollerblades. And that sometimes, when everything turns sour, only something sweet can make it OK...Will shy girl Jude ever share her secrets? "Touching, tender and unforgettable". ("Guardian"). "Cassidy's characters have real heart". ("Sunday Telegraph"). "Cathy Cassidy ...is way better than Jacqueline Wilson". (Courtney, aged 10). It includes delicious recipes, character quizzes and more! Cathy Cassidy wrote her first picture book for her little brother when she was eight or nine and has been writing fabulous stories ever since. Cathy is the bestselling author of "Dizzy", "Driftwood", "Indigo Blue", "Scarlett", "Sundae Girl", "Lucky Star", "Gingersnaps" and "Angel Cake". "The Chocolate Box Girls" is a sumptuous series starring sassy sisters, super-cool boys and one of Cathy's biggest loves - chocolate. Cathy lives in Scotland with her family and of all the jobs she's had, writing has to be the best - it's the perfect excuse to daydream, after all.
Sklep: Libristo.pl 39,99 zł
Muzyka>Pop
1. Maria Magdalena (Single Version) 2. In The Heat Of The Night (Single Version) 3. Little Girl 4. Sisters & Brothers 5. Innocent Love (Single Version) 6. Hi! Hi! Hi! (Single Version) 7. Loreen 8. Midnight Man (Single Version) 9. Everlasting Love 10. Stop For A Minute (Single Version) 11. Heaven Can Wait (Single Version) 12. Secret Land (Single Version) 13. Celebrate Your Life 14. We'll Be Together (Single Remix) 15. Around My Heart (Single Version) 16. Hiroshima (Single Version) 17. (Life May Be) A Big Insanity 18. One More Night (Single Version) 19. Lovelight In Your Eyes 20. Johnny Wanna Live (Single Remix) 101. Don't Be Aggressive (Radio Edit) 102. I Need Love (Radio Edit) 103. Steady Me 104. Mirrored In Your Eyes 105. Maria Magdalena '93 106. Nights In White Satin (Radio Edit) 107. Won't Run Away 108. Secret Land '99 (Ultra Violet Radio Edit) 109. Forever 110. Such A Shame 111. Forgive Me (Radio Edit) 112. I Close My Eyes 113. Secrets Of Love 114. The Way I Am 115. What Is It About Me (Radio Edit) 116. All You Zombies 117. In A Heartbeat 118. The Night Is Still Young 119. What If 120. Tete No. Tete 201. Maria Magdalena (Extended Version) 202. In The Heat Of The Night (Extended Version) 203. Little Girl (Extended Version) 204. Innocent Love (Extended Version) 205. Hi! Hi! Hi! (Extended Version) 206. Midnight Man (Extended Version) 207. Everlasting Love (Extended Version) 208. Stop For A Minute (Extended Version) 209. Heaven Can Wait (Extended Version) 210. Secret Land (Reverse Mix) 211. Everlasting Love (Pwl 12? Remix;bonus Track)
Sklep: Gigant.pl
Sklepy zlokalizowane w miastach: Warszawa, Kraków, Łódź, Wrocław, Poznań, Gdańsk, Szczecin, Bydgoszcz, Lublin, Katowice
Szukaj w sklepach lub całym serwisie
2. Szukaj na wszystkich stronach serwisu
t1=0.041, t2=0, t3=0, t4=0, t=0.041