krainaksiazek all points radiant 20043288
- znaleziono 3 produkty w 2 sklepach 86,09 zł
Książki / Literatura obcojęzyczna
Automatic Wealth III: The Attractor Factor - Including:The Power of Your Subconscious Mind, How to Attract Money by Joseph Murphy,The Law of Attraction AND Feeling Is The Secret The Power of Your Subconscious Mind by Dr. Joseph Murphy I have seen miracles happen to men and women in all walks of life all over the world. Miracles will happen to you, too-when you begin using the magic power of your subconscious mind. This book is designed to teach you that your habitual thinking and imagery mold, fashion, and create your destiny; for as a man thinketh in his subconscious mind, so is he. Why is one man sad and another man happy? Why is one man joyous and prosperous and another man poor and miserable? Why is one man fearful and anxious and another full of faith and confidence? Why does one man have a beautiful, luxurious home while another man lives out a meager existence in a slum? Why is one man a great success and another an abject failure? Why is one speaker outstanding and immensely popular and another mediocre and unpopular? Why is one man a genius in his work or profession while the other man toils and moils all his life without doing or accomplishing anything worthwhile? Why is one man healed of a so-called incurable disease and another isn't? Why is it so many good, kind religious people suffer the tortures of the damned in their mind and body? Why is it many immoral and irreligious people succeed and prosper and enjoy radiant health? Why is one woman happily married and her sister very unhappy and frustrated? Is there an answer to these questions in the workings of your conscious and subconscious minds? There most certainly is. It is for the express purpose of answering and clarifying the above questions and many others of a similar nature that motivated me to write this book. How to Attract Money by Dr. Joseph Murphy It is your right to be rich. You are here to lead the abundant life, and to be happy, radiant, and free. You should, therefore, have all the money you need to lead a full, happy, prosperous life. There is no virtue in poverty; the latter is a mental disease, and it should be abolished from the face of the earth. You are here to grow, expand, and unfold - spiritually, mentally, and materially. You have the inalienable right to fully develop and express yourself along all lines. You should surround yourself with beauty and luxury. Thought Vibration or the Law of Attraction in the Thought World by William Walker Atkinson In this New Thought classic, Atkinson looks at the law of attraction in the thought world. He points out the similarities between the law of gravitation and the mental law of attraction. He explains that thought vibrations are as real as those manifesting as light, heat, magnetism and electricity. The difference is in the vibratory rate which also explains the fact that thought vibrations cannot usually be perceived by our 5 senses. Feeling Is The Secret by Neville THIS book is concerned with the art of realizing your desire. It gives you an account of the mechanism used in the production of the visible world. It is a small book but not slight.There is a treasure in it, a clearly defined road to the realization of your dreams.
Sklep: Libristo.pl 104,99 zł
Muzyka>Klasyczna
1. Ouverture 2. Chorus Asiates Flush'd With Conquest, Fir'd By Mithra 3. Recitative Alexander Thus Far, Ye Glorious Partners Of The War 4. Air Jonathan Great Author Of This Harmony 5. Flourish Of Trumpets 6. Recitative Ptolomee And Thus Let Happy Egypt's King 7. Air Ptolomee Thrice Happy The Monarch, Whom Nations Contend 8. Recitative Cleopatra Congratulation To Our Father's Friend 9. Air Cleopatra Hark! Hark! He Strikes The Golden Lyre 10. Recitative Alexander Be It My Chief Ambition There To Rise 11. Air Alexander Fair Virtue Shall Charm Me 12. Chorus Asiates Ye Happy Nations Round 13. Recitative Alexander My Jonathan 14. Air Alexander Oh, What Resistless Charms Are Giv'n 15. Air Cleopatra Subtle Love, With Fancy Viewing 16. Recitative Cleopatra Aspasia, I Know Not What To Call 17. Air Cleopatra How Happy Should We Mortals Prove 18. Recitative Aspasia Check Not The Pleasing Accents Of Thy Tongue 19. Air Aspasia So Shall The Sweet Attractive Smile 20. Recitative Cleopatra How Blissful State! 21. Duet Cleopatpa / Aspasia O What Pleasures, Past Expressing 22. Recitative Jonathan Why Hangs This Heavy Gloom Upon The Brow 23. Air Alexander Heroes May Boast Their Mighty Deeds 24. Recitative Jonathan Ye Sons Of Judah, With High Festival 25. Air Jonathan Great God, From Whom All Blessings Spring 26. Air Alexander Kind Hope, Thou Universal Friend 27. Recitative Jonathan Long, Long And Happy Live The King! 28. Air Alexander O Mithra, With Thy Brightest Beams 29. Recitative Sycophant Courtier Stay, My Dread Sovereign 30. Air Alexander Mighty Love Now Calls To Arm 31. Air Jonathan Hateful Man! Thy Sland'rous Tongue 101. Chorus Israelites O Calumny, On Virtue Waiting 102. Recitative Cleopatra Ah! Whence These Dire Forebodings Of The Mind? 103. Air Cleopatra Tossed From Thought To Thought I Rove 104. Recitative Aspasia Give To The Winds, Fair Princess, These Vain Doubts 105. Air Aspasia Love, Glory, Ambition, Whate'er Can Inspire 106. Recitative Ptolomee Thus Far My Wishes Thrive 107. Air Ptolomee Virtue, Thou Ideal Name 108. Accompagnato Jonathan Ye Happy People, With Loud Accents Speak 109. Soli / Chorus Triumph Hymen In The Pair 110. Recitative Alexander Glad Time, At Length, Hath Reach'd The Happy Point 111. Duet Alexander / Cleopatra Hail Wedded Love, Mysterious Law! 112. Chorus Asiates Hymen, Fair Urania's Son 113. Sinfonia 114. Recitative Cleopatratis True, Instinctive Nature Seldom Points 115. Air Cleopatra Here Amid The Shady Woods 116. Recitative Alexander Ah! Was It Not My Cleopatra's Voice? 117. Air Alexander Pow'rful Guardians Of All Nature 118. Recitative Jonathan Treach'ry, O King, Unheard Of Treachery 119. Air Alexander Fury, With Red Sparkling Eyes 120. Recitative Aspasia Gods! Can There Be A More Afflicting Sight 121. Air Aspasia Strange Reverse Of Human Fate 122. Recitative Jonathan May He Return With Laurel'd Victory 123. Air Jonathan To God Who Made The Radiant Sun 124. Chorus Israelites Sun, Moon, And Stars, And All Ye Host Of Heav'n 125. Recitative Ptolomee Yes He Was False, My Daughter, False To You 126. Accompagnato Ptolomee Ungrateful Child, By Ev'ry Sacred Pow'r 127. Air Ptolomee O Sword, And Thou, All-daring Hand 128. Accompagnato Cleopatra Shall Cleopatra Ever Smile Again? 129. Recitative Messenger Ungrateful Tidings To The Royal Ear 130. Air Cleopatra O Take Me From This Hateful Light 131. Recitative Second Messenger Forgive, O Queen, The Messenger Of Ill! 132. Accompagnato Cleopatra Calm Thou My Soul 133. Air Cleopatra Convey Me To Some Peaceful Shore 134. Recitative Jonathan Mysterious Are Thy Ways, O Providence! 135. Chorus Jonathan / Israelites Ye Servants Of Th' Eternal King
Sklep: Gigant.pl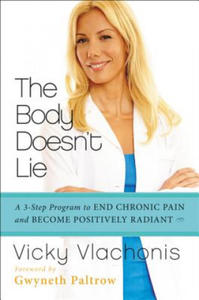 49,85 zł
Książki / Literatura obcojęzyczna
Integrative medical practitioner to the stars and Goop contributor Vicky Vlachonis offers a groundbreaking program to eliminate pain and look and feel your best every day.In The Body Doesn't Lie: The Three-Step Program to End Chronic Pain and Become Positively Radiant, Vicky Vlachonis focuses on pain release instead of on pain relief. Back problems, nightly headaches, tight shoulders, achy feet-all of us have nagging, daily pains that seem to get worse when our lives get most busy. While the immediate reaction to pain is to take short-term measures to make it go away, this does nothing to address the underlying cause. Vlachonis shows us how to locate the source of our pain, understand its origin and manifestation in the body, and then let it go for good, using a holistic approach that includes easy-to-implement approaches to diet, exercise, and emotional well-being.Vlachonis' proven and successful pain eradication program was developed over years working with a wide range of clients, from celebrities and CEOs to overworked ballerinas and working moms. The book includes a detailed meal plan with recipes, body maps to identify areas of pain and healing touch points, and step-by-step remedies for specific issues including fatigue, digestive problems, and depression. This groundbreaking approach uses pain as a tool--not the undefeatable enemy--to help you look and feel better immediately, and release your body from physical and emotional pain for good.
Sklep: Libristo.pl
Sklepy zlokalizowane w miastach: Warszawa, Kraków, Łódź, Wrocław, Poznań, Gdańsk, Szczecin, Bydgoszcz, Lublin, Katowice
Szukaj w sklepach lub całym serwisie
2. Szukaj na wszystkich stronach serwisu
t1=0.032, t2=0, t3=0, t4=0, t=0.033