krainaksiazek all the old knives 20052312
- znaleziono 11 produktów w 3 sklepach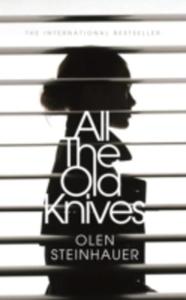 39,99 zł
Książki Obcojęzyczne>Angielskie>Fiction & related items>Thriller / suspense>Espionage & spy thrillerKsiążki Obcojęzyczne>Angielskie>...
0x0050b36a00000000
Sklep: Gigant.pl 39,24 zł
Książki / Literatura obcojęzyczna
This "New York Times" bestselling author is deemed by many to be John Le Carre's heir apparent. This is his most intense, thrilling and unsettling novel to date; it centres on Henry and Celia. In the past they both worked for the CIA in Vienna and were lovers, until a rescue attempt on a hijacked plane ended in disaster. Nine years on, both of them still wonder what role the other may have played in the way things unfolded. Now in paperback.
Sklep: Libristo.pl 18,98 zł
Książki & Multimedia > Książki
Opis - Sześć lat temu grupa terrorystów porwała ponad stu zakładników. Próba ich odbicia skończyła się katastrofą. Tragedia rozegrała się na oczach wiedeńskiej delegatury CIA, która zbierała dane od informatorów i analizowała bieżące fakty, również te przekazywane od agenta lecącego porwanym samolotem. Kiedy wszystko wyszło na jaw, pojawiło się pytanie: czy ktoś zdradził tożsamość agenta i w jaki sposób to zrobił? Dwoje pracujących w Wiedniu oficerów prowadzących, Henry Pelham i Celia Harrison, było wtedy kochankami. W tym samym czasie, kiedy rozgrywał się dramat zakładników, Celia postanowiła odejść z pracy. Wyszła za mąż, urodziła dzieci i do dziś prowadzi zwykłe życie nad oceanem. Henry, który wciąż jest oficerem, wybiera się do Kalifornii, żeby spotkać się z Celią jeszcze raz. Być może chce rozgrzebać przeszłość, a może raz na zawsze się od niej uwolnić. Jedno jest pewne - oboje nie potrafią zapomnieć o tym, co się stało. Dręczy ich pyatnie, kto zdradził agenta i jaką rolę wtedy odegrali. Wszystkie stare noże to jak dotąd najbardziej subtelna, najinteligentniejsza i najbardziej wstrząsająca powieść Olena Steinhauera, autora z listy bestsellerów "New York Timesa". Nazwa - Wszystkie stare noże Oryginalny tytuł - ALL THE OLD KNIVES Autor - Olen Steinhauer Oprawa - Miękka Wydawca - Czarna Owca Kod ISBN - 9788380150669 Kod EAN - 9788380150669 Wydanie - 1 Rok wydania - 2016 Język - polski Tłumacz - Kaliński Piotr Format - 13.0x20.5cm Ilość stron - 280 Podatek VAT - 5% Premiera - 2016-06-02
Sklep: InBook.pl 93,31 zł
Książki / Literatura obcojęzyczna
"The nation's taster-in-chief title belongs unequivocally to Felicity Cloake". (Daily Mail). The follow up to Perfect: 92 more invaluable recipes and tips from Felicity Cloake. Having rigorously tried and tested recipes from all the greats - from Elizabeth David and Delia Smith to Nigel Slater and Simon Hopkinson - Felicity Cloake has pulled together the best points from each to create the perfect version of 91 more classic dishes, from perfect creme brulee to the perfect fried chicken. Never again will you have to rifle through countless different books to find your perfect pulled pork recipe, Thai curry paste method or failsafe chocolate fondants - it's all here in this book, based on Felicity's popular Guardian columns, along with dozens of practical, time-saving invaluable prepping and cooking tips that no discerning cook should live without. Following on from the much-loved Perfect, Perfect Too has a place on every kitchen shelf. Praise for Perfect, and Perfect Host: "Brilliant...Finely honed culinary instincts, an open mind and a capacious cookbook collection...Miss Cloake has them all". (Evening Standard). "Delightful old-fashioned cover, plus properly practical contents". (Rachel Cooke, Observer Food Monthly). "A discursive, chatty, knowledgeable and didactic kaleidoscope of a book, the sort of thing Mrs Beeton would no doubt be writing if she were alive today". (Daily Mail). Felicity Cloake is a journalist and food writer from London. She writes for the Daily Mail, Metro, Fire & Knives magazine, New Statesman, and writes the weekly columns 'How to Make the Perfect...' and 'Readers' Recipe Swap' in the Guardian. She was named Food Journalist of the Year and won the New Media of the Year Award at the 2011 Guild of Food Writers Awards. She is the author of Perfect and Perfect Host.
Sklep: Libristo.pl 59,51 zł
Książki / Literatura obcojęzyczna
Human Work was written while cooking. It is the narrative of a voice in domesticity, at the alchemical heart of home - the hearth, or Hestia - where the kitchen is a stage for acts of eating and uttering; for the ebb and flow to the human mouth. The poems were written 'live' among pots and pans, beside chopping boards, between plates, bowls, knives, forks, spoons, and servings. Their time is the hybrid time of writing and cooking - where the dimensions of two activities hinge together. The poems occupy a shared space; the work is one work, the poems live together and cross-talk, like figures in a room. They invoke agencies of an old story, perhaps one of our very first: how we make food to eat and share, how we draw and transform others' bodies into being our own flesh and life. Without food there can be no other stories. Like the poems of Bee Journal these poems started life in notebooks, in situ. Their pages seem streaked and spattered with the very process of their making: jam or grease or wine stains, crumbs of flour and spice, flecks of meat and fish, fruit and vegetable, all worked in to the ink of the written words. Like Bee Journal, this is a book about communal purpose, a record of risk and response - a poetry of the moment, both immemorial and thrillingly modern.
Sklep: Libristo.pl 39,24 zł
Książki / Literatura obcojęzyczna
It's the accident season, the same time every year. Bones break, skin tears, bruises bloom. The accident season has been a part of seventeen-year-old Cara's life for as long as she can remember. In these weeks every year, foreshadowed by the deaths and disappearances of many relatives before them, Cara and her family become inexplicably accident-prone. They banish knives and scissors to locked drawers, cover sharp table edges with padding, and switch off all electrical items - but injuries follow them wherever they go, and the accident season becomes an ever-growing obsession and fear. But why are they so cursed? And how can they break free?
Sklep: Libristo.pl 54,40 zł
Książki / Literatura obcojęzyczna
Jennifer Maiden's "Intimate Geography" charts territory both personal and political, private and global. Just as 'One needs the private voice / to balance a public terror,' so the public focus sharpens the private perspective. Responding to international conflicts and crises, many of her poems probe moral dilemmas, confronting the existential, ethical problem of evil: why people commit inhuman acts. Watching the progress of a war, day by day, hour by hour, via satellite television, she experiences 'that singular oddness of feeling' of being always 'at a tangent to it somehow albeit / with despair's edgy wit' and there is 'too much passion in the evil'. Two characters keep appearing in her books, George Jeffreys and his companion, Clare Collins. In her novel "Play With Knives" George was a probation officer and Clare a young girl released from prison after murdering her three younger siblings as a nine-year-old. When they reappear in her poems - now working as observers for human rights organisations - they are deeply involved in an ethical analysis which extends to 9/11, the Iraq War, Afghanistan, the Middle East, Hurricane Katrina and the World Financial Crisis. Always pointedly serious, her poems can also be flamboyant or risque, outrageously witty or daringly provocative. They blur, challenge and cross the boundaries between real and imagined, fact and fiction, inner lives and the world outside us. Politicians and world leaders appear as themselves, including Hillary Clinton (talking to Eleanor Roosevelt), George W. Bush and Madeleine Albright. But at the centre of all these satellite lives, mapping their intimate geography, is Jennifer Maiden herself: questioning, engaging, pouncing and processing to create defiantly humane poetry of impassioned moral witness. Jennifer Maiden is one of Australia's leading poets. "Intimate Geography" is a selection from her four most recent collections, "Acoustic Shadow" (1993), "Mines" (1999), "Friendly Fire" (2005) and "Pirate Rain" (2010).
Sklep: Libristo.pl 49,13 zł
Książki / Literatura obcojęzyczna
Everyone loves an old-fashioned tea party. Mix-and-match crockery, bone-handled knives, lace and linen, teapots with cosies, sweet peas and roses, home baking and Victorian cocktails in tea cups - they're all back in vogue. Indoors by the fire in winter or outside in summer sunshine, hosts and guests can relax together with none of the stress or formality of a dinner party. Afternoon tea is the quintessential British tradition that has developed from its modest beginnings to become a much-loved celebration of indulgent pleasures. With evocative photographs and mouth-watering recipes, Vintage Tea Party shows how you can re-create a nostalgic world of classic comfort, elegance and delicious treats. Try Carolyn Caldicott's perfect cucumber sandwich, Victoria sponge cake, rose petal jelly, English muffins, crumpets, Earl Grey tea with gin and lemon, 'the best chocolate cake you will ever taste' and much, much more.
Sklep: Libristo.pl 124,13 zł
Książki / Literatura obcojęzyczna
This is an exceptional insight into the running of a traditional farm, from how to look after your animals (poultry, pigs and cows) to cheese-making, smoking meats and growing your own fruit and veg. The book comprises of four voices - Tom, Giana, Fingal and Clovisse - who talk about their passions and positions on the farm. Tom has worked the land all his life, following the old farming ways of his forbearers; Giana controls the dairy as well as keeping a keen eye on the poultry; their son Fingal uses the pigs to make bacon and smoked goods from the Smokehouse (and has a side-line in creating beautiful knives for famous chefs); and their daughter Clovisse grows chemical-free vegetables, fruit, herbs and flowers in the Kitchen Garden (this section comes out of a conversation with Joy Larckom, her mentor). Recipes are included in every section to illustrate and celebrate the farm produce, resulting in a truly inspirational read.
Sklep: Libristo.pl 67,92 zł
Książki / Literatura obcojęzyczna
Michel Chikwanine was only five-years-old when he was abducted from outside his school by rebel soldiers in The Democratic Republic of Congo. Child Soldier tells the story of his happy life before the abduction, his time with the rebel militia, his escape from their clutches and finally the worsening situation and growing unrest for Michel and his family and his eventual immigration to Canada with his mother. Despite his young age, Michel never gives up. It is his resilience and courage that helped him to stay alive during his time with the rebels. This is a legacy from his father, whose sense of compassion and integrity drove Michel to reject the rebels attempts to instil violence and hate, and have shaped Michel into the person he is today. As a young man, Michel now travels the world to inspire others to believe that their actions can make a difference. He is an accomplished public speaker and someone who's voice and story resonates with people all over the globe. Thankfully most children will never experience the brutal reality of being forced to take part in armed conflicts, in whatever role is imposed on them. But Michel's story serves as a reminder of how close to home this ongoing issue is. Africa may feel far away to a child living in the UK, but the reality is that young people in gangs across the world, who are made to commit crimes for adult leaders have more in common with Michel than they may realise. This book also examines in general how and why adults use children as expendable pawns in conflicts and provides the reader with advice on further information and what they can do to get involved. This book is aimed at children aged 10+, however it does contain some images that some readers may find difficult or distressing. The cartoon / graphic novel style of the book does contain images of violence, including guns, knives, dead bodies and other explicit scenes.
Sklep: Libristo.pl 62,64 zł
Książki / Literatura obcojęzyczna
Jane is a housewife. James sells guns. They live in one of the larger cities in Our Country and are both terrified of ethnic youths who might well be wearing hoods and carrying knives, or something. All is well in the Jones household, until their sexually frustrated eighteen-year-old daughter Jenny brings home her new boyfriend, Kwesi Abalo... A visceral, smart, brutally hilarious play about prejudice, arms dealing, and what it means to be English
Sklep: Libristo.pl
Sklepy zlokalizowane w miastach: Warszawa, Kraków, Łódź, Wrocław, Poznań, Gdańsk, Szczecin, Bydgoszcz, Lublin, Katowice
Szukaj w sklepach lub całym serwisie
2. Szukaj na wszystkich stronach serwisu
t1=0.076, t2=0, t3=0, t4=0.018, t=0.076