krainaksiazek all you can bead 20099670
- znaleziono 9 produktów w 2 sklepach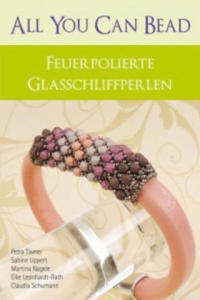 22,73 zł
Książki / Literatura obcojęzyczna
All you can bead - Alles, was Du fädeln kannst!§Beim Arbeiten mit Perlen sind die Möglichkeiten unbegrenzt, daher dieses Motto.§Alle fünf Schmuckstücke verbindet ein roter Faden und das ist in diesem Fall die feuerpolierte Glasschliffperle. Jede der fünf Designerinnen hat ein Schmuckstück mit der feuerpolierten Glasschliffperle als bestimmendes Element entworfen und so entstanden die Armbänder, Halsketten und Ohrringe.§Alle Anleitungen sind mit vielen Grafiken und genauen Materialangaben versehen und sowohl für Anfänger als auch für Fortgeschrittene geeignet.
Sklep: Libristo.pl 81,12 zł
Książki / Literatura obcojęzyczna
Get your kids snipping, threading and stitching with Felt Button Bead. Kids love crafting, and fabric-based crafts are particularly good, as many of the items needed can be found around the house - odd socks, fabric remnants and outgrown school uniforms will all come in handy. Felt Button Bead is divided into four vibrant sections containing 40 funky projects. Toys and Games features sock glove-puppets and a roll-up draughts set. Gifts contains dozens of great gift ideas, including hand-print tea towels, a glasses case and a patchwork cushion. Clothing includes funky gear such as decorated jeans and customized t-shirts for girls and boys. Finally, Accessories includes felt flower badges, jewellery, and a trendy denim 'jeans' shoulder bag. Every project can be completed in four or eight steps - just follow the instructions and you can't go wrong!
Sklep: Libristo.pl 107,33 zł
Książki / Literatura obcojęzyczna
Come take the journey with Kay as she shows you how to begin adding soldering, dapping, sawing, and other skills from the metalsmith's repertoire into your beading. Kay's projects will also show beginner metalworkers how to incorporate the rich, colorful, sumptuous look that semiprecious beads bring to metal jewelry. These necklaces, earrings, bracelets, and pendants present such a complete range of techniques, all fully and beautifully illustrated with step-by-step photos. You'll be amazed at the eye candy you can create!
Sklep: Libristo.pl 139,52 zł
Książki / Literatura obcojęzyczna
This new title in the bestselling Ultimate series reveals all the techniques you need to begin beading - all the main crafts that use beads have been brought together in one book. The first chapter takes a brief look at the different ways of working with beads and covers the tools and basic techniques you will need to get started, as well as taking a detailed look at the ready-made beads available and how they are best used. The following chapter covers making beads in several different materials; although ready-made beads are easy to find, making your own can be very easy and is the ideal way to add a unique personal touch to your work. It also includes a section on using found materials as unusual beads. The chapter on bead jewellery covers basic jewellery making techniques and then moves on to threading ideas, and how to incorporate beads with different materials and techniques to make more unusual pieces. In the wirework chapter you will learn how to use wire and beads together for more than just jewellery - this section also covers ideas for decorative items and cardmaking. Bead looming and weaving are traditional techniques for creating closely beaded work, which can be used for everything from vintage-look decorative straps to ethnic bracelets. Beads can also be worked in to knitting and crochet projects as you work; all the basic techniques for doing this are included in chapter 5, along with some unusual beaded stitches to try. The final chapter on beaded embroiderycovers the different ways to combine beads and fabric or thread, from how to add a few random beads for a little sparkle to creating luxurious beaded fabrics or heavily beaded fringing. Word count: 60,000
Sklep: Libristo.pl 51,99 zł
Muzyka>Jazz
1. Mean To Me 2. You Go To My Bead 3. I Can't Get Started 4. Love Me Or Leave Me 5. Once In A While 6. While You Are Gone 7. You Taught Me To Love Again 8. Lonely Girl 9. You're Mine, You 10. The Nearness Of You 11. Ev'ry Day 12. Don't Be Afraid 13. Goodnight My Love 14. Can't Get Out Of This Mood 15. Whippa-whippa-woo 16. I'll Know 17. City Called Heaven 18. These Things I Offer You 19. Out Of Breath 20. I Ran All The Way Home 21. Time To Go 22. It's All In The Mind 23. I Confess 24. Spring Will Be Little Late This Year 25. A Blues Serenade 101. My Funny Valentine 102. My One & Only One 103. It's Easy To Remember 104. Lover Man 105. Body & Soul 106. They Can't Take That Away From Me 107. Prelude To A Kiss 108. Old Devil Moon 109. Exactly Like You 110. Idel Gossip 111. I'm In The Mood For Love 112. I Don't Know Why 113. Let's Put Out The Lights 114. 'S Wonderful 115. You're Not The Kind 116. It's Crazy 117. Embraceable You 118. Whatever Lola Wants 119. Johnny Be Smart 120. The Other Woman 121. I'll Never Smile Again 122. It Shouldn't Happen To A Dream 123. Soon 124. Why Can't I 125. Over The Rainbow 201. I Wanna Play House 202. Pennies From Heaven 203. Someone To Watch Over Me 204. A Foggy Day 205. Love Walked In 206. Looking For A Boy 207. Do It Again 208. The Man I Love 209. They All Laughed 210. Lorelei 211. Summertime 212. I Won't Say I Will 213. My Man's Gone Now 214. Doodlin' 215. Misty 216. Dreamy 217. The Green Leaves Of Summer 218. Have You Met Miss Jones? 219. Perdido 220. My Favorite Things 221. Ev'ry Time We Say Goodbye 222. Sophisticated Lady 223. If Love Is Good To Me 224. In A Sentimental Mood
Sklep: Gigant.pl 89,25 zł
Książki / Literatura obcojęzyczna
"The projects in this book may be bohemian-inspired, but they
Sklep: Libristo.pl 72,50 zł
Książki / Literatura obcojęzyczna
35 gorgeous earrings, made with wire and beads, for any occasion. Making your own handcrafted jewellery is both enjoyable and satisfying, and beads and wire are so simple to use that even a beginner can make stunningly pretty pieces. Linda Jones teaches you all the techniques you'll need to know for working with wire and beads, from the specialist tools and materials needed to how to make jump rings, spirals and earring findings, as well as hardening your work so that it withstands the strain of being worn. Then discover a wide variety of beautiful earrings to make within the six chapters: Classic Chic, Historic Charm, Fashion Focus, Glitz & Glamour, Vintage Style and Celebrations & Occasions. There are timeless styles such as droplets and hoops, but also more quirky designs, such as the Greek geometric earrings, and elaborate projects such as the Bead Bunch earrings or the Celtic-inspired Triskele earrings. Whether you want to make a gift for a friend or something to wear yourself, there is something for everyone here. Each project also has easy-to-follow, step-by-step photography so both beginners and experienced jewellery-makers can make these beautiful earrings.
Sklep: Libristo.pl 43,99 zł
Muzyka>Electronica
1. X-press 2 / Byrne, David - Lazy 2. Electribe 101 - Talking With Myself 3. Lamb - Transfatty Acid (Kruder & Dorfmeister Sessi 4. Nu Yorican Soul - I Am The Black Gold Of The Sun ( 5. Orbit, William - Water From A Vine Leaf 6. Mental Generation - Cafe Del Mar (Underworld Mix) 7. Tellier, Sebastien - La Ritournelle 8. Underworld - Second Hand 9. Penguin Cafe Orchestra - Music For A Found Harmoni 10. Simple Minds - Theme For Great Cities 11. A Man Called Adam - Barefoot In The Head (Original 12. Grey, Richard / Marley, Bob - No Deputy (Gold Fish 13. It's Immaterial - Driving Away From Home (Wicked W 14. Blow Monkeys, The - La Passionara (12 Version) 15. Goldfish - Cruising Through (Sean O's No Need To R 16. Mylo - Sunworshipper 101. Afterlife - Speck Of Gold 102. Zero 7 - Give It Away 103. Audio Deluxe - 60 Seconds 104. Sheer Taft - Cascades (Hypnotone Mix) 105. Moodswings - Spiritual High (State Of Independance 106. Grid, The - Floatation 107. Reunited - Sun Is Shining (Out Of Sight Remix) 108. Simply Red - Thrill Me (Steppin' Razor Ambient Mix 109. Shakira / Pacha All Star Remix Team - Las De La In 110. Quaye, Finley - Even After All Dub 111. Afro Medusa - Pasilda (Afterlife Remix) 112. Raze - Break 4 Love (Skunk Dub) 113. Dazzla / Scholes, Michael - Project One (Steen Mix 114. Art Of Noise - Moments In Love 115. Cocteau Twins - Cherry-coloured Funk 116. Sabres Of Paradise, The - Smokebelch II (Beatless 201. Chilly Gonzales - You Can Dance 202. Jamiroquai - Seven Days In Sunny June 203. Rea, Chris - Josephine (La Version Francaise) 204. Sub Sub - Past 205. Hardcastle, Paul - Into The Blue 206. Bager, Kenneth / Gisli - Fragment One (...and I Ke 207. Lemon Jelly - A Tune For Jack 208. A Man Called Adam / Coco, Chris - Yachts 209. Thievery Corporation - The Glass Bead Game 210. Fish Go Deep / Tracey K - The Cure & The Cause (Ac 211. Bass-o-matic - Fascinating Rhythm (Soul Odyssey Mi 212. Sun Electric - Sundance 213. Innocence - Natural Thing 214. Aphex Twin - We Are The Music Makers 215. Warp 69 - Natural High (Global Communication Remix 216. Groove Armada - At The River 217. Leftfield / Earl Sixteen - Release The Pressure (T 218. Primal Scream - Higher Than The Sun (Higher Than T
Sklep: Gigant.pl 146,32 zł
Książki / Literatura obcojęzyczna
This sturdy volume of collectible projects includes helpful tips and tricks to make beading faster, easier and more fun! You can get all the great projects from the ninth year of Bead Style magazine in Easy Beading Vol. 9! This edition includes more than 80 projects made from crystals, gemstones, pearls, glass, metal, and mixed media. Hundreds of tips, tricks, and design alternatives help readers to develop their own design style. A thorough, illustrated Beader's Glossary and Basics section, paired with simple stringing and wirework techniques, guarantee great results right from the start!
Sklep: Libristo.pl
Sklepy zlokalizowane w miastach: Warszawa, Kraków, Łódź, Wrocław, Poznań, Gdańsk, Szczecin, Bydgoszcz, Lublin, Katowice
Szukaj w sklepach lub całym serwisie
2. Szukaj na wszystkich stronach serwisu
t1=0.063, t2=0, t3=0, t4=0.015, t=0.063