krainaksiazek an introduction to geophysical exploration 20093844
- znaleziono 10 produkty w 2 sklepach 319,99 zł
Książki Obcojęzyczne>Angielskie>Earth sciences, geography, environment, planning>Geography>Cartography, map-making & projectionsKsiążki Ob...
This New Edition Of The Well-established Kearey And Brooks Text Is Fully Updated To Reflect The Important Developments In Geophysical Methods Since The Production Of The Previous Edition. The Broad Scope Of Previous Editions Is Maintained, With Even Great
Sklep: Gigant.pl 261,35 zł
Książki / Literatura obcojęzyczna
This edition of the well-established Kearey and Brooks text is fully updated to reflect the important developments in geophysical methods since the production of the previous edition. The broad scope of previous editions is maintained, with even greater clarity of explanations from the revised text and extensively revised figures. Each of the major geophysical methods is treated systematically developing the theory behind the method and detailing the instrumentation, field data acquisition techniques, data processing and interpretation methods. The practical application of each method to such diverse exploration applications as petroleum, groundwater, engineering, environmental and forensic is shown by case histories.§§The mathematics required in order to understand the text is purposely kept to a minimum, so the book is suitable for courses taken in geophysics by all undergraduate students. It will also be of use to postgraduate students who might wish to include geophysics in their studies and to all professional geologists who wish to discover the breadth of the subject in connection with their own work.
Sklep: Libristo.pl 339,99 zł
Książki Obcojęzyczne>Angielskie>Earth sciences, geography, environment, planning>Geography>Cartography, map-making & projectionsKsiążki Ob...
0x01406f4800000000
Sklep: Gigant.pl 306,28 zł
Książki / Literatura obcojęzyczna
This book provides an introductory-level exploration of geophysical fluid dynamics (GFD), the principles governing air and water flows on large terrestrial scales. Physical principles are illustrated with the aid of the simplest existing models, and the computer methods are shown in juxtaposition with the equations to which they apply. It explores contemporary topics of climate dynamics and equatorial dynamics including the Greenhouse Effect, global warming, and the El Nino Southern Oscillation.§Combines both physical and numerical aspects of geophysical fluid dynamics into a single affordable volume §Explores contemporary topics such as the Greenhouse Effect, global warming and the El Nino Southern Oscillation §Biographical and historical notes at the ends of chapters trace the intellectual development of the field §Recipient of the 2010 Wernaers Prize, awarded each year by the National Fund for Scientific Research of Belgium (FNR-FNRS).
Sklep: Libristo.pl 343,17 zł
Książki / Literatura obcojęzyczna
Providing a balance between principles and practice, this introduction to geophysical surveying takes readers from the basic physical phenomena, through the acquisition and processing of geophysical data, to the creation of subsurface models and geological interpretation to find hidden ore bodies. Detailed descriptions of the key surveying techniques are given, including gravity, magnetic, radiometric, electrical, electromagnetic and seismic methods, and each technique is presented in a consistent format, using non-mathematical language. The surveying techniques are connected with interpretation topics such as petrophysics, modeling, and the identification of noise in geophysical datasets. Packed with full-color figures which are also available online, the text is richly supported by numerous globally-selected case studies from a range of mineral deposit types. Designed for advanced undergraduate and graduate courses in mining exploration, this book is also a valuable reference source for professionals in the mining industry wishing to make greater use of geophysical methods.
Sklep: Libristo.pl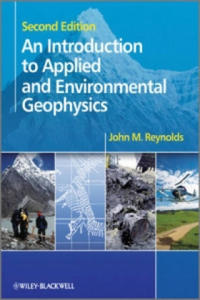 250,86 zł
Książki / Literatura obcojęzyczna
An Introduction to Applied and Environmental Geophysics provides an introduction to the theory and practice of applied geophysics.§The book covers a range of applications including mineral and hydrocarbon exploration but the greatest emphasis is on the use of geophysics in civil engineering, and in environmental and groundwater investigations.§Since the publication of the 1st edition of An Introduction to Applied and Environmental Geophysics the field of applied and environmental geophysics has grown with significant developments in the subject. The new edition will build on the success of the 1st edition and will include the following key developments:§Greater discussion of survey design and standards in geophysical investigations§Inclusion of more marine geophysical and geotechical case histories e.g. cable/pip laying§Inclusion of examples of integrated case histories§Inclusion of new sections dealing with thermal imaging of landfills and radioactivity investigations§More information of physio-chemical properties of geological, engineering and environmental materials§Greater discussion of borehole techniques especially topography
Sklep: Libristo.pl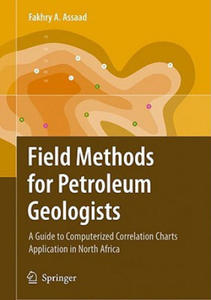 343,17 zł
Książki / Literatura obcojęzyczna
Provides an introduction to petroleum exploration methods, referring to both geophysical and geochemical techniques and the logistics of various drilling techniques and well logging methods for oil and gas exploration. The second part of the book focuses on using these methods for petroleum exploration within the context of northern Africa. The geology of northern Africa is described and computerized lithographic correlation charts are presented and applied to petroleum exploration targets from the region.
Sklep: Libristo.pl 380,23 zł
Książki / Literatura obcojęzyczna
Well logging lies at the intersection of applied geophysics, petroleum or geotechnical engineering, and applied geophysics. It has its roots in the tentative electrical measurements in well bores which were made by the Schlumberger brothers some 75 years ago in the earliest days of systematic petroleum exploration. Nowadays a vast variety of specialized instruments is used to obtain measurements from the borehole also during the drilling process.This readable and authoritative treatment of the physics of measurements obtained by latest generation of tools and how they relate to rock physics, dispels the "black magic" of well log interpretation. It offers a thorough expose of the physical basis of geophysical measurements in wells, as well as an introduction to practical petrophysics, extracting desired properties from well log measurements. A detailed review of the physics of measurements is combined with an extensive introduction to their interpretation."Well Logging for Earth Scientists", 2 nd edition, is thoroughly revised and extended with three new chapters, many new illustrations and expanded and updated references per chapter.
Sklep: Libristo.pl 660,11 zł
Książki / Literatura obcojęzyczna
Unconventional Petroleum Geology, 2nd Edition presents the latest research results of global conventional and unconventional petroleum exploration and production. The first part covers the basics of unconventional petroleum geology: introduction, concept of unconventional petroleum geology, unconventional oil and gas reservoirs, and the origin and distribution of unconventional oil and gas. The second part is focused on unconventional petroleum development technologies, including a series of technologies on resource assessment, lab analysis, geophysical interpretation, and drilling and completion. The third and final section features case studies of unconventional hydrocarbon resources, including tight oil and gas, shale oil and gas, coal bed methane, heavy oil, gas hydrates and oil and gas in volcanic and metamorphic rocks. Provides an up-to-date, systematic, and comprehensive overview of all unconventional hydrocarbons, defining the scope of Unconventional Petroleum GeologyReorganizes and updates more than half of the first edition content, including four new chaptersIncludes a glossary on unconventional petroleum types, including tight-sandstone oil and gas, coal-bed gas, shale gas, oil and gas in fissure-cave-type carbonate rocks, in volcanic reservoirs, and in metamorphic rocks, heavy crude oil and natural bitumen, and gas hydratesPresents new theories, new methods, new technologies and new management methods, helping to meet the demands of technology development and production requirements in unconventional plays
Sklep: Libristo.pl 263,98 zł
Książki / Literatura obcojęzyczna
Looking Into the Earth comprehensively describes the principles and applications of both 'global' and 'exploration' geophysics on all scales. It forms an introduction to geophysics suitable for those who do not necessarily intend to become professional geophysicists, including geologists, civil engineers, environmental scientists, and field archaeologists. The book is organised into two parts: Part 1 describes the geophysical methods, while Part 2 illustrates their use in a number of extended case histories. Mathematical and physical principles are introduced at an elementary level, and then developed as necessary. Student questions and exercises are included at the end of each chapter. The book is aimed primarily at introductory and intermediate university students taking courses in geology, earth science, environmental science, and engineering. It will also form an excellent introductory textbook in geophysics departments, and will help practising geologists, archaeologists and engineers understand what geophysics can offer their work.
Sklep: Libristo.pl
Sklepy zlokalizowane w miastach: Warszawa, Kraków, Łódź, Wrocław, Poznań, Gdańsk, Szczecin, Bydgoszcz, Lublin, Katowice
Szukaj w sklepach lub całym serwisie
2. Szukaj na wszystkich stronach serwisu
t1=0.044, t2=0, t3=0, t4=0, t=0.044