krainaksiazek an old fashioned shooting 20115016
- znaleziono 3 produkty w 1 sklepie 49,31 zł
Książki / Literatura obcojęzyczna
Open this book and read whatever chapter appears and you will be transported back in time - Tardis style - into village life around Pertenhall and Kimbolton over the last 80 years. You will immediately become part of the scene. Claude Banks treats us to a rich potpourri of stories of village life with a wicked eye for detail...Feel the austerity of the agricultural depression leading up to World War 2. Giggle at the exploits of the local cricketers and footballers in Claude's classroom at Kimbolton Grammar School in the late 1930s. Stories are told with understated humour, including his recollections of service in the Home Guard under the command of a real life Captain Mainwaring. Indeed, all seemed to change with the advent of World War 2, especially with the influx of American Air Force personnel and how they brightened up local village life, soon to be followed by Italian and German prisoners of war who worked on the land. There are many, often inadvertent, comparisons to life as it is now. Whilst appreciative of past times Claude is not wedded to them and shows huge adaptability to the challenges that every decade has put before him. He is a true old fashioned naturalist and treats readers to stories about nature and country pursuits - especially shooting and horse racing. Overall, the book provides superb insights into past country life with its full range of joy and tears, and a cast of characters that Chaucer would have been proud of!
Sklep: Libristo.pl 103,89 zł
Książki / Literatura obcojęzyczna
THE SACRED CINEMA OF ANDREI TARKOVSKY A major new study of Russian filmmaker Andrei Tarkovsky (1932-1986), director of seven feature films, including Mirror, Andrei Roublyov, Solaris and The Sacrifice. ?This book explores every aspect of Andrei Tarkovsky's output in the most detailed fashion - including scripts, budget, production, shooting, editing, camera, sound, music, acting, themes, symbols, motifs, and spirituality. Tarkovsky's films are analyzed in depth, with scene-by-scene discussions. This is an important addition to film studies, the most painstaking study of Andrei Tarkovsky's work available. Contains 150 illustrations, of Tarkovsky's films, Tarkovsky at work, his contemporaries, and his favourite painters. Andrei Tarkovsky is one of the most fascinating of filmmakers. He is supremely romantic, an old-fashioned, traditional artist - at home in the company Leonardo da Vinci, Pieter Brueghel, Aleksandr Pushkin, Fyodor Dostoievsky and Byzantine icon painters. Tarkovsky is a magician, no question, but argues for demystification (even while films celebrate mystery). His films are full of magical events, dreams, memory sequences, multiple viewpoints, multiple time zones and bizarre occurrences. As genre films, Andrei Tarkovsky's movies are some of the most accomplished in cinema. As science fiction films, Stalker and Solaris have no superiors, and very few peers. Only the greatest sci-fi films can match them: Metropolis, King Kong, Close Encounters of the Third Kind and 2001: A Space Odyssey. Tarkovsky happily and methodically rewrote the rules of the sci-fi genre: Stalker and Solaris are definitely not routine genre outings. They don't have the monsters, the aliens, the visual effects, the battles, the laser guns, the stunts and action set-pieces of regular science fiction movies. No one could deny that Andrei Roublyov is one of the greatest historical films to explore the Middle Ages, up there with The Seventh Seal, El Cid, The Navigator and Pier Paolo Pasolini's 'Life' trilogy. If you judge Andrei Roublyov in terms of historical accuracy, epic spectacle, serious themes, or cinematic poetry, it comes out at the top. Finally, in the religious film genre, The Sacrifice and Nostalghia are among the finest in cinema, the equals of the best of Ingmar Bergman, Luis Bunuel, Robert Bresson and Carl-Theodor Dreyer.
Sklep: Libristo.pl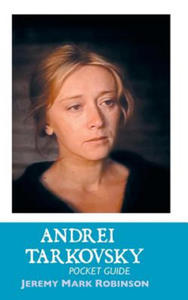 87,90 zł
Książki / Literatura obcojęzyczna
ANDREI TARKOVSKY: POCKET GUIDE A new pocket guide to Russian filmmaker Andrei Tarkovsky (1932-1986), director of seven feature films, including Mirror, Andrei Roublyov, Solaris and The Sacrifice. This book offers an all-round introduction to the cinema of Andrei Tarkovsky. It explores every aspect of Tarkovsky's output, including scripts, budget, production, shooting, editing, camera, sound, music, acting, themes, symbols, motifs, and spirituality. Tarkovsky's films are analyzed in depth, with scene-by-scene discussions for some famous sequences. Fully illustrated. Andrei Tarkovsky is one of the most fascinating of filmmakers. He is supremely romantic, an old-fashioned, traditional artist - at home in the company  Leonardo da Vinci, Pieter Brueghel, Aleksandr Pushkin, Fyodor Dostoievsky and Byzantine icon painters. Tarkovsky is a magician, no question, but argues for demystification (even while  films celebrate mystery). His films are full of magical events, dreams, memory sequences, multiple viewpoints, multiple time zones and bizarre occurrences. As genre films, Andrei Tarkovsky's movies are some of the most accomplished in cinema. As science fiction films, Stalker and Solaris have no superiors, and very few peers. Only the greatest sci-fi films can match them: Metropolis, King Kong, Close Encounters of the Third Kind and 2001: A Space Odyssey. Tarkovsky happily and methodically rewrote the rules of the sci-fi genre: Stalker and Solaris are definitely not routine genre outings. They don't have the monsters, the aliens, the visual effects, the battles, the laser guns, the stunts and action set-pieces of regular science fiction movies. No one could deny that Andrei Roublyov is one of the greatest historical films to explore the Middle Ages, up there with The Seventh Seal, El Cid, The Navigator and Pier Paolo Pasolini's 'Life' trilogy. If you judge Andrei Roublyov in terms of historical accuracy, epic spectacle, serious themes, or cinematic poetry, it comes out at the top. Finally, in the religious film genre, The Sacrifice and Nostalghia are among the finest in cinema, the equals of the best of Ingmar Bergman, Luis Bunuel, Robert Bresson and Carl-Theodor Dreyer. The text for this new edition has been updated and revised. Includes illustrations, bibliography, filmography and notes. ISBN 9781861714336. www.crmoon.com
Sklep: Libristo.pl
Sklepy zlokalizowane w miastach: Warszawa, Kraków, Łódź, Wrocław, Poznań, Gdańsk, Szczecin, Bydgoszcz, Lublin, Katowice
Szukaj w sklepach lub całym serwisie
2. Szukaj na wszystkich stronach serwisu
t1=0.017, t2=0, t3=0, t4=0, t=0.017