krainaksiazek an overview of narrative techniques story telling 20040719
- znaleziono 6 produktów w 1 sklepie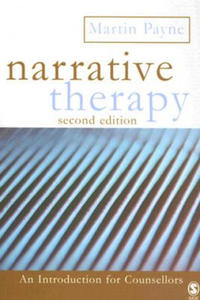 155,84 zł
Książki / Literatura obcojęzyczna
'A thought provoking and interesting book that will be of interest to nurses and others supporting patients' - Accident and Emergency Nursing 'It is a relevant and timely book that will remind therapists of the importance of the telling of client's stories as an important component of the therapeutic process. Whatever approach we use, the client's story will be a part of what we work with, so a sophisticated questioning of what 'stories/narratives' are will benefit our work. This book is a good starting point for such an exploration. It's an interesting book that will appeal to counsellors ready to challenge or add to their existing approach' - Therapy Today Narrative Therapy: An Introduction for Counsellors, Second Edition, offers a clear and concise overview of this way of working without oversimplifying its theoretical underpinnings and practices. Narrative therapy places peoples' accounts of their lives and relationships at the heart of the therapeutic process.Its main premise is that the telling and re-telling of experience by means of guided questioning can facilitate changed, more realistic perspectives, and open up possibilities for the person seeking assistance to position him- or herself more helpfully in relation to the issues brought to therapy. Drawing on the ideas of Michael White and David Epston, this fully revised, extended and updated second edition incorporates the progression of their thinking over the past five years, and introduces developments initiated by other narrative therapists worldwide. New material has been added around counselling for post-traumatic reactions, couples conflict and a sense of personal failure. The book is illustrated with extensive examples of practice with individuals and couples. It is ideal for anyone on training courses in narrative therapy, and also for counsellors who wish to consider common ground between narrative ideas and their current approach. Martin Payne is an independent therapist and trainer in Norwich, UK.
Sklep: Libristo.pl 286,28 zł
Książki / Literatura obcojęzyczna
Narrative and Media, first published in 2006, applies narrative theory to media texts, including film, television, radio, advertising, and print journalism. Drawing on research in structuralist and post-structuralist theory, as well as functional grammar and image analysis, the book explains the narrative techniques which shape media texts and offers interpretive tools for analysing meaning and ideology. Each section looks at particular media forms and shows how elements such as chronology, character, and focalization are realized in specific texts. As the boundaries between entertainment and information in the mass media continue to dissolve, understanding the ways in which modes of story-telling are seamlessly transferred from one medium to another, and the ideological implications of these strategies, is an essential aspect of media studies.
Sklep: Libristo.pl 178,10 zł
Książki / Literatura obcojęzyczna
Narratives are artefacts of a special kind: they are intentionally crafted devices which fulfil their story-telling function by manifesting the intentions of their makers. But narrative itself is too inclusive a category for much more to be said about it than this; we should focus attention instead on the vaguely defined but interesting category of things rich in narrative structure. Such devices offer significant possibilities, not merely for the representation of stories, but for the expression of point of view; they have also played an important role in the evolution of reliable communication. Narratives and narrators argues that much of the pleasure of narrative communication depends on deep-seated and early developing tendencies in human beings to imitation and to joint attention, and imitation turns out to be the key to understanding such important literary techniques as free indirect discourse and character-focused narration. The book also examines irony in narrative, with an emphasis on the idea of the expression of ironic points of view. It looks closely at the idea of character, or robust, situation-independent ways of acting and thinking, as it is represented in narrative. It asks whether scepticism about the notion of character should have us reassess the dramatic and literary tradition which places such emphasis on character.
Sklep: Libristo.pl 145,45 zł
Książki / Literatura obcojęzyczna
'The book is well researched and provides a solid overview' - Therapy Today 'Dorothy Langley's book offers a valuable overview of dramatherapy in all its applications. It provides evidence of many years' work as a teacher and practitioner. It is both clear and readable, and will serve as a useful introduction to this unique therapeutic approach for people in other healing professions, particularly psychiatry, as well as for the general reader' - Roger Grainger, Senior Practitioner on the Register of Psychologists Specialising in Psychotherapy, and State Registered Arts Therapist, Drama An Introduction to Dramatherapy is a concise introduction to the background, theory and practice of a method of therapy which uses the dramatic process to help people during times of stress, emotional upheaval, illness or disability. Illustrated throughout with vivid examples from dramatherapy sessions, the book shows how drama can be used in an intentional and directional way to achieve constructive change with individuals or groups.In particular, the book highlights the power of drama as a therapeutic medium because of its foundations in metaphor, power which can be harnessed through the use of techniques such as role play, enactment, story-telling and the use of puppets and masks. An Introduction to Dramatherapy provides a welcome overview for readers who are new to the field and an excellent starting point for further study.
Sklep: Libristo.pl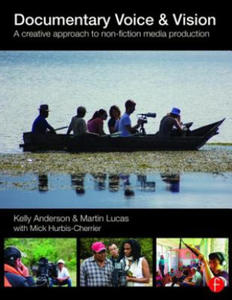 228,56 zł
Książki / Literatura obcojęzyczna
Learn the creative and technical essentials of documentary filmmaking with Documentary Voice Vision. This comprehensive work combines clear, up-to-date technical information, production techniques and gear descriptions with an understanding of how technical choices can create meaning and serve a director's creative vision. Drawing on the authors' years of experience as documentary filmmakers, and on interviews with a range of working professionals in the field, the book offers concrete and thoughtful guidance through all stages of production, from finding and researching ideas to production, editing and distribution. Documentary Voice Vision will help students and aspiring filmmakers think though research and story structure, ethics, legal issues and aesthetics, as well as techniques from camera handling to lighting, sound recording and editing. The book explores a full range of production styles, from expository to impressionistic to observational, and provides an overview of contemporary distribution options. Documentary Voice Vision is a companion text to Mick Hurbis-Cherrier's Voice Vision: A Creative Approach to Narrative Film and DV Production, and employs a similar style and approach to that classic text. This text is written from the perspective of documentary filmmakers, and includes myriad examples from the world of non-fiction filmmaking. A robust companion website featuring additional resources and interactive figures accompanies the book.
Sklep: Libristo.pl 259,73 zł
Książki / Literatura obcojęzyczna
This is the§first in a series of volumes, which provide an extensive overview of§conjectures and open problems in graph theory. The readership of each volume is§geared toward graduate students who may be searching for research ideas.§However, the well-established mathematician will find the overall exposition§engaging and enlightening. Each chapter, presented in a story-telling style,§includes more than a simple collection of results on a particular topic.§Each contribution conveys the§history, evolution, and techniques used to solve the authors' favorite§conjectures and open problems, enhancing the reader's overall comprehension and§enthusiasm.§§The editors§were inspired to create these volumes by the popular and well attended special§sessions, entitled "My Favorite Graph Theory Conjectures," which were held§at the winter AMS/MAA Joint Meeting in Boston (January, 2012), the SIAM§Conference on Discrete Mathematics in Halifax (June,2012) and the winter§AMS/MAA Joint meeting in Baltimore(January, 2014). In an effort to aid in the§creation and dissemination of open problems, which is crucial to the growth and§development of a field, the editors requested the speakers, as well as notable§experts in graph theory, to contribute to these volumes.§
Sklep: Libristo.pl
Sklepy zlokalizowane w miastach: Warszawa, Kraków, Łódź, Wrocław, Poznań, Gdańsk, Szczecin, Bydgoszcz, Lublin, Katowice
Szukaj w sklepach lub całym serwisie
2. Szukaj na wszystkich stronach serwisu
t1=0.027, t2=0, t3=0, t4=0, t=0.027