krainaksiazek application development with swift 20044303
- znaleziono 9 produktów w 2 sklepach 215,30 zł
Książki / Literatura obcojęzyczna
This is the definitive guide to the Swift programming language and the iOS 9 SDK, and the source code has been updated to reflect Xcode 7 and Swift 2.§§There's up-to-date coverage of new Apple technologies as well as significant updates to existing material. You'll have everything you need to create your very own apps for the latest iOS devices. Every single sample app in the book has been rebuilt from scratch using the latest Xcode and the latest 64-bit iOS 9-specific project templates, and designed to take advantage of the latest Xcode features.§§Assuming little or no working knowledge of the new Swift programming language, and written in a friendly, easy-to-follow style, this book offers a complete soup-to-nuts course in iPhone, iPad, and iPod touch programming. The book starts with the basics, walking through the process of downloading and installing Xcode and the iOS 9 SDK, and then guides you though the creation of your first simple application.§§From there, you'll learn how to integrate all the interface elements iOS users have come to know and love, such as buttons, switches, pickers, toolbars, and sliders. You'll master a variety of design patterns, from the simplest single view to complex hierarchical drill-downs. The art of table building will be demystified, and you'll learn how to save your data using the iPhone file system. You'll also learn how to save and retrieve your data using a variety of persistence techniques, including Core Data and SQLite. And there's much more!§§What You Will Learn:§§Everything you need to know to develop your own bestselling iPhone and iPad apps§Utilizing Swift playgrounds§Best practices for optimizing your code and delivering great user experiences
Sklep: Libristo.pl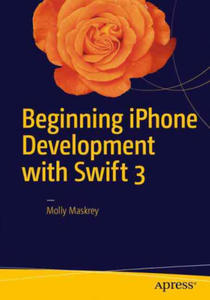 156,78 zł
Książki / Literatura obcojęzyczna
This is the definitive guide to the Swift programming language and the iOS 9 SDK, and the source code has been updated to reflect Xcode 7 and Swift 3.§§There's up-to-date coverage of new Apple technologies as well as significant updates to existing material. You'll have everything you need to create your very own apps for the latest iOS devices. Every single sample app in the book has been rebuilt from scratch using the latest Xcode and the latest 64-bit iOS 9-specific project templates, and designed to take advantage of the latest Xcode features.§§Assuming little or no working knowledge of the new Swift programming language, and written in a friendly, easy-to-follow style, this book offers a complete soup-to-nuts course in iPhone, iPad, and iPod touch programming. The book starts with the basics, walking through the process of downloading and installing Xcode and the iOS 9 SDK, and then guides you though the creation of your first simple application.§§From there, you'll learn how to integrate all the interface elements iOS users have come to know and love, such as buttons, switches, pickers, toolbars, and sliders. You'll master a variety of design patterns, from the simplest single view to complex hierarchical drill-downs. The art of table building will be demystified, and you'll learn how to save your data using the iPhone file system. You'll also learn how to save and retrieve your data using a variety of persistence techniques, including Core Data and SQLite. And there's much more!§§What You Will Learn:§§Everything you need to know to develop your own bestselling iPhone and iPad apps§Utilizing Swift playgrounds§Best practices for optimizing your code and delivering great user experiences
Sklep: Libristo.pl 146,22 zł
Książki / Literatura obcojęzyczna
OS X App Development with CloudKit and Swift is your step-by-step guide to learning OS X app development using CloudKit and Swift. You will use CloudKit to create data-driven apps using only Apple technologies. § Using this book, you will learn how to define the data for your app and build a prototype using Sketch 3 and Keynote. You will use CloudKit to store your OS X application data, separate public and private data, and control what data a user can or can not change in your public data store. All the development will be done using Apple's Swift 2 programming language, which you should have an understanding of already. § This book takes you from prototyping your app with Sketch 3 all the way through building a data-driven app using CloudKit, and everything in between - add it to your library today. § What You'll Learn§§Learn how to prototype an OS X app using Sketch 3§Use CloudKit to build dynamic data-driven apps§Use Swift 2 Apple's new programming language Who This Book Is For § OS X App Development with CloudKit and Swift is for the iOS or OS X developer who is struggling to get to grips with CloudKit. If you're looking for a solid example from start to finish using CloudKit with Swift 2 this book's for you. You should have an understanding of the Swift language, e.g. the differences between var/let, how to work with control statements, closures etc., to work confidently with this book.
Sklep: Libristo.pl 109,13 zł
Książki / Literatura obcojęzyczna
Get up and running with Swift--swiftly§§Brimming with expert advice and easy-to-follow instructions, Swift For Dummies shows new and existing programmers how to quickly port existing Objective-C applications into Swift and get into the swing of the new language like a pro. Designed from the ground up to be a simpler programming language, it's never been easier to get started creating apps for the iPhone or iPad, or applications for Mac OS X.§§Inside the book, you'll find out how to set up Xcode for a new Swift application, use operators, objects, and data types, and control program flow with conditional statements. You'll also get the scoop on creating new functions, statements, and declarations, learn useful patterns in an object-oriented environment, and take advantage of frameworks to speed your coding along. Plus, you'll find out how Swift does away with pointer variables and how to reference and dereference variables instead.§Set up a playground development environment for Mac, iPhone, iPad, and wearable computers§Move an existing Objective-C program to Swift§Take advantage of framework components and subcomponents§Create an app that uses location, mapping, and social media§§Whether you're an existing Objective-C programmer looking to port your code to Swift or you've never programmed for Apple in the past, this fun and friendly guide gets you up to speed swiftly.
Sklep: Libristo.pl 159,99 zł
Książki Obcojęzyczne>Angielskie>Computing & information technology>Computer science
With This Practical Guide, Skilled Programmers With Little Or No Knowledge Of Apple Development Will Learn How To Code With Swift 2 By Developing Three Complete, Tightly Linked Versions Of The Notes Application For The OS X, IOS, And WatchOS Platforms.
Sklep: Gigant.pl 122,82 zł
Książki / Literatura obcojęzyczna
Swift Recipes provides a problem solution approach for dealing with key aspects of the Swift programming language, ensuring you have the indispensable reference you need to successfully execute common programming tasks. You will see how to use the unique features of the Swift programming language along with its use with Cocoa and Cocoa touch frameworks and libraries.§§Solutions are available for a range of problems, including application development with Xcode; working with strings, numbers and object collections; dealing with threads, multi-core processing and asynchronous processing; and building applications that take advantage of dates and timers and memory management.§§This book is an essential core reference for every Swift programmer, and offers solutions in a concise and easy-to-follow manner. Matthew Campbell has trained over 800 new iOS developers at the Mobile App Mastery Institute and iOS Code Camp, and here brings his expertise to offer you the ability to use and exploit Swift to get the most out of all of your projects for your app creations - whether iOS or Mac OS X.§
Sklep: Libristo.pl 154,30 zł
Książki / Literatura obcojęzyczna
Learn WatchKit for iOS covers the development of applications for the new Apple Watch using the WatchKit framework and the Swift programming language. Apple Watch applications are built as extensions to existing iOS applications and are packaged and submitted to the App Store along with their hosting iOS app. Using a real-world example application, Kim Topley, co-author of Beginning iPhone Development with Swift , introduces and explains every feature of WatchKit and the iOS 8 technologies that you'll need to understand to build Apple Watch applications.§§Covers development of applications for the new Apple Watch using the WatchKit framework in Xcode 6.§§Introduces WatchKit using an example application that is developed over the course of the book.§§Assumes basic knowledge of iOS application development and Xcode.
Sklep: Libristo.pl 154,14 zł
Książki / Literatura obcojęzyczna
Beginning SQL Server for Developers is the perfect book for developers new to SQL Server and planning to create and deploy applications against Microsoft's market-leading database system for the Windows platform. Now in its fourth edition, the book is enhanced to cover the very latest developments in SQL Server, including the in-memory features that are introduced in SQL Server 2014.§§Within the book, there are plenty of examples of tasks that developers routinely perform. You'll learn to create tables and indexes, and be introduced to best practices for securing your valuable data. You'll learn design tradeoffs and find out how to make sound decisions resulting in scalable databases and maintainable code.§§SQL Server 2014 introduces in-memory tables and stored procedures. It's now possible to accelerate applications by creating tables (and their indexes) that reside entirely in memory, and never on disk. These new, in-memory structures differ from caching mechanisms of the past, and make possible the extraordinarily swift execution of certain types of queries such as are used in business intelligence applications. Beginning SQL Server for Developers helps you realize the promises of this new feature set while avoiding pitfalls that can occur when mixing in-memory tables and code with traditional, disk-based tables and code.§§Beginning SQL Server for Developers takes you through the entire database development process, from installing the software to creating a database to writing the code to connect to that database and move data in and out. By the end of the book, you'll be able to design and create solid and reliable database solutions using SQL Server.§§Takes you through the entire database application development lifecycle§Includes brand new coverage of the in-memory features§Introduces the freely-available Express Edition
Sklep: Libristo.pl 371,08 zł
Książki / Literatura obcojęzyczna
The present study offers a poetics of science in the contemporary historical, and more specifically, neo-Victorian novel. Its starting point is both the profound (dis)similarity between science and history, and Ansgar Nünning's pathbreaking systematisation of the historical novel. The poetics itself is based on a rigorous development and application of four hypotheses. These hypotheses are a direct result of the interdisciplinary nature of a study with at least three, if not four, epistemological concerns, for this is a study of 'science' in a 'literary' context which deals with 'history,' specifically history of the 'Victorian' period. Each of the four terms forms the basis for one of the hypotheses. The poetics is tested on two novels which have proved to be land-marks in neo-Victorian fiction: Graham Swift's Waterland (1983) and A. S. Byatt's Possession (1990).
Sklep: Libristo.pl
Sklepy zlokalizowane w miastach: Warszawa, Kraków, Łódź, Wrocław, Poznań, Gdańsk, Szczecin, Bydgoszcz, Lublin, Katowice
Szukaj w sklepach lub całym serwisie
2. Szukaj na wszystkich stronach serwisu
t1=0.054, t2=0, t3=0, t4=0, t=0.054