krainaksiazek applications a base d fpga 20124725
- znaleziono 8 produktów w 2 sklepach 502,85 z³
Ksi±¿ki / Literatura obcojêzyczna
La réactivité des nanoparticules d'or, est conditionnée par de nombreux paramètres largement décrits dans la littérature: pH et concentration de la solution d'or, point isoélectrique (PIE) du support, nature du traitement thermique, etc. Ce livre décrit les étapes de développement des catalyseurs à base d'or supportés sur les oxydes simples CeO2, TiO2 et ZrO2 et mixtes binaires de type solution solide: CeO2-ZrO2, TiO2-ZrO2 et CeO2- TiO2 avec différents rapports Ce/Zr, Ti/Zr et Ce/Ti et les applications de ces catalyseurs dans des réactions d'oxydation et d'hydrogénation sélective de l'acétylène. La comparaison des propriétés physico-chimique des divers catalyseurs témoigne de la forte influence de l'état de surface du support sur la taille des particules et sur la réactivité de CO et de la complexité des interactions métal- support dès la phase de préparation des catalyseurs. Nous avons mis en évidence l'influence du support sur les mécanismes des réactions impliquant l'acétylène.
Sklep: Libristo.pl 194,43 z³
Ksi±¿ki / Literatura obcojêzyczna
Using TRILL, FabricPath, and VXLAN Designing Massively Scalable Data Centers with Overlays TRILL, FabricPath, and VXLAN overlays help you distribute data traffic far more effectively, dramatically improving utilization in even the largest data center networks. Using TRILL, FabricPath, and VXLAN is the first practical and comprehensive guide to planning and establishing these high-efficiency overlay networks. The authors begin by reviewing today's fast-growing data center requirements, and making a strong case for overlays in the Massive Scale Data Center (MSDC). Next, they introduce each leading technology option, including FabricPath, TRILL, LISP, VXLAN, NVGRE, OTV, and Shortest Path Bridging (SPB). They also present a chapter-length introduction to IS-IS, focusing on details relevant to the control of FabricPath and TRILL networks. Building on this foundation, they offer in-depth coverage of FabricPath: its advantages, architecture, forwarding, configuration, verification, and benefits in Layer-2 networks. Through examples, they explain TRILL's architecture, functionality, and forwarding behavior, focusing especially on data flow. They also fully address VXLAN as a solution for realizing IP-based data center fabrics, including multi-tenant cloud applications. Using TRILL, FabricPath, and VXLAN provides detailed strategies and methodologies for FabricPath, TRILL, and VXLAN deployment and migration, as well as best practices for management and troubleshooting. It also presents three detailed implementation scenarios, each reflecting realistic data center challenges. In particular, the authors show how to integrate multiple overlay technologies into a single end-to-end solution that offers exceptional flexibility, agility, and availability. Sanjay K. Hooda is principal engineer in Catalyst switching software engineering at Cisco. He has more than 15 years of network design and implementation experience in large enterprise environments, and has participated in IETF standards activities. His interests include wireless, multicast, TRILL, FabricPath, High Availability, ISSU, and IPv6. He is co-author of IPv6 for Enterprise Networks. Shyam Kapadia, Technical Leader at Cisco's Data Center Group (DCG), was an integral part of the team that delivered the next-generation Catalyst 6500 Sup 2T (2 Terabyte) platform. Since then, he has focused on developing new solutions for data center environments. He holds a Ph.D. in computer science from USC, where his research encompassed wired, wireless, ad hoc, vehicular, and sensor networks. Padmanabhan Krishnan has more than 12 years of experience in networking and telecommunications, including 7 at Cisco. His recent experience has included providing data path solutions for TRILL in the Catalyst 6500 Sup 2T Platform using FPGA, as well as design and development of platform core infrastructure and L2 features. n Discover how overlays can address data center network problems ranging from scalability to rapid provisioning n Examine popular data center overlay examples n Learn about extensions to IS-IS for TRILL and FabricPath n Use FabricPath, TRILL, and VXLAN to simplify configuration, improve performance and availability, optimize efficiency, and limit table size n Learn about FabricPath control and data plane architecture details n Review example FabricPath configurations on Cisco Nexus 7000/6000/5000 switches n Understand TRILL concepts and architecture, including overlay header, control and data plane, and MAC address learning n Learn about VXLAN architecture details and packet forwarding n Review example VXLAN configurations on a Cisco Nexus 1000V distributed virtual switch n Implement TRILL/FabricPath networks with VXLAN to virtualized servers in an intra-data center environment n Connect multiple traditional data centers using an OTV overlay as a Layer 2 extension n Use OTV overlays to connect sites running FabricPath, TRILL, or both
Sklep: Libristo.pl 331,54 z³
Ksi±¿ki / Literatura obcojêzyczna
De quoi a besoin un joueur d'Échecs ? Un partenaire de jeu, un entraîneur, une bibliothèque d'Échecs et un accès en ligne d'Échecs! FRITZ, sûrement le programme d'Échecs le plus populaire au monde, offre exactement cela aux joueurs débutants et confirmés : jouer au plus haut niveau (inoubliables : les victoires de FRITZ contre Kasparov, Kramnik & Cie.), ainsi que des fonctions d'entraînement pour toutes les phases de la partie, Échecs en ligne sur playchess.com, gérer et analyser ses propres parties ainsi qu'une base de données de 2 M de parties. FRITZ 15 offre encore plus : Compte ChessBase Premium (6 mois) : accès intégral aux nouvelles applications Web (également pour iPad et tablettes Android) : 300 vidéos d'entraînement, application tactique avec 50.000 exercices, base en ligne avec 8 M de parties et naturellement jeu en ligne sur playchess.com, etc. Mode de jeu "Amical" : pendant la partie FRITZ 15 s'adapte constamment à votre force de jeu. Avec voyant lumineux pour les opportunités tactiques et évaluation Elo pour les trois phases de jeu. "J'aurais dû gagner !" Combien de fois avez-vous penser cela après une partie de Blitz sur playchess.com ? Fritz 15 vous montre directement après la partie les possibilités que vous avez négligées. De plus : fenêtre de base étendue avec possibilités d'accès professionnelles et fonctions de tri. Et cerise sur le gâteau : le nouveau module Fritz 15 multiprocesseur (prend en charge jusqu'à 16 coeurs de processeurs) a été développé par le programmeur de pointe Vas Rajlich ("Rybka"). CONFIGURATION REQUISE POUR FRITZ15: Minimum: Pentium III 1 GHz, 2 Go RAM, Windows XP (Service Pack 3), DirectX9, carte graphique 256 Mo RAM, lecteur DVD-ROM, Windows Media Player 9 et connexion Internet. Recommandé: PC Intel i5 (Quadcore), 8 Go RAM, Windows 10 ou 8.1, DirectX10, carte graphique 512 Mo RAM ou mieux, carte son 100% compatible DirectX10, Windows Media Player 11, lecteur DVD-ROM et connexion Internet. Configuration requise pour Compte ChessBase: Connexion Internet et navigateur récent par ex. Chrome, Safari. Pour Windows, OS X, iOS, Android, Linux.
Sklep: Libristo.pl 9810,62 z³
Ksi±¿ki / Literatura obcojêzyczna
Over the past four decades computational methods in applied mechanics have developed into valuable tools that are widely used across both industry and academia. The applications are numerous: aerospace structures, civil engineering structures, geotechnics, flow problems, automotive industry, geo-environmental modelling, biomechanics, electromagnetism, metal forming, to name but a few. This three volume set provides the most comprehensive and up-to-date collection of knowledge about this increasingly important area of engineering science. The Encyclopedia provides a well-rounded and practical knowledge base that will serve as a foundation for the reader's research and practice in developing designs and in understanding, assessing and managing numerical analysis systems. Containing over 70 in-depth and thoroughly cross referenced articles on key topics from internationally renowned researchers, the Encyclopedia of Computational Mechanics will cover three key areas.*Volume One: Fundamentals will cover the basic concepts behind discretization, interpolation, error estimation, solvers, computer algebra and geometric modelling.* Volume Two: Solids and Volume Three: Fluids will build on this foundation with extensive, in-depth coverage of industrial applications. The main readership for this book will be researchers, research students (PhD. D. and postgraduate) and professional engineers in industrial and governmental laboratories. Academic interest will stem from civil, mechanical, geomechanical, biomedical, aerospace and chemical engineering departments, through to the fields of applied mathematics, computer science and physics.
Sklep: Libristo.pl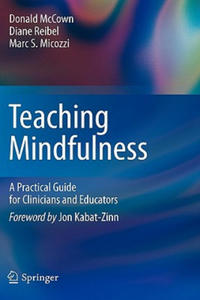 974,76 z³
Ksi±¿ki / Literatura obcojêzyczna
Teaching Mindfulness: A Practical Guide for Clinicians and Educators§§Donald McCown, Thomas Jefferson University School of Medicine, Philadelphia, PA§Diane C. Reibel, Thomas Jefferson University School of Medicine, Philadelphia, PA§Marc S. Micozzi, Georgetown University School of Medicine, Washington, D.C.§The applications and use of mindfulness-based interventions in medicine, mental health care, and education have been expanding as rapidly as the empirical evidence base that is validating and recommending them. This growth has created a powerful demand for professionals who can effectively deliver these interventions, and for the training of new professionals who can enter the fold.§§Ironically, while the scientific literature on mindfulness has surged, little attention has been paid to the critical who and how of mindfulness pedagogy. Teaching Mindfulness is the first in-depth treatment of the person and skills of the mindfulness teacher. It is intended as a practical guide to the landscape of teaching, to help those with a new or growing interest in mindfulness-based interventions to develop both the personal authenticity and the practical know-how that can make teaching mindfulness a highly rewarding and effective way of working with others. The detail of theory and praxis it contains can also help seasoned mindfulness practitioners and teachers to articulate and understand more clearly their own pedagogical approaches. §§Engagingly written and enriched with vignettes from actual classes and individual sessions, this unique volume:§§§§Places the current mindfulness-based interventions in their cultural and historical context to help clarify language use, and the integration of Eastern and Western spiritual and secular traditions§§§Offers a highly relational understanding of mindfulness practice that supports moment-by-moment work with groups and individuals§§§Provides guidance and materials for a highly experiential exploration of the reader s personal practice, embodiment, and application of mindfulness §§§§Describes in detail the four essential skill sets of the mindfulness teacher §§§§Proposes a comprehensive, systematic model of the intentions of teaching mindfulness as they are revealed in the mindfulness-based interventions§§§Includes sample scripts for a wide range of mindfulness practices, and an extensive resource section for continued personal and career development §§§Essential for today s practitioners and teachers of mindfulness-based interventions§§§Teaching Mindfulness: A Practical Guide for Clinicians and Educators brings this increasingly important discipline into clearer focus, opening dialogue for physicians, clinical and health psychologists, clinical social workers, marriage and family therapists, professional counselors, nurses, occupational therapists, physical therapists, pastoral counselors, spiritual directors, life coaches, organizational development professionals, and teachers and professionals in higher education in short, everyone with an interest in helping others find their way into the benefits of the present moment.
Sklep: Libristo.pl 229,77 z³
Ksi±¿ki / Literatura obcojêzyczna
Microsoft .NET Development Series "Supported by the leaders and principal authorities of core Microsoft technologies, this series has an author pool that combines some of the most insightful authors in the industry with the lead software architects and developers at Microsoft and the developer community at large." - Don Box Architect, Microsoft "This is a great resource for professional .NET developers. It covers all bases, from expert perspective to reference and how-to. Books in this series are essential reading for those who want to judiciously expand their knowledge base and expertise." -John Montgomery Principal Group Program Manager, Developer Division, Microsoft "This foremost series on .NET contains vital information for developers who need to get the most out of the .NET Framework. Our authors are selected from the key innovators who create the technology and are the most respected practitioners of it." -Brad Abrams Group Program Manager, Microsoft ASP.NET AJAX server controls can encapsulate even the most powerful AJAX functionality, helping you build more elegant, maintainable, and scalable applications. This is the first comprehensive, code-rich guide to custom ASP.NET AJAX server controls for experienced ASP.NET developers. Unlike other books on ASP.NET AJAX, this book focuses solely on server control development and reflects the significant improvements in ASP.NET 3.5 AJAX and the latest Visual Studio 2008 features for streamlining AJAX development Adam Calderon and Joel Rumerman first review the core Microsoft AJAX Library and JavaScript techniques needed to support a rich client-side experience. Next, they build upon these techniques showing how to create distributable AJAX-enabled controls that include rich browser-independent JavaScript client-side functionality. The authors thoroughly explain both the JavaScript and .NET aspects of control development and how these two distinct environments come together to provide a foundation for building a rich user experience using ASP.NET AJAX. * Create object-oriented cross-browser JavaScript that supports .NET style classes, interfaces, inheritance, and method overloading* Work with components, behaviors, and controls, and learn how they relate to DOM elements* Learn Sys.Application and the part it plays in object creation, initialization, and events in the Microsoft AJAX Library* Build Extender and Script controls that provide integrated script generation for their corresponding client-side counterparts* Localize ASP. NET AJAX controls including client script* Discover ASP.NET AJAX client and server communication architecture and the new support for Windows Communication Foundation (WCF)* Understand ASP.NET AJAX Application Services* Create custom Application Services* Design controls for a partial postback environment* Understand the AJAX Control Toolkit architecture and the many features it provides* Develop highly interactive controls using the AJAX Control Toolkit* Understand AJAX Control Toolkit architecture and build controls that utilize the toolkit Foreword xxv Preface xxvii Acknowledgments xxxv About the Authors xxxix Part I: Client Code Chapter 1: Programming with JavaScript 3 Chapter 2: Microsoft AJAX Library Programming 51 Part II: Controls Chapter 3: Components 121 Chapter 4: Sys.Application 169 Chapter 5: Adding Client Capabilities to Server Controls 207 Chapter 6: ASP.NET AJAX Localization 255 Chapter 7: Control Development in a Partial Postback Environment 317 Part III: Communication Chapter 8: ASP.NET AJAX Communication Architecture 371 Chapter 9: Application Services 425 Part IV: AJAX Control Toolkit Chapter 10: ASP.N ET AJAX Control Toolkit Architecture 481 Chapter 11: Adding Client Capabilities to Server Controls Using the ASP.NET AJAX Control Toolkit 513 Appendixes Appendix A: JavaScript in Visual Studio 2008 547 Appendix B: Validating Method Parameters 555 Appendix C: ASP.NET Handlers and Modules 559 Appendix D: Client Error Handling Code 569 Index 577
Sklep: Libristo.pl 198,86 z³
kategoria nadrzedna nie istnieje
Exceptional Cooling, Significant Quiet Introducing the next generation of be quiet!
Sklep: Soft-PC.pl 93,80 z³
Ksi±¿ki / Literatura obcojêzyczna
Sams Teach Yourself SQL in 10 Minutes, Fourth Edition New full-color code examples help you see how SQL statements are structured Whether you're an application developer, database administrator, web application designer, mobile app developer, or Microsoft Office users, a good working knowledge of SQL is an important part of interacting with databases. And Sams Teach Yourself SQL in 10 Minutes offers the straightforward, practical answers you need to help you do your job. Expert trainer and popular author Ben Forta teaches you just the parts of SQL you need to know-starting with simple data retrieval and quickly going on to more complex topics including the use of joins, subqueries, stored procedures, cursors, triggers, and table constraints. You'll learn methodically, systematically, and simply-in 22 short, quick lessons that will each take only 10 minutes or less to complete. With the Fourth Edition of this worldwide bestseller, the book has been thoroughly updated, expanded, and improved. Lessons now cover the latest versions of IBM DB2, Microsoft Access, Microsoft SQL Server, MySQL, Oracle, PostgreSQL, SQLite, MariaDB, and Apache Open Office Base. And new full-color SQL code listings help the beginner clearly see the elements and structure of the language. 10 minutes is all you need to learn how to...* Use the major SQL statements * Construct complex SQL statements using multiple clauses and operators * Retrieve, sort, and format database contents * Pinpoint the data you need using a variety of filtering techniques * Use aggregate functions to summarize data * Join two or more related tables * Insert, update, and delete data * Create and alter database tables * Work with views, stored procedures, and moreTable of Contents 1 Understanding SQL 2 Retrieving Data 3 Sorting Retrieved Data 4 Filtering Data 5 Advanced Data Filtering 6 Using Wildcard Filtering 7 Creating Calculated Fields 8 Using Data Manipulation Functions 9 Summarizing Data 10 Grouping Data 11 Working with Subqueries 12 Joining Tables 13 Creating Advanced Joins 14 Combining Queries 15 Inserting Data 16 Updating and Deleting Data 17 Creating and Manipulating Tables 18 Using Views 19 Working with Stored Procedures 20 Managing Transaction Processing 21 Using Cursors 22 Understanding Advanced SQL Features Appendix A: Sample Table Scripts Appendix B: Working in Popular Applications Appendix C : SQL Statement Syntax Appendix D: Using SQL Datatypes Appendix E: SQL Reserved Words
Sklep: Libristo.pl
Sklepy zlokalizowane w miastach: Warszawa, Kraków, £ód¼, Wroc³aw, Poznañ, Gdañsk, Szczecin, Bydgoszcz, Lublin, Katowice
Szukaj w sklepach lub ca³ym serwisie
2. Szukaj na wszystkich stronach serwisu
t1=0.075, t2=0, t3=0, t4=0.018, t=0.076