krainaksiazek applied psychology making your own world 20039430
- znaleziono 8 produktów w 4 sklepach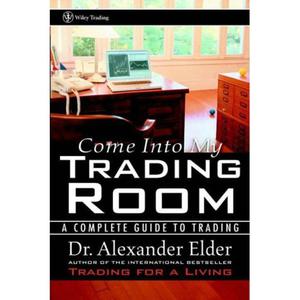 204,79 zł
Literatura anglojęzyczna
Podana cena książki jest orientacyjna, zależy od kilku czynników. Po zakupie obsługa sklepu skontaktuje się, jeśli konieczna będzie dopłata. Book Description The trading bible for the new millennium In Come Into My Trading Room , noted trader and author Dr. Alexander Elder returns to expand far beyond the three M's (Mind, Method, and Money) of his bestselling Trading for a Living. Shifting focus from technical analysis to the overall management of a trader's money, time, and strategy, Dr. Elder takes readers from the fundamentals to the secrets of being a successful trader--identifying new, little known indicators that can lead to huge profits. Come Into My Trading Room educates the novice and fortifies the professional through expert advice and proven trading methodologies. This comprehensive trading guide provides a complete introduction to the essentials of successful trading; a fresh look at the three M's, including a proven, step-by-step money management strategy; and an in-depth look at organizing your trading time. Come Into My Trading Room reviews the basics of trading stocks, futures, and options as well as crucial psychological tactics for discipline and organization
Sklep: Maklerska.pl 120,58 zł
Książki / Literatura obcojęzyczna
Modern science has shown that in order to behave more productively in complex business situations, we need to understand and alter the inner workings of our brain. With insight from applied neuroscience, behavioural economics and psychology, the brain can be retrained and become our most valuable asset. Neuroscience for Leaders takes a practical approach and offers an easy-to-implement framework for making the behavioural changes to become a more effective leader. Drawing upon their own research and practical experience, Nikolaos Dimitriadis and Alexandros Psychogios present a flexible framework for fine-tuning the leadership brain. The Brain Adaptive Leadership approach is a step-by-step guide to fine-tuning your mindset in five key areas that will lead to more effective leadership: enhancing the way you think, understanding and nurturing emotions, shaping automated brain responses, developing dynamic relations, and utilizing brain-friendly communications. In Neuroscience for Leaders, the authors explain both the underlying science and how to apply its findings in business, demonstrating why and how you can become a better leader through brain-based learning. Case studies and business examples from organizations spanning a wide range of sectors and countries give readers real world insights to improve their own practice. With tools, managerial tips and clear actions to implement the method straight away, Neuroscience for Leaders is an invaluable companion to managers and leaders at any organizational level who want to gain the brain edge.
Sklep: Libristo.pl 166,40 zł
Nauka
Just-in-Time Algebra Review: A new feature in this edition are algebra "boxes" in the margin that remind students of key facts and procedures, such as the quadratic formula, at the point in the material that such procedures will be useful. For students needing additional work on algebra topics, an extensive algebra review is included in an appendix. This appendix includes worked examples and applied practice problems for the student. Students are advised throughout the text when it might be appropriate to consult this material. |Focused Topic Coverage: The focus of the text has been sharpened by eliminating topics not covered in many courses. Chapter 8, Sequences and Series, and Chapter 9, Trigonometric Functions, of the sixth edition have been removed from the seventh edition.|Realistic Examples: Each topic in the textbook is motivated by realistic worked examples. Many new practical examples have been added to the Seventh Edition, and many existing examples have been modified throughout the text. In particular, examples introducing key topics such as the limit, the derivative, and the integral have been carefully rewritten with an eye toward realism.|NetTutor: Now, let your students access real-time math tutoring on-line! NetTutor is a revolutionary new web-based learning environment for the live dissemination of mathematical content. NetTutor offers your students live, personalized tutoring via the internet. Using NetTutorĹźs powerful WWWhiteboard software, students can post a question and receive prompt feedback from an expert in their subject -- often in real time. The WWWhiteboard allows students and tutors to use proper mathematical notation as well as other highlighting features - truly making this a unique learning experience. Students may also post questions to the Q&A Center and receive a reply within 24 hours. Visiting the Message Center allows students to discuss difficult concepts among themselves, while the Archive Center provides a browseable list of questions and answers maintained by the subject tutor. NetTutor is FREE and an invaluable aid for all students: it's the study partner who always has the answer.|Applications: Solving applied problems is the core focus of an applied calculus course. The authors believe that topics should be applied to practical problems very soon after they are introduced, and a strong attempt has been made to put this belief into effect in the eighth edition. methods are provided for dealing both with both routine computations and practical problems. These problem-solving methods and strategies are introduced in examples and are followed by both end of section exercises and extensive set of review problems at the end of each chapter. All concepts covered in the text are applied to a variety of practical situations from business and economics and the social, managerial, environmental, and life sciences. For easy reference, an applications index is also provided.|Referenced Examples and Exercises: Every chapter includes a number of referenced examples and problems that are based on journal articles or information found in texts. Some of these problems are routine and others challenging, but all are tied to issues of practical interest relating mathematics to the real world. |Exercises: Always a recognized strength in earlier editions, this text provides students with ample opportunities to practice problem-solving strategies. All exercise sets are carefully graded so that the more routine exercises are placed first in the exercise set, followed by more challenging exercises and applications. Exercise sets follow each section, and Review Exercises follow each chapter. |Writing Exercises: Every exercise set includes writing problems, delineated by an icon, that are related to issues raised in the examples and exercises. These problems ask students to communicate about mathematics using words, not just symbols. Additionally, they challenge students' critical thinking skills and invite them to research topics on their own. Usually, there is no set answer to these problems, and individual responses may vary. |Definitions: Key concepts and definitions are set off in shaded boxes for easy referencing by the student|Think About It Essays: Each chapter ends with an essay designed to introduce modeling procedures based on referenced journal articles. These essays provide background information on an applied situation and then invite students to answer a series of "bite-sized" questions culminating in a question of some importance in the social, managerial, or biological sciences. In this way, students are introduced to ideas and methods that might otherwise be beyond the scope of the text. Answers to these problems are found in the Instructor's Manual. |Technology: The use of technology in conjunction with this text is entirely optional. In the Seventh Edition of the text, Explore! boxes were introduced to guide students in the use of graphing utilities to study the concepts and procedures of calculus. These Explore! boxes have been extensively revised in this edition, and new explorations included. Additionally, each chapter ends with an Explore! Update, which contains hints for using a graphing utility and solutions to selected Explore! box exercise. Each problem set also includes numerous problems involving the use of a calculator that are denoted by a calculator icon.
Sklep: Albertus.pl 2402,51 zł
Książki / Literatura obcojęzyczna
For nearly two decades and two editions, Plastic and Reconstructive Breast Surgery by John Bostwick III, MD, has been widely recognized as the definitive breast surgery reference for surgeons around the world. Filled with the best techniques and expert instruction, it has guided countless surgical professionals to better outcomes and, as a result, has given thousands of patients a better outlook on life. Winner of both the American Medical Illustrator's Award and the American Medical Writer's Award for the best medical book, this remarkable book has been widely praised by reviewers and readers alike as the "Bible of Plastic Surgery of the Breast." Completely Updated and Revised Under New Editorship Now this masterpiece has been totally updated and revised under the skilled guidance of its new author/editor, Dr. Glyn E. Jones, a highly talented surgeon and a close, former colleague of Dr. John Bostwick, the original author of this work whose guiding spirit and philosophy still pervade its pages. This third edition, Bostwick's Plastic and Reconstructive Breast Surgery, pays full deference to John Bostwick's enormous contributions to the field. Dr. Jones continues the honored tradition of this book, adding his own considerable expertise to this master work and providing a personal and practical approach to the topic. He is assisted by a select group of internationally recognized contributors. Together these leading surgeons share their vast experience and clinical insights in plastic surgery of the breast and bring you the latest techniques and developments in the field. The result is a virtual goldmine of valuable information, tips and tricks, and step-by-step operative detail with many new features added to make the book more valuable. Comprehensive Coverage Volume I begins with a section on fundamentals that includes basic chapters on the patient/surgeon relationship and applied anatomy and aesthetics. A new chapter has been added on decision making in implant selection, which updates the reader on device choices as well as their specifications, indications, advantages, and limitations with particular attention to the new cohesive gel offerings. Other chapters in this section focus on new techniques and concepts in breast imaging and the use of allograft materials in breast surgery. A new, cutting-edge chapter is included on fat grafting in the breast with a full exploration of its many applications. Chapters on augmentation, reduction, mastopexy, and aesthetic problems have been expanded and completely revised to reflect the newest aesthetic techniques and the current approaches of Dr. Jones and of contributing experts, Dr. Dennis Hammond, Dr. Elizabeth Hall-Findlay, and Dr. Gino Rigotti. An exciting new chapter by Dr. Peter Rubin thoroughly explores the hot topic of breast surgery in the massive-weight-loss patient with information on indications, choice of technique, step-by-step operative detail, and possible complications and their avoidance. Volume II is dedicated to the difficult procedures and rewarding results that can be accomplished in breast reconstruction. It includes extensive information on the latest perforator flap (Dr. Peter Neligan) and oncoplastic techniques (Dr. Albert Losken), as well as new information on breast reconstruction after radiation, prophylactic mastectomy and BRCA patients, refinements in TRAM flap surgery, liposuction applications, free flaps, and much, much more. Superbly Illustrated The educational value of this two-volume work is enormously enhanced by the superb medical illustrations that grace its pages. This edition has beautiful new artwork that elegantly depicts important breast anatomy as well as the step-by-step surgical technique for each of the operations that are comprehensively described. Now More than Ever, This Is the One Reference You Simply Must Own! Like the first two editions, this masterpiece is a must for any professional performing breast surgery. Its clear organization, generous use of illustrations, and surgical guidance will improve your outcomes with your very next case. What's New in this Remarkable Third Edition? Eight completely new chapters: Decision Making in Implant and Expander Surgery Fat Grafting to the Breast Technological Advances in Breast Surgery Breast Surgery After Massive Weight Loss Imaging of the Breast Breast Cancer and High-Risk Breast Disease Decision Making in Breast Reconstruction Oncoplastic Surgery Major new sections on: Perforator Flap Reconstruction Vertical Mammaplasty with the Supero-Medial Pedicle Technique Cohesive Gel Implants Allograft Materials What Remains the Same in this New Edition? This magnificent book retains the format that made the first and second editions best sellers, including: Superb quality Semi-atlas format Personal and inviting writing style Consistent, comprehensive approach Focus on aesthetic and reconstructive breast surgery Two-volume format
Sklep: Libristo.pl 269,08 zł
Książki / Literatura obcojęzyczna
"Imagine trying to play defense in football without ever studying offense. You would not know when a run was coming, how to defend pass patterns, nor when to blitz. In computer systems, as in football, a defender must be able to think like an attacker. I say it in my class every semester, you don't want to be the last person to attack your own system--you should be the first. "The world is quickly going online. While I caution against online voting, it is clear that online gaming is taking the Internet by storm. In our new age where virtual items carry real dollar value, and fortunes are won and lost over items that do not really exist, the new threats to the intrepid gamer are all too real. To protect against these hazards, you must understand them, and this groundbreaking book is the only comprehensive source of information on how to exploit computer games. Every White Hat should read it. It's their only hope of staying only one step behind the bad guys." --Aviel D. Rubin, Ph.D. Professor, Computer Science Technical Director, Information Security Institute Johns Hopkins University "Everyone's talking about virtual worlds. But no one's talking about virtual-world security. Greg Hoglund and Gary McGraw are the perfect pair to show just how vulnerable these online games can be." --Cade Metz Senior Editor PC Magazine "If we're going to improve our security practices, frank discussions like the ones in this book are the only way forward. Or as the authors of this book might say, when you're facing off against Heinous Demons of Insecurity, you need experienced companions, not to mention a Vorpal Sword of Security Knowledge." --Edward W. Felten, Ph.D. Professor of Computer Science and Public Affairs Director, Center for Information Technology Policy Princeton University "Historically, games have been used by warfighters to develop new capabilities and to hone existing skills--especially in the Air Force. The authors turn this simple concept on itself, making games themselves the subject and target of the 'hacking game,' and along the way creating a masterly publication that is as meaningful to the gamer as it is to the serious security system professional. "Massively distributed systems will define the software field of play for at least the next quarter century. Understanding how they work is important, but understanding how they can be manipulated is essential for the security professional. This book provides the cornerstone for that knowledge." --Daniel McGarvey Chief, Information Protection Directorate United States Air Force "Like a lot of kids, Gary and I came to computing (and later to computer security) through games. At first, we were fascinated with playing games on our Apple ][s, but then became bored with the few games we could afford. We tried copying each other's games, but ran up against copy-protection schemes. So we set out to understand those schemes and how they could be defeated. Pretty quickly, we realized that it was a lot more fun to disassemble and work around the protections in a game than it was to play it. "With the thriving economies of today's online games, people not only have the classic hacker's motivation to understand and bypass the security of games, but also the criminal motivation of cold, hard cash. That's a combination that's hard to stop. The first step, taken by this book, is revealing the techniques that are being used today." --Greg Morrisett, Ph.D. Allen B. Cutting Professor of Computer Science School of Engineering and Applied Sciences Harvard University "If you're playing online games today and you don't understand security, you're at a real disadvantage. If you're designing the massive distributed systems of tomorrow and you don't learn from games, you're just plain sunk." --Brian Chess, Ph.D. Founder/Chief Scientist, Fortify Software Coauthor of Secure Programming with Static Analysis "This book offers up a fascinating tour of the battle for software security on a whole new front: attacking an online game. Newcomers will find it incredibly eye opening and even veterans of the field will enjoy some of the same old programming mistakes given brilliant new light in a way that only massively-multiplayer-supermega-blow-em-up games can deliver. w00t!" --Pravir Chandra Principal Consultant, Cigital Coauthor of Network Security with OpenSSL If you are a gamer, a game developer, a software security professional, or an interested bystander, this book exposes the inner workings of online-game security for all to see. From the authors of the best-selling Exploiting Software, Exploiting Online Games takes a frank look at controversial security issues surrounding MMORPGs, such as World of Warcraft(t) and Second Life(R). This no-holds-barred book comes fully loaded with code examples, debuggers, bots, and hacks. This book covers * Why online games are a harbinger of software security issues to come * How millions of gamers have created billion-dollar virtual economies * How game companies invade personal privacy * Why some gamers cheat * Techniques for breaking online game security * How to build a bot to play a game for you * Methods for total conversion and advanced mods Written by the world's foremost software security experts, this book takes a close look at security problems associated with advanced, massively distributed software. With hundreds of thousands of interacting users, today's online games are a bellwether of modern software. The kinds of attack and defense techniques described in Exploiting Online Games are tomorrow's security techniques on display today.
Sklep: Libristo.pl 52,36 zł
Książki / Literatura obcojęzyczna
Permaculture experts Ross and Jenny Mars outline the steps to transform your garden into a productive living system. Modeled upon the development of Candlelight Farm, and illustrated with photographs, this guide encourages the reader to make positive steps towards reconciling human impact with nature - following the permaculture ideal. Permaculture is based on the ethics of caring for people and our planet. It is about growing your own healthy food, being resourceful and environmentally responsible. Permaculture concepts and ideas can be applied successfully from small suburban units to large farming properties. Getting Started in Permaculture delivers step-by-step knowledge for a variety of useful projects including: making herb fertilizers, compost, organic sprays for pest control, and much, much more. It also includes how to recycle your soft drink bottles, waste paper, and tires in a number of useful projects such as ponds, fruit fly traps, retailing walls, and solar stills. As part of Permanent Publications Simple Living Series, this practical and accessible guide for gardeners of all skill levels serves as an ideal introduction to the world of permaculture.
Sklep: Libristo.pl 123,43 zł
Książki / Literatura obcojęzyczna
Larry Williams has never backed away from authority, especially government authority - the U.S. or any other. Including two battles all the way to the Supreme Court. Libertarian, trader, would be politician, and Indiana Jones-like adventurer, Larry has gone wherever his spirit moved him and bucked state constraints whenever he found them stifling. Throughout his life, his rebellious spirit served him well - huge successes in trading, to adventures right out of a Graham Greene novel in Saudi Arabia, two boisterous runs for the U.S. Senate, a famous actress daughter entangled with an even more famous actor, a new grandchild - the life well lived that would be the envy of most people. Along the way, Larry became a tax protester in the spirit of John Cheek and Irwin Schiff. However, Larry was far too free a spirit to give up his freedom for his beliefs, and figured that he was smarter than the zealot tax protesters now making license plates, particularly after meeting a man with an actual and real document from the IRS acknowledging the legitimacy of a certain kind of trust. But things are not always what they seem. Annoying letters from the IRS called for hiring an attorney to "work things out," which he thought (based on the bills he was paying) was in the works. Enjoying a pleasant flight in first class from South Africa to Australia, Larry, at the age of 64 with a new granddaughter and 5 children settled in successful lives of their own, reflected that life was pretty sweet. Then his plane landed in Australia and he was summarily arrested and jailed and taken to prison There began a nearly 4 year fight for his freedom at a huge financial cost; worse was the toll it took on his psyche. This is the story of Larry's war with the IRS and U.S. Dept. of Treasury and inside view of the world of tax protesters. Larry explains why the tax protest movement exists, where it is dead wrong and why it will most often lead followers to prison. He also weighs in on what can be done to correct the unfairness of the tax codes, and why tax rates are so astronomical, that the 'fair share' idea should be applied to what is the 'fair share' of your income the government is 'entitled' to.
Sklep: Libristo.pl 48,99 zł
Książki Obcojęzyczne>Angielskie>Health & personal development>Self-help & personal development>Popular psychology
Inviting You To Rethink Who You Are, What You Value, And What You Want From Life, This Title Shows How To Reinvent Yourself And Create Your Own Brand, And Investigates What It Means To Live In This World As A Tuned In, Caring Individual With A Passion For Making A Difference.
Sklep: Gigant.pl
Sklepy zlokalizowane w miastach: Warszawa, Kraków, Łódź, Wrocław, Poznań, Gdańsk, Szczecin, Bydgoszcz, Lublin, Katowice
Szukaj w sklepach lub całym serwisie
2. Szukaj na wszystkich stronach serwisu
t1=0.091, t2=0, t3=0, t4=0.027, t=0.091