krainaksiazek authentic mexican cooking the best mexican cookbook 20093031
- znaleziono 7 produktów w 2 sklepach 58,57 zł
Książki
Sklep: KrainaKsiazek.pl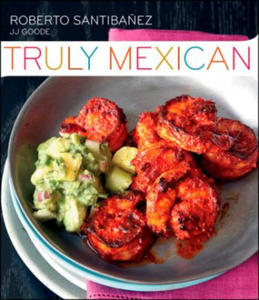 166,67 zł
Książki / Literatura obcojęzyczna
Amazing, authentic Mexican cooking for the home kitchen Mexican cuisine is an American favorite from coast to coast, but many people are too intimidated to try cooking real Mexican meals in their own kitchens. In Truly Mexican , Roberto Santibanez shows you that it's the flavors that are complex, not the cooking. With effortless preparations and fresh, flavorful ingredients, Mexican home cooking can be simple and simply delicious. An introduction to Mexican cooking covers the main ingredients as well as how they're best prepared-from toasting tortillas to roasting tomatoes-and offers a few simple kitchen commandments that make great results a given. Recipes cover main dishes, sides, salsas, guacamoles, moles, adobos, and more. Features 128 recipes for authentic Mexican favorites-from classic tacos and tamales to stunning dishes like Braised Short Ribs Adobo and Red Snapper Papillotes in Green Mole Includes a useful Sources section to help readers track down authentic Mexican ingredients Provides straightforward instructions on essential techniques like roasting chiles, making fresh tortillas, and filling enchiladas Illustrated throughout with dramatic photos that evoke bold Mexican flavors, Truly Mexican puts the real tastes of Mexico within easy reach.
Sklep: Libristo.pl 84,08 zł
Książki / Literatura obcojęzyczna
A spectacular taco bible, this cookbook delivers the best recipes ever. From the crucial choice of the right tortilla to the correct preparation of ingredients and toppings, Kelley Cleary Coffeen's recipes are fun,simple, delicious and economical. She has included a taco for every member of the family and any and every guest, from authentic Mexican tacos to traditional Americanized tacos as well as an array of creative culinary tacos that have never been done before. Here is a sample of the offerings: Chicken and turkey tacos, such as pollo verde tacos, sonora chicken flautas, 10-minute chicken tacos; Beef, roast and steak tacos, such as gingered short rib tacos, green chilli stew tacos, tres taquitos with guacamole; Pork and lamb tacos, such as Southern pulled pork tacos with honey mustard glaze, spicy chorizo tacos; Coastal, veggie and meatless tacos, such as Cajun shrimp tacos, mahi mahi tacos with citrus salsa, artichoke & spinach tacos; Dessert tacos, such as honey pecan tacos, apple caramel streusel flautas, cherry cheesecake cupitas; Salsas, sauces, relishes and more, such as peach & red onion salsa, roasted tomato salsa, blue cheese & onion relish, guacamole. The taco recipes are complemented by recipes for cocktails that are the perfect accompaniment, such as pink Cadillac margarita, mojito de Mexico, tequila grand and mesilla sangria. The book also includes recipes for authentic flour and corn tortillas, roasted and grilled meats and poultry, refried beans and 100 different vegetables, cheeses and salsas and other sauces. Everything needed to make outstanding taco meals can be found here.
Sklep: Libristo.pl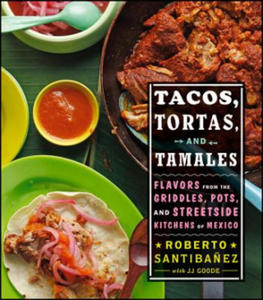 73,52 zł
Książki / Literatura obcojęzyczna
Discover the flavors of Mexican street food in your own kitchen Americans are having a love affair with the taco. What began as affection for the fast-food version--that hard yellow shell filled with ground beef and mysterious yellow cheese--has blossomed into an all-out obsession for the real thing, with upscale renditions and taco trucks popping up from coast to coast. Now, with Tacos, Tortas, and Tamales, chef Roberto Santibanez shows you how to recreate the thrilling, authentic flavors of the taquerias of Mexico in your own home. In addition to tacos, the book also explores the equally exciting Mexican sandwiches called tortas and hearty tamales, as well as salsas, condiments, fresh juices, and even desserts and refreshing margaritas. Author Roberto Santibanez is also the author of Rosa's New Mexican Table and Truly Mexican, as well as the chef and owner of Fonda restaurants in Brooklyn and Manhattan Santibanez's Truly Mexican was chosen as a New York Times Notable Cookbook of 2011 Using easy-to-find ingredients and simple techniques, this is the perfect introduction to real Mexican cooking for enthusiastic beginners and experienced cooks alike While the flavors you'll find here are exciting and complex, the cooking itself is anything but complicated. With Tacos, Tortas, and Tamales on your kitchen shelf, dinner will never be dull again.
Sklep: Libristo.pl 123,48 zł
Książki / Literatura obcojęzyczna
Eva Longoria may be most recognized for her role as Desperate Housewives' saucy Gabrielle Solis, but on her own time, there are few places she would rather be than in the kitchen, cooking the food she loves for her family and friends. Here is the food Eva loves to eat, and the recipes in Eva's Kitchen trace her life story, taking readers on her culinary journey from the food she was brought up on to the recipes inspired by her travels abroad to the dishes she serves during casual nights at home.§Having grown up on a ranch with every meal based on what was in the family fields, Eva believes, like so many of us, that good cooking relies on local, fresh, easy-to-find ingredients. In Eva's Kitchen, she teaches readers essential cooking skills and she sprinkles in the histories and traditions behind her favorite dishes, including personal stories and anecdotes that capture the warmth, humor, and joy of her most memorable meals.§In her first cookbook, Eva welcomes you into her kitchen, offering 100 of her favorite dishes many of which are family recipes collected over the years all fused with her passion for cooking. She also shares memories of her Texas ranch upbringing, her very first cooking adventures, vacations overseas, nights in with her girlfriends, and last-minute pre'red carpet meals.§Inspired by her heritage, Eva highlights the essentials of great Mexican cooking, Texas style with her family's recipes and techniques for making the world's best tamales, homemade tortillas, Spanish rice, and Pan de Polvo (Mexican pastry), to name a few. She also offers dishes from a variety of international cuisines, from Latin American to Italian and French, inspired by her globe-trotting travels. A taste of Lemon Dover Sole whisks Eva to a tiny hotel-restaurant she once visited on a trip to Normandy; the recipe for Cannellini Beans with Crushed Red Pepper was a souvenir from a trip to Florence; kimchi adds a kick to her Spicy Roasted Brussels Sprouts, a Thanksgiving staple; and Yellow Squash Soup with Lemon brings her full circle, back to her family's vegetable garden in Corpus Christi.§With full-color food photographs, intimate portraits of her family and friends, and a glimpse into Eva's home and her lesser-known domestic side (family first, acting second, she says), Eva's debut cookbook will entice her loyal fans and inspire home cooks to broaden their culinary horizons and create memorable meals for the people they love.
Sklep: Libristo.pl 74,35 zł
Książki / Literatura obcojęzyczna
Asparagus and Coconut Soup with Steamed Coriander Meringue, Chunky Tomato Soup with Baked Polenta Dumplings, Mexican Cream of Avocado--100 out-of-the-ordinary recipes for every occasion A shot of flavor, a nourishing meal in one dish, a delicate entree--soup epitomizes versatility, ease, and resourcefulness. It is the ultimate comfort food and thrifty cooking at its best. Here, the soups are classified by occasions rather than just ingredients. This cookbook can be used to create a whole dinner party around one soup (Vietnamese Hot Pot), cook a healthy lunch that will make colleagues jealous (Roasted Carrots with Sprouted Seed Pesto), be creative for very little money (Minty & Spicy Broad Bean Soup), play chef for the night (Moorish Pumpkin Soup with Pumpkin Seeds and Saffron Brioche Croutons), get dinner on the table in 10 minutes (Egg and Tomato Soup), or plan a summer picnic (Vodka Gazpacho). With stylish photography and appetizing recipes drawn from around the world, this unusual collection will inspire readers and above all make cooking easy.
Sklep: Libristo.pl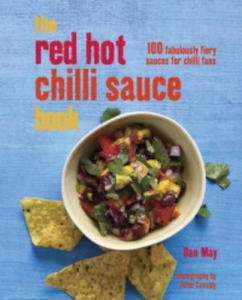 84,40 zł
Książki / Literatura obcojęzyczna
Following on from Dan May's first book The Red Hot Chilli Cookbook, this new collection of 100 recipes for fiery sauces, marinades and rubs showcases the best and most flavoursome chillies the world has to offer. Arranged by geographical region from Africa and the Mediterrean to South America and the Caribbean, this book is bursting with exciting flavours. Spanning mild to super spicy, here you'll find all kinds of traditional offerings from around the globe. Every recipe is easy, versatile and comes with a serving suggestion, for example the La Kama spice blend from Morocco goes well with chicken or pulses; the eye-wateringly hot Ethiopian Berbere Paste adds depth and pizzazz to casseroles as well as making an unusual and memorable dip; and anchiote paste from Mexico's Yucatan pairs perfectly with pulled pork, turkey or rice. As well as plenty of short, simple recipes for sauces and marinades, there are bigger recipes for truly impressive and authentic dishes, such as Moroccan tagines, Indian curries and Mexican classics. Also included is Dan's easy-to-follow advice on growing your own chillies, herbs and small produce to use in the recipes given here, no matter how small your growing space.
Sklep: Libristo.pl
Sklepy zlokalizowane w miastach: Warszawa, Kraków, Łódź, Wrocław, Poznań, Gdańsk, Szczecin, Bydgoszcz, Lublin, Katowice
Szukaj w sklepach lub całym serwisie
2. Szukaj na wszystkich stronach serwisu
t1=0.04, t2=0, t3=0, t4=0, t=0.04