krainaksiazek awake in the dream world 20052675
- znaleziono 13 produktów w 4 sklepach 419,53 zł
Książki / Literatura obcojęzyczna
Walter van Beirendonck has been at the forefront of fashion for more than thirty years. One of the 'Antwerp Six' and the director of fashion at the Royal Academy of Fine Arts, he is known for the uninhibited nature of his work and the wonderful daring that he shows as a designer. This is the third and final edition of Dream the World Awake by Walter Van Beirendonck; it is a numbered edition of 900 copies. It has a luxury finishing with an extra changeable golden foil cover by Dirk Van Saene, one of the famous Antwerp Six. The book gives exciting and captivating form to the complexity and multilayered quality of Van Beirendonck's work, and reveals his wide range of inspirations, which include technology, art, pop culture and ethnography.
Sklep: Libristo.pl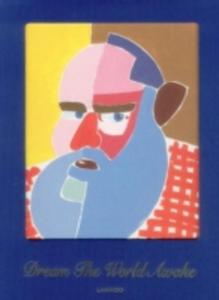 419,99 zł
Książki Obcojęzyczne>Angielskie>The arts>Industrial / commercial art & design>Fashion & textiles: design
0x0015eb3700000000
Sklep: Gigant.pl 54,59 zł
Książki
Sklep: KrainaKsiazek.pl 99,99 zł
Muzyka>Rock>Funk
1. I Love You 2. My Man 3. Never, Never Let You Go (Pts. 1 & 2) 4. I Won't Be Back 5. You Send Me 6. Wide Awake In A Dream 7. Nobody Cares 8. Don't Mess With Bill (Live Version) 9. Nowhere To Run (Live Version) 10. The Feeling Is Real 11. Think 12. I'll Work It Out 13. (Something Moves Me) Within My Heart 14. Tears Of Joy 15. All In My Mind 16. Here Is My Everything 17. Loving You 18. No More Heartaches, No More Pain 19. What The World Needs Now Is Love 20. Let It Be Me 21. You'll Never Find A Love Like Mine 22. Don't Play That Song 23. In The Land Of Milk & Honey
Sklep: Gigant.pl 30,10 zł
Książki & Multimedia > Muzyka
Lista utworów - Płyta 1 1. Change of Seasons 2. Funeral for a Friend/Love Lies Bleeding 3. Perfect Strangers 4. Rover/Achilles Last Stand/The Song Remains 5. Big Medley Opis - Pierwsza studyjna EP-ka w katalogu Dream Theater, wydana w 1995 roku, niedługo po płycie "Awake". Całość trwa blisko godzinę. Było to pierwsze wydawnictwo, na którym zagrał klawiszowiec Derek Sherinian. Na materiał złożyła się premierowa 23-minutowa kompozycja tytułowa oraz wiązanki rozmaitych coverów (m.in. Elton John, Deep Purple, Led Zeppelin, Pink Floyd, Genesis). EP-kę wyprodukowali Dave Prater wraz z muzykami Dream Theater.Spis utworów: CD 1 Strona 1 1. A Change Of Seasons - The Crimson Sunrise / Innocence / Carpe Diem / The Darkest Of Winters / Another World / The Inevitable Summer / The Crimson Sunset [EP Version] 2. Funeral For A Friend / Love Lies Bleeding [Live - "Uncovered" Version 1995] 3. Perfect Strangers [Live - "Uncovered" Version 1995] 4. Led Zeppelin Medley - The Rover / Achilles Last Stand / The Song Remains The Same [Live - "Uncovered" Version 1995] 5. The Big Medley - In The Flesh? / Carry On Wayward Son / Bohemian Rhapsody / Lovin, Touchin, Squeezin / Cruise Control / Turn It On Again[Live - "Uncovered" Version 1995] Nazwa - A CHANGE OF SEASONS Autor - Dream Theater Wydawca - Elektra Kod EAN - 0075596184229 Rok wydania - 1995 Nośnik - Płyta CD Ilość elementów - 1 Podatek VAT - 23% Premiera - 1995-09-15
Sklep: InBook.pl 148,42 zł
Książki / Literatura obcojęzyczna
A renowned philosopher of the mind, also known for his groundbreaking work on Buddhism and cognitive science, Evan Thompson combines the latest neuroscience research on sleep, dreaming, and meditation with Indian and Western philosophy of the mind, casting new light on the self and its relation to the brain. Thompson shows how the self is a changing process, not a static thing. When we are awake we identify with our body, but if we let our mind wander or daydream, we project a mentally imagined self into the remembered past or anticipated future. As we fall asleep, the impression of being a bounded self distinct from the world dissolves, but the self reappears in the dream state. If we have a lucid dream, we no longer identify only with the self within the dream. Our sense of self now includes our dreaming self, the "I" as dreamer. Finally, as we meditate -- either in the waking state or in a lucid dream -- we can observe whatever images or thoughts arise and how we tend to identify with them as "me." We can also experience sheer awareness itself, distinct from the changing contents that make up our image of the self. Contemplative traditions say that we can learn to let go of the self, so that when we die we can witness the dissolution of the self with equanimity. Thompson weaves together neuroscience, philosophy, and personal narrative to depict these transformations, adding uncommon depth to life's profound questions. Contemplative experience comes to illuminate scientific findings, and scientific evidence enriches the vast knowledge acquired by contemplatives.
Sklep: Libristo.pl 83,77 zł
Książki / Literatura obcojęzyczna
"David Greig: Plays 1" brings together four key plays by the playwright described by the "Daily Telegraph" as 'one of the most interesting and adventurous British dramatists of his generation'. In "Outlying Island", two young Cambridge ornithologists are sent to a remote island. Together with its authoritarian leaseholder and his niece they observe an innocence that is about to be destroyed forever. "San Diego" offers a strange and occasionally nightmarish journey into the heart of the contemporary American dream, weaving together stories of illegal immigrants, of film stars and whores, and even of the playwright himself. "Pyrenees" follows a man found lying in the snow in the foothills as he tries to piece together his identity. In "The American Pilot", a crash-landing in a remote valley in a distant country raises questions about how the world sees America and how America sees the world. The collection also includes a trilogy of short plays, "Being Norwegian", "Kyoto" and "Brewers Fayre", published here for the first time. "Outlying Island" - 'I can't recommend it highly enough ...A rich, charged play, veering between the comic and the poetic as innocence gives way to experience' - "Telegraph". "San Diego" - 'A surreal and intriguing piece of theatre ...dazzling ...Home and awake from the mythical dream that is "San Diego", the name David Greig remains imprinted on our minds' - "Independent". "Pyrenees" - 'All the wit and intelligence of previous works, probing away at concerns that are both contemporary and timeless...A classy, rewarding, engaging drama, Greig's best to date' - "The Times". "The American Pilot" - 'One of the most intellectually stimulating dramatists around. A richly provocative new play' - "Guardian".
Sklep: Libristo.pl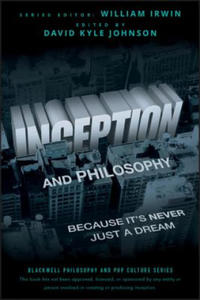 71,57 zł
Książki / Literatura obcojęzyczna
A philosophical look at the movie Inception and its brilliant metaphysical puzzles Is the top still spinning? Was it all a dream? In the world of Christopher Nolan's four-time Academy Award-winning movie, people can share one another's dreams and alter their beliefs and thoughts. Inception is a metaphysical heist film that raises more questions than it answers: Can we know what is real? Can you be held morally responsible for what you do in dreams? What is the nature of dreams, and what do they tell us about the boundaries of "self" and "other"? From Plato to Aristotle and from Descartes to Hume, Inception and Philosophy draws from important philosophical minds to shed new light on the movie's captivating themes, including the one that everyone talks about: did the top fall down (and does it even matter)? Explores the movie's key questions and themes, including how we can tell if we're dreaming or awake, how to make sense of a paradox, and whether or not inception is possible Gives new insights into the nature of free will, time, dreams, and the unconscious mind Discusses different interpretations of the film, and whether or not philosophy can help shed light on which is the "right one" Deepens your understanding of the movie's multi-layered plot and dream-infiltrating characters, including Dom Cobb, Arthur, Mal, Ariadne, Eames, Saito, and Yusuf An essential companion for every dedicated Inception fan, this book will enrich your experience of the Inception universe and its complex dreamscape.
Sklep: Libristo.pl 46,67 zł
Książki / Literatura obcojęzyczna
"There it was in black and white, 'Baby snatched in Livingstone Park.' The park was exactly the same today as it had been then: it was everything else that had changed. Everything else had faded like a twenty-five year old newspaper cutting... or a dream." ~ Stella had always preferred to dream rather than experience the magnolia coloured monotony of waking life. Dreams transported her to a wide screen Technicolor world filled with mystery and wonder. This was a place where she was free from inhibition and doubt, able to experience love, friendship, thrills and adventure. The arrival of a baby confused everything. Her ability to distinguish dreams from reality became blurred. Life was slipping away beyond her control. Then she met Martina - 'The Girl without the Kalashnikov' - and Stella's life, whether awake or asleep, spiralled into the realm of nightmares. ~ Jennifer Button lives in Kent with her husband and two dachshunds. In her second novel, she continues to explore the themes of guilt, trust and betrayal as her characters tread a fine line between truth and fiction, sanity and madness.
Sklep: Libristo.pl 119,99 zł
Muzyka>Rock
1. Sun Is Shining 2. The Tide Is High 3. In The Summertime 4. Moon River 5. Montego Bay 6. Ob-la-di Ob-la-da 7. Israelites 8. My Boy Lollipop 9. Jamaica Ska 10. Oh Carolina 11. Double Barrel 12. Ire Feelings 13. Funky Kingston 14. This Is Reggae Music 15. Back A Yard 16. Girlie Girlie 17. Don't Turn Around 18. Gal Wine 19. Rainbow Country 20. Now That We've Found Love 101. Everything I Own 102. Help Me Make It Through The Night 103. Sideshow 104. Silly Games 105. Just When I Needed You Most 106. I Wanna Wake Up With You 107. The First Time Ever I Saw Your Face 108. Hurt So Good 109. Curly Locks 110. You Are My Life 111. Sit Down And Cry Over You 112. Black Pearl 113. Come Into My Life 114. Sweet Sensation 115. Killing Me Softly With Her Song 116. Lovin' You 117. Wide Awake In A Dream 118. You're Everything To Me 119. The Bed's Too Big Without You 120. You Don't Love Me (No, No, No) 201. Rudy, A Message To You 202. Long Shot Kick De Bucket 203. Skinhead Moonstomp 204. Monkey Man 205. Train To Skaville 206. (People Get Ready) Let's Do Rocksteady 207. Too Experienced 208. Time Hard 209. Red Red Wine 210. Johnny Too Bad 211. Cherry Oh Baby 212. Please Don't Make Me Cry 213. Many Rivers To Cross 214. Kingston Town 215. Love Of The Common People 216. Brown Girl In The Ring 217. Rivers Of Babylon 218. 0.0.7 (Shanty Town) 219. Stop That Train 220. Starvation 301. Liquidator 302. It Mek 303. 54-46 Was My Number 304. Return Of Django 305. Wet Dream 306. Elizabethan Reggae 307. Vietnam 308. Pickney Gal 309. Young Gifted And Black 310. Monkey Spanner 311. Small Axe 312. Black And White 313. Rain 314. You Can Get It If You Really Want 315. Let Your Yeah Be Yeah 316. Wonderful World, Beautiful People 317. Moon Hop 318. Dollar In The Teeth 319. Reggae In Your Jeggae 320. Big Seven 401. Ok Fred 402. Three Ring Circus 403. Crying Over You 404. Suzanne Beware Of The Devil 405. Trenchtown Rock 406. Marcus Garvey 407. Ire Feelings (Leggo Skanga) 408. Cocaine In My Brain 409. Midnight Riders 410. Pied Piper 411. Give And Take 412. I Am What I Am 413. This Monday Morning Feeling 414. Work All Day 415. Sing A Little Song 416. Smoke Gets In Your Eyes 417. Reggae For It Now 418. Mad About You 419. Snoopy Vs The Red Baron 420. Je T'aime (Moi Non Plus)
Sklep: Gigant.pl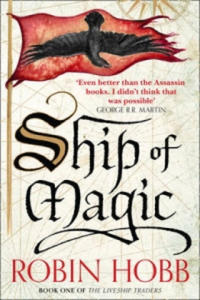 48,81 zł
Ship of Magic HarperCollins Publishers Ltd
Książki / Literatura obcojęzyczna
From the author of the classic Farseer trilogy, Ship of Magic is the first part of the Liveship Traders. Set in a land bordering the Six Duchies, Robin Hobb begins her epic of pirates, talking ships, magic, sea serpents, slave revolts, dashing heroes and bloody battles. Wizardwood, the most precious commodity in the world, comes only from the Rain Wilds. But only a liveship can negotiate the perilous waters of the Rain Wild River, and liveships are hard to come by. They quicken only when three family members from successive generations have died upon their deck. The liveship Vivacia is about to undergo her quickening: Althea Vestrit waits for the ship that she loves more than anything in the world to awaken. But her dream of taking her father's place at Vivacia's helm is not to be, for her family have other plans...And the dark, charming pirate Kennit also lusts after such a ship: he well knows the power of wizardwood and has plans of his own ...
Sklep: Libristo.pl 73,88 zł
Książki / Literatura obcojęzyczna
We live in the Golden Age of publishing for spiritual, esoteric, and new age books of all conceivable stripes (and then there is the Internet). Amongst this wild proliferation of available information there has occurred a cheapening effect, in which many teachings have been watered down to make them palatable for a public with diminishing attention spans and suffering from information overload. For the sincere spiritual seeker there needs to be an awareness of the various ways we can go astray on the path, or fall off the path altogether. The whole idea of spirituality is to be awake, yet it is all too easy to simply end up in yet another dream world, thinking that we have found some higher truth. Rude Awakening: Perils, Pitfalls, and Hard Truths of the Spiritual Path is dedicated to examining, under a sharp light, the many ways our spiritual development goes wrong, or disappears altogether in the sheer crush of books and the routine grind of daily life.
Sklep: Libristo.pl 73,88 zł
Książki / Literatura obcojęzyczna
We've all experienced feeling weighed down by emotions and stress in our everyday lives, judging ourselves and our inner thoughts and feelings. Now, by awakening your soul signature you can allow yourself to let go of excess emotional baggage and experience complete oneness. With three easy-to-follow stages this is your toolbox guide to eliminating 'vibrational density', the emotional and spiritual heaviness that we all accumulate in day-to-day life. First, Panache will inspire you to awaken your soul through 33 daily insights, then to cultivate you new-found awareness through 33 modern fables and then to contemplate 33 lullabies designed to help you access your dream state. Let Panache Desai, a leading spiritual teacher and visionary, show you how to unlock your infinite potential and be guided to bliss. This book provides practical advice and inspirational insights into a world of positive energy.
Sklep: Libristo.pl
Sklepy zlokalizowane w miastach: Warszawa, Kraków, Łódź, Wrocław, Poznań, Gdańsk, Szczecin, Bydgoszcz, Lublin, Katowice
Szukaj w sklepach lub całym serwisie
2. Szukaj na wszystkich stronach serwisu
t1=0.043, t2=0, t3=0, t4=0, t=0.043