krainaksiazek barbecue finger food 20091991
- znaleziono 4 produkty w 2 sklepach 66,37 zł
Barbecue Dorling Kindersley
Książki / Literatura obcojęzyczna
The ultimate barbecue cookbook Fire up the charcoal, grab the tongs and discover how to use smoke, spice and sizzle to mouth-watering effect with Barbecue. Try rubs, mixes, marinades and finger-licking barbecue recipes from around the globe. Over 150 tasty meals include cardamom chicken tikka, prawns with salsa fresca, and chargrilled pineapple with rum glaze, plus you can complement your cooking with exciting salsas and sumptuous salads. Each barbecue recipe has full instructions for indoor grilling as well as outdoor barbecuing, with think-ahead tips telling you what can be done in advance. There's practical information on how to barbecue, using gas and charcoal, advice on the best tools, using fire safely and judging when food is ready to eat. Barbecue (previous ISBN 9781405319959) is the perfect guide to grilling, indoors and out.
Sklep: Libristo.pl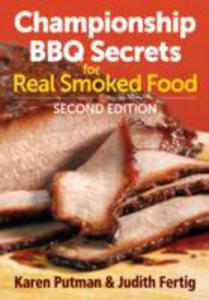 79,99 zł
Książki Obcojęzyczne>Angielskie>Lifestyle, sport & leisure>Cookery / food & drink etc>Cooking with specific gadgets
Slow-smoked Authentic American Barbecue Foods Are Cooked Low And Slow Next To A Fire And Flavoured With Wood Smoke. The Results Are Sublime - Succulent, Finger-lickin' Ribs, Brisket, Steaks, Salmon And More...
Sklep: Gigant.pl 68,43 zł
Książki / Literatura obcojęzyczna
What happens when a classically-trained New York chef and fearless omnivore heads out of the city and into the wild to track down the ingredients for her meals? After abandoning Wall Street to embrace her lifelong love of cooking, Georgia Pellegrini comes face to face with her first kill. From honoring that first turkey to realizing that the only way we truly know where our meat comes from is if we hunt it ourselves, Pellegrini embarks on a wild ride into the real world of local, organic, and sustainable food. Teaming up with veteran hunters, she travels over field and stream in search of the main course-from quail to venison and wild boar, from elk to javelina and squirrel. Pellegrini's road trip careens from the back of an ATV chasing wild hogs along the banks of the Mississippi to a dove hunt with beer and barbeque, to the birthplace of the Delta Blues. Along the way, she meets an array of unexpected characters-from the Commish, a venerated lifelong hunter, to the lawyer-by day, duck-hunting-Bayou-philosopher at dawn-who offer surprising lessons about food and life. Pellegrini also discovers the dangerous underbelly of hunting when an outing turns illegal-and dangerous. More than a food-laden hunting narrative, Girl Hunteralso teaches you how to be a self-sufficient eater. Each chapter offers recipes for finger-licking dishes like: * wild turkey and oyster stew * stuffed quail * pheasant tagine * venison sausage * fundamental stocks, brines, sauces, and rubs * suggestions for interchanging proteins within each recipe Each dish, like each story, is an adventure from beginning to end. An inspiring, illuminating, and often funny journey into unexplored territories of haute cuisine, Girl Hunter captures the joy of rolling up your sleeves and getting to the heart of where the food you eat comes from.
Sklep: Libristo.pl 103,12 zł
Książki / Literatura obcojęzyczna
Source: Wikipedia. Pages: 87. Chapters: Cooking tool stubs, Brining, Double boiler, Hot salt frying, Hot sand frying, Marination, Poaching, Pan frying, Pressure frying, Coddling, Conche, Billycan, Blanching, Grater, Electric stove, Tava, Cooking with alcohol, Flesh-hook, High altitude cooking, Porringer, Food dehydrator, Basting, Haybox, Cooking potatoes, Gridiron, Dry roasting, Chimney starter, Brochette, Dough, Canteen, Sauce boat, Pie bird, Julienning, French butter dish, Hot plate, Tea strainer, Set-n-Forget cooker, Juicing, Simmering, Butter knife, Ladle, Cookie cutter, Steak knife, Food mill, Micvac, Pizza stone, Finger cot, Separating eggs, Kazan, Parboiling, Mise en place, Usu, Chinoise, Meat tenderizer, Potato masher, Meat slicer, Herb grinder, Holloware, Butcher knife, Brown Betty, Splayd, Steeping, Comal, Lusikkahaarukka, Berkel meat slicer, Sujeo, Ramekin, Hollywood Style, Glaze, Sporf, Salver, Foam, Browning, Bread pan, Dessert spoon, Trivet, Molinillo, Deveining, Thermal cooking, Slotted spoon, Potato ricer, Lemon reamer, Table knife, En papillote, Pastry fork, Spife, Mouli grater, Butterflying, Swiss steak, Paillard, Curdling, Chimta, Blind-baking, Cuisinart, Boning knife, Lame, Sugar bowl, Pizza cutter, Magic mug, Oven glove, Deba bocho, Moustache cup, Carry over cooking, Zaru, Maceration, Dicing, Tenderizing, Crisping sleeve, Advantium, Muffin tin, Colander, Radappertization, Spherification, Bridge spouted vessel, La Cornue, Radicidation, Reduction, Brunoise, Silpat, Pastry brush, French tian, Tomato knife, Supreme, Grapefruit knife, Pineapple cutter, Bedourie oven, Frosting spatula, Mezzaluna, Food preparation, Drip-O-lator, Blackening, Par-cooking, Candy thermometer, Crock, Grapefruit spoon, Convection microwave, Scotch hands, Blast chilling, Measuring spoon, Mincing, Thermador, Jamonera, Ram press, Thickening, Splatter guard, Cherry pitter, Drum drying, Barbecue grill cover, Corn roaster, Reflector oven, Terrine, Butter curler, Batterie de cuisine, American Institute of Baking, Mold, Chiffonade, Muddler, Baking beans, Crustastun, Electric knife, Circulon, Tableware, Butane torch, Shrivelling, Le Chasseur, Beaker, Amandine, Foukou, Sweating, Crinkle-cutting, Buccan, Turkey frills, Makitra, Sunbeam CG, Accordion cut, Egg spoon, Turbo cooking, Harsch crock, Ricing, Spatchcock, Fish slice, Meat carving, Brewing, Test kitchen, Pothook, Spoon rest, Baking stone, Alcarraza, Mated colander pot, Cookie press, Kitchenware, Skeleton knife, Boilery, Cook's treat, Electric cooker, Peg, Mihbaj, Caddy spoon, Kneading-trough, Tinapa, École des trois gourmandes, Bakestone, Crab cracker, Brustolina, Concasse, Lobster pick, Pot-holder, Dariole, Nutmeg grater, Crepulja, Nieco, Radurization, Dredging, Pipkin, Allumette, Knife rest, Uruli, Slop bowl, Timbale, Cassole, Pie knife, Crab fork, Saltery, Tortilla warmer, Recovery time. Excerpt: A conche is a surface scraping mixer and agitator that evenly distributes cocoa butter within chocolate, and may act as a 'polisher' of the particles. It also promotes flavor development through frictional heat and release of volatiles and acids, and oxidation. There are numerous designs of conches, and food scientists are still studying precisely what happens during conching and why. The name arises from the shape of the vessels initially used, which resembled conch shells. When ingredients are mixed in this way, sometimes for up to 78 hours, chocolate can be produced with a mild, rich taste. Lower qual...
Sklep: Libristo.pl
Sklepy zlokalizowane w miastach: Warszawa, Kraków, Łódź, Wrocław, Poznań, Gdańsk, Szczecin, Bydgoszcz, Lublin, Katowice
Szukaj w sklepach lub całym serwisie
2. Szukaj na wszystkich stronach serwisu
t1=0.016, t2=0, t3=0, t4=0, t=0.016