krainaksiazek basic christian understanding beginning seminary 20042555
- znaleziono 3 produkty w 1 sklepie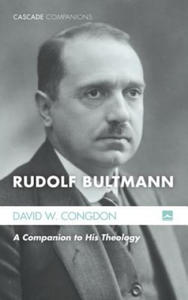 117,12 zł
Książki / Literatura obcojęzyczna
Rudolf Bultmann is one of the most widely known but least read theologians of the twentieth century. He is famous as the one who ""demythologized"" the New Testament, but very few understand what he meant by this or how his hermeneutical program connects to the other areas of his theological project. Bultmann presents a unique challenge to readers, not only because of his radical theological inquiry but also because of the way his ideas are worked out over time, primarily through short, occasional writings that present complex issues in a disarmingly straightforward manner. In this introduction to his theology--the first of its kind in more than twenty years--David W. Congdon guides readers through ten central themes in Bultmann's theology, ranging from eschatology and dialectic to freedom and advent. By gaining an understanding of these themes, students of Bultmann will have the necessary tools to understand and profit from his writings. The result is not only an accessible guide for those encountering Bultmann for the first time but also a cohesive, systematic presentation of his thought for those wondering how his work might speak to our current context. ""With great clarity and insight, focusing on themes which lie at the very heart of Bultmann's theological project and placing him in conversation with recent and contemporary trends, David W. Congdon has written the best short introduction to Bultmann's thought. The point is not to 'return' to the great New Testament scholar and theologian--but neither should we bypass him."" --Christophe Chalamet, University of Geneva ""Who better than David Congdon to take us into the work of Christianity's greatest interpreter of Scripture in the modern period? With an expert's grasp of the entire architecture of Rudolf Bultmann's thought, Congdon leads the reader through its conceptual entry points. Here is a reliable primer, likely a classic, to guide both beginning students and well-schooled theologians away from the misconceptions, even myths, so often bedeviling treatments of Bultmann."" --James F. Kay, Princeton Theological Seminary ""In these pages, Bultmann stands before us as a difficult but compelling figure, a Christian thinker who took the eschatological vision of the New Testament as his charter and pursued its course with extraordinary tenacity and fearlessness. Congdon sets Bultmann's thought into critical discussion with contemporary theology, posing sharp challenges to our current preferences for ressourcement and the rule of faith. And he saves the best till last. The book ends with a superb meditation on Bultmann's Christmas sermons--a glimpse of Bultmann at his most attractive, or most seductive, depending on where you stand."" --Benjamin Myers, Charles Sturt University ""David Congdon's lucid and innovative treatment of Rudolf Bultmann is an excellent contribution to scholarship. Those eager to understand, appreciate, and, most importantly, learn from one of the most important (and, alas, most misunderstood) 'greats' of twentieth-century European theology have, in this book, an indispensable resource."" --Paul Dafydd Jones, Associate Professor, Department of Religious Studies, University of Virginia ""Being master of a subject matter as demanding as Rudolf Bultmann's theology and a master communicator, capable of introducing that subject-matter to beginning students in a manner both interesting and arresting (!) is rare. David Congdon has that rare combination of skills. This is a wonderful 'guide' to Bultmann's thought. Indeed, it is hard to imagine one more perfectly executed. It is a companion worthy of the thought of one of the real giants of twentieth century theology."" --Bruce McCormack, Charles Hodge Professor of Systematic Theology, Princeton Theological Seminary; author of
Sklep: Libristo.pl 111,48 zł
Książki / Literatura obcojęzyczna
Seminar paper from the year 2003 in the subject English Language and Literature Studies - Linguistics, printed single-sided, grade: 1,3 (A), University of Dusseldorf "Heinrich Heine" (Anglistics Institute), course: Tense-Aspect-Mood, 6 entries in the bibliography, language: English, abstract: In order to present a comprehensive and all-embracing picture of a linguistic phenomenon like the progressive it is important to provide an analysis of the problem from both a synchronic and a diachronic point of view. Following this rule the subsequent paper is divided into two main parts. In the beginning I will try to give a global picture of the progressive form in English as it is used today and I will focus on its meaning and basic functions as well as on its separation from other linguistic states.The second section of this paper is devoted to the historical sources of the English progressive diachronically emerging from Old English over Middle English and Early Modern English into the progressive taught in modern grammars and school books.I do have to mention though that, since I am not a student of Old English or Middle English, my abilities in reading and understanding certain sources and interpretations are limited.In the process of this work I have tried to use secondary sources on Old and Middle English rather than primary sources and I have also tried to leave out most references or citations to primary sources. Nevertheless I believe that, in this paper, I can prove and demonstrate that the English progressive form used nowadays is derived diachronically and directly from Old English.I will present authors who support this view as well as others who oppose it. As my main source I would like to mention Johannes Scheffer, Bybee, Susan Fitzmaurice, Eva Edgren and Debra Ziegeler.
Sklep: Libristo.pl 243,70 zł
Książki / Literatura obcojęzyczna
"Purposes, Means and Convictions in Daoism. A Berlin Symposium (II)" contains twelve articles that represent contributions of international scholars who specialise in studies of religious Daoism. In 2005 they participated in a symposium with the same title that the Seminar für Sinologie at Humboldt-University (Berlin) staged with the support of the Deutsche Forschungsgemeinschaft (DFG/Bonn). The two parts of the book, Historical and Ritual Traditions (I) and Varieties of Religious Activities and Functions (II), mirror the understanding of the basic themes as developed during the symposium and the ensuing discussions. The articles cover periods and developments from the beginning of the religious Daoism up to the late 19th century. The four Chinese contributions are accompanied by English summaries.
Sklep: Libristo.pl
Sklepy zlokalizowane w miastach: Warszawa, Kraków, Łódź, Wrocław, Poznań, Gdańsk, Szczecin, Bydgoszcz, Lublin, Katowice
Szukaj w sklepach lub całym serwisie
2. Szukaj na wszystkich stronach serwisu
t1=0.03, t2=0, t3=0, t4=0, t=0.031