krainaksiazek basic christian understanding beginning seminary 20042555
- znaleziono 4 produkty w 1 sklepie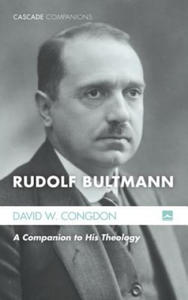 111,06 zł
Książki / Literatura obcojęzyczna
Rudolf Bultmann is one of the most widely known but least read theologians of the twentieth century. He is famous as the one who ""demythologized"" the New Testament, but very few understand what he meant by this or how his hermeneutical program connects to the other areas of his theological project. Bultmann presents a unique challenge to readers, not only because of his radical theological inquiry but also because of the way his ideas are worked out over time, primarily through short, occasional writings that present complex issues in a disarmingly straightforward manner. In this introduction to his theology--the first of its kind in more than twenty years--David W. Congdon guides readers through ten central themes in Bultmann's theology, ranging from eschatology and dialectic to freedom and advent. By gaining an understanding of these themes, students of Bultmann will have the necessary tools to understand and profit from his writings. The result is not only an accessible guide for those encountering Bultmann for the first time but also a cohesive, systematic presentation of his thought for those wondering how his work might speak to our current context. ""With great clarity and insight, focusing on themes which lie at the very heart of Bultmann's theological project and placing him in conversation with recent and contemporary trends, David W. Congdon has written the best short introduction to Bultmann's thought. The point is not to 'return' to the great New Testament scholar and theologian--but neither should we bypass him."" --Christophe Chalamet, University of Geneva ""Who better than David Congdon to take us into the work of Christianity's greatest interpreter of Scripture in the modern period? With an expert's grasp of the entire architecture of Rudolf Bultmann's thought, Congdon leads the reader through its conceptual entry points. Here is a reliable primer, likely a classic, to guide both beginning students and well-schooled theologians away from the misconceptions, even myths, so often bedeviling treatments of Bultmann."" --James F. Kay, Princeton Theological Seminary ""In these pages, Bultmann stands before us as a difficult but compelling figure, a Christian thinker who took the eschatological vision of the New Testament as his charter and pursued its course with extraordinary tenacity and fearlessness. Congdon sets Bultmann's thought into critical discussion with contemporary theology, posing sharp challenges to our current preferences for ressourcement and the rule of faith. And he saves the best till last. The book ends with a superb meditation on Bultmann's Christmas sermons--a glimpse of Bultmann at his most attractive, or most seductive, depending on where you stand."" --Benjamin Myers, Charles Sturt University ""David Congdon's lucid and innovative treatment of Rudolf Bultmann is an excellent contribution to scholarship. Those eager to understand, appreciate, and, most importantly, learn from one of the most important (and, alas, most misunderstood) 'greats' of twentieth-century European theology have, in this book, an indispensable resource."" --Paul Dafydd Jones, Associate Professor, Department of Religious Studies, University of Virginia ""Being master of a subject matter as demanding as Rudolf Bultmann's theology and a master communicator, capable of introducing that subject-matter to beginning students in a manner both interesting and arresting (!) is rare. David Congdon has that rare combination of skills. This is a wonderful 'guide' to Bultmann's thought. Indeed, it is hard to imagine one more perfectly executed. It is a companion worthy of the thought of one of the real giants of twentieth century theology."" --Bruce McCormack, Charles Hodge Professor of Systematic Theology, Princeton Theological Seminary; author of
Sklep: Libristo.pl 76,70 zł
Książki / Literatura obcojęzyczna
Seminar paper from the year 2015 in the subject Business economics - Investment and Finance, grade: 1,3, The FOM University of Applied Sciences, Hamburg, language: English, abstract: In the past years the number of startups increased continuously. Often it is the case that a startup doesn't have the financial power to realize a business and if an investor or a financial institute refuses to support the startup many good ideas can fail already at the beginning.§Therefore it is necessary for startups to find new ways for financing the business ideas. Crowdfunding is one method for financing and investing which nowadays reaches a high popularity and growth among innovative people, groups and companies.§§To get a better understanding of the whole context this term paper investigates the different perspectives and actors of crowdfunding to give an answer to the actual aim. The aim is to analyze whether crowdfunding is an appropriate way of gaining funds for startups or not.§§In the first part the theoretical information is provided. This includes definitions and differentiations of used basic terms like crowdfunding and crowdinvesting as well as the different forms of crowdfunding. Also in the same part the functionality and the historical development of crowdfunding will be shown.§In chapter 3 the actors of crowdfunding - the startups, the investors and the platforms - will be described. This part will focus on the different reasons, aims and other important aspects for each of the actors.§An overview of advantages and risks for startups and investors will be given in the fourth chapter.§To have a better impression about the different crowdfunding forms, levels and scales, the fifth chapter will show some examples of successful crowdfunding campaigns.§Based on all researched and derived information, the last chapter will give a summary and conclusion to the aim of this term paper.
Sklep: Libristo.pl 230,26 zł
Książki / Literatura obcojęzyczna
"Purposes, Means and Convictions in Daoism. A Berlin Symposium (II)" contains twelve articles that represent contributions of international scholars who specialise in studies of religious Daoism. In 2005 they participated in a symposium with the same title that the Seminar für Sinologie at Humboldt-University (Berlin) staged with the support of the Deutsche Forschungsgemeinschaft (DFG/Bonn). The two parts of the book, Historical and Ritual Traditions (I) and Varieties of Religious Activities and Functions (II), mirror the understanding of the basic themes as developed during the symposium and the ensuing discussions. The articles cover periods and developments from the beginning of the religious Daoism up to the late 19th century. The four Chinese contributions are accompanied by English summaries.
Sklep: Libristo.pl 122,46 zł
Książki / Literatura obcojęzyczna
Source: Wikipedia. Pages: 109. Chapters: Karl Benz, Wilhelm Wundt, Martin Heidegger, Albert Speer, Felix Wankel, Karl Eduard Zachariae von Lingenthal, Hans Frank, Ernst Jünger, Alfred Delp, Ferdinand von Zeppelin, Gustav Landauer, Prince Wilhelm of Baden, Joseph Rummel, Conrad Gröber, Helmut Wick, Wilhelm Hanle, Sepp Herberger, Otto Abetz, Walther von Reichenau, Count Luitpold of Castell-Castell, Hans Bender, Ernst Schröder, Friedrich Hecker, Emil Frommel, Friedrich Jeckeln, Joseph Wirth, Walter M. Elsasser, Hans F. K. Günther, Eugen Meindl, Bertha Benz, Albert Leo Schlageter, Oskar Rohr, Eugen Fischer, Kurt Schmitt, Joseph Viktor von Scheffel, Alban Stolz, Walter Buch, Robert Kahn, William Hespeler, Otto Wagener, Karl Hofer, Friedrich Hund, Marie Luise Kaschnitz, Frieda Fromm-Reichmann, Carl Christian Mez, Princess Louise Amelie of Baden, Karl Hubbuch, Hans Furler, Johann Georg Jacobi, Wolfgang Metzger, August Kopff, Paul Ramdohr, Wilhelm Brückner, Otto Voit, Johannes Winkler, Hermann Hummel, Heinz Hellmich, Lorenzo Brentano, Johann Martin Schleyer, Karl Zell, Adolph Kussmaul, Heinrich Georg Bronn, Max Schultze, Erich Schmidt, Karl Ullmann, Heinrich Martin Weber, Hermann Ehrhardt, Adam Remmele, Theodor Leber, Joseph Keilberth, Heinrich Köhler, Salomon Moos, Wilhelm Kling, Willy Hess, Eugen Fink, Theodor Leutwein, Rudolf Kaltenbach, Julius Neßler, Karl Mathy, Julius Jolly, August Uihlein, Wilhelm Valentiner, Philipp von Jolly, Siegfried Handloser, Karl Friedrich Schimper, Jean Becker, Otto Lehmann, Wilhelm Oncken, François Xavier de Schwarz, Ludwig Eichrodt, Franz Joseph Emil Fischer, Erich Lexer, Wilhelm Weigand, Berthold von Deimling, Alfred Mombert, Luise Adolpha Le Beau, Emil Muller, Georg Ludwig Carius, Emil Seckel. Excerpt: Martin Heidegger (September 26, 1889 - May 26, 1976; German pronunciation: ) was an influential German philosopher known for his existential and phenomenological explorations of the "question of Being." His best-known book, Being and Time, is considered to be one of the most important philosophical works of the 20th century and he has been influential beyond philosophy, in literature, psychology, and artificial intelligence. Heidegger remains controversial due to his involvement with Nazism and statements in support of Adolf Hitler. Heidegger claimed that Western philosophy since Plato has misunderstood what it means for something "to be", tending to approach this question in terms of a being, rather than asking about Being itself. In other words, Heidegger believed all investigations of being have historically focused on particular entities and their properties, or have treated Being itself as an entity, or substance, with properties. A more authentic analysis of being would, for Heidegger, investigate "that on the basis of which beings are already understood", or that which underlies all particular entities and allows them to show up as entities in the first place (see world disclosure). But since philosophers and scientists have overlooked the more basic, pre-theoretical ways of being from which their theories derive, and since they have incorrectly applied those theories universally, they have confused our understanding of being and human existence. To avoid these deep-rooted misconceptions, Heidegger believed philosophical inquiry must be conducted in a new way, through a process of retracing the steps of the history of philosophy. Heidegger argued that this misunderstanding, beginning with Plato, has left...
Sklep: Libristo.pl
Sklepy zlokalizowane w miastach: Warszawa, Kraków, Łódź, Wrocław, Poznań, Gdańsk, Szczecin, Bydgoszcz, Lublin, Katowice
Szukaj w sklepach lub całym serwisie
2. Szukaj na wszystkich stronach serwisu
t1=0.035, t2=0, t3=0, t4=0, t=0.036