krainaksiazek being in the world personhood politics and violence 20090932
- znaleziono 7 produktów w 3 sklepach 72,50 zł
Książki / Literatura obcojęzyczna
The definitive account of the history of the Taliban and its uncertain future. This is the book that Tony Blair and Alistair Campbell consulted to gain a better impression of the unique circumstances of the Taliban. An exploration of the overwhelming complexity of Afghan politics, The Taliban: The Story behind the Afghan Warlords explains how it came in to being, how it is sustained and how Osama bin Laden has risen to such a figure of absolute power. Ahmed Rashid clarifies the often confusing racial and religious tensions that dominate this fractious land. And describes why the drug trade has exacerbated an already untenable situation. Rashid argues that Taliban is incapable of reform, and that, in the current crisis, it may implode due to defections. With the Northern Alliance an unpredictable alternative, Rashid concludes that without a multi-tribal government in which bordering states do not seek predominant influence, there will never be peace. 'Read this remarkable book and the bewildering complexity of Afghan politics and the deadly over-spill of chaos, narcotics and sectarian violence into the surrounding region will become clear.' Patrick Seale, Sunday Times 'Ahmed Rashid's book describes the stuff that Bond [films] are made of. Warring tribes, clashing empires, fanatics with dreams of world domination, violence and sex . If anyone understands the place Rashid does.' Jason Burke, Observer
Sklep: Libristo.pl 111,48 zł
Książki / Literatura obcojęzyczna
Seminar paper from the year 2008 in the subject Politics - Miscellaneous, grade: 92, IDC (IDC), course: Seminar, 19 entries in the bibliography, language: English, abstract: In the western world, the participation of women in higher ranked positions is no longer questioned. The equality between man and woman is considered a given fact. However, in regards to terrorism, the difference in gender is still considered an issue, and femininity and masculinity plays a role. The gender theory, the significance of being a man or a woman, has gone into new dimensions, by affecting fundamental Islam and giving terrorism a new identity. Years ago, the occurrence of suicide bombings was considered the embodiment of evil , and had evoked from the public consternation and incomprehension. Today, these one-time occurrences have become a recurrent trend, known as a martyr phenomenon, heard daily on news. Up until recently, most of the suicide bombers, known as Shahids , were men who committed the act in order to be remembered in history and upon being promised that it will lead them to paradise. However today we see more and more women, especially Muslim/Islamic women, who decide to die as female martyrs .Since the attack on the World Trade Center in September 11, 2001, terrorism has become a matter of every-day public issue, discussed as one of the top topics in daily news. However, these discussions rarely focus on the implication of gender on the issue, and Islamic terrorism is intuitively perceived as masculine rather than feminine . When the issue of gender in the Islamic world is finally brought up, the focus is usually around the political and domestic oppression of woman, an issue that has been analyzed thoroughly by political scientists, legal practitioners and historians from all perspectives. However, rarely is the feminine role, or lack thereof, discussed in the pretext of terrorism. No public emphasis has been given to the question, of how is it possible that these all-around oppressed women, whose role in their society, by stereotype, is to be the caring housekeeper - to give birth to children, to stand for values like education, etc. - have suddenly taken the role that has long been reserved for men, by turning to violence and volunteering for suicide missions. It begs the question, does terrorism have a gender? Is terrorism a masculine means, increasingly utilized by Islamic women to raise their low standing in society and achieve liberation?
Sklep: Libristo.pl 187,79 zł
Książki / Literatura obcojęzyczna
Thesis (M.A.) from the year 2009 in the subject Politics - International Politics - Region: USA, grade: 1,3, University of Leipzig (Institut für Amerikanistik), course: US Foreign Policy, language: English, abstract: (...)As a first step, this paper is to investigate different approaches historians have offered in the course of time. Chapter 2 starts off with a summary of the main waves of Cold War historiography (...) Chapters 3 to 7 are to study the most predominant perspectives and factors presented in chapter 2 in an attempt to show why some debates are very useful, some unnecessary, and some hardly solvable due to a lack of evidence. At the same time, this paper attempts to offer a good overview of main events shaping European and American history between 1917 and 1947.The third chapter is to explore the roots of the communist experiment in the Soviet Union (...) to find out in how far the two decades preceding the Cold War can add to understand its outcome. In 1941, relations between the U.S. and S.U. took a completely new shape when both decided to come together to fight Nazi-Germany and Japan. The Great Alliance set out to save the world from fascism (...). Chapter 4 will mainly focus on the conflicts that arose during the war to, again, find out in how far they shaped the onset of the Cold War.Although the emergence of the atomic bomb and diplomatic decisions surrounding it (in particular the fact that Russia was only informed about it in Potsdam) place it in one line with war-time conflicts outlined in the previous chapter, it seems to deserve an extra section, since the development of nuclear weapons ultimately changed the cause of warfare and thus, the course and outcome of the Cold War itself. Furthermore, the level of violence the nuclear attacks on Japan reached raises serious questions about the very necessity of employing such a weapon. The debate studied is polarized between those defending the use of the bombs and those blaming the Truman government (...) . Within two years after the war s ending, the great alliance quickly crumbled. Soon, hostility replaced cooperation and the old discrepancy between capitalism and communism regained predominance in contemporary rhetoric. Chapter 6 will not only outline the events leading to the breakdown of the alliance but also explore the questions whether there was the intention to keep the alliance alive at all and if so how this change of attitude came into being.Finally, the last part will investigate the first major political attack the United States launched against the Soviet Union - the Marshall Plan - which considerably impacted on the future distribution of power in Europe.
Sklep: Libristo.pl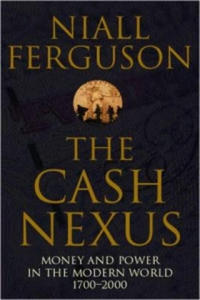 94,72 zł
Książki / Literatura obcojęzyczna
From the bestselling author of "Empire", Niall Ferguson's "The Cash Nexus" is a dazzling, powerful and controversial explanation of modern world history and the fundamental force that lurks behind it all. Modern history shows that a nation's success largely depends on the way it manages its money. But where do money and politics meet? From 1700 to the present day, Niall Ferguson offers a bold and original analysis of the evolution of today's economic and political landscape. Far from being driven by the profit motive alone, our recent history, as Ferguson makes brilliantly clear, has also been made by potent and often conflicting human impulses - sex, violence and the desire for power. In the same style and manner that made "The Pity of War" an international bestseller, Niall Ferguson answers the big questions about finance and its crucial place in bringing happiness and despair, warfare and welfare, boom and crash to nations buffeted by the onward march of history. "A marvellous combination of persuasion and provocation..."The Cash Nexus" has enough ideas for a dozen books". (Martin Daunton, "History Today"). ""The Cash Nexus" is ...packed with intriguing arguments and controversial propositions. ..[an] outstanding book". (Frank McLynn, "Independent"). "Ferguson is one of the most technically accomplished historians writing today..."The Cash Nexus" offers an important corrective to the naive story of economic growth". (Robert Skidelsky, "New York Review of Books"). Niall Ferguson is one of Britain's most renowned historians. He is Laurence A. Tisch Professor of History at Harvard University, a Senior Research Fellow of Jesus College, Oxford and a Senior Fellow of the Hoover Institution, Stanford University. He is the bestselling author of "Paper and Iron", "The House of Rothschild", "The Pity of War", "The Cash Nexus", "Empire", "Colossus", "The War of the World" and "The Ascent of Money".
Sklep: Libristo.pl 113,90 zł
Inne 1
Does the spread of democracy really contribute to international peace? Successive U. S. administrations have justified various policies intended to promote democracy not only by arguing that democracy is intrinsically good but by pointing to a wide range of research concluding that democracies rarely, if ever, go to war with one another. To promote democracy, the United States has provided economic assistance, political support, and technical advice to emerging democracies in Eastern and Central Europe, and it has attempted to remove undemocratic regimes through political pressure, economic sanctions, and military force. In Electing to Fight, Edward Mansfield and Jack Snyder challenge the widely accepted basis of these policies by arguing that states in the early phases of transitions to democracy are more likely than other states to become involved in war. Drawing on both qualitative and quantitative analysis, Mansfield and Snyder show that emerging democracies with weak political institutions are especially likely to go to war. Leaders of these countries attempt to rally support by invoking external threats and resorting to belligerent, nationalist rhetoric. Mansfield and Snyder point to this pattern in cases ranging from revolutionary France to contemporary Russia. Because the risk of a state's being involved in violent conflict is high until democracy is fully consolidated, Mansfield and Snyder argue, the best way to promote democracy is to begin by building the institutions that democracy requires -- such as the rule of law -- and only then encouraging mass political participation and elections. Readers will find this argument particularly relevant to prevailing concerns about the transitional government in Iraq. Electing to Fight also calls into question the wisdom of urging early elections elsewhere in the Islamic world and in China. Edward D. Mansfield is Hum Rosen Professor of Political Science at the University of Pennsylvania. He is the author of Power, Trade, and War and International Conflict and the Global Economy. Jack Snyder is the Robert and Renée Belfer Professor of International Relations at Columbia University. He is the author of From Voting to Violence: Democratization and Nationalist Conflict; Myths of Empire: Domestic Politics and International Ambition; and The Ideology of the Offensive: Military Decision Making and the Disasters of 1914."American foreign policy has been based on the premise that democracy promotes peace. Electing to Fight conclusively shows, however, that democratization, when mishandled, leads to war. Its challenge to the conventional beliefs of scholars and politicians makes it one of the most important books on international affairs in recent decades." --Samuel P. Huntington, Albert J. Weatherhead III University Professor, Harvard University "Everyone agrees that democracies make peace not war. But is that true? Jack Snyder and Edward Mansfield have posed the question and answered it with great rigor and sophistication. The result is an important book that describes a far more complicated relationship between democratization and peace than simple-minded rhetoric would suggest." --Fareed Zakaria, Editor, Newsweek International "With notable analytic agility and rigorous empiricism Mansfield and Snyder dissect the popular policy nostrum that promoting democracy abroad promotes peace in the world. Their incisive work will help policymakers steer clear of misleading, facile assumptions and impel scholars to dig deeper and think harder on a subject of critical contemporary importance." --Thomas Carothers, Director, Democracy and Rule of Law Project, Carnegie Endowment for International Peace View All Endorsements
Sklep: Albertus.pl 39,90 zł
Anglia / Słowniki językowe
Słownik tematyczny angielsko-polski wzbogacony o dodatki multimedialne, w tym aplikację na iPhone'a i smartfony do odsłuchiwania nagrań z książki to nowoczesne rozwiązanie stworzone dla początkujących i średnio zaawansowanych użytkowników angielskiego. Słownik został opracowany tak, aby przyswajanie materiału odbywało się poprzez zmysł wzroku, słuchu, a także poprzez wyobraźnię i skojarzenia. Słownik tematyczny z multimediami służy do intensywnej, ciekawej, wygodnej i efektywnej nauki słownictwa angielskiego. Ze słownikiem łatwiej zapamiętasz informacje, ponieważ prezentowane są one ciekawie i oddziałują na więcej zmysłów niż tylko wzrok. Zobacz kilka przykładowych stron słownika Czym wyróżnia się publikacja? - Zawiera 3 000 haseł na poziomie podstawowym i średnio zaawansowanym (A1 - B1) ułożonych tematycznie. Przykładowe tematy: "Ciało, życie i istoty żywe", "Ludzie i rodzina", "Wiedza i uczenie się", "Nauka i technologia" - Dla każdego słówka prezentowane są dwa przykładowe zdania angielskie , pokazujące jego typowe użycie w kontekście. Hasłom towarzyszą również tłumaczenia zdań na język polski oraz zdjęcia . - Każdy rozdział jest oznaczony innym kolorem, co ułatwia orientację w książce. W ramach każdego rozdziału hasła ułożone są alfabetycznie według polskich tłumaczeń. - Słowa są dobrane tak, żeby uczyć się tylko najpotrzebniejszych, czyli najczęściej występujących w języku angielskim . Na marginesie przy każdym haśle znajdują się kolorowe paski, informujące o tym, jak często dane słówko występuje w języku angielskim. Najbardziej intensywny odcień wskazuje, że jest ono bardzo popularne. - Na każdej stronie znajdziesz kod, dzięki któremu przy użyciu smartfona lub iPhone
Sklep: Księgarnia.Poltax.waw.pl 152,62 zł
Książki / Literatura obcojęzyczna
Since he was a small boy, Mosab Hassan Yousef has had an inside view of the deadly terrorist group Hamas. The oldest son of Sheikh Hassan Yousef, a founding member of Hamas and its most popular leader, young Mosab assisted his father for years in his political activities while being groomed to assume his legacy, politics, status . . . and power. But everything changed when Mosab turned away from terror and violence, and embraced instead the teachings of another famous Middle East leader. In "Son of Hamas," Mosab Yousef--now called "Joseph"--reveals new information about the world's most dangerous terrorist organization and unveils the truth about his own role, his agonizing separation from family and homeland, the dangerous decision to make his newfound faith public, and his belief that the Christian mandate to "love your enemies" is the only way to peace in the Middle East.
Sklep: Libristo.pl
Sklepy zlokalizowane w miastach: Warszawa, Kraków, Łódź, Wrocław, Poznań, Gdańsk, Szczecin, Bydgoszcz, Lublin, Katowice
Szukaj w sklepach lub całym serwisie
2. Szukaj na wszystkich stronach serwisu
t1=0.034, t2=0, t3=0, t4=0.027, t=0.035