krainaksiazek being mindful finding happiness in you 20120089
- znaleziono 9 produktów w 2 sklepach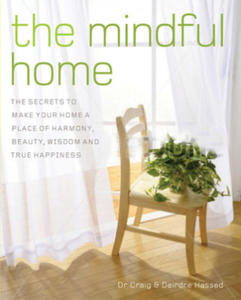 102,24 zł
Mindful Home Exisle Publishing (Australia)
Książki / Literatura obcojęzyczna
Megatrends Mindfulness and Home Improvement combine in a gorgeous guide to shaping living space into homes that nurture. A house is merely physical but a home is far more subtle and elusive. This book takes the view that being 'at home' is a metaphor for finding ourselves - finding our core. What do we find at our core? Well, if the world's great wisdom traditions have anything to say about it then home is about qualities that we could equate with 'good' itself - true happiness, peace, beauty, wisdom and inspiration. It is also about the good things in life such as harmony, relationships, health and wealth. So, how are we to find our core and create a home that reminds us of the qualities associated with it? That is where the practice of mindfulness comes in! By exploring the ways in which we feed our mind and our heart through our senses, how we use space, the practicalities of managing a home, and how we can live a healthy and sustainable life at home, The Mindful Home will enable us to shape the living space we really want, creating an environment that both nurtures and invigorates us, while meeting our needs. Beautifully designed, this is the ultimate guide to the art of conscious living. Combines the two megatrends of Mindfulness and Home Improvement in a beautiful useful book- which has attracted enormous pre publication interest around the world as the only book of its kind. Chapters include Philosophy of The Mindful Home, The Five Sense, The Five spaces, Home as a Healthier Environment.
Sklep: Libristo.pl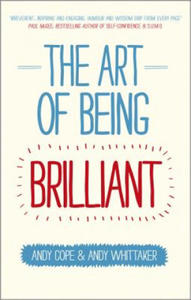 40,97 zł
Książki / Literatura obcojęzyczna
A pep talk in your pocket. This short, small, highly illustrated book will fill you to the brim with happiness, positivity, wellbeing and, most importantly, success! Andy Cope and Andy Whittaker are experts in the art of happiness and positive psychology and "The Art of Being Brilliant" is crammed full of good advice, instructive case studies, inspiring quotes, some funny stuff and important questions to make you think about your work, relationships and life. You see being brilliant, successful and happy isn't about dramatic change, it's about finding out what really works for you and doing more of it! The authors lay down their six common-sense principles that will ensure you focus on what you're good at and become super brilliant both at work and at home. It features: a richly illustrated, 2 colour, small book full of humour, inspiring quotes and solid advice; a great read with a serious underlying message - how to foster positivity and bring about success in every aspect of your life; and outlines six common-sense principles that will help you ensure you are the best you can be.
Sklep: Libristo.pl 70,40 zł
Książki / Literatura obcojęzyczna
Written by the creator of ThetaHealing[registered], Vianna Stibal, this is more than just a weight loss book! It is about finding a real rhythm for your mind, body and spirit, while tapping into your inner beauty and love for yourself. ThetaHealing began when Vianna realised that she could teach other people the method that she used to heal herself from a serious health condition. It is now famous for being one of the most powerful energy-healing techniques in the world. Now, for the first time, Vianna has compiled a book that demonstrates how to use ThetaHealing for weight loss and reveal a strong, healthy and beautiful body which you love! Using the techniques in this book, you will be able to: select the right foods and supplements to nourish your body, and enjoy the foods you love without guilt make your body think that it is exercising while you listen to music and relax!; and release the emotions and fears that hold you back from having the body you want change your unhelpful beliefs into more productive and useful beliefs that will allow you to release your excess weight. So say goodbye to calorie counting and feeling guilty, and say hello to being comfortable in your own body and finding inner peace and happiness!
Sklep: Libristo.pl 53,56 zł
Książki / Literatura obcojęzyczna
Happiness is a habit. For some of us, that habit is a natural inclination; for others, it is a learned behavior. The Mayo Clinic Handbook for Happiness combines wisdom from neuroscience, psychology, philosophy, and spirituality to help you choose contentment. Dr. Amit Sood's actionable ten-week program has helped tens of thousands of people reduce anxiety and find greater fulfillment in life. Each of the book's four sections is filled with practical insights and easy-to-implement exercises. You'll understand why your brain struggles with finding happiness and what real-world practices can help you to better manage stress and choose peace and contentment instead. Praise for the Stress-Free Living Program: "This book can change your life."-Dr. Andrew Weil "An important innovative approach to well-being."-Dr. Daniel Goleman, author of Emotional Intelligence
Sklep: Libristo.pl 41,42 zł
Książki / Literatura obcojęzyczna
Dr Andrew Weil charts a new path to finding lasting happiness Everyone wants to be happy. But what does that really mean? Increasingly, scientific evidence shows us that true satisfaction and well-being come only from within. Dr Andrew Weil has proven that the best way to maintain optimum physical health is to draw on both conventional and alternative medicine. Now, in Spontaneous Happiness, he gives us the foundation for attaining and sustaining optimum emotional health. Rooted in Dr Weil's pioneering work in integrative medicine, the book suggests a reinterpretation of the notion of happiness, discussing the limitations of modern medicine in treating depression, and elaborating on the inseparability of body and mind. Dr Weil offers an array of scientifically proven strategies from Eastern and Western psychology and draws from psychotherapy, mindfulness training, Buddhist psychology, nutritional science, and more, to support emotional wellness, and offer advice on developing a spiritual dimension in our lives. Dr Weil presents an eight-week programme that can be customised according to specific needs, with short- and long-term advice on nutrition, exercise, supplements, environment, lifestyle, and much more. Whether you are struggling with depression or simply want to feel happier, Dr Weil's revolutionary approach will shift the paradigm of emotional health and help you achieve greater contentment in your life.
Sklep: Libristo.pl 64,95 zł
Książki / Literatura obcojęzyczna
The ultimate is to have love and find happiness. All aspects of love, from biochemistry to Buddhism, from passion to peacefulness, and from yang to yin, converge on happiness. Your spiritual journey to love and happiness involves first overcoming traumas and disillusionment. Your journey becomes lovely through alignment with your immutable inner being and its beauty. Love then begins to radiate from you and to you through natural law. This blooming of love is alchemical, where the dark tyranny of your ego is outshone by the illuminated world of beauty and love. Finding true romance involves understanding our deep emotions and biology, while being aware of higher consciousness. This leads to happiness through enthusiasm and joy. This book shows you how to discover love, harmony and happiness following ancient paths combined with a modern knowledge of how we feel relative to our greater awareness and functioning of the cosmos.
Sklep: Libristo.pl 45,80 zł
Nauki humanistyczne
Alain de Botton, best-selling author of How Proust can Change Your Life, has set six of the finest minds in the history of philosophy to work on the problems of everyday life. Here then are Socrates, Epicurus, Seneca, Montaigne, Schopenhauer and Nietzsche on some of the things that bother us all; lack of money, the pain of love, inadequacy, anxiety, the fear of failure and the pressure to conform.
Sklep: Albertus.pl 66,01 zł
Książki / Literatura obcojęzyczna
Discover a demystified and easy approach to being present-anytime and anywhere-with this step-by-step guide to making your life more centred and mindful. Once you integrate mindfulness into your existing lifestyle, you'll become illuminated by a sense of calm, focus, and contentment that brings joy not only to you, but also to those whose lives you touch. The Mindfulness Habit helps you understand the value of living in the moment and offers many techniques for finding mindfulness opportunities. Explore a variety of topics related to meditation and habit formation, as well as extensive exercises to practise each week. No matter how busy your schedule is, you can find a place to calm the body and quiet the mind.
Sklep: Libristo.pl 53,87 zł
Książki / Literatura obcojęzyczna
Find inner peace with "Everyday Enlightenment" by His Holiness the Gyalwang Drukpa. This book is an inspirational guide to finding happiness by taking in the beauty right in front of you. Leading Himalayan Buddhist His Holiness the Gyalwang Drukpa walks with you along your path and teaches you that: there is peace in recognizing that we are all connected; positive influences are closer than you think; in order to inspire others, you need to find inspiration in your life; what we think, we become. "Everyday Enlightenment" brings ancient wisdom into the modern world. Teaching through stories and example, His Holiness the Gyalwang Drukpa shows you how to let go of your ego and stress, turn anger into compassion, and transform your fears into courage. Cameron Diaz listed "Everyday Enlightenment" as one of her top 2012 reads: 'We live in such a fast paced world it's easy not to take time to tend to your inner self, but it is necessary to take a moment and be still in mind and body, to be more conscious of the way that we are engaging with the world around us. Using teachings from the Buddhist philosophy, "Everyday Enlightenment" gives you practical tools to deal with the everyday challenges of being human in our modern society.' The spiritual head of the Drukpa school of Buddhism, His Holiness the Gyalwang Drukpa has taught millions of students worldwide. He is also an active humanitarian, working on projects with celebrities such as Richard Gere and Joanna Lumley. Michelle Yeoh is a global ambassador for his Live to Love initiative, whose core causes include the protection of the environment and spread of education.
Sklep: Libristo.pl
Sklepy zlokalizowane w miastach: Warszawa, Kraków, Łódź, Wrocław, Poznań, Gdańsk, Szczecin, Bydgoszcz, Lublin, Katowice
Szukaj w sklepach lub całym serwisie
2. Szukaj na wszystkich stronach serwisu
t1=0.042, t2=0, t3=0, t4=0, t=0.042