krainaksiazek believe you can succeed 20094313
- znaleziono 6 produktów w 2 sklepach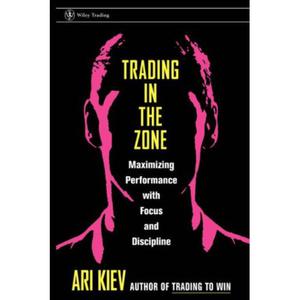 254,00 zł
Literatura anglojęzyczna
Podana cena książki jest orientacyjna, zależy od kilku czynników. Po zakupie obsługa sklepu skontaktuje się, jeśli konieczna będzie dopłata. Book Description Overcome the obstacles that can prevent you from winning at the trading game A trader's emotional state is vital to being a successful investor. There are many psychological factors that can affect the decisions one makes in the course of a trading day. This book focuses on overcoming issues such as anxiety, fear, and over-ambition so that traders can become more focused and be more successful-in other words, enter the zone-and stay in it as long as possible. Download Description Overcome the obstacles that can prevent you from winning at the trading game: A trader's emotional state is vital to being a successful investor. There are many psychological factors that can affect the decisions one makes in the course of a trading day. This book focuses on overcoming issues such as anxiety, fear, and over-ambition so that traders can become more focused and be more successful-in other words, enter the zone-and stay in it as long as possible. Book Info Takes reader to the next level of mastering common psychological obstacles to attain winning personal trading strategies.Describes techniques for tapping into qualities and states of mind necessary for successful trading, such as energy, focus and enthusiasm.Uses case studies to support the main arguments. DLC: Electronic trading of securities. From the Inside Flap "Most traders believe that 'getting into the zone'happens when you have 'a hot streak.' I believe you can create the zone. The zone is a psychological state. It is when you are focused, disciplined, and fully engaged in the process at hand . . . trading in the zone will certainly increase your capacity to perform and succeed."-Ari Kiev In his internationally acclaimed Trading to Win, psychiatrist and top trading coach Ari Kiev showed traders how to master common psychological obstacles to success and how to develop winning personal trading strategies. Now, in this groundbreaking new book, he takes us to the next bold level with a complete, easy-to-follow program for Trading in the Zone. Drawing on his years of experience helping top Wall Street traders achieve and sustain peak performance levels, Dr. Kiev describes proven techniques for tapping the energy, focus, and enthusiasm needed to enter the zone and stay there, every trading day, regardless of short-term results or market conditions. With the help of many fascinating case studies, Dr. Kiev describes psychological and emotional factors that routinely undermine the decisionmaking process of even the most savvy trader during the course of the trading day. Writing for traders in virtually every market, he explores the varying psychological and emotional issues confronting different classes of traders based on their risk profiles and preferred instruments. Trading in the Zone helps you gauge the extent to which your effectiveness is being hamstrung by common problems such as anxiety, fear of failure, negative self-image, and greed. He provides step-by-step guidance on how to overcome those internal obstacles and enter the zone, where you will produce outstanding results, day after day, year after year. Don't let cognitive traps and negative emotions impair your effectiveness as a trader. Read Trading in the Zone and learn how to achieve the heightened levels of objectivity, focus, and confidence you need to trade in the zone and win, win, win. From the Back Cover PRAISE FOR Trading in the Zone "Ari Kiev takes us inside the most successful trading firms of our time and shows us how those firms seek to improve performance through disciplined self analysis and structured goal management. His application of psychiatric tools to the short-term trading aspects of behavioral finance can give readers a competitive edge."-Charles A. Leeds Jr., CFA, Managing Member, Hermit Capital Management, LLC "Kiev uses the powerful combination of his professional training as well as a unique vantage point inside the ropes at a market-moving, high-rolling hedge fund to deliver a fascinating analysis of a trader's psyche. Although trading is widely acknowledged as an art, one that requires incredible innate intuition and feel for the markets, Kiev prescribes 'getting into the zone'- a psychological state that one can create - for those aiming to achieve a higher level of performance. His anecdotes, case studies, interviews and tales of the 'Master Trader' are both instructive and tremendously insightful. A compelling read."-Ciaran T. O'Kelly, Head of Equity Trading, Salomon Smith Barney "Trading in the Zone discusses the psychological considerations that serve to distinguish the most successful traders and portfolio managers from the majority of traders who are doomed to failure. Trading is so greatly influenced by emotions and discipline that not to have Ari's insight and advice is a serious mistake."-Tom DeMark, author of The New Science of Technical Analysis "I have been managing money for more than twenty years and I am happy to endorse Dr. Kiev's principles, which have enhanced my performance and that of my traders over the past three years. Trading in the Zone will propel readers to the next level of trading success."-Jay Goldman, Hedge Fund Manager, J. Goldman & Co., L.P. "Ari Kiev's Trading in the Zone clearly and forcefully illustrates the mental discipline that will enable a stock trader to improve his performance."-Allan R. Tessler, Chairman and CEO, Jnet Enterprises "Dr. Kiev works with professional traders, including some of the best traders in the country. In Trading in the Zone, he provides numerous case studies based on the market experiences of these traders, told both through narratives and their own words, in order to distill insights and lessons that should prove invaluable to professional and aspiring traders alike."-Jack Schwager, author of The Market Wizards and Stock Market Wizards About the Autor ARI KIEV, MD, is a psychiatrist who specializes in stress management and performance enhancement. He is also President of the Social Psychiatry Research Institute and is recognized worldwide for his pioneering work in transcultural psychiatry, suicidology, and psychopharmacology. His other books include the acclaimed Trading to Win: The Psychology of Mastering the Markets; Transcultural Psychiatry; A Strategy for Daily Living; and The Courage to Live.
Sklep: Maklerska.pl 108,84 zł
Książki / Literatura obcojęzyczna
Young people talk frankly, eloquently and often movingly about sex and relationships in this detailed investigation of the social construction of sexuality. Drawing on empirical studies the authors develop a feminist theory which shows the power of heterosexuality as masculine, and the relevance of this power to young people's management of sexual safety. Based on research into young people's sexual cultures undertaken over ten years, the authors argue that 'sexual activity and empowerment do not necessarily go hand in hand'. While a minority of young people succeed in negotiating safe and pleasurable sexual relationships, for many the experience of adolescent sex continues to be 'nasty, brutish and short'. Old taboos about premarital sex may have been broken, but old ideas about sex being a man's pleasure and a woman's duty live on. Young women are left with the worst of both worlds. They are expected to be sexual but not taught to enjoy it, vulnerable to pregnancy but not in control of sexual safety. When it comes to sex young women have a 'male-in-the-head', a voice that tells them that using condoms 'is like chewing toffee with a wrapper on' and that sex is finished 'when he has finished'. Despite the effects of feminism, boys do not yet have a 'woman-in-the-head'. Even those 'new men' and 'new lads' who recognise that women have changed are still liable to revert to double standards when it comes to sex. As one young man points out 'I don't believe in sex differences ... but you can't go to bed with someone the first time you get off with them and expect them to give you respect and love, you can't have it both ways'. Women still can't have it both ways but men can-just. The evidence from this study suggests that times are changing, that femininity is moving on and that masculinity is dragging its feet. While girls are outstripping boys in the classroom and the workplace, they are still being kept in their place in the bedroom.
Sklep: Libristo.pl 51,95 zł
Książki / Literatura obcojęzyczna
Young people consistently say they want the same three things from life; to be happy, confident and successful. The Buzz shows them how to achieve all of these through a fantastic and illuminating journey of self-discovery. Complex theories and approaches are clearly presented in an easy to understand form. David Hodgson presents a unique and highly effective method of realising potential and making the best choices for those considering higher education or wondering what future career would suit them. The brain is an amazing thing. It is the most complicated known thing in the universe. Sometimes it helps make people believe they can do amazing things - great inventions, acts of incredible bravery - when they are at their best. It is better for people to understand how the brain works and control it for the life they really want, rather than stick to habits that hinder them. Most people use about 10 per cent of their potential. With The Buzz , they can access the other 90 per cent. How much of it will they dare use? The Buzz has been developed with and used by thousands of young people. It works.They have been surprised at how easy it can be to start living a great life, discover new strengths and skills, dream dreams, plan to make them happen and enjoy feeling great while moving in a positive direction that feels right. We can build a great life around our strengths, the things we enjoy and are good at. The Buzz also shows us simple ways in which we can alter our behaviour to succeed in the different situations and challenges we face. Advice includes tips on: how to get out of an argument, the power of laughter, talking to people you fancy, improving your sports performance, how to relax and reduce stress, building self-esteem, employability skills, learning and thinking better, choosing a course or career and understanding your personality. For 16 - 19 year-olds and the professionals working with them.
Sklep: Libristo.pl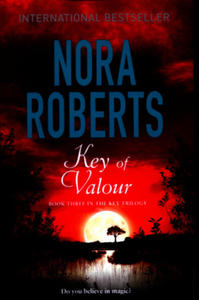 43,87 zł
Książki / Literatura obcojęzyczna
Do you believe in magic?' When Zoe McCourt was sixteen she had been dazzled by the handsome and wealthy James Marshall. He had taken her innocence and left her to bring up their child alone. Now, after ten years of struggle, Zoe's life is finally coming together. Her son, Simon, is her pride and joy, and she is about to venture into business with her new-found friends Malory and Dana. There is even a hint of romance on the horizon, in the very sexy form of Bradley Charles Vane IV, a man whose wealth and good looks make Zoe a little wary but seriously tempted to throw caution to the wind. But before she can embrace her future she has a challenge to face. For Malory, Dana and Zoe have been chosen to undergo a quest to free the souls of three demi-goddesses trapped by an ancient evil. It is a challenge that promises great riches but also grave danger. And, of all of them, Zoe has the most to lose. Three women. Three keys to find. If one fails, they all lose. If they all succeed - money, power and a new destiny awaits. It will take more than intellect, more than determination. They will have to open their hearts, their minds, and believe that everything and anything is possible.
Sklep: Libristo.pl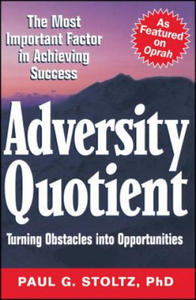 142,97 zł
Książki / Literatura obcojęzyczna
Praise for Adversity Quotient. "With AQ, Paul Stoltz has done something remarkable: He synthesizes some of the most important information on how we influence our own future and then offers a profound set of observations which teaches us how to thrive in a fast-changing world!"-Joel Barker, President, Infinity, LTD, author of Paradigm Shift. "Adversity Quotient will show that you have more control over events than you think. The key is changing your beliefs. Believe it or not, that can usually be done in One Minute." -Ken Blanchard, co-author, The One Minute Manager. "Paul Stoltz's AQ explains why some people, teams, organizations, and societies fail or quit, and how others in the situation persevere and succeed. With this book, anyone or or organization can learn to reroute their AQ and hardwire their brain for success." -Daniel Burrus, author, Technotrends. "AQ is one of the more important concepts of our time. Paul Stoltz's book provides the direction and tools necessary for putting this idea into practice. It is a must read for anyone interested in personal mastery, leadership effectiveness and/or organizational productivity." -Jim Ericson, Program Director, The Masters Forum.
Sklep: Libristo.pl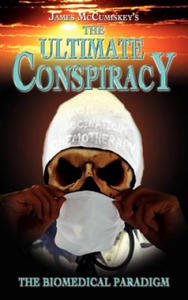 98,28 zł
Książki / Literatura obcojęzyczna
What if 95% of Modern Medicine is scientifically and medically WRONG? The Biomedical Paradigm describes the underlying philosophy or pattern of thinking behind Modern Medicine. What if the Biomedical Paradigm is fundamentally flawed, resulting in 95% of Modern Medicine being scientifically and medically wrong? Doctors are mostly nice, hard-working and respectable people. But what if they are killing and injuring many, many times more people than they are healing because of their insane belief in the Biomedical Paradigm? They have already been remarkably successful in killing millions of people with vaccinations, chemotherapy and HIV-AIDS. They now want to create a medically induced bird flu pandemic that could kill tens of millions of people. They will succeed in this endeavour unless enough ordinary people understand the Horror that is the Biomedical Paradigm. The Biomedical Paradigm is the Ultimate Conspiracy because most of us, more than 99% of us, currently believe it to make common sense, to be scientific, and to be true. However there is a simple scientific explanation as to why a person gets a specific cancer or disease. Cancer is not a meaningless failure of Nature, but is rather a meaningful event, which occurs for a specific reason. Once you know this, you will no longer fear cancer nor any other disease, because you will understand it. Cancer is curable! When enough ordinary people know this easily understandable and scientific explanation for cancer, the Biomedical Paradigm will be seen for what it really is, and can then be finally overcome.
Sklep: Libristo.pl
Sklepy zlokalizowane w miastach: Warszawa, Kraków, Łódź, Wrocław, Poznań, Gdańsk, Szczecin, Bydgoszcz, Lublin, Katowice
Szukaj w sklepach lub całym serwisie
2. Szukaj na wszystkich stronach serwisu
t1=0.036, t2=0, t3=0, t4=0.024, t=0.037