krainaksiazek best game day recipes 20111299
- znaleziono 5 produktów w 1 sklepie 140,21 zł
Książki / Literatura obcojęzyczna
Originally published in 1925, this is a wonderful anthology of shooting writing, collecting excerpts from the best and the brightest shooting writers of their day. Full of humour, valuable information and some hauntingly beautiful poetry and writing about the joys of the field, this is an asset to any shooting man's library. Many of the earliest books, particularly those dating back to the 1900s and before, are now extremely scarce and increasingly expensive. Read Country Books are republishing these classic works in affordable, high quality, modern editions, using the original text and artwork. Contents Include: To the Reader Dedicatory The Boy Guns Powder and Shot Kit and Gear The Holiday Companions Fellow-Sportsmen Dogs The Moor The Twelfth The First The Forest Grouse Blackgame Partridges Pheasants Snipe Woodcock Duck Hares Rabbits Geese and Swans Various The Rookery Enemies and Friends Red-Letter Days Gamekeepers Poachers Meals The Inn The Kitchen The Bookshelf Recipes Golden Rules Yarns Weather The Deer Stalker The Wildfowler The Philosophy of it Keywords: Fellow Sportsmen S Library Beautiful Poetry Enemies And Friends Country Books Holiday Companions Gamekeepers Rookery Hares Pheasants Poachers Snipe Grouse 1900s Woodcock Geese Swans Rabbits Anthology Red Letter Days
Sklep: Libristo.pl 49,99 zł
Książki / Literatura obcojęzyczna
You might think that dinner's taken care of if you have a can of soup in the cupboard or some leftover pizza in the fridge, but you can make yourself a home-cooked meal - just like you'd get back home - without a degree in culinary arts. Whether you need sustenance for your late-night study session, are hosting the afterparty at your place or want to bake your new best friend a batch of birthday cupcakes, the The Really Hungry Student Cookbook will come to the rescue with delicious, stress-free recipes for any occasion. If you've had a bit too much fun the night before, Badass Breakfasts will set you up to face the day. Winning Lunches will keep you going through those long lectures. Italian Stallion is packed with all the classic pizza and pasta dishes. Learn to make kick-ass burritos and tacos with Viva la Fiesta and Spice Up Your Life with a tasty curry or stir-fry. Veggie Mighty is packed with delicious vegan and vegetarian options. If you're on a detox or training for your next big game Gym Jocks vs. Yoga Bunnies is full of healthy soups, salads and juices to keep you fighting fit. If you're missing home, Just Like Mom Used to Make is full of recipes for comforting home cooking. Fire up the barbecue and Chill While You Grill or make your friends say OMG! with Posh Nosh. Be the host with the most by serving up awesome cocktails and snacks from Party On Dude and Nom Nom Nom Treats has everything the owner of a sweet tooth could desire.
Sklep: Libristo.pl 69,53 zł
Książki / Literatura obcojęzyczna
The Remingtons are the third installment of the Love in Bloom Series, joining the Snow Sisters & The Bradens (Voted BEST BOOK SERIES of 2013 by Supportive Business Moms, UK) INCLUDES 3 Jam Recipes for Luscious Leanna's Sweet Treats! Luscious Leanna's Sweet Treats jams from the book are now available for purchase on Amazon! In READ, WRITE, LOVE...Bestselling author Kurt Remington lives to write. He spends twelve hours a day in front of his computer, rarely leaving the seclusion of his beach-front property, where he's come to finish his latest thriller--that is, until free-spirited Leanna Bray nearly drowns in the ocean trying to save her dog. Kurt's best-laid plans are shot to hell when he comes to their rescue. Kurt's as irritated as he is intrigued by the sexy, hot mess of a woman who lives life on a whim, forgets everything, and doesn't even know the definition of the word organized. Leanna's come to the Cape hoping to find a fulfilling career in the jam-making business, and until she figures out her own life, a man is not on the menu. But Leanna can't get the six-two, deliciously muscled and tragically neat Kurt out of her mind. She tells herself she's just stopping by to say thank you, but the steamy afternoon sparks a wild and sexy ride as Kurt and Leanna test the powers of Chemistry 101: Opposites Attract. READ, WRITE, LOVE is part of the Love in Bloom series. While READ, WRITE, LOVE can be read as a stand-alone novel, for even more reading enjoyment you may want to read the entire Love in Bloom series in series order. READ THE FULL LOVE IN BLOOM SERIES: Characters from each sub-series appear in future books. SNOW SISTERS BOOK 1: Sisters in Love BOOK 2: Sisters in Bloom BOOK 3: Sisters in White THE BRADENS (Weston, CO) BOOK 4: Lovers at Heart (Treat & Max) BOOK 5: Destined for Love (Rex & Jade) BOOK 6: Friendship on Fire (Josh & Riley) BOOK 7: Sea of Love (Dane & Lacy) BOOK 8: Bursting with Love (Savannah & Jack) BOOK 9: Hearts at Play (Hugh & Bree) THE REMINGTONS BOOK 10: Game of Love (Dex) BOOK 11: Stroke of Love (Sage) BOOK 12: Flames of Love (Siena) BOOK 13: Slope of Love (Rush) BOOK 14: Read, Write, Love (Kurt) THE BRADENS (Trusty, CO) BOOK 15: Taken by Love (Luke) BOOK 16: Fated for Love (Wes) BOOK 17: Romancing My Love (Pierce) BOOK 18: Flirting with Love (Ross) BOOK 19: Dreaming of Love (Emily) BOOK 20: Crashing into Love (Jake)SEASIDE SUMMERS BOOK 21: Seaside Dreams (Bella) BOOK 22: Seaside Hearts (Jenna) BOOK 23: Seaside Sunsets (Jamie) BOOK 24: Seaside Secrets (Amy) THE BRADENS (Peaceful Harbor, MD) BOOK 25: Healed by Love (Nate) BOOK 26: Surrender My Love (Cole) More coming soon!REVIEWS "...love, loss, lies, grief, finding happiness in the face of adversity, romance, humor, bravery, hot hot hot sex scenes, marriages, births and totally awesome characters." --Supportive Business Moms, UK "Like Nora Roberts, Melissa Foster has captivated me with her fantastic, sexy, romantic stories." Kimberly Winning, avid reader"Sensual, sexy, and satisfying. A captivating blend of the dance between lust, love, and life." -- Bestselling author, Keri Nola
Sklep: Libristo.pl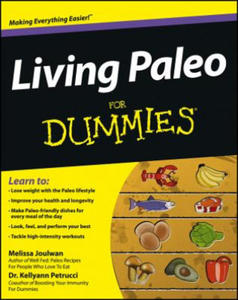 88,58 zł
Książki / Literatura obcojęzyczna
A fun and practical guide for adopting Paleo diet principles into your daily life The human body survived for more than 2 million years with the food found in nature: game meat, fish, vegetables, wild fruits, eggs, and nuts. Humans were thriving on this diet high in animal fat and proteins and low in carbohydrates, but things changed when we introduced unnatural and processed foods to our bodies. The Paleo movement is one of today's hottest diet and healthy-eating approaches. Its appeal comes from the fact that it is a sustainable alternative to more restrictive diets that often lead to burnout and failed weight loss efforts. The Paleo diet is about using natural foods to achieve great health and a perfect physique. Living Paleo For Dummies shows you how to adopt the Paleo lifestyle and improve your health and longevity. Offering more than 40 recipes for every meal of the day, and providing tips for getting around common roadblocks such as eating out, this essential guide to adopting a primal diet also provides the latest, cutting edge research from genetics, biochemistry, and anthropology to help you look, feel, and perform your best. The details of eating the foods that our bodies were designed to eat A complete introductory plan to kick start the Paleo journey Tricks to save on the food bill while adhering to a primal meal plan Living Paleo For Dummies is for anyone looking for a fun and informative guide that simplifies the complexities of the Paleo Diet while outlining and explaining the science behind the benefits.
Sklep: Libristo.pl 124,90 zł
Książki / Literatura obcojęzyczna
Roast restaurant is a champion of British cooking and Britain's farmers and producers. Located in the foodie mecca of Borough Market, this award-winning, unique restaurant celebrates both heritage and innovation on its seasonal British menu. Now you can recreate Roast's famous food and drink in your home with the Roast cookbook. For the most important meal of the day, try a full range of classic British breakfasts and brunches, including the Mighty full Borough. There are delicious options for lunch and dinner too, such as Pan-fried gurnard fillet with clams in cider and wild boar pancetta, Fillet of red deer Wellington with haggis, girolles and bashed neeps, and Anchovy-rubbed, hay-baked leg of mutton with parsley and caper sauce. You'll find all the classics among new favourites in this best of British showcase of fish, poultry, lamb, mutton, goat, pork, beef, game and vegetables, plus many ideas for British puddings, cocktails and wines. For the more difficult, unfamiliar preparations such as opening a live scallop or oyster, butchering a duck or rabbit, or for carving large joints, there are not only step-by-step photographic instructions, but also QR codes that link to film clips of head chef Marcus Verberne guiding you through a certain technique. Between recipes, read all about the restaurant's excellent suppliers and producers from around the UK and find essays on foraging and carving. The Roast cookbook will be one you reach for often, whether it is to create a full dish or meal or even just for a quick tip. Foreword by Iqbal Wahhab, owner of Roast restaurant.
Sklep: Libristo.pl
Sklepy zlokalizowane w miastach: Warszawa, Kraków, Łódź, Wrocław, Poznań, Gdańsk, Szczecin, Bydgoszcz, Lublin, Katowice
Szukaj w sklepach lub całym serwisie
2. Szukaj na wszystkich stronach serwisu
t1=0.026, t2=0, t3=0, t4=0, t=0.026