krainaksiazek between two shores 20039550
- znaleziono 12 produktów w 2 sklepach 84,99 zł
Muzyka>Rock
Sklep: Gigant.pl 114,99 zł
Muzyka>Pop
Sklep: Gigant.pl 259,99 zł
Książki Obcojęzyczne>Angielskie>Literature & literary studies>Literature: history & criticism>Literary studies: general>c 1800 to c 190...
Between Two Shores / Idir Dha Chladach
Sklep: Gigant.pl 65,99 zł
Muzyka>Pop
Sklep: Gigant.pl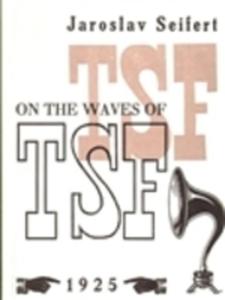 41,99 zł
Książki Obcojęzyczne>Czeskie>Poezie
The Famous Modernist Manifesto Revolutionary Anthology Devetsil, Published In The Winter 1922, Lists Two Editors, Jaroslav Seifert (1901-1986) And Karel Teige (1900-1951). Similarly, We Should Preface The 1925 Collection Na Vlnach TSF (On The Waves Of TSF) With The Names Of These Two Authors, Leading Representatives Of The Czech Avantgarde Between The Two World Wars And Founding Members Of The Artists' Group Devetsil. Karel Teige Laid Out The Verses Of His Friend Jaroslav Seifert As Striking Typographical Poems. Purportedly, He "depleted" Nearly All The Font Cases He Could Find At Obzina's Printing Shop. In Any Case, He Faithfully Fulfilled The Precepts Of Poetism About The World And Poetry-to Be Multisensory. Imbued With "all The Beauties Of The World, " Seifert's Verses Are Introduced With A Mischievously Reversed Paraphrase Of Karel Hynek Machas (1810-1836) Famous Words: Light Grief On The Face / Deep Laughter In The Heart. With The Effortlessness Mimicking Wireless Transmission, Seifert And Teige Transport Us To Paris (Seifert Visited The City Of Light With Teige In 1924), To Places Where Pineapples Grow, To Australia, Marseille, New York, To Distant Ocean Shores, And Back To The Banks Of The Vltava River In Prague-all This Facilitated, As It Were, By Telegraphie Sans Fil (literally From French: Wireless Telegraphy). To Be Sure, The Greatest Concern Of The Lyrically Gloomy Narrator Is Joyfully Unambiguous Honeymoon Destinations; If Die We Must, Let Us Die Of Love. . . In Subsequent Editions (1938), Seifert's Youthful Manifesto Was Titled Svatebni Cesta (Honeymoon). Understandably So, Because The Changed Circumstances Of Czech Poetry Hardly Allowed For Stepping Into The Same River Twice; The Former Associates Parted Ways In Their Creative Endeavors. Teige Became A Multifaceted Art Theoretician And Embraced Surrealism. After Breaking With The Communist Party In 1929, Seifert Became A Lifelong Social Democrat And Devoted Himself Primarily To Newspaper Journalism. The First Edition Of Na Vlnach TSF Gradually Became Rare Until Only Reprints Allowed Us To Explore The Sources Of This Visual, Almost Hedonistic Poetry. As A Reprint, The Collection Is Appearing For The Fifth Time, This Time In Its Most Faithful Facsimile Incarnation And In Two Independent Permutations-in The Original Czech Version And As An English-Czech Remake By Zdenek Trinkewitz, Translated By Dana Loewy. The Czech-born Translator Lives In The United States Where Early In Her Career, She Won A Student Translation Prize By The American Translators Association (1992). Subsequently, She Received An Honorary Mention By The Foremost Czech Translators Association And Her Translations Of Jaroslav Seifert's Early Work Were Published In 1997 By Hydra Books, A Division Of Northwestern University Press.
Sklep: Gigant.pl 34,70 zł
Książki / Literatura obcojęzyczna
HOME On the shores of Oregon's wild Columbia River, the mansion where Sarah McAdams grew up is as foreboding as she remembers. The moment she and her two daughters, Jade and Gracie, pull up the isolated drive, Sarah is beset by uneasy memories - of her cold, distant mother, of the half-sister who vanished without a trace, and of a long-ago night when Sarah was found outside, feverish and delirious. IS WHERE But Sarah has vowed to make a fresh start and renovate the old place. Between tending to her girls and the rundown property, she has little time to dwell on the past...Until a new, more urgent menace enters the picture. THE FEAR IS One by one, teenage girls are disappearing. Frantic for her daughters' safety, Sarah feels the house's walls closing in on her again. Somewhere deep in her memory is the key to a very real and terrifying danger. And only by confronting her most terrifying fears can she stop the nightmare roaring back to life once more...
Sklep: Libristo.pl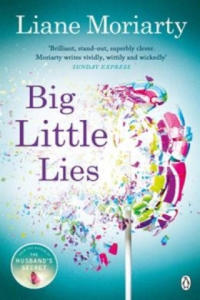 39,80 zł
Książki / Literatura obcojęzyczna
This book is published as Big Little lies in Australia and the United States. Liane Moriarty, million copy selling author of The Husband's Secret brings us another addictive story of secrets and scandal. Jane hasn't lived anywhere longer than six months since her son was born five years ago. She keeps moving in an attempt to escape her past. Now the idyllic seaside town of Pirriwee has pulled her to its shores and Jane finally feels like she belongs. She has friends in the feisty Madeline and the incredibly beautiful Celeste - two women with seemingly perfect lives ...and their own secrets behind closed doors. But then a small incident involving the children of all three women occurs in the playground causing a rift between them and the other parents of the school. Minor at first but escalating fast, until whispers and rumors become vicious and spiteful. It was always going to end in tears, but no one thought it would end in murder ...Praise for Liane Moriarty: "Cleverly plotted, full of suspense, pulls you in from the first page." (Sunday Mirror). "Gripping, acutely observed, thought-provoking and funny." (Marie Claire). "The writing is beautiful: sometimes funny, sometimes sad but always compelling." (Good Housekeeping). "A tense, page-turning story ...a great read." (Mail on Sunday). "The Husband's Secret is a staggeringly brilliant novel. It is literally unputdownable." (Sophie Hannah). Liane Moriarty is the author of six novels including Three Wishes, The Last Anniversary, What Alice Forgot, The Hypnotist's Love Story and The Husband's Secret, which was a million copy bestseller and won the most popular Richard and Judy book club title for the autumn 2013 book club. Liane lives in Sydney with her husband, son and daughter.
Sklep: Libristo.pl 99,33 zł
Książki / Literatura obcojęzyczna
A landmark publication, Charles: The Heart of a King is the first significant biography of Prince Charles in over two decades, providing the first glimpse inside the realigned monarchy that the Prince now leads. Catherine Mayer, who has written about the royals since the 1990s, has been granted unique and unprecedented access to Prince Charles, taking us beyond the public image to the man who remains largely unknown. For over a year, she has gathered exclusive material, including some fifty interviews with the Prince's closest friends, employees and critics, and sit-downs with the Prince himself, covering topics such as his approach to his future role as king and head of the Church of England, the wilder shores of his personal and political philosophy, his family relationships and his first marriage. She offers an enlightening insider's look at Charles the prince, the royal vocation and its inherent court struggles, Charles the philanthropist and businessman, founding the Prince's Trust and setting up one of Britain's first organic farms, to Charles the reformer and his controversial ideas on the relationship between the monarch and the Church of England. She also takes a closer look at Charles the man, at his upbringing, his brutal schooling and military service and his difficult relationship with his parents. And she offers a fundamental reappraisal of one of the most documented episodes of modern history: his first marriage. The reality, as in so many aspects of the Prince's story, is more gripping and more poignant than we can imagine. This book will reveal him in all his complexity, and show what kind of king he will make.
Sklep: Libristo.pl 39,80 zł
Książki / Literatura obcojęzyczna
In the wake of the apparent self-destruction of the Forerunner empire, two humans -- Chakas and Riser -- are like flotsam washed up on very strange shores indeed. They find themselves on an inverted world where horizons rise into the sky and where humans of all kinds are trapped in a perilous cycle of neglect. They have become strategic pawns in a cosmic game whose madness knows no end -- a game of ancient vengeance between the powers who seeded the galaxy with life, and the Forerunners. In the company of a young girl and an old man, Chakas begins an epic journey across a lost and damaged Halo in search of a way home, an explanation for the warrior spirits rising up within, and for the Librarian's tampering with human destiny. This journey will take them into the domain of a powerful and monstrous intelligence who claims to be the Last Precursor, and who now has control of both this Halo and the fate of Forerunners and humans alike. Called the Primordial by ancient human warriors, this intelligence may control the fate of not only Chakas, Riser, and the rest of humanity, but all of sentient life.
Sklep: Libristo.pl 65,74 zł
Książki / Literatura obcojęzyczna
Charles Clark Munn (1848-1917) was the author of Pocket Island: A Story of Country Life in New England (1900), Uncle Terry: A Story of the Maine Coast (1900) and Rockhaven (1902). "It was one of those chance meetings between two atoms tossed hither and thither in the whirligig of life; for the peddler, shrewd, calculating and unscrupulous, was wandering along the Acadian shores driving hard bargains in small wares; and the Indian, like his race, fond of a roaming life, was drifting about the bay in a small sloop he owned, fishing where he would, hunting when he chose, stopping a week in some uninhabited cove to set traps, or lounging in a village drinking or gambling. "
Sklep: Libristo.pl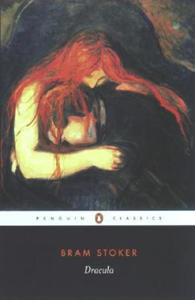 24,83 zł
Książki / Literatura obcojęzyczna
Bram Stoker's peerless tale of desperate battle against a powerful, ancient vampire, the "Penguin Classics" edition of "Dracula" is edited with notes and an introduction by Maurice Hindle, as well as a preface by Christopher Frayling. When Jonathan Harker visits Transylvania to help Count Dracula purchase a London house, he makes horrifying discoveries in his client's castle. Soon afterwards, disturbing incidents unfold in England: a ship runs aground on the shores of Whitby, its crew vanished; beautiful Lucy Westenra slowly succumbs to a mysterious, wasting illness, her blood drained away; and the lunatic Renfield raves about the imminent arrival of his 'master'. In the ensuing battle of wills between the sinister Count and a determined group of adversaries - led by the intrepid vampire hunter Abraham van Helsing - Bram Stoker created a masterpiece of the horror genre, probing into questions of identity, sanity and the dark corners of Victorian sexuality and desire. For this completely updated edition, Maurice Hindle has revised his introduction, list of further reading and notes, and added two appendices: Stoker's essay on censorship and his interview with Winston Churchill, both published in 1908. Christopher Frayling's preface discusses the significance and the influences that contributed to his creation of the Dracula myth. Abraham 'Bram' Stoker (1847-1912) was educated at Trinity College, Dublin. Stoker joined the Irish Civil Service, before his love of theatre led him to become the unpaid drama critic for the Dublin Mail. He went on to act as manager and secretary for the actor Sir Henry Irving while writing his novels, the most famous of which is "Dracula" (1897). If you enjoyed "Dracula", you may like Mary Shelley's "Frankenstein", also available in "Penguin Classics". "One of the most powerful horror tales ever written". (Malcolm Bradbury). "Nobody has ever filmed it like Bram Stoker wrote it". (Sir Christopher Lee). "Staggeringly lurid and perverse". (Sarah Waters, author of "Fingersmith").
Sklep: Libristo.pl 79,99 zł
Muzyka>Muzyka świata>Folk / Ludowa / Etno
1. The Bonny Gateshead Lass 2. The Two Magicians 3. Heart Like A Wheel 4. Bold Reynard The Fox 5. The Shores Of Old Blighty 6. Doodle Let Me Go 7. Isle Of Islay 8. The Row Between The Cages 9. Sally Wheatley 10. Dollia 11. The Begging 12. The Song Of The Iron Road 13. The Fishing: 14. Sally Gee
Sklep: Gigant.pl
Sklepy zlokalizowane w miastach: Warszawa, Kraków, Łódź, Wrocław, Poznań, Gdańsk, Szczecin, Bydgoszcz, Lublin, Katowice
Szukaj w sklepach lub całym serwisie
2. Szukaj na wszystkich stronach serwisu
t1=0.044, t2=0, t3=0, t4=0, t=0.044