krainaksiazek between two shores 20039550
- znaleziono 14 produktów w 3 sklepach 239,99 zł
Książki Obcojęzyczne>Angielskie>Literature & literary studies>Literature: history & criticism>Literary studies: general>c 1800 to c 190...
Between Two Shores / Idir Dha Chladach
Sklep: Gigant.pl 79,99 zł
Muzyka>Rock
Sklep: Gigant.pl 50,36 zł
Książki
Sklep: KrainaKsiazek.pl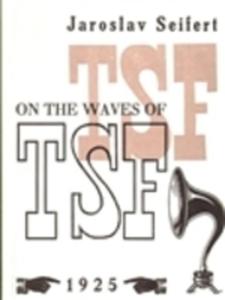 41,99 zł
Książki Obcojęzyczne>Czeskie>Poezie
The Famous Modernist Manifesto Revolutionary Anthology Devetsil, Published In The Winter 1922, Lists Two Editors, Jaroslav Seifert (1901-1986) And Karel Teige (1900-1951). Similarly, We Should Preface The 1925 Collection Na Vlnach TSF (On The Waves Of TSF) With The Names Of These Two Authors, Leading Representatives Of The Czech Avantgarde Between The Two World Wars And Founding Members Of The Artists' Group Devetsil. Karel Teige Laid Out The Verses Of His Friend Jaroslav Seifert As Striking Typographical Poems. Purportedly, He "depleted" Nearly All The Font Cases He Could Find At Obzina's Printing Shop. In Any Case, He Faithfully Fulfilled The Precepts Of Poetism About The World And Poetry-to Be Multisensory. Imbued With "all The Beauties Of The World, " Seifert's Verses Are Introduced With A Mischievously Reversed Paraphrase Of Karel Hynek Machas (1810-1836) Famous Words: Light Grief On The Face / Deep Laughter In The Heart. With The Effortlessness Mimicking Wireless Transmission, Seifert And Teige Transport Us To Paris (Seifert Visited The City Of Light With Teige In 1924), To Places Where Pineapples Grow, To Australia, Marseille, New York, To Distant Ocean Shores, And Back To The Banks Of The Vltava River In Prague-all This Facilitated, As It Were, By Telegraphie Sans Fil (literally From French: Wireless Telegraphy). To Be Sure, The Greatest Concern Of The Lyrically Gloomy Narrator Is Joyfully Unambiguous Honeymoon Destinations; If Die We Must, Let Us Die Of Love. . . In Subsequent Editions (1938), Seifert's Youthful Manifesto Was Titled Svatebni Cesta (Honeymoon). Understandably So, Because The Changed Circumstances Of Czech Poetry Hardly Allowed For Stepping Into The Same River Twice; The Former Associates Parted Ways In Their Creative Endeavors. Teige Became A Multifaceted Art Theoretician And Embraced Surrealism. After Breaking With The Communist Party In 1929, Seifert Became A Lifelong Social Democrat And Devoted Himself Primarily To Newspaper Journalism. The First Edition Of Na Vlnach TSF Gradually Became Rare Until Only Reprints Allowed Us To Explore The Sources Of This Visual, Almost Hedonistic Poetry. As A Reprint, The Collection Is Appearing For The Fifth Time, This Time In Its Most Faithful Facsimile Incarnation And In Two Independent Permutations-in The Original Czech Version And As An English-Czech Remake By Zdenek Trinkewitz, Translated By Dana Loewy. The Czech-born Translator Lives In The United States Where Early In Her Career, She Won A Student Translation Prize By The American Translators Association (1992). Subsequently, She Received An Honorary Mention By The Foremost Czech Translators Association And Her Translations Of Jaroslav Seifert's Early Work Were Published In 1997 By Hydra Books, A Division Of Northwestern University Press.
Sklep: Gigant.pl 76,95 zł
Książki / Literatura obcojęzyczna
Eighteen-year-old French girl Angea-Lea Siffleur fresh out of school meets thirty-year-old Australian Veterinarian Malachi Castle with golden hair and eyes of beaten bronze. Angea-Lea has golden hair and grape green eyes with a face like Audrey Hepburn. Malachi has something no other man has ever possessed. Angea-Lea is no ordinary young lady. During a love-making session the seed of life is sown. Will her stern father have his way and blow their relationship apart? Can a wealthy admirer from her childhood days steal her heart or does Malachi's special gift keep her satisfied between the sheets for the rest of her life? Read about the naughties she has in the beds of five of Switzerland's best bachelor babes after her studies at Ticino's Floral Artistry School where her father sends her to try to separate her from the one she loves the most. Someone carries her off into the Swiss wilderness and forces his love on her then she is saved by another. Two of the most adorable orphans and an angel baby come into their lives and their lives are richer. About the Author: Lisa-Ann Carey, author of part one of medical romance trilogy Retrospect, part two Lap of Luxury, part three Some Sleep to Remember, Some Sleep to Forget and Romance Number Four Angelic Beauty. She has accumulated countless fascinating experiences, settings, friends and acquaintances to formulate an extensive treasure trove of wonderful keepsakes to draw from in designing her romances. Lisa-Ann Carey of Carey's Classics Books of Australia began writing her first series in 1998 on the shelly shores of Lamb Island in peaceful Moreton Bay, Queensland, Australia and has begun numerous other romances available in the not too distant future. Rams and Ewes spice up your dreamy love lives with a collection of my dirty-sweet romances set on luscious Lamb Island and proudly brought to you by the slipperiest sexpert in Australia, the explosive Carey's Classics fictional storyteller Lisa-Ann Carey. Explore my cute collection of classic love stories between kissing and caressing the one you just cannot bear to be without, then gently ease back into a reflection of my raunchy read until you climax the night away. Carey's Classics novels of great colour will colour your life!
Sklep: Libristo.pl 55,53 zł
Książki / Literatura obcojęzyczna
Excerpt from The Millsaps Collegian, Vol. 8: November, 1905 To every nation, as to every individual, must come times that try men's souls, times when men must grapple in a life and death struggle for all that life holds dear. Such a time was it when the chivalric Howard and the hoary sea dogs of the Spanish main led the yoemen of England to combat with the proud aristocracy of haughty Spain; when they crushed the ponderous Armada, the last resource of mediaeval despotism in its struggle against the rising tide of Anglo Saxon liberty. When the morning sun shone on the rocky shores of England, strewn with the bodies of thousands of Spain's bravest soldiers, and disclosed to View every crest of the waves covered with the wreck of Spanish galleons, his beams fell on an England which was henceforth to be not only the mistress of the seas, but the mother of mighty nations of kindred blood in parts of the world then unknown. Another day dawned for anglo-saxon blood and civiliza tion, when on the rugged Plains of Abraham, two of nations' noblemen battled for the supremacy of the New World. It was not the fate of Quebec which was the issue between Mont calm and Wolfe - those two men who incarnated the highest ideals of chivalrous manhood, and whom history delights to paint as equally grand in life and glorious in death - not the possession of the New World, but the success of the policy planned by Pitt in England, and executed by Clive in India, by Frederic the Great in Europe, by Rodney on the sea, by Wolfe in America. Well could Wolfe say, I die in peace, for his work was done. Three continents acknowledged the sway of the anglo-saxon, and he had won the dominion o'er palm and pine. About the Publisher Forgotten Books publishes hundreds of thousands of rare and classic books. Find more at www.forgottenbooks.com This book is a reproduction of an important historical work. Forgotten Books uses state-of-the-art technology to digitally reconstruct the work, preserving the original format whilst repairing imperfections present in the aged copy. In rare cases, an imperfection in the original, such as a blemish or missing page, may be replicated in our edition. We do, however, repair the vast majority of imperfections successfully; any imperfections that remain are intentionally left to preserve the state of such historical works.
Sklep: Libristo.pl 66,95 zł
Książki / Literatura obcojęzyczna
Charles Clark Munn (1848-1917) was the author of Pocket Island: A Story of Country Life in New England (1900), Uncle Terry: A Story of the Maine Coast (1900) and Rockhaven (1902). "It was one of those chance meetings between two atoms tossed hither and thither in the whirligig of life; for the peddler, shrewd, calculating and unscrupulous, was wandering along the Acadian shores driving hard bargains in small wares; and the Indian, like his race, fond of a roaming life, was drifting about the bay in a small sloop he owned, fishing where he would, hunting when he chose, stopping a week in some uninhabited cove to set traps, or lounging in a village drinking or gambling. "
Sklep: Libristo.pl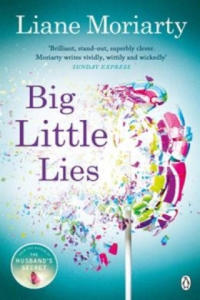 42,04 zł
Książki / Literatura obcojęzyczna
This book is published as Big Little lies in Australia and the United States. Liane Moriarty, million copy selling author of The Husband's Secret brings us another addictive story of secrets and scandal. Jane hasn't lived anywhere longer than six months since her son was born five years ago. She keeps moving in an attempt to escape her past. Now the idyllic seaside town of Pirriwee has pulled her to its shores and Jane finally feels like she belongs. She has friends in the feisty Madeline and the incredibly beautiful Celeste - two women with seemingly perfect lives ...and their own secrets behind closed doors. But then a small incident involving the children of all three women occurs in the playground causing a rift between them and the other parents of the school. Minor at first but escalating fast, until whispers and rumors become vicious and spiteful. It was always going to end in tears, but no one thought it would end in murder ...Praise for Liane Moriarty: "Cleverly plotted, full of suspense, pulls you in from the first page." (Sunday Mirror). "Gripping, acutely observed, thought-provoking and funny." (Marie Claire). "The writing is beautiful: sometimes funny, sometimes sad but always compelling." (Good Housekeeping). "A tense, page-turning story ...a great read." (Mail on Sunday). "The Husband's Secret is a staggeringly brilliant novel. It is literally unputdownable." (Sophie Hannah). Liane Moriarty is the author of six novels including Three Wishes, The Last Anniversary, What Alice Forgot, The Hypnotist's Love Story and The Husband's Secret, which was a million copy bestseller and won the most popular Richard and Judy book club title for the autumn 2013 book club. Liane lives in Sydney with her husband, son and daughter.
Sklep: Libristo.pl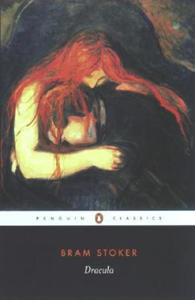 26,18 zł
Książki / Literatura obcojęzyczna
Bram Stoker's peerless tale of desperate battle against a powerful, ancient vampire, the "Penguin Classics" edition of "Dracula" is edited with notes and an introduction by Maurice Hindle, as well as a preface by Christopher Frayling. When Jonathan Harker visits Transylvania to help Count Dracula purchase a London house, he makes horrifying discoveries in his client's castle. Soon afterwards, disturbing incidents unfold in England: a ship runs aground on the shores of Whitby, its crew vanished; beautiful Lucy Westenra slowly succumbs to a mysterious, wasting illness, her blood drained away; and the lunatic Renfield raves about the imminent arrival of his 'master'. In the ensuing battle of wills between the sinister Count and a determined group of adversaries - led by the intrepid vampire hunter Abraham van Helsing - Bram Stoker created a masterpiece of the horror genre, probing into questions of identity, sanity and the dark corners of Victorian sexuality and desire. For this completely updated edition, Maurice Hindle has revised his introduction, list of further reading and notes, and added two appendices: Stoker's essay on censorship and his interview with Winston Churchill, both published in 1908. Christopher Frayling's preface discusses the significance and the influences that contributed to his creation of the Dracula myth. Abraham 'Bram' Stoker (1847-1912) was educated at Trinity College, Dublin. Stoker joined the Irish Civil Service, before his love of theatre led him to become the unpaid drama critic for the Dublin Mail. He went on to act as manager and secretary for the actor Sir Henry Irving while writing his novels, the most famous of which is "Dracula" (1897). If you enjoyed "Dracula", you may like Mary Shelley's "Frankenstein", also available in "Penguin Classics". "One of the most powerful horror tales ever written". (Malcolm Bradbury). "Nobody has ever filmed it like Bram Stoker wrote it". (Sir Christopher Lee). "Staggeringly lurid and perverse". (Sarah Waters, author of "Fingersmith").
Sklep: Libristo.pl 180,23 zł
Książki / Literatura obcojęzyczna
Ponte sull'Adriatico is a vast Europe-wide transport infrastructure designed to serve the Mediterranean. Beside providing linkage between the two shores of the Adriatic Sea, the complex will comprise a seaport terminal with quays to berth commercial container-ships and liners, making use of the Bridge's integrated rail and motorway networks.
Sklep: Libristo.pl 67,99 zł
Muzyka>Muzyka świata>Folk / Ludowa / Etno
1. The Bonny Gateshead Lass 2. The Two Magicians 3. Heart Like A Wheel 4. Bold Reynard The Fox 5. The Shores Of Old Blighty 6. Doodle Let Me Go 7. Isle Of Islay 8. The Row Between The Cages 9. Sally Wheatley 10. Dollia 11. The Begging 12. The Song Of The Iron Road 13. The Fishing: 14. Sally Gee
Sklep: Gigant.pl 281,29 zł
Książki / Literatura obcojęzyczna
Describes in detail a period of intense activity heading to a climax between two rival super-powers the Christian block and the Muslim challenge for final dominance in the Mediterranean. Romegas spent nearly all his life on the Orders galleys, becoming familiar with all the shores, bays, inlets and islands.
Sklep: Libristo.pl 47,76 zł
Książki / Literatura obcojęzyczna
In the wake of the apparent self-destruction of the Forerunner empire, two humans -- Chakas and Riser -- are like flotsam washed up on very strange shores indeed. They find themselves on an inverted world where horizons rise into the sky and where humans of all kinds are trapped in a perilous cycle of neglect. They have become strategic pawns in a cosmic game whose madness knows no end -- a game of ancient vengeance between the powers who seeded the galaxy with life, and the Forerunners. In the company of a young girl and an old man, Chakas begins an epic journey across a lost and damaged Halo in search of a way home, an explanation for the warrior spirits rising up within, and for the Librarian's tampering with human destiny. This journey will take them into the domain of a powerful and monstrous intelligence who claims to be the Last Precursor, and who now has control of both this Halo and the fate of Forerunners and humans alike. Called the Primordial by ancient human warriors, this intelligence may control the fate of not only Chakas, Riser, and the rest of humanity, but all of sentient life.
Sklep: Libristo.pl 36,01 zł
Książki / Literatura obcojęzyczna
A wry, spirited look at being glad and young, this foray back into Eighties London explores relations between sisters, mothers, friends and lovers from the vantage point of a girl caught unexpectedly in the middle. Sisterly sharing is taken beyond the pale when twenty-something Chrissie finds a postcard from her boyfriend to her sister signed, Kisses, Nick. Within moments she severs her two central relationships and looks boldly forward to the haphazard pleasures of an independent life. Her lyrical journey, from love-lorn waitress to self-contained mother, takes us through the pubs, parks, parties, patisseries, peeling houseboats and rackety flats of west London to the shores of Lisbon, Ireland and Brighton. But Chrissie's attempts to escape the emotional convolutions of London only ever seem to lead to encounters that intensify rather than dispel her growing sense of how knotty life can be. Graceful, sensitive, gently humorous, Things to do Indoors captures intimately the bizarre complexity of life for those who yearn to become independent, but can't stop looking for love.
Sklep: Libristo.pl
Sklepy zlokalizowane w miastach: Warszawa, Kraków, Łódź, Wrocław, Poznań, Gdańsk, Szczecin, Bydgoszcz, Lublin, Katowice
Szukaj w sklepach lub całym serwisie
2. Szukaj na wszystkich stronach serwisu
t1=0.036, t2=0, t3=0, t4=0.014, t=0.037