krainaksiazek beyond and between the veil 20115071
- znaleziono 8 produktów w 3 sklepach 88,99 zł
Książki
Sklep: KrainaKsiazek.pl 62,90 zł
Książki / Literatura obcojęzyczna
The now famous Vale Owen messages began after the mother of the Vicar of Orford, the Rev. George Vale Owen, passed away in 1909. Shortly afterwards, Vale Owen's wife developed an aptitude for automatic writing and through her he received messages instructing him to sit quietly, with a pencil in hand, and write down any thoughts which came into his mind. After a time, he came to understand that the thoughts were coming from an external force rather than his own consciousness. At first the messages were vague and drifted from one subject to another but gradually they began to take form and he began to receive information unbeknown to him. Most of the early messages came from an entity claiming to be Vale Owen's mother and a communicator named Kathleen, who assisted by acting as an intermediary between his deceased mother and himself. Aside from Vale Owen's mother, many of the messages came from a group of entities that wanted to relay information about the afterlife and what we can expect when we get there. Vale Owen came to the attention of Lord Northcliffe, the 'press baron' of the day. Northcliffe was so impressed with the messages he published them in his newspaper, the Weekly Dispatch. Given that this was the era of World War I, the messages gave hope to many that their loved ones killed in battle, far from disappearing into oblivion, had transitioned to another plane of existence. Subsequently, the messages were combined into this series of four books entitled, "The Life Beyond the Veil."
Sklep: Libristo.pl 58,99 zł
Książki Obcojęzyczne>Nieprzypisane
Beyond The Cosmic Veil, Between Rhyme And Reason, Sits Cthulhu - Water God. He Knows Your Pain And Disrupts Your Reason. He Is The Canker Of All Mankind... And He Is Loose! Join The Writers Of Barbwire Butterfly Books For A New Slant On The Cthulhu Myth
Sklep: Gigant.pl 72,49 zł
Książki Obcojęzyczne>Angielskie>Society & social sciences>Society & culture: general>Social groups>Religious groups: social & cultural ...
Mernissi Explores The Historical Links Between The Religion Of Islam, The Societal Oppression Of Women, And The Suppression Of Democracy In Predominantly Muslim Nations.
Sklep: Gigant.pl 151,03 zł
Książki / Literatura obcojęzyczna
Source: Wikipedia. Pages: 153. Chapters: Tool, System of a Down, King's X, The Residents, Journey, Spock's Beard, Transatlantic, Kansas, Glass Harp, Pavlov's Dog, Toto, The Mars Volta, Coheed and Cambria, Automatic Man, Trans-Siberian Orchestra, Mind Garage, Gatsbys American Dream, OSI, Omar Rodriguez Lopez Group, Rx Bandits, Mates of State, Earthsuit, The Boxing Lesson, The Fall of Troy, The Muffins, Sue Saad and the Next, Brazil, Days Between Stations, PMtoday, The Tuna Helpers, Umphrey's McGee, Cave In, The Misunderstood, The Lodge, Dixie Dregs, Happy the Man, The Mothers of Invention, Utopia, Sleepytime Gorilla Museum, 3, The 16 Deadly Improvs, Oucho Sparks, The Sound of Animals Fighting, Pierce the Veil, Conspiracy, Facing New York, Mastermind, Kevin Gilbert, Jasper Wrath, Imaginary Lines, Minibosses, Echolyn, Angel, Djam Karet, Tides of Man, Naked City, Amphoteric, Tristan Park, Simon Apple, Starcastle, Manilla Road, Glass Hammer, 7th Order, Circa, Tiles, Eleven, Brothers Past, The Buoys, Edensong, Captain Beyond, At War with Self, Mantra Sunrise, Spahn Ranch, Toy Matinee, GoodThunder, Ahleuchatistas, I Am, Swim Deeper, Cynic Guru, Dixon House Band, The Red Masque, Sleepy Hollow, The Flyin' Ryan Brothers, Species Being, Scale the Summit, Circus Devils, We Be the Echo, Art Rock Circus, Ancestors, Days Away, Upsilon Acrux, Yoso, Enchant, Cobweb Strange, Viza, KTU, Ghost Machine, Painkiller, Dearly Departed, Escanaba Firing Line, Halaka, Punch People, Thirteen of Everything, Search/Rescue, Zebra, Ćon Spoke, Zobo Funn Band, Casket Salesmen, Presto Ballet, Platypus, Night, Orbs, The 30 Years War, Explorers Club, Romance of Young Tigers, Yezda Urfa, Red Voice Choir, Guitar Garden, The Coachmen, World Trade, Volto!, Echo Helstrom, The Jelly Jam, Astra, City of sound, Lodgic, Tribal Tech, Rocket Scientists, Brainchild, Jovian Storm, Muzaic, The Delta Rasa, IZZ, The Kulide o' Scope, Babylon, Silencio, Up to See God, Pivot, Ten Jinn, Swingrass '83, Gods and Monsters, Ohm, Kopecky, Salem Hill, Bozzio Levin Stevens, ProjeKct Six. Excerpt: Tool is an American rock band from Los Angeles, California. Formed in 1990, the group's line-up has included drummer Danny Carey, guitarist Adam Jones, and vocalist Maynard James Keenan. Since 1995, Justin Chancellor has been the band's bassist, replacing their original bassist Paul D'Amour. Tool has won three Grammy Awards, performed worldwide tours, and produced albums topping the charts in several countries. Tool emerged with a heavy metal sound on their first studio album Undertow in 1993, and later became a dominant act in the alternative metal movement with the release of their second effort, Ćnima, in 1996. Their efforts to unify musical experimentation, visual arts, and a message of personal evolution continued with Lateralus (2001) and the most recent album 10,000 Days (2006), gaining the band critical acclaim and success around the world. Due to Tool's incorporation of visual arts and relatively long and complex releases, the band is generally described as a style-transcending act and part of progressive rock and art rock. The relationship between the band and today's music industry is ambivalent, at times marked by censorship and the band members' insistence on privacy. Tool's first music video "Hush" (1992) features prominent appearances by the band members. Keenan, Carey, D'Amour and Jones (left to right) are pictured wearing Parental Advisory stickers covering their genitalia.During the 1980s, ...
Sklep: Libristo.pl 120,96 zł
Magic Island Oxford University Press, Canada
Książki / Literatura obcojęzyczna
L.M.Montgomery grew up in Prince Edward Island, a real place of "politics and potatoes." But it's her fictional island, a richly textured imaginative landscape that has captivated a world of readers since 1908, when Anne of Green Gables became the first of Montgomery's long string of bestsellers. In this wide-ranging and highly readable book, Elizabeth Waterston uses the term "magic" to suggest that peculiar, indefinable combination of attributes that unpredictably results in creative genius. Montgomery's intelligence, her drive, and her sense of humour are essential components of this success. Waterston also features what Montgomery called her "dream life," a "strange inner life of fancy which had always existed side by side with my outer life." This special ability to look beyond the veil, to access vibrant inner vistas, produced deceptively layered fictions out of a life that saw not just its share of both fame and ill fortune, but also what Waterston calls "dark passions." A true reader's guide, Magic Island explores the world of L.M. Montgomery in a way never done before. Each chapter of Magic Island discusses a different Montgomery book, following their progression chronologically. Waterston draws parallels between Montgomery's internal "island," her personal life, her professional career, and the characters in her novels. Designed to be read alongside the new biography of Montgomery by Mary Rubio, this is the first book to reinterpret Montgomery's writing in light of important new information about her life. A must-read for any Montgomery fan, Magic Island offers a fresh and insightful look at the world of L.M. Montgomery and the "magic" of artistic creation.
Sklep: Libristo.pl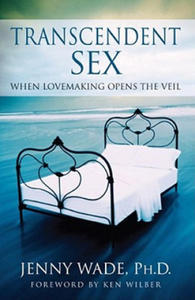 111,25 zł
Książki / Literatura obcojęzyczna
IT'S NOT JUST SEX. IT'S NOT JUST LOVE. IT'S SOMETHING MORE.... But what could be better than sex? How about lovemaking that sweeps people into new realities, producing altered states of consciousness a thousand times more powerful than the most earth-shattering orgasm? Lovemaking so spectacular that it truly is a religious experience? "Transcendent Sex" is not about the "Tantric method." It is about the best-kept secret in human history: that ordinary people, with no special training, can find themselves in different spiritual realms when making love -- an experience so profound that nothing will ever be the same. It is about sex that triggers episodes identical to the highest spiritual states -- as described in the annals of shamanism, yoga, Buddhism, Christianity, Judaism, and Islam -- including visions, channeling, reliving past lives, transcending the laws of physics, and seeing the face of God. This revealing book tells of lovers who engaged in sex as usual and suddenly found the veil between the worlds torn open. "Transcendent Sex," like any other spiritual awakening, changes lives. Atheists have become believers; long-standing psychological wounds have been healed; and the sexually abused have become whole. These are the inspiring, incredible true stories of people who experienced an ecstasy and fulfillment beyond the borders of this world.
Sklep: Libristo.pl 174,81 zł
Książki / Literatura obcojęzyczna
Can the ancestry of freemasonry really be traced back to the Knights Templar? Is the image of the eye in a triangle on the back of the dollar bill one of its cryptic signs? Is there a conspiracy that stretches through centuries and generations to align this shadow organization and its secret rituals to world governments and religions? Myths persist and abound about the freemasons, Margaret C. Jacob notes. But what are their origins? How has an early modern organization of bricklayers and stonemasons aroused so much public interest? In The Origins of Freemasonry, Jacob throws back the veil from a secret society that turns out not to have been very secret at all. What factors contributed to the extraordinarily rapid spread of freemasonry over the course of the eighteenth century, and why were so many of the era's most influential figures drawn to it? Using material from the archives of leading masonic libraries in Europe, Jacob examines masonic almanacs and pocket diaries to get closer to what living as a freemason might have meant on a daily basis. She explores the persistent connections between masons and nascent democratic movements, as each lodge set up a polity where an individual's standing was meant to be based on merit, rather than on birth or wealth, and she demonstrates, beyond any doubt, how active a role women played in the masonic movement.
Sklep: Libristo.pl
Sklepy zlokalizowane w miastach: Warszawa, Kraków, Łódź, Wrocław, Poznań, Gdańsk, Szczecin, Bydgoszcz, Lublin, Katowice
Szukaj w sklepach lub całym serwisie
2. Szukaj na wszystkich stronach serwisu
t1=0.06, t2=0, t3=0, t4=0, t=0.06