krainaksiazek beyond the sea discovery 20095549
- znaleziono 10 produkty w 3 sklepach 46,25 zł
Książki / Literatura obcojęzyczna
Excerpt from Beyond the Golden Gate: Oceanography, Geology, Biology, and Environmental Issues in the Gulf of the Farallones The beauty and power of the ocean fascinate many people. The sea has been a source of sustenance, recreation, contemplation, and inspiration, as well as a challenge for expio ration and discovery, for mankind since pre history. Although much has been discovered and reported about them, the sea, the life in the sea, and the landscape beneath the sea continue to be largely shrouded in mystery. Despite the fact that the oceans occupy 71 percent of the Earth's surface and are crucial to our survival, we invest more in learning about other planets than we invest in leam ing about the world beneath the sea. About the Publisher Forgotten Books publishes hundreds of thousands of rare and classic books. Find more at www.forgottenbooks.com This book is a reproduction of an important historical work. Forgotten Books uses state-of-the-art technology to digitally reconstruct the work, preserving the original format whilst repairing imperfections present in the aged copy. In rare cases, an imperfection in the original, such as a blemish or missing page, may be replicated in our edition. We do, however, repair the vast majority of imperfections successfully; any imperfections that remain are intentionally left to preserve the state of such historical works.
Sklep: Libristo.pl 46,25 zł
Książki / Literatura obcojęzyczna
Excerpt from By the Sea, and Other Poems "This Our Brother" and two or three of the sonnets in the first part, and all the second part of this book, did not appear in the first edition. The rest, with here and there some trifling change, stands as before. I cannot pass this opportunity without expressing my happiness and surprise at finding myself in a second edition within so brief a time. The surprise is due, not to any want of confidence in what I have written, keenly as my own private criticism has often thrust at me, but to the discovery that I was wrong in thinking (as I did when the first edition was issued) that the poet whose themes are such as the passion of my life has set for my singing would have to rest content with the praise of his own conscience alone. To my great joy that has not been so; and these poems, to whose theme of hope for the future of the world's poor and oppressed I have given not only my song but the daily work of my life, have received a welcome far beyond expectation. About the Publisher Forgotten Books publishes hundreds of thousands of rare and classic books. Find more at www.forgottenbooks.com This book is a reproduction of an important historical work. Forgotten Books uses state-of-the-art technology to digitally reconstruct the work, preserving the original format whilst repairing imperfections present in the aged copy. In rare cases, an imperfection in the original, such as a blemish or missing page, may be replicated in our edition. We do, however, repair the vast majority of imperfections successfully; any imperfections that remain are intentionally left to preserve the state of such historical works.
Sklep: Libristo.pl 129,78 zł
Książki / Literatura obcojęzyczna
The Dead Sea Scrolls comprise a vast collection of Jewish documents written in Hebrew, Aramaic, and Greek, and encompassing many subjects and literary styles. They include manuscripts or fragments of every book in the Hebrew Bible except the Book of Esther, all of them created nearly one thousand years earlier than any previously known biblical manuscripts. The scrolls also contain the earliest existing biblical commentary, on the Book of Habakkuk, and many other writings, among them religious works pertaining to Jewish sects of the time. In this book we will analyze the last and most important discoveries in the Dead Sea area. We will look closely at "The Vision of Gabriel", and all the scrolls related to the Christendom. "The Vision of Gabriel" or "Hazon Gabriel" was written using ink on stone. The tablet introduces us to a critical epoch of Jewish history. it speaks about a person who rebelled against Rome in the first century B.C. and was resuscitated on the third day. Some scholars point to this text and premonition as being ideas applied to Jesus by his followers or the scribes. It is linked to Messiah and the prophecy that he should die and rise from the dead at the third day, the core belief of the Christianity faith. This text is a part of a bigger collection of scrolls named the "Dead Sea Scrolls," discovered and analyzed at Qumran, Israel, since 1947. The legends of what was contained in the Dead Sea Scrolls are far beyond what was actually there. There were no lost books of the Bible or other literature that there was not already other copies of. The vast majority of the Dead Sea Scrolls were simply copies of books of the Old Testament from 250-150 B.C. A copy or portion of nearly every Old Testament book was found in Qumran. There were extra-biblical and apocryphal books found as well, but again, the vast majority of the scrolls were copies of the Hebrew Old Testament. The Dead Sea Scrolls were such an amazing discovery in that the scrolls were in excellent condition and had remained hidden for so long (over 2000 years). The Dead Sea Scrolls can also give us confidence in the reliability of the Old Testament manuscripts since there were minimal differences between the manuscripts that had previously been discovered and those that were found in Qumran. Clearly the Dead Sea Scrolls and the schism that caused the Dead Sea sect to arise can only be understood in the context of Jewish history and the sectarianism of the Second Temple period in Judea. Across twenty centuries, the Scrolls speak to us of the pluralism that existed in ancient Judaism, each group competing to be the "True Israel" and each claiming a monopoly on the true interpretation of the Torah. The most prevalent opinion given by scholars has identified the Qumran sect with the Essenes, of whom Josephus and Philo wrote. While it may be legitimate to attempt to prove Essene authorship as many scholars have done, it is however, illegitimate to use this theory as a universally accepted position on which all Qumran texts are interpreted. Scholarly ethics and integrity, and scientific investigation demand that each text from the caves, along with the Greek writings concerning the Essenes by Philo and Josephus, be subjected to their own separate critical review before conclusions are made. The Dead Sea Scrolls are a "puzzle": What time frame do they cover, and whom do they refer to? Very few scholars have examined the period from 37 BC to AD 71 as the possible setting for the scrolls. Nevertheless, the scrolls allude to events that only have real relevance in this time period. Jesus is never mentioned in the Scrolls, although the Scrolls prove that the Jews were reading and studying texts with a doctrine that could influence in the ideology of early Christendom.
Sklep: Libristo.pl 40,80 zł
Literatura faktu
'Only with the greatest of simplifications, for the sake of convenience, can we say Africa. In reality, except as a geographical term, Africa doesn't exist'. Ryszard Kapuscinski has been writing about the people of Africa throughout his career. In a study that avoids the official routes, palaces and big politics, he sets out to create an account of post-colonial Africa seen at once as a whole and as a location that wholly defies generalised explanations. It is both a sustained meditation on the mosaic of peoples and practises we call 'Africa', and an impassioned attempt to come to terms with humanity itself as it struggles to escape from foreign domination, from the intoxications of freedom, from war and from politics as theft. The Beginning: Collision, Ghana 1958 More than anything, one is struck by the light. Light everywhere. Brightness everywhere. Everywhere, the sun. Just yesterday, an autumnal London was drenched in rain. The airplane drenched in rain. A cold, wind, darkness. But here, from the morning
Sklep: Albertus.pl 49,99 zł
Noa-Noa Pallas Athene Publishers
Książki / Literatura obcojęzyczna
Gauguin's great diary from Tahiti almost never saw the light of day in its original form. The manuscript was sent by the artist from his island refuge to his friend Charles Morice in Paris, and published in 1901 with immediate success, under the two names of Paul Gauguin and Charles Morice. Morice, with Gauguin's permission, had 'edited' and enlarged it to make it more readable. How much of the charm and cripsness of the manuscript had been lost in the process was anyone's guess. It was to be forty years before Gauguin's original version came to light, and it is published here in a translation by the poet Jonathan Griffin, together with a detailed description by the art historian Jean Loize, who re-discovered themanuscript. Loize shows that Morice had in parts altered Gauguin's text beyond recognition - a startling discovery that entirely changed ideas about Gauguin's style and intentions. This genuine version of Noa-Noa is not only an important document, it is also a beautiful piece of writing: amusing, acid, wide-eyed, moving. Gauguin feared that, unedited, it would seem absurdly crude; and no doubt it would have, to most readers in his day. Today we can appreciate its sketch form, jerky directness, authentic freshness. This edition is illustrated with the watercolours, wood-engravings and drawings that Gauguin assembled for the book.
Sklep: Libristo.pl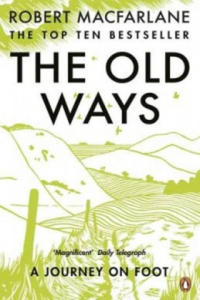 49,50 zł
Książki / Literatura obcojęzyczna
The "Old Ways" is the stunning new book by acclaimed nature writer Robert Macfarlane. Shortlisted for the Samuel Johnson prize 2012. Following the tracks, holloways, drove-roads and sea paths that form part of a vast ancient network of routes criss-crossing the British Isles and beyond, Robert Macfarlane discovers a lost world - a landscape of the feet and the mind, of pilgrimage and ritual, of stories and ghosts; above all of the places and journeys which inspire and inhabit our imaginations. "Really do love it. He has a rare physical intelligence and affords total immersion in place, elements and the passage of time: wonderful". (Antony Gormley). "A marvellous marriage of scholarship, imagination and evocation of place. I always feel exhilarated after reading Macfarlane". (Penelope Lively). "Macfarlane immerses himself in regions we may have thought familiar, resurrecting them newly potent and sometimes beautifully strange. In a moving achievement, he returns our heritage to us". (Colin Thubron). "Every Robert MacFarlane book offers beautiful writing, bold journeys...With its global reach and mysterious Sebaldian structure, this is MacFarlane's most important book yet". (David Rothenberg, author of "Survival of the Beautiful" and "Thousand Mile Song"). "Luminous, possessing a seemingly paradoxical combination of the dream-like and the hyper-vigilant, "The Old Ways" is, as with all of Macfarlane's work, a magnificent read. Each sentence can carry astonishing discovery". (Rick Bass, US novelist and nature writer). ""The Old Ways" confirms Robert Macfarlane's reputation as one of the most eloquent and observant of contemporary writers about nature". ("Scotland on Sunday"). "Sublime writing ...sets the imagination tingling...Macfarlane's way of writing [is] free, exploratory, rambling and haphazard but resourceful, individual, following his own whims, and laying an irresistible trail for readers to follow". ("Sunday Times"). "Macfarlane relishes wild, as well as old, places. He writes about both beautifully...I love to read Macfarlane". (John Sutherland, "Financial Times"). "Read this and it will be impossible to take an unremarkable walk again". ("Metro"). Robert Macfarlane won the Guardian First Book Award, the Somerset Maugham Award, and the Sunday Time Young Writer of the Year Award for his first book, "Mountains of the Mind (2003)". His second, "The Wild Places (2007)", was similarly celebrated, winning three prizes and being shortlisted for six more. Both books were adapted for television by the BBC. He is a Fellow of Emmanuel College, Cambridge.
Sklep: Libristo.pl 45,43 zł
Książki / Literatura obcojęzyczna
Special Agent Pendergast-one of the most original, compelling characters in all of contemporary fiction-returns in Preston and Child's new exhilarating novel§BLUE LABYRINTH§A long-buried family secret has come back to haunt Special Agent Aloysius Pendergast.§It begins with murder. One of Pendergast's most implacable, most feared enemies is found on his doorstep, dead. Pendergast has no idea who is responsible for the killing, or why the body was brought to his home. The mystery has all the hallmarks of the perfect crime, save for an enigmatic clue: a piece of turquoise lodged in the stomach of the deceased.§The gem leads Pendergast to an abandoned mine on the shore of California's Salton Sea, which in turn propels him on a journey of discovery deep into his own family's sinister past. But Pendergast learns there is more at work than a ghastly episode of family history: he is being stalked by a subtle killer bent on vengeance over an ancient transgression. And he soon becomes caught in a wickedly clever plot, which leaves him stricken in mind and body, and propels him toward a reckoning beyond anything he could ever have imagined....
Sklep: Libristo.pl 65,95 zł
Książki / Literatura obcojęzyczna
What if America's most powerful leader was also its prime target? Vince Flynn's shattering thriller, "Term Limits, " soared onto national bestseller lists and marked the emergence of a new master of political fiction in the same league as Tom Clancy. In "USA Today, " Larry King called "Term Limits" "a page-turning read," while critics and readers nationwide praised its riveting premise of Washington under siege -- a scenario made chillingly real by this superb storyteller. Now, Flynn infiltrates America's power structure at its very core, in a new novel that places the president of the United States in the direct line of terrorist fire. On a busy Washington morning, amid the shuffle of tourists and the brisk rush of government officials, the stately calm of the White House is shattered in a hail of gunfire. A group of terrorists has descended on the Executive Mansion, and gained access by means of a violent massacre that has left dozens of innocent bystanders murdered. Through the quick actions of the Secret Service, the president is evacuated to his underground bunker, but not before almost one hundred hostages are taken. While the politicians and the military leaders argue over how to negotiate with the terrorists, one man is sent in to break through the barrage of panicked responses and political agendas surrounding the chaotic crisis. Mitch Rapp, the CIA's top counterterrorism operative, makes his way into the White House and soon discovers that the president is not as safe as Washington's power elite had thought. Moving stealthily among the corridors and secret passageways of the White House, stepping terrifyingly close to the enemy, Rapp scrambles to save the hostages before the terrorists can extract the president from the safety of his bunker. In a race against time, Rapp makes a chilling discovery that could rock Washington to its core: someone within his own government is maneuvering in hopes that his rescue attempt will fail. With the crackling tension and explosive action that made "Term Limits" "a roller-coaster, edge-of-your-seat thriller" "(Minneapolis Star-Tribune), " Vince Flynn delivers "Transfer of Power" -- a blockbuster novel that carries us just beyond today's headlines.
Sklep: Libristo.pl 3,37 zł
Książki & Multimedia > Książki
Nazwa - Na poligonie - dla malucha Wydawca - Pasja Kod ISBN - 9788364773921 Kod EAN - 9788364773921 Ilość stron - 16 Podatek VAT - 5%
Sklep: InBook.pl 82,23 zł
Książki / Literatura obcojęzyczna
Gaia and The Temple are habitats, part of a fleet taking colonists fleeing their dying star system to begin again on a new world. Gaia's passengers are isolated from the main fleet. Their atheist views conflict with the strict religious beliefs controlling the rest of the society. Scientists in Gaia, no longer restricted by regulations, investigate genetic manipulation and produce people with enhanced intelligence. Their discovery is restricted to their own society, parents who desire intellectually enhanced children need to purchase unreliable black market enhancements. The enhancements of two young women, Ione and Thisbe mutate and produce the most intelligent and talented two people in Gaia. They, together with the android, Rhea, are sent to the strictly superstitious people of The Temple, to seek a cure for a sickness sweeping Gaia. The trio find the previously peaceful society has descended into anarchy. They become caught up in a battle between superstitious zealots and drug crazed madmen who are supported by ancient robots designed for one purpose, to kill people. The challenges the girls face increase their abilities. Ione becomes thought of as a miracle worker and Thisbe finds new talents within her that go far beyond her already recognised abilities.
Sklep: Libristo.pl
Sklepy zlokalizowane w miastach: Warszawa, Kraków, Łódź, Wrocław, Poznań, Gdańsk, Szczecin, Bydgoszcz, Lublin, Katowice
Szukaj w sklepach lub całym serwisie
2. Szukaj na wszystkich stronach serwisu
t1=0.083, t2=0, t3=0, t4=0.024, t=0.083