krainaksiazek book of riding exercises 20115129
- znaleziono 14 produktów w 2 sklepach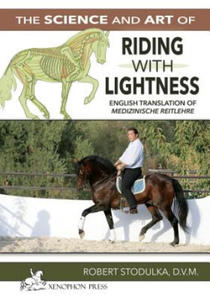 289,86 zł
Książki / Literatura obcojęzyczna
A biomechanical problem-solving approach to training challenges. Every action of rider has an impact on the health and well-being of the horse either positive or negative, looseness or tension. But what are the causes? The Science and Art of Riding with Lightness reveals the interplay between the biomechanics of the horse and the dressage exercises in a coherent manner. It will become clear which training mistakes cause which problems in the horse's way of going and which training and the physical-therapeutic measures that can be taken to correct problems. With this knowledge, the vet can assess and treat problems in an appropriate manner and advise the rider more fittingly with regard to the training of the horse. Likewise, the dedicated rider can find valuable supportive suggestions and ideas in the training and correction of his horse, from Dr. Stodulka's unique gift of being both a master rider, and equine vet well verse in allopathic medicine and alternative therapies. With this knowledge, the veterinarian will be able to assess training-induced disorders and to recommend better and more successful therapies and advise the rider with a view to training optimization. Small errors often have huge consequences. Only the rider who knows what they are can rectify them. "I have read many teachings of riding. This health-giving route to riding is one of the best and easiest to understand for young and old, professional or amateur. It should be compulsory reading for veterinarians and horse lovers. Both the horse and the rider should be in a position, physically and mentally, to understand what is demanded of them. Dr. Stodulka has understood this, and managed to immortalize his knowledge and experience in this book." - Arthur Kottas-Heldenberg
Sklep: Libristo.pl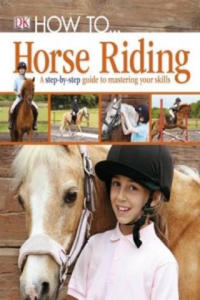 39,57 zł
Książki / Literatura obcojęzyczna
Get ready to be inspired, and learn to How to...Horse Ride! If you have ever dreamt about becoming the next Mark Todd or Zara Phillips, then "How to ...Horse Ride" is the perfect guide to set you on course for success. This book shows you 'how to' with simple step-by-step photographs and easy-to-follow instructions, from basic exercises and grooming techniques to more advanced cantering and jumping. The final section takes a look at the fun you can have with your riding, from the thrill of the show, to the discipline of dressage. Saddle up and learn to ride with this exciting new How to...You'll be galloping your way to the gymkhana before you know it.
Sklep: Libristo.pl 72,49 zł
Książki Obcojęzyczne>Angielskie>Lifestyle, sport & leisure>Natural history
As An Instructor It Takes Time To Develop A Repertoire Of Exercises To Suit All Ages And Abilities. This Book Has The Answer: It Provides A Wide Range Of Ideas With Notes On How These Can Be Adapted And Developed For Different Levels, From Beginner To Adv
Sklep: Gigant.pl 138,90 zł
Książki / Literatura obcojęzyczna
An enormously popular book of ideas and specimen exercises for trainee instructors and more experienced instructors, and for riders schooling their own horses or ponies. The book is divided into groups of related exercises, each exercise being accompanied by a full explanation, the aids, words of command, teaching hints, advice on likely problems, safety, and suggested variations. It shows how to make imaginative and constructive use of a 20m x 40m schooling area, adding variety and interest to lessons and riding sessions for riders, horses, and teachers.
Sklep: Libristo.pl 104,99 zł
Książki Obcojęzyczne>Angielskie>Lifestyle, sport & leisure>Sports & outdoor recreation>Equestrian & animal sports>Riding, showjumping &...
This Book Discusses Ground-pole Training For All Disciplines And Shows How You Can Make The Most Of Precious Schooling Time. Exercises Range From The Simple To The More Intricate, With The Inclusion Of More Transitions, Lateral Work, Raised Poles/cavallet
Sklep: Gigant.pl 79,99 zł
Książki Obcojęzyczne>Angielskie>Lifestyle, sport & leisure>Sports & outdoor recreation>Equestrian & animal sports>Riding, showjumping &...
Schooling Your Horse Is Fundamental To Any Equestrian Activity. This Book Enables You To Plan The Exercises You Want To Ride According To You And Your Horse's Level Of Ability. Each Exercise Is Accompanied By An Aerial Illustration Of The Arena And Additi
Sklep: Gigant.pl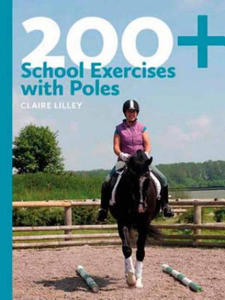 108,61 zł
Książki / Literatura obcojęzyczna
This book discusses ground-pole training for all disciplines and shows how you can make the most of precious schooling time. Exercises range from the simple to the more intricate, with the inclusion of more transitions, lateral work, raised poles/cavalletti, or riding in a different gait.
Sklep: Libristo.pl 112,69 zł
Książki / Literatura obcojęzyczna
We all have a story to tell - whether it is a story of a migrant childhood, a difficult past, adopting a child, riding a bike across India, or simply a contemplative year in a garden. With these stories we make sense of ourselves and the world around us. Memoir - writing about an aspect of a life rather than a whole life - expresses and shapes these stories within us so that the writing becomes more than a record, it becomes a creative journey. Drawing on Patti's extensive teaching and writing experience, and using examples and exercises, The Memoir Book provides invaluable insight on how to find your topic, develop narrative voice, find a balance between factual truth and vivid story-telling, explore creative ways of structuring memories, and helps identify the best form for your writing - whether it be literary memoir, narrative non-fiction, sojourn and travel writing, or even the personal essay. Written in Patti's warm, clear and conversational style, this book is an essential guide for anyone who wants to write memoir or extend the possibilities of autobiography and non-fiction. The Memoir Book, a companion volume to her highly successful guide Writing Your Life, provides inspiration and practical advice for both new and experienced writers exploring the popular genre of memoir.
Sklep: Libristo.pl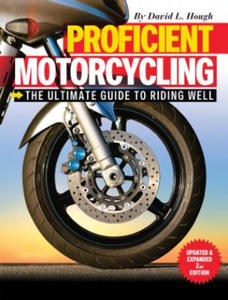 115,78 zł
Książki / Literatura obcojęzyczna
This best-selling book is also "#1 book in motorcycle safety" (Nielsen BookScan) and essential reading for all motorcyclists regardless of their years of experience. Author David L. Hough, a revered motorcycle author, columnist, and riding-safety consultant, lays out a clear course for all riders who want to sharpen their handling skills and improve their rides. This second edition, expanded and now in full color, offers new riders and road warriors the exact kind of advice they need to be prepared for anything when on the road, how to avoid accidents, and how to handle the unexpected. Hough, who began motorcycling in the 1960s, tackles every imaginable topic--from the mechanics of the bike, selection of the right-sized bike, and basic riding skills to night riding, group outings, and advanced survival tactics. In the chapter called "Motorcycle Dynamics," Hough spells out the equipment needed and basic skills required to control a bike, and specifically keeping the rider's safety and ability to avoid potentially injurious or fatal crashes. The author is outspoken and direct when it comes to safety, and he emphasizes the importance of the rider's braking abilities and spells out how to improve them. The chapter offers six tried-and-true techniques for quick-stop tactics, critical for every rider to understand and master. He also addresses other vital skills that riders need to evaluate and improve, such as turning, maintaining balance and stability, and steering. He defines, compares, and analyzes the ins and outs of steering and control: direct steering, countersteering, push steering, out-tracking, coning, u-turns, and directional control. The chapter called "Cornering Habits" is a virtual master class in acceleration, deceleration, use of weight, throttle, leaning, and handling challenging terrain. Hough's skill as a photographer and illustrator adds a graphic element to his books that leads to immediate understanding of the concepts he explains. The detail offered in each section of the book can only come from decades on the road, and the author is the consummate instructor, assigning homework to the readers in the form of exercises to practice and improve specific techniques that he outlines and illustrates in the text. Any rider who would venture out on the road without David Hough's voice in his head takes an unnecessary risk with his own life. Proficient Motorcycling takes riders from long, snaking country roads right into the traffic of the big city, and Hough offers the best advice for riders dealing with the most challenging conditions, whether it's road construction, snap-jawed intersections, skateboarders, or suddenly slippery road surfaces. A critical section of the book offers riders advice on how to deal with automobiles, including aggressive car drivers, oblivious SUV drivers, or "blind" truck drivers. The book offers the kind of first-hand experience that can literally save riders' lives, as illustrated in the chapters "Booby Traps" and "Special Situations," which offer evasive tactics and advice to avoid and handle everything from slick surfaces, curbs, and construction plates to ferocious dogs, hazardous wildlife, and difficult weather conditions. The final chapter of the book, "Sharing the Ride," is geared toward experienced riders who travel together in groups or who travel with a second passenger on the bike. Topics covered are formation, packing for trips, communication between riders, sidecars, trikes, and more. The book concludes with a resources section of organizations, training schools, educational tools, and websites; a glossary of 80+ terms; and a complete index.
Sklep: Libristo.pl 153,07 zł
Książki / Literatura obcojęzyczna
From the author of the hugely successful titles How Your Horse Moves and Horse Anatomy for Performance, comes a completely different training manual, also based on the Horses Inside Out philosophy: 'Understanding Anatomy Improves Performance and Reduces the Risk of Injury'. Divided into three main parts: Principles of Anatomical Riding and Training; Exercises for Horse and Rider; Troubleshooting, the book contains a wealth of practical tips and exercises broken down into easy to follow, well-illustrated steps showing how riders can improve their riding skills and potential. The author suggests ways to improve horses' physique, posture, flexibility, stability, core strength, performance and movement and how to reduce muscular and movement problems, and reduce the risk of injury. This beautifully illustrated book looks at how to deliver a safe, varied, fun, effective and achievable training programme. It provides all the ingredients for riders to make informed decisions to maximise their own and their horse's potential, gain more enjoyment, satisfaction and improve their skills.
Sklep: Libristo.pl 115,13 zł
Książki / Literatura obcojęzyczna
This programme of yoga for equestrians should help build a stronger mind-body connection for improved performance. All the exercises are demonstrated with detailed photographs. The easy-to-follow instructions and photographs guide you through asana (postures) and pranayama (breathing exercises), plus a variety of unmounted and mounted awareness exercises, visualizations, and meditations aim to enhance your riding skills. Versatile yoga routines, that can be performed by riders at the stable, at home, or at a show, are designed for warming up and cooling down and the book offers biomechanical descriptions and detailed illustrations that describe the three areas of a rider's body - centre, upper body and lower body - which are followed by specific postures to help prepare your body for riding and achieve a balanced seat.
Sklep: Libristo.pl 193,13 zł
Książki / Literatura obcojęzyczna
Once the domain of the equestrian elite, dressage (originating from the French word for " training" ) is now the most popular equestrian discipline in the United States. Fueled in part by its visibility as an Olympic event, dressage participation levels have reached an all-time high. , br>This centuries-old practice of classical horsemanship, using time-tested and humane methods, is a slow process that requires patience and discipline, but is beneficial to every horse, regardless of breed. The goal of achieving seamless communication and dance-like precision with the horse appeals to riders of all levels, disciplines, and ages. In this book, the United States Dressage Federation (USDF), whose membership has doubled in the past 20 years, demystifies basic dressage techniques for riders of all disciplines. Assuming no prior knowledge of the sport, The USDF Guide to Dressage leads riders through a full course of exercises, from simple to more complex, with easy-to-follow photographic sequences, all presented in full-color and demonstrated by outstanding dressage instructors. This authoritative guide also includes the dramatic and colorful history of dressage, an overview of proper terminology and equipment, as well as information on competition, crosstraining for other disciplines, management of the dressage horse, cross-training for achieving rider fitness, and more. This intricate ballet of athleticism and grace, demanding precise movement and excellent communication between horse and rider, is particularly appealing to the growing group of " baby-boomer" riders who are looking for opportunities to expand their riding skills and knowledge withoutthe physical challenges and risks involved in jumping and racing. Whether they' ve been in the saddle for years or are just taking up or renewing their riding practice, these eager riders will find The USDF Guide to Dressage key to building a more satisfying relationsh
Sklep: Libristo.pl 94,99 zł
Książki Obcojęzyczne>Angielskie>Lifestyle, sport & leisure>Sports & outdoor recreation>Equestrian & animal sports>Riding, showjumping &...
It Really Is Possible To Carry Out Good Quality, Progressive Training With A Horse In Only 3 Minutes A Day. Vanessa Bee Has Created Techniques That Produce Significant Gains In Short Sessions. This Book Offers 35 Ground Exercises, 24 Ridden Exercises, An
Sklep: Gigant.pl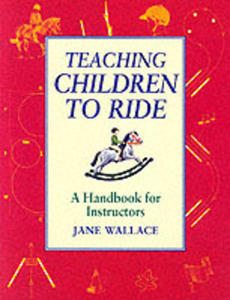 72,49 zł
Książki Obcojęzyczne>Angielskie>Lifestyle, sport & leisure>Sports & outdoor recreation>Sports training & coachingKsiążki Obcojęzyczne>A...
Learning To Ride Should Be Fun, But All Too Often Children Can Be Frightened Or Put Off. This Book Offers Advice, Exercises, Lesson Plans, Games And Teaching Tips To Provide Variety And Sound Instruction, Plus Ideas For Making Learning To Ride An Enjoyabl
Sklep: Gigant.pl
Sklepy zlokalizowane w miastach: Warszawa, Kraków, Łódź, Wrocław, Poznań, Gdańsk, Szczecin, Bydgoszcz, Lublin, Katowice
Szukaj w sklepach lub całym serwisie
2. Szukaj na wszystkich stronach serwisu
t1=0.058, t2=0, t3=0, t4=0, t=0.058